You can look forward to watching the sunset at Sunset Grill once the dining bans are lifted...!
Looking for outdoor restaurants in Hong Kong? These hotspots have terraces and balconies, so you can enjoy the good weather.
If you already know the best hiking trails, picnic spots, and rooftop bars in Hong Kong, then we're guessing you enjoy the great outdoors. And as dining restrictions are due to relax later this month (fingers crossed), we know we aren't the only ones raring to go out and reunite with our friends under the sun. That's why we've compiled 13 fantastic foodie gems that offer al fresco spaces for your dining (and sunbathing?) pleasure. Read all about them with our guide to outdoor restaurants in Hong Kong.
Go al fresco at these outdoor restaurants in Hong Kong
1. Cafe Claudel
Located inside the beautiful Tai Kwun, Cafe Claudel is one of our go-to outdoor restaurants in Hong Kong. We love the al fresco seating that allows you to look onto the gorgeous surrounding architecture. Enjoy brunch, lunch, afternoon tea, or dinner here while channelling Parisian cafes from the 1930s. Croque Monsieur, anyone?
Cafe Claudel also makes our list of best French restaurants in Hong Kong.
Cafe Claudel, Shop 01, G08, Tai Kwun, 10 Hollywood Road, Central, Hong Kong, p. 2411 1310
2. Louise
There's nothing we don't like about Louise. Gorgeous French fare made with love? Check. Stunning interior design (courtesy Andre Fu and A.F.S.O.)? Check. Outdoor patio for drinks and nibbles? Double check. Choose from the bar and lounge on the ground level where you can enjoy charcuterie, cheese, and cocktails, or opt for the outdoor terrace on the floor above. Whichever you choose, we know you'll love Louise as much as we do.
Read our full review of Louise.
Louise, PMQ, 35 Aberdeen Street, Central, Hong Kong, p. 2866 0300
3. Lounge Hakuba
Lounge Hakuba has collaborated with The Alp to bring Japanese fusions to tables in their comfortable and trendy setting. Serving as a cafe during the day, and a shisha bar from evening to night, Lounge Hakuba is stationed in a humble space in Causeway Bay. We think this is a great place to chill out, especially after a long day at work. Don't forget to enjoy some tasty Japanese bites whilst going sip sip hooray.
In search of more shisha bars in town? Take a look at our top picks for hookah lounges.
Lounge Hakuba, Unit 302, Tower 535, 535 Jaffe Road, Causeway Bay, Hong Kong, p. 2111 1707
4. Pondi
An ode to Pondicherry, a former French colony in Southern India, Pondi is a Honeycombers fave. Given its history, Pondicherry still has a French touch to it, from colonial-style buildings and memorial parks. Thus, this restaurant aims to revitalise Pondicherry's history in the form of food, serving classic French-Indian fusion. You can expect chutneys and papadums alongside salads, a combination seldom seen in Hong Kong. We love the homely feeling of the intimate indoor space and the al fresco dining area at Pondi. Just book ahead to be sure to get a spot!
Pondi, 14 Fuk Sau Lane, Sai Ying Pun, Hong Kong, p. 6113 0195
5. The Farmhouse
Enjoy a buffet with a stunning view, especially on a sunny day, at The Farmhouse. This interactive buffet restaurant serves all-you-can-eat breakfast, lunch, and dinner. Focusing on organic produce, premium quality meat, and sustainably sourced seafood, chefs prepare your food live from multiple interactive stations set around the barn-themed restaurant. If you're booking a stay at Hyatt Centric Victoria Harbour, don't miss out on the breakfast at The Farmhouse, as you'll be spoiled by all the options and the spacious design of this restaurant.
Find out why Hyatt Centric Victoria Harbour also makes our list of best staycations in Hong Kong.
The Farmhouse, 2/F, West Tower, Hyatt Centric Victoria Harbour, North Point, Hong Kong, p. 3896 9896
6. Sunset Grill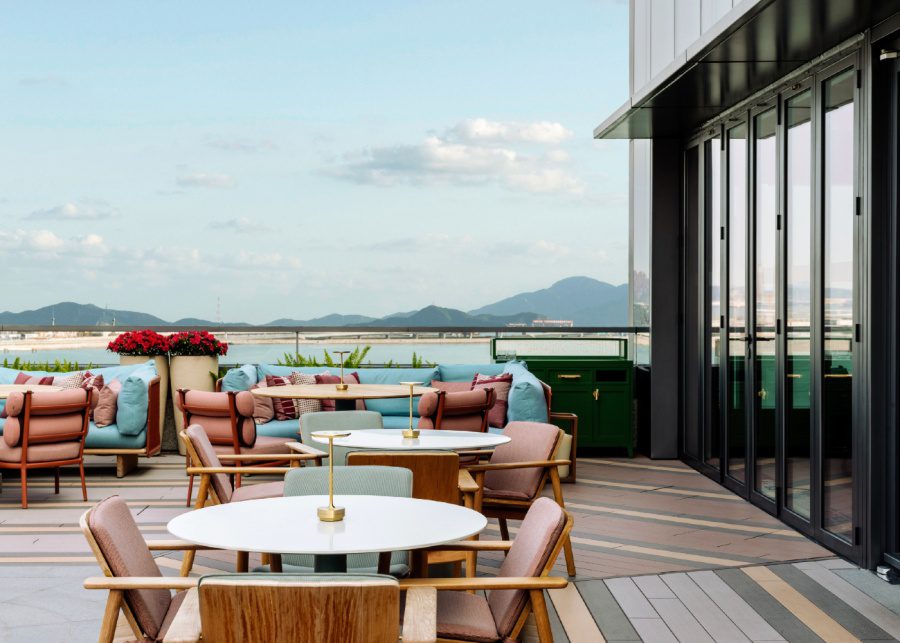 Tung Chung has recently become the place for trendy new openings. Perched on top of Sheraton Tung Chung is Sunset Grill, a rooftop meat and seafood lovers' paradise. Beyond its open kitchen with charcoal grills and lots of dry-aged beef, the service here is also impeccable. Oh, and they have the perfect craft cocktails to go with meals, too. (And did we mention the views?)
Sunset Grill, 19/F, Sheraton Hong Kong Tung Chung Hotel, 9 Yi Tung Road, Tung Chung, Hong Kong, p. 2535 0025
7. La Rambla by Catalunya
Conveniently located at the ifc mall, La Rambla is the perfect spot for an after-work get-together, or a weekend catch-up over food and drinks, accompanied by superb views of the city. Head to the terrace, and enjoy a selection of the finest Catalan cuisine in town, including tapas like Steak Tartare Roll and Red Prawn Carpaccio. You can't miss their happy hour, too, which runs from 3 to 8pm on weekdays. Don't forget to order some nibbles to match!
La Rambla by Catalunya, Shop 3071-73, Level 3, ifc mall, 8 Finance Street, Central, Hong Kong, p. 2661 1161
8. Feather & Bone (Tsuen Wan West)
One of the newest from this fine grocer, Feather & Bone in Tsuen Wan West has a huge terrace, making it the ideal spot for some al fresco lunch. Choose from a selection of tasty dishes, including avo toast and juicy burgers, or stop by for a perfectly brewed coffee. Don't forget to pack a shopping bag so you can hit the green grocer and in-store butchery before you leave.
Feather & Bone (Tsuen Wan West), Shop G09, G/F, OP Mall, 100 Tai Ho Road, Tsuen Wan West, Hong Kong, p. 2618 8160
9. Hemingway's
Calling all plant-based food lovers with a penchant for the outdoors! Hemingway's is a great bar and restaurant to while away a few hours with a variety of vegan and vegetarian delights. Psst – make sure to pop in during the weekends for some live music!
Find out why Hemingway's is also one of our happy hour favourites.
Hemingway's, Shop G09, G/F, D'Deck, DB Plaza, Discovery Bay, Hong Kong, p. 2987 8855
10. Ruam
Want to enjoy some mighty fine Thai food al fresco? You need to get over to Ruam in Wan Chai, a vibrant dining joint with stellar service and authentic eats. The restaurant has a lovely terrace from which you can enjoy a selection of cocktails, alongside skewers and other market fresh faves. Plus, pets are welcome.
Ruam also serves one of the best brunches in Hong Kong.
Ruam, Shop 9, 1/F, J Senses, 60 Johnston Road (entrance on Ship Street), Wan Chai, Hong Kong, p. 3160 8535
11. Arcane
To say that we're obsessed with Arcane is an understatement. We go there on any occasion we can and devour the food lovingly crafted by Chef Shane Osborn and his team. But did you know that they have a terrace? That's right, if you're looking for an al fresco dining spot in Hong Kong that will really impress, this is where you want to be.
Read our full review of Arcane and why we love their vegan menu.
Arcane, 3/F, 18 On Lan Street, Central, Hong Kong, p. 2728 0178
12. New Baccarat Seafood Restaurant
When talking of al fresco restaurants in Hong Kong, you can't go without mentioning all the wonderful seafood joints – AKA dai pai dong (大排檔) – dotted across the islands. Our favourite is New Baccarat Seafood Restaurant on Cheung Chau, as the service is great and the food is delicious. Enjoy the catch of the day as you look over the harbour here; it's a great place to take visitors from out of town.
Planning a day out on the island? Check out our guide to Cheung Chau.
New Baccarat Seafood Restaurant, 9A Pak She Praya Road, Cheung Chau, Hong Kong, p. 2981 0606
13. Mr Wolf
Located smack-bang in the heart of the city, Mr Wolf is a crowd favourite for the white collars in the area. The terrace here is large enough for groups to enjoy their drinks and food. We definitely recommend trying the crab and avocado cocktail, as well as the vegetarian lasagne.
Mr Wolf, 5/F, Crawford House, 70 Queen's Road, Central, Hong Kong, p. 2526 0838
Old Bailey (closed)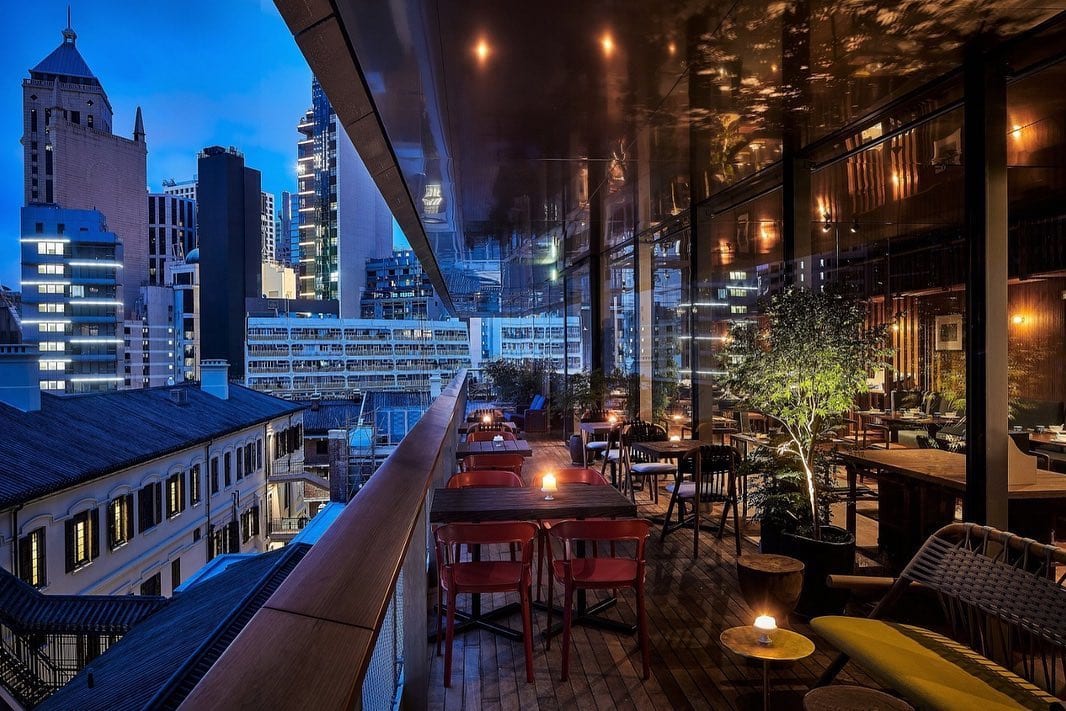 Another lovely venue inside Tai Kwun with outdoor seating is Old Bailey. Enjoy delightful Jiangnan cuisine from the balcony that looks across beautiful architecture and into the city. Sample tasty dim sum (including three xiao long bao flavours!) and try delicious teas or cocktails as you while away the hours.
Old Bailey, 2/F, JC Contemporary, Tai Kwun, Old Bailey Street, Central, Hong Kong, p. 2877 8711