La Favorita might become your mama's new fave!
It's time to shower your mum with all the love in the world – and all the finest menus! Here's our guide to the best Mother's Day dining in Hong Kong.
Mothers, a.k.a superheroes in disguise, deserve love and appreciation everyday, but we can all go the extra mile for Mother's Day (which lies on 14 May in 2023, by the way). Whether you want a decadent cake, a beautiful bouquet, or serene spa escape, there are numerous ways to celebrate mama. We've also curated a guide on Mother's Day dining in Hong Kong for the foodie family. Dig in!
Psst – did you know we're running a giveaway right now for Mother's Day? Take part in our 2023 Mother's Day Giveaway to win the actual goodies from our Mother's Day gift guide!
Mother's Day dining in Hong Kong 2023
1. Café East, New World Millennium Hong Kong Hotel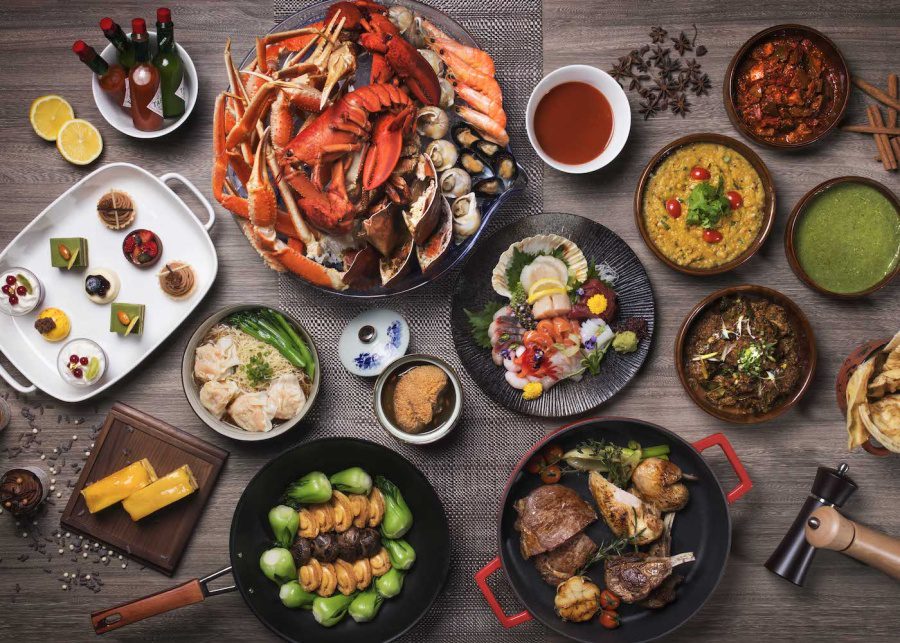 Indulge this Mother's Day in Hong Kong with a seafood buffet at Café East that'll have you going for seconds and thirds. The Mother's Day Dinner Buffet ($788) has a bountiful selection of seafood. Signature dishes include seafood on ice, Assorted Sashimi, Fish Maw and Duck Feet, Baked Boston Lobster, and more. You'll even find cooked-to-order seafood laksa, teppanyaki wagyu, and salmon. This buffet is sure to be an extravagant meal that'll leave Mum stuffed and satisfied!
Café East, 1/F, New World Millennium Hong Kong Hotel, 72 Mody Road, Tsim Sha Tsui, Hong Kong, p. 2313 4222
2. The Lobby Lounge, Regent Hong Kong
Enjoy stunning panoramic views of the Victoria Harbour while delighting in a Mother's Day afternoon tea at The Lobby Lounge of Regent Hotel. The Afternoon Tea Set ($?) presents a modern take on the classics, with items such as Savoury Finger Sandwiches; Fresh-baked Madeleines; Scones with Clotted Cream and Home-made Jam; and more. Specially crafted Mother's Day treats are in the form of Lavender (lemon mint confit and lavender whipped ganache on a rich almond biscuit); Charlotte (ladyfingers with strawberry mousse and violet berry compote); and Guava (pink guava confit and jasmine-infused ivory chocolate mousse on a raspberry rose sponge). Moreover, you can surprise your mum with a bespoke Mother's Day Charlotte Cake that comes in two sizes. Pair the small bites with a curated tea selection and either two glasses of Bellinis or bubbly.
The Lobby Lounge, L/F, Regent Hong Kong, 18 Salisbury Road, Tsim Sha Tsui, Hong Kong, p. 2313 2313
3. Playt, The Park Lane Hong Kong
Give Mum the invaluable gift of health with Playt and Vita Green this Mother's Day in Hong Kong. Partnering with Vita Green to deliver a special feast (from $798), the exceptional Mother's Day buffet features a variety of dishes infused with Vita Green Lingzhi and Extra Strength Vita Yin Yang. The healthy and creative dishes are expertly crafted to bring amazing flavours. Find items including Sous Vide Chicken with Chinese Herbal and Cordyceps; Braised Whole Sea Cucumber with Lingzhi, Pumpkin, and Superior Broth; and Housemade Chocolate Gelato with Cracked Lingzhi Spore. Expect delicious, health-boosting dishes for your special lady!
Playt, 1/F, The Park Lane Hong Kong, a Pullman Hotel, 310 Gloucester Road, Causeway Bay, Hong Kong, p. 2839 3311
4. La Favorita
Celebrate the special lady in your life with the M.A.D "Mothers After Dark " party at La Favorita on 13 May, which offers the indulgent Conviviale Tasting Menu (from $580), together with free-flow drinks. Then, on 14 May, recover from the partying with the rejuvenating Recovery Brunch ($398). As a bonus, those who booked a table in advance get a complimentary self-care kit filled with essentials for unwinding, so that Mum can bring home an extra treat
La Favorita, The Sixteenth, 2/F, Oxford House, Taikoo Place, 979 King's Road, Quarry Bay, Hong Kong, p. 2788 1993
5. Heimat
Hong Kong's top German fine dining restaurant, Heimat, is offering a special four-course Mother's Day lunch ($628). The menu celebrates the season's finest produce, with the spotlight on the white asparagus. You can start the meal with Spargel Salat (white asparagus salad), or Hering "Hausfrauen Art" (smoked herring), followed by White Asparagus Soup with Seared Hokkaido Scallop. For the main course, guests can have a Veal Schnitzel, or add a Pan-fried Wolf-fish to the dish. Leaving the meal on a sweet note, Heimat has a unique dessert inspired by Chef Peter's own mother. The Rhubarb Compote with Hazelnut Crumble and Vanilla Ice Cream will have you sharing the Chef's fond memories while you make your own.
Heimat, 8/F, LKF Tower, 33 Wyndham Street, Central, Hong Kong, p. 2881 1022
6. Somm, The Landmark Mandarin Oriental, Hong Kong
Here's one for all the wine-loving mums! French neo-bistro, Somm, is having Sommkind of Special Brunch (from $1,068) on 13 and 14 May to celebrate 2023 Mother's Day in Hong Kong. The signature brunch offers an array of starters, a choice of main course, and a dessert. Also included is 90 minutes of free-flow MV Nyetimber Rosé, sommeliers' sake selection, white and red wine, seasonal cocktails, and fresh juices. Have a taste of spring with the BBQ Quail with Green Pea; Smoked Tasmanian Salmon Rillette; Ikura and Chive Tart; and more. Additionally, Somm is offering a Mother's Day dinner that can be four-courses (from $1,098) or six-courses (from $1,398). The best part? Mama can take home a special gift from Gucci Beauty as a memento of a sweet Mother's Day at Somm.
Somm, 7/F, The Landmark Mandarin Oriental, 15 Queen's Road Central, Central, Hong Kong, p. 2132 0033
7. Hjem
Upgrade your catch-up with Mum with the Mother's Day afternoon tea set at Hjem (from $528), as the cosy Nordic cafe has created a special-edition menu for the occasion. Start at the top tier, which consists of Arctic Prawns and Beef Pastrami Smørrebrød. Then, move on to the middle tier, with sweet treats such as the signature Cinnamon and Cardamom Bun. Finish off at the bottom tier with the traditional Nordic Waffle Hearts, homemade lingonberry jam, a sweet Norwegian Brown Cheese Toast, and a Berry Posset. The celebration is complete with two glasses of Prosecco and a choice of Nordic teas. You can even add on some Nordic cocktails to kick off your happy hour!
Hjem, 161 Hollywood Road, Central, Hong Kong, p. 2362 9193
8. The Silveri Hong Kong – MGallery
Get the bubbles ready for a Mother's Day Brunch at The Silveri Hong Kong – MGallery. A lavish buffet (from $298) will be on hand at The Enclave, the Hotel's modern bistro. A delectable rack of lamb awaits at the BBQ station; beside the meats is the grilled veggie bar, along with soup, cheese, and cold cuts. To commemorate Mother's Day, a special French dessert – the "Fraisier" strawberry cake – will also be on offer. Last but not least, elevate your feast with an add-on free-flow package, which gives bottomless prosecco, chocolate martinis, rosé, and beer.
The Silveri Hong Kong – MGallery, 16 Tat Tung Road, Tung Chung, Hong Kong, p. 3602 8989
9. I Love Babycakes
Here's one for those with a sweet tooth! I Love Babycakes is sending love to mums this Mother's Day with its sweet treats. You can order some cookies or cupcakes straight to your doorstep for your celebrations. The Mother's Day Cookie Box ($350) has six delightful cookies spelling out "Home is where the mum is" for a photogenic surprise. Or, go for the Mommy and Me Cupcakes ($300) for six classic vanilla or chocolate cupcakes. If you want to spell out "I heart mum" – literally – you can even get the Mum Alphabet Butter Cookies ($300). Bite into some love with I Love Babycakes for 2023 Mother's Day in Hong Kong.
Find out more about I Love Babycakes.
10. Sky Lounge, Nina Hotel Tsuen Wan West
Complemented by views of the Rambler Channel, the buffet at Sky Lounge might just be one of the most scenic yum cha experiences in town! On 13 and 14 May, you can celebrate the queen of the family with the Dim Sum Buffet Lunch ($308) or Dim Sum and Chinese Buffet Dinner ($408). You'll find classic and contemporary dim sum, including Steamed Vegetable Dumplings with Black Truffle; and Steamed Pork Dumpling with Crab Roe. Additionally, at the Dim Sum and Chinese Buffet Dinner, you can sample Superior Barbecued Pork with Honey; Sauteed Shrimp with Cucumber; and even more dishes. As a treat, each lunch guest will get a Premium Steamed Pork Dumpling in Soup; whereas dinner guests will receive a hearty Double-boiled Chicken Soup with Cordyceps Flowers and Conch.
Sky Lounge, 41/F, Nina Hotel Tsuen Wan West, 8 Yeung Uk Road, Tsuen Wan, Hong Kong, p. 2280 2868
11. Flint, JW Marriott Hotel Hong Kong
Take the lady of the day to a special four-course Brittany Blue Lobster dinner (from $800) at Flint this Mother's Day in Hong Kong. Sourced from France and meticulously cooked to perfection for each course, the Brittany Blue Lobster is used in the Blue Lobster Tail Tempura with Mango, Avocado, and Chipotle Mayo; Lobster Bisque with Blue Lobster Meat, Cognac Cream, and Truffle Pesto; and the Blue Lobster Ragout and Caviar with Morel Mushroom, Asparagus, and Potato Gnocchi. Don't forget to save room for a seasonal dessert to end the meal on a sweet note.
Flint, JW Marriott Hotel Hong Kong, One Pacific Place, 88 Queensway, Admiralty, Hong Kong, p. 2810 8366