Treat your mum to the Gardener's Brunch at MO Bar – with an extra gift from Chloé Atelier des Fleurs – for Mother's Day 2022
It's time to shower your mum with all the love in the world – and all the finest menus! Here's our guide to the best Mother's Day dining in Hong Kong.
Mothers, a.k.a superheroes in disguise, deserve love and appreciation everyday, but we can all go the extra mile for Mother's Day (which lies on 8 May in 2022, by the way). Whether you want a decadent cake, a beautiful bouquet, or serene spa escape, there are numerous ways to celebrate and gift your mama. We've also curated a guide on Mother's Day dining in Hong Kong for the foodie family. Dig in!
Mother's Day dining in Hong Kong 2022
1. MO Bar, The Landmark Mandarin Oriental, Hong Kong
Start your Mother's Day right with the special Gardener's Spring Brunch (from $808) at MO Bar. Created in collaboration with Chloé and inspired by spring, the brunch includes a range of starters, a choice of mains, plus a whole spread of desserts. Wash it all down with the 90-minute free-flow of Moët & Chandon champagne and Belvedere cocktails. Don't forget to pick up the complimentary fragrance vial by Chloé Atelier des Fleurs for your mum!
MO Bar, G/F, The Landmark Mandarin Oriental, Hong Kong, 15 Queen's Road Central, Central, Hong Kong, p. 2132 0077
2. La Viña
There's no sweeter way to show your gratitude this Mother's Day than with the Strawberry Layer Cake ($520) from La Viña. The limited-edition six-inch cake is covered with a generous layer of fresh Japanese strawberries, then topped with a few dainty, iced flowers. We're impressed by how well the berries and the homemade strawberry jam go together with the cream cheese vanilla mousse, pink honey sponge, and the nutty almond crust. Oh, and note that you need to pre-order this cake online at least one day in advance (available until 9 May), with same-day delivery available for those in Hong Kong Island.
La Viña, Shop 3, MyCentral, 23 Graham Street, Central, Hong Kong, p. 9612 0988
3. La Favorita
The theatrical trattoria at The Sixteenth – La Favorita – will surely wow your mum with its #StrongLikeAMother Mother's Day Brunch (from $498) on 8 May. Available between 11am and 3pm, the feast will begin with five antipasti for sharing, including the creamy Burrata Classica with Sicilian tomatoes and extra virgin olive oil; Uova Ripiene (devilled eggs); focaccia with a selection of salumi, meat, and cheese; among others. For the mains, you can choose between the Handmade Cavatelli allo Scoglio featuring fresh clams, mussels, prawns, and calamari; Porchetta alla Romana, which is slow-roasted pork belly with heritage vegetables; Eggplant Parmigiana in tomato sauce; and more. Last but not least is a Grand Dessert Platter that consists of Delizia al Limone (lemon delights), seasonal fruits, and a gorgeous Torta Mimosa cake that is decorated like a bouquet of mimosa flowers.
La Favorita, The Sixteenth, 2/F, Oxford House, Taikoo Place, 979 King's Road, Quarry Bay, Hong Kong, p. 2788 1993
4. Kyoto Joe
Bring your entire family to feast on the delectable A4 Sendai Wagyu Weekend Brunch (from $548/adult; $288/child) at Kyoto Joe. Available on 7 and 8 May between noon and 3pm, this all-you-can-eat brunch puts the spotlight on wagyu beef, with highlights from the special menu including rolls, tataki, sirloin, and more – all made with A4 Sendai Wagyu. In addition, you can enjoy an unlimited supply of sushi rolls, salads, sashimi, robatayaki grill, agemono deep-fried tempura dishes, and more. But, remember to leave room for the free-flow (from $208/person), as well as the Premium Dessert Platter! Finally, don't let your mum leave the Kyoto Joe without receiving her complimentary LKF Elite Gift Card, which contains $200 dining credits for her next visit to any restaurant under LKF Concepts – think Aria, Fumi, Porterhouse, Tokio Joe, and Kyoto Joe, of course.
Kyoto Joe, 23/F, California Tower, 30-36 D'Aguilar Street, Central, Hong Kong, p. 2804 6800
5. Zuma
It's all about champagne and Japanese delicacies this Mother's Day at Zuma! Available only on 8 May, Zuma's Mother's Day Brunch (from $998/adult) begins with an unlimited supply of salads, sushi, sashimi, yakitori, tempura, and maki rolls. Next, for the main course, you can take your pick between the restaurant's signature Chilean sea bass with green chilli ginger dressing; spicy beef tenderloin with sesame, red chilli, and sweet soy; miso marinated black cod wrapped in hoba leaf; and spiced lamb cutlets with hatcho miso. To wrap up the feast, be sure to try Zuma's Mother's Day-exclusive dessert platter, which offers an organic valrhona milk chocolate molten cake with raspberry ganache; Hokkaido vanilla custard with fresh organic US strawberries and kokuto cookie; and prosecco mimosa chiffon cake with rose-infused French buttercream; complemented by a variety of ice creams and seasonal fruits.
Zuma, Level 5 & 6, Landmark Atrium, The Landmark, 15 Queen's Road Central, Central, Hong Kong, p. 3657 6388
6. Morton's the Steakhouse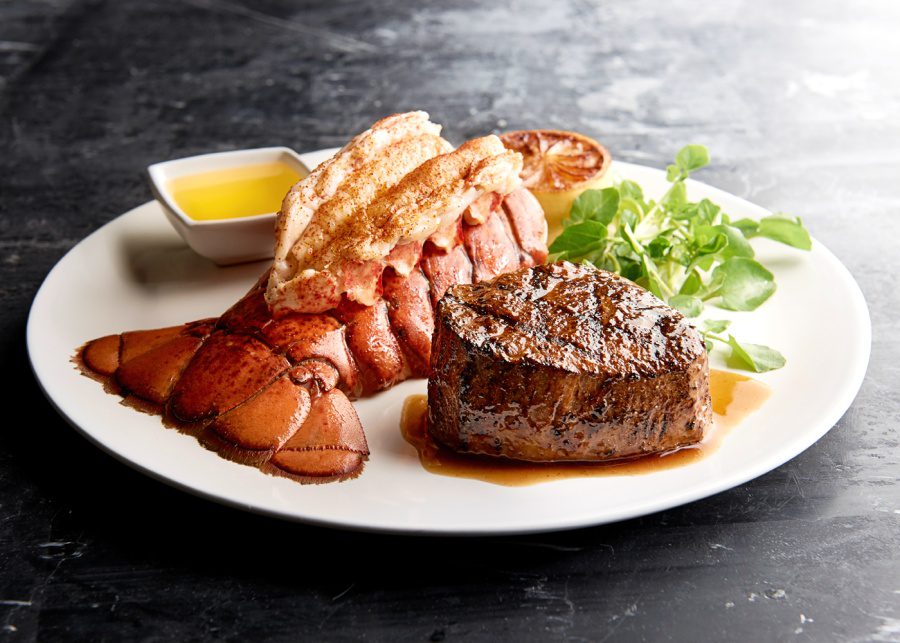 In search of more ideas for Mother's Day dining in Hong Kong 2022? Celebrate the occasion with the three-course Steak & Lobster lunch menu (from $788) at Morton's The Steakhouse on 8 May. The meal offers the best of both land and sea, with a good range of choices for you and your mum. Starters include options such as a classic Caesar Salad or a lobster bisque, followed by a choice of between a 6oz centre-cut filet mignon; crab cake; fresh lobster tail; or bacon-wrapped scallops. Pair your main course with side dishes such as the crowd favourite parmesan and truffle fries. End your meal on a sweet note with Morton's Legendary Hot Chocolate Cake; key lime pie; or a crème brûlée.
Morton's the Steakhouse, 4th Level, Sheraton Hong Kong Hotel & Towers, 20 Nathan Road, Tsim Sha Tsui, Hong Kong, p. 2732 2343
7. 1908BC
Inspired by British-influenced Chinese culinary tradition during her time in the UK, Suzanna, the founder of 1908BC, has designed two unique Mother's Day menus (available from 5 to 8 May) to honour all the mums out there. Carrying a stronger sense of nostalgia and tradition would be the Old Hong Kong Mother's Day Menu (from $620/person), which is an eight-course feast for families of four or more. You'll find comfort food and time-honoured classics, such as the Double-boiled Pork and Hairy Fig Soup – a hearty, nourishing broth; Fish Maw with Chinese Mushrooms in Abalone Sauce; Giant River Prawns in a Tangy Tomato Sauce; and more.
If you'd like to try some contemporary British Chinese affair, the New Hong Kong Mother's Day Menu (from $480/person) would be perfect. Expect some of the restaurant's most popular dishes on this menu, including the Butterfly Prawn Toast; Crispy Aromatic Duck; Crispy Shredded Beef; amongst others.
1908BC, 5/F, The Pemberton, 22-26 Bonham Strand, Sheung Wan, Hong Kong, p. 2116 4668

8. Date by Tate
Every celebration needs cake, right? So, you might as well treat your mum to the very best – as she deserves! Order the Mother's Day-exclusive cake from Date by Tate (available until 7 May) ($720), elegantly crafted with a roasted soybean flour sable base; Chinese almond sponge; soy pulp crumble; raspberry gel; and goji berry mousse. With fondant flowers on the top, the cake is decorated like a beautiful bouquet. For those who are tempted (who wouldn't be?), make sure to place your orders online at least two days in advance. Happy Mother's Day!
Date by Tate, 210 Hollywood Road, Sheung Wan, Hong Kong, p. 6730 2494