Mouthwatering steaks on the menu!
Looking for a great spot to have lunch in Wan Chai? These restaurants will fill your belly and satisfy your tastebuds.
Wan Chai, the ever colourful neighbourhood, is packed full of hip cafes, dive bars and live music venues – let alone many restaurants you can't find anywhere else in Hong Kong. That's why we've rounded up some of the most unique spots for every palate to find the best lunch in Wan Chai.
Where to have lunch in Wan Chai
1. Bifteck
A relatively new restaurant in Hong Kong that's only opened at the end of 2021, Bifteck has the ideal location and atmosphere for business lunch in Wan Chai. A French-Japanese steakhouse led by Executive Chef Ken Kwok, the cosy yet classy restaurant offers a great selection of food for carnivores and seafood lovers alike. For lunch, dig into the USDA SRF Wagyu Hanger Steak that melts in your mouth, or opt for the Shrimp Tempura Taco that looks more than delicious enough for your Instagram grid. And, make sure to stick around till the end, as the Dessert Surprise guarantees to knock your socks off!
Bifteck makes it to our list of best brunches in town, too.
Bifteck, 23/F, QRE Plaza, 202 Queen's Road East, Wan Chai, Hong Kong, p. 2246 8805
2. 22 Ships
Get ready for a bit of a wait, because this tapas place is one of the best in town and doesn't accept any reservations. With plates designed to be shared amongst your table, the menu is full of gems like the Chorizo Croquetas; Roasted Suckling Pig; and Black Octopus Paella. Of course, no Spanish meal would be complete without some Spanish wine, and 22 Ships has more than got you covered with a dynamic list that includes some refreshing sangria. Remember – if you ever forget where the restaurant is, just think of the name!
22 Ships, 22 Ship Street, Wan Chai, Hong Kong, p. 2555 0722
3. Samsen
Ever wish you could just jet off to Thailand for a day? Well, you can get the next best thing when you go to Samsen, where authentic Thai food is the name of the game. The picturesque Thai noodle house-inspired space has remained a local favourite ever since it opened in 2016, with long queues out the door daily. The Samsen Wagyu Beef Noodle Soup may be the most famous dish, but the Pad Thai Noodles of Tiger Prawns and Young Coconut Ice Cream are nothing to scoff at either.
Samsen (Wan Chai), 68 Stone Nullah Lane, Wan Chai, Hong Kong, p. 2234 0001
4. Osteria Marzia
There are many amazing Italian restaurants in Hong Kong, but few focus on the fare of Coastal Italy quite like Osteria Marzia. Celebrating the bounties of the sea, Osteria Marzia presents a sunlit and airy atmosphere that perfectly complements the menu. The freshness is palpable in each dish, from the Calamari Fritti with Red Chilli and Lemon, to the Chitarra with Boston Lobster and Cherry Tomato. Just take a bite and picture yourself on the Amalfi Coast…
Osteria Marzia, The Fleming, 41 Fleming Road, Wan Chai, Hong Kong, p. 3607 2253
5. Ruam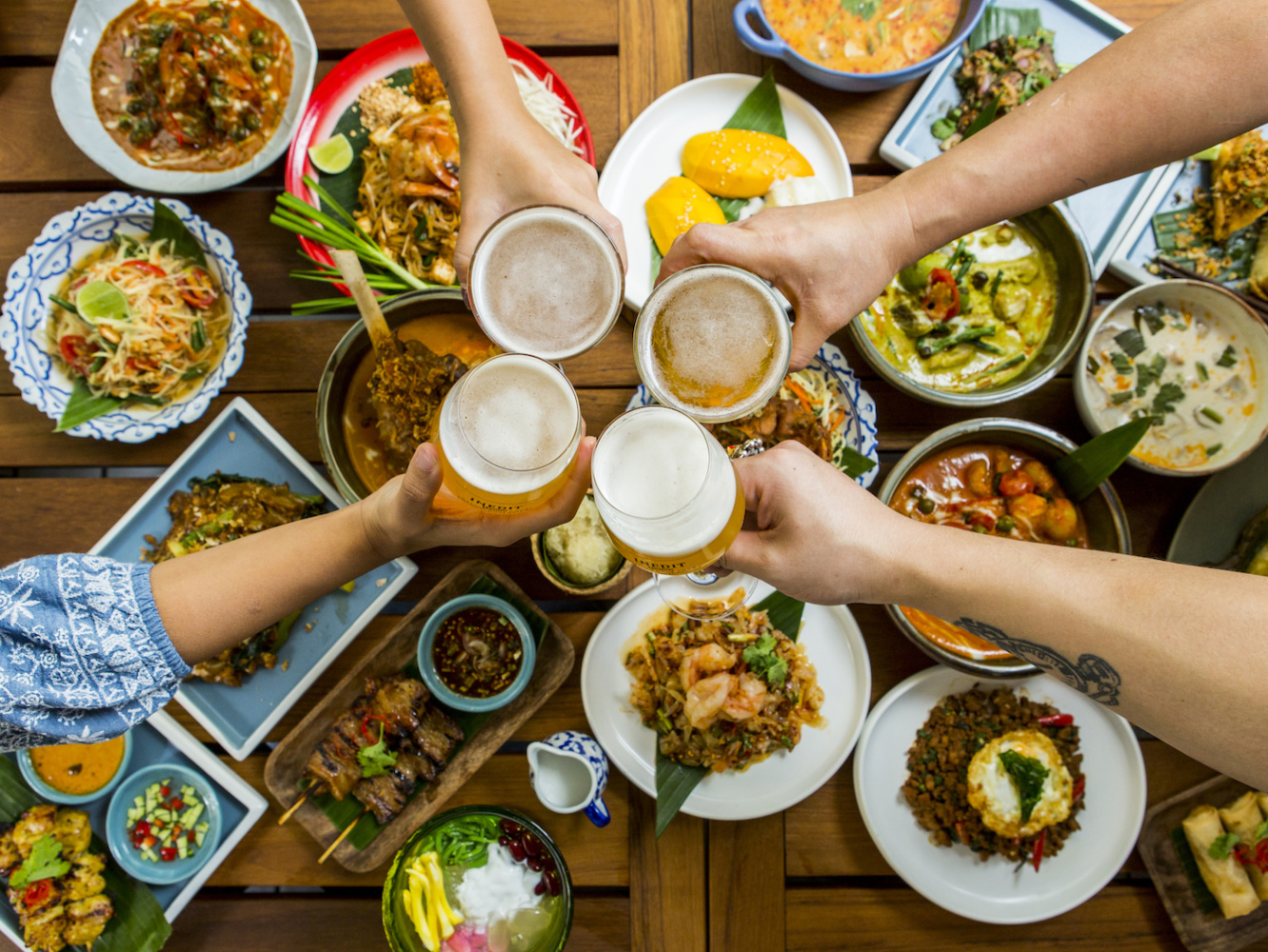 If you love Thai food, great design, and a chic terrace, then you need to make a beeline for Ruam on Ship Street. Get ready to tuck into succulent skewers, delicious curries, and a selection of other delights here. It's a great place for "business" lunches – and brunch, too, but that's for another time.
Ruam, 1/F, J Senses, 60 Johnston Road (entrance on Ship Street), Wan Chai, Hong Kong, p. 3160 8535
6. Joy Hing Roasted Meat
No good round-up of lunch spots is complete without a char siu (roasted meat) restaurant that's been around for generations. Joy Hing Roasted Meat has the typical fare of mouth-watering roasted pork, soy chicken, and other yummy Canto delicacies. The meat is cooked over an old-fashioned, thermometer-less oven to create a deep barbecue flavour that's unbeatable anywhere else in Hong Kong. Be sure to come early to beat the lunchtime queue!
Check out our other favourite Chinese restaurants in Hong Kong.
Joy Hing Roasted Meat, Block C, G/F, 265-267 Hennessy Road, Wan Chai, Hong Kong, p. 2519 6639
7. Honbo
There are loads of burger restaurants in Wan Chai and one of our favourites is Honbo. This grassroots burger joint is owned and run by Michael Chan, a doctor-turned-burger-magician. The restaurant works with local farmers, brewers, and artisans to bring the pure and simple joy of gobbling down a finger-licking-good burger. This laidback pad isn't just for the carnivores – there's also a delicious vegan burger for our plant-based friends. Don't miss the sweet potato fries, too!
Read our full review of Honbo.
Honbo, Shop B, G/F, New Sun House, 6-7 Sun Street, Wan Chai, Hong Kong, p. 25678970
8. Sawali Club
Tucked away in an unassuming commercial building is a three-room Thai restaurant, Sawali Club. The friendly Thai ladies there serve up comfort dishes like juicy, crunchy pomelo salad; spicy beef red curry; and Thai-style fried morning glory, and it's the perfect place for larger groups and casual dining. Be sure to save room for the king of Thai desserts – mango sticky rice – and book in advance to avoid disappointment.
Sawali Club, 2/F, Wing Cheong Building, 18-20 Hennessy Road, Wan Chai, Hong Kong, p. 2811 2360
Bread & Beast (permanently closed)
Craving the perfect fusion sandwich? Bread & Beast is the joint for you. Our favourite is the Kentucky San – a Japanese deep fried chicken fillet sandwich with curry Kewpie mayo, shredded cabbage, pickled ginger and nori flakes. We recommend you pair the sandwich with their infamous Lennon Fries topped with an onsen egg and okonomiyaki sauce. Be sure to wash down this feast with one of their craft beers on draft. True bliss.
Bread & Beast, G/F, 3 Swatow Street, Wan Chai, Hong Kong, p. 2237 1868
Khana Khazana (permanently closed)
A vegetarian establishment in Wan Chai, Khana Khazana serves delicious classic vegetarian dishes such as Aloo Chaat and Channa Bhindi. From Monday to Friday, for the unbelievable price of $98, you can indulge in their executive lunch buffet of yummy appetisers, hot dosa, delicious curries and irresistible desserts; it's definitely one of the best places to have lunch in Wan Chai. Go early!
Check out our favourite vegetarian restaurants in Wan Chai.
Khana Khazana, 1/F, Dannies House, 20 Luard Road, Wan Chai, Hong Kong, p. 2520 5308