Bring some pride to your reading list! (Photography: Jayden Becker via diversifylens)
There are many queer stories that fly under the radar, so we've compiled a list of must-read LGBTQ books for Pride Month and beyond.
With the torrential rain we often get in Hong Kong, there's nothing better than staying home and curling up with a good book. If you've already gone through your list of books to read, why not add some queer stories into the mix? Not only are many queer reads incredible literary works, they also offer unparalleled representation and an opportunity for you to learn about queer characters in greater depth. Next time you visit a bookstore in Hong Kong, try tracking down these great LGBTQ books.
14 of our fave LGBTQ books for Pride Month and beyond
1. Detransition, Baby by Torrey Peters
The debut novel by trans writer Torrey Peters, Detransition, Baby is a nuanced exploration of gender, family, and trans life. When Ames (a detransitioned man previously identifying as a trans woman named Amy) gets his cisgender boss Katrina pregnant, he has to grapple with what it means to be a father. He turns to his trans ex-girlfriend Reese – with whom he has a very complicated history – to create a makeshift family and help with his qualms about gendered parenthood. With messy, complicated characters trying to get through life, this is a book you wouldn't want to put down until the last line.
2. Giovanni's Room by James Baldwin
Legendary writer James Baldwin's novel about desire and regret is a queer classic. Giovanni's Room follows David, an American living in Paris waiting for his girlfriend to return; in the meantime, he meets a handsome Italian bartender named Giovanni. As his relationship with Giovanni deepens and gets more complicated, David struggles with his sexuality and future. A controversial book when first released, Baldwin broke barriers as a black author writing about homosexuality. Baldwin's prose is as exquisite as always and brings you face to face with David's lust and fear, giving a layered look into queer life in the 1950s.
3. Big Swiss by Jen Beagin
A funny, unconventional love story unravels in Jen Beagin's Big Swiss. As Greta works as a transcriber for sex therapy sessions, she finds herself fantasising about a married female client whom she affectionately nicknames "Big Swiss". Matters become complicated when Greta finds Big Swiss in person, and the two begin an affair. A delightfully weird and original story, you'll find yourself smiling from ear to ear while on the edge of your seat with each page.
4. They Both Die at the End by Adam Silvera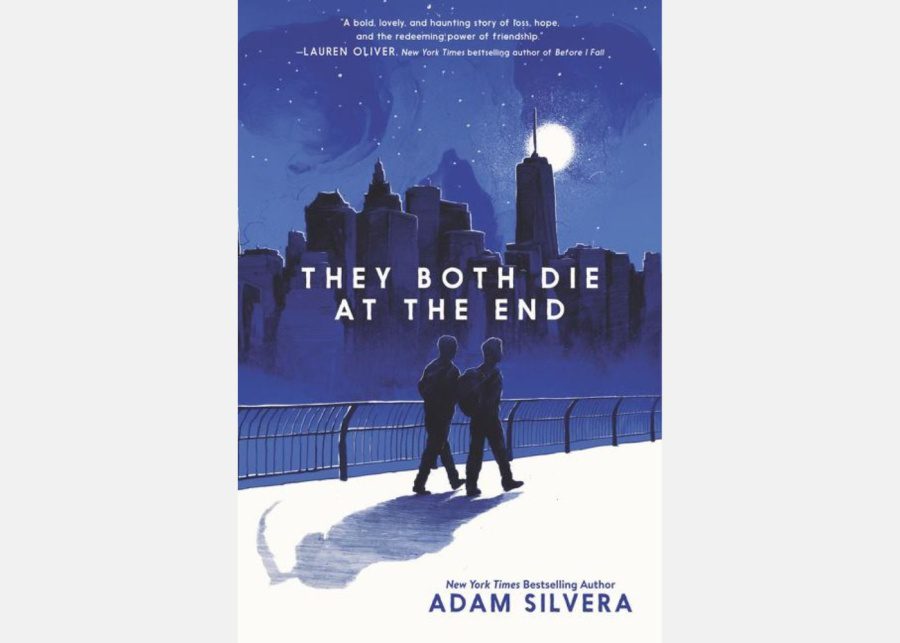 Adam Silvera pens They Both Die at the End, a young-adult novel about life and death. In the distant future, a company called Death Cast can predict death with frightening accuracy. Teen boys Mateo and Rufus both receive a call from Death Cast informing them that they have a day to live. Using an app called Last Friend, Mateo and Rufus meet up to not be alone on their final day. A novel that manages to surprise despite laying out its ending at the start, Silvera develops the characters of Mateo and Rufus wonderfully. You may even shed a few tears as you follow the two boys going through life knowing that death is imminent.
5. The Price of Salt by Patricia Highsmith
Celebrated suspense writer Patricia Highsmith initially published The Price of Salt under the pseudonym Claire Morgan to prevent being type-cast as a lesbian writer. In 2015, the book was adapted into the award-winning film Carol starring Cate Blanchett and Rooney Mara. When department store worker Therese Belivet meets Carol Aird, an older suburban housewife, they feel an unexpected connection. The two soon begin a journey across the US, falling in love on the way while being pursued by a private investigator hired by Carol's ex-husband. A lesbian literature classic, Highsmith gave her characters a happy ending – something unprecedented in LGBTQ books at the time.
6. Notes of a Crocodile by Qiu Miaojin (translated by Bonnie Huie)
A landmark coming-of-age-story in queer Asian literature, Qiu Miaojin's Notes of a Crocodile follows a group of queer misfits stumbling through life. Post-martial-law 1980s Taipei is seen through the eyes of lesbian narrator Lazi, who struggles with her attraction to Shui Ling. Lazi's group of queer classmates at Taiwan's most prestigious university support her as they all discover love, life, and artistry. A cult classic, Qiu's interesting prose weaves a story of social defiance and queer life.
7. Pageboy by Elliot Page
A memoir written by Oscar-nominated actor Elliot Page, Pageboy goes through his life in the public eye as well as his trans identity. This coming-of-age story touches on love, gender, mental health, and Hollywood. A brutally honest and intimate memoir, Page describes the struggles he faced with gender and transitioning, as well as secret love affairs throughout the years. Readers of this LGBTQ book will come out with a more nuanced understanding of a public figure with experiences that are both singular and universal.
8. Fun Home: A Family Tragicomic by Alison Bechdel
American cartoonist Alison Bechdel recounts her childhood and complicated relationship with her father in the graphic novel Fun Home: A Family Tragicomic. Filled with eye-catching and pensive illustrations, the graphic novel touches on sexuality, gender roles, repression, and dysfunctional family dynamics. Growing up in the family's funeral home, Bechdel's childhood was largely influenced by her domineering father Bruce. As she begins to discover her identity as a lesbian, her father struggles with his own repressed homosexuality. Telling this nuanced tale through the medium of a graphic novel brings the story to life in interesting ways. The graphic novel was turned into a Tony award-winning musical of the same name in 2015, which was just as thoughtful and enchanting to experience.
9. Call Me By Your Name by André Aciman
Many know this LGBTQ book from the acclaimed film of the same name in 2017 that propelled Timothée Chalamet to fame. The coming-of-age novel Call Me By Your Name is just as heartfelt as the film, with André Aciman's words wonderfully depicting the themes of love and self-discovery. In the summer of 1983 in Italy, Elio finds himself falling in love with his father's doctoral student Oliver. The novel follows their deepening love affair, as well as the yearning and regrets that follow as years pass by. Those who loved the film should definitely check out this novel to find new meaning to the scenes depicted on-screen.
10. On Earth We're Briefly Gorgeous by Ocean Vuong
The debut novel from poet Ocean Vuong is incredible but a hard read, with many intense themes like abuse, addiction, homophobia, and racism. On Earth We're Briefly Gorgeous is a letter from a Vietnamese-American son, Little Dog, to his illiterate mother. Little Dog is in his late twenties and beginning to explore his family's history in Vietnam. The novel touches on the complicated relationship between Little Dog and his mother, as well as a romance between Little Dog and a man he meets working on a tobacco farm. A highly acclaimed novel that's not for the faint of heart, Vuong crafts a story as complex as one of his poems.
11. I Might Regret This by Abbi Jacobson
While some may know Abbi Jacobson from her comedy show Broad City, be prepared for the vulnerability she shows in I Might Regret This. A book full of essays and drawings, Jacobson recounts a solo road trip she took in the summer of 2017. In her essays, she reflects on the end of her first relationship with a woman, her first love, queerness, and life. A funny and unabashed look into someone's mind, this is a great LGBTQ book for anyone on the journey of discovering who they are.
12. The Last One by Fatima Daas (translated by Lara Vergnaud)
French-Algerian writer Fatima Daas' autobiographical debut novel, The Last One, is an interesting examination of religion, identity, sexuality, and family. Living in the Muslim-majority suburb of Clichy-sous-Bois in France, narrator Fatima is the youngest child in her family. As Fatima comes into her own, she grapples with her sexual identity and how it corresponds to her religion and family, where love and sexuality are taboo. A look into sexuality for those practising a religion, Daas explores Fatima's struggles and desires in a way that brings the reader deep into the subject matter.
13. The Seven Husbands of Evelyn Hugo by Taylor Jenkins Reid
A popular LGBTQ book by Taylor Jenkins Reid, The Seven Husbands of Evelyn Hugo is a work of historical fiction. Evelyn Hugo, a former star, agrees to a final interview about her life story with reporter Monique – who is confused on why she was chosen for this interview. Evelyn then recounts her seven husbands and how they each impacted a life full of ambition, love, and friendship. Readers will be enchanted by the look into glamorous old Hollywood while exploring the complicated relationships between the characters. Reid's novel grew in popularity largely due to social media, and successfully introduced a story filled with queer love to a mainstream audience.
14. The Miseducation of Cameron Post by Emily M. Danforth
A coming-of-age young-adult novel that deals with serious themes like conversion therapy, The Miseducation of Cameron Post by Emily M. Danforth is a worthwhile read. Adapted into a film of the same name in 2018 starring Chloë Grace Moretz, the book delves into more detail about main character Cameron Post's life. After her parents die in a car crash, Cameron is sent to live with her conservative aunt and grandmother. When Cameron develops a romantic relationship with her best friend, she is sent to a religious gay conversion camp. An accessible look into the real horrors of conversion therapy, Danforth builds a strong narrative and creates relatable characters.