The Peak Tram is a fun (and quick) way to get up the highest mountain on Hong Kong Island
Traveling to Hong Kong soon or simply want to play tourist in your own city? Discover the greatest tastes, sights, sounds and experiences at these Hong Kong tourist attractions.
Wondering what Hong Kong tourist attractions are worthwhile? The city is truly a treat for the senses. Take in the aroma of the unique street food, gaze at majestic traditional Chinese architecture at Chi Lin Nunnery or feel first-hand the hustle and bustle of Hong Kong markets. And if you're looking to make the most of your time in Asia's world city, we've rounded up some of our favourite Hong Kong tourist attractions, for you to go, go, go!
Hong Kong tourist attractions
1. The Peak Tram
Experience the beauty of the city with The Peak Tram, where you can enjoy the breathtaking view of Hong Kong as you go uphill on what used to be the first cable funicular in Asia. Established in 1888, the tram is famous for its spectacular visual illusion, where the high-rise buildings at the right side of the tram will appear to fall toward The Peak due to the steep track that reaches up to 27 degrees. You can catch the train from the Garden Road Peak Tram Lower Terminus, where you can purchase your Peak Tram Sky Pass to access The Sky Terrace 428 on top of The Peak. When it comes to iconic Hong Kong tourist attractions, this has to be on the list.
Take a sneak peek at our ride on the Peak Tram!
The Peak Tram, Peak Tram Lower Terminus, Garden Road, Central, Hong Kong, p. 2522 0922
2. The Peak
An icon in the city and one of the most popular Hong Kong tourist attractions, The Peak is the highest mountain on Hong Kong Island. An area famous for its prestigious residents, The Peak attracts tourists from all over the world with The Peak Tower, an entertainment venue with an avant-garde architecture that is filled with Madame Tussauds, restaurants, and shops that are set against the beautiful backdrop of the city. While you're here, don't forget to go to The Sky Terrace 428, a 360° viewing platform located on top of the tower at 428 metres above sea level, which boasts a stunning view of Hong Kong that you can enjoy during both day and night, and you can even get your picture taken.
The Peak, 128 Peak Road, The Peak, Hong Kong, p. 2849 0668
3. Tai O Fishing Village
Want to experience Venice in Hong Kong? Check out Tai O Fishing Village in the Western coast of Lantau Island, a fishing village popular for their seafood market and the fishing culture. This is also one of the few remaining places where you can find traditional stilt houses, which are houses raised on piles over the water. This is definitely one of our fave Hong Kong tourist attractions.
See our full story on Tai O fishing village.
Tai O Fishing Village, Tai O, Lantau Island, Hong Kong
4. Ngong Ping 360
Another way you can enjoy the beautiful view of Hong Kong is by riding the Ngong Ping 360, a 5.7km cable car journey that lasts for 25 minutes and begins from Tung Chung. Offering the view of the South China Sea, North Lantau Country Park, and Ngong Ping Plateau, the ride will take you to cross Tung Chung Bay to reach the angle station on Airport Island before turning about 60 degrees towards North Lantau. There's also the amazing Crystal Cabin with a glass bottom, where you can have a bird's eye view of the sea and the lush green mountainside underneath your feet. After reaching your destination above, you'll be able to discover the culturally themed Ngong Ping Village, from which you can also take a walk to the famous Po Lin Monastery and Tian Tan Buddha.
Ngong Ping 360, Lantau Island, Hong Kong, p. 3666 0606
5. Tian Tan Buddha
Located at Ngong Ping near Hong Kong's most important Buddhist sanctums called Po Lin Monastery, Tian Tan Buddha is a Big Buddha bronze statue that sits 34-metres-high. To access this remarkable statue, you'll need to take the Ngong Ping 360 cable car ride to Ngong Ping Village, before taking a walk and climbing a total of 268 steps to get a closer look of the Big Buddha. One of the five large Buddha statues in China, Tian Tan Buddha itself is facing north as it's believed to look over the Chinese people.
Tian Tan Buddha, Ngong Ping Road, Lantau Island, Hong Kong
6. Hong Kong Disneyland
Who doesn't love the happiest place on earth? Have some fun with Disney characters and rides at the second Disneyland in Asia after Japan, which has become the ultimate family-friendly destination in Hong Kong. Located on Lantau Island, Hong Kong Disneyland has seven themed areas, which are the Main Street, U.S.A., Fantasyland, Adventureland, Tomorrowland, Grizzly Gulch, Mystic Point, and Toy Story Land. Don't forget to also check out their gift shops and shop the merchandise, which will surely make a great souvenir for your loved ones or even yourself. Additionally, the highly anticipated World of Frozen will be open in the second half of 2023 for more fun for the whole family.
Hong Kong Disneyland, Penny's Bay, Lantau Island, Hong Kong, p. 3550 3388
7. Ocean Park Hong Kong
If you feel that the rides at Disneyland are not enough to pump up your adrenaline, you'll want to check out Ocean Park instead. Established long before Hong Kong Disneyland, this theme park offers a lot more thrilling rides that would be perfect for older kids and adults. But don't worry if you're coming with little kids, as Ocean Park also has lots of other family-friendly attractions as well as an educational marine mammal park, oceanarium, and animal theme park, where you can bring the whole family to get up close with sharks, seals, penguins, birds, fox, panda, and many other.
Ocean Park, Aberdeen, Hong Kong, p. 3923 2323
8. Ladies' Market
Who says Hong Kong is all about the high fashion boutiques? There's a reason why this city is named as a shopper's paradise, as it has lots of street markets where you can score cheap deals on almost anything. The most popular one is the Ladies' Market, located at a one-kilometre aisle on Tung Choi Street in Mong Kok. Women do get crazy here, as this market sells a huge amount of women's clothing, accessories, and souvenirs on sale, attracting a huge crowd daily from noon until just before midnight.
Check out our favourite Mong Kok cafés while you're there.
Ladies' Market, Tung Choi Street, Mong Kok, Kowloon, Hong Kong
9. Wong Tai Sin Temple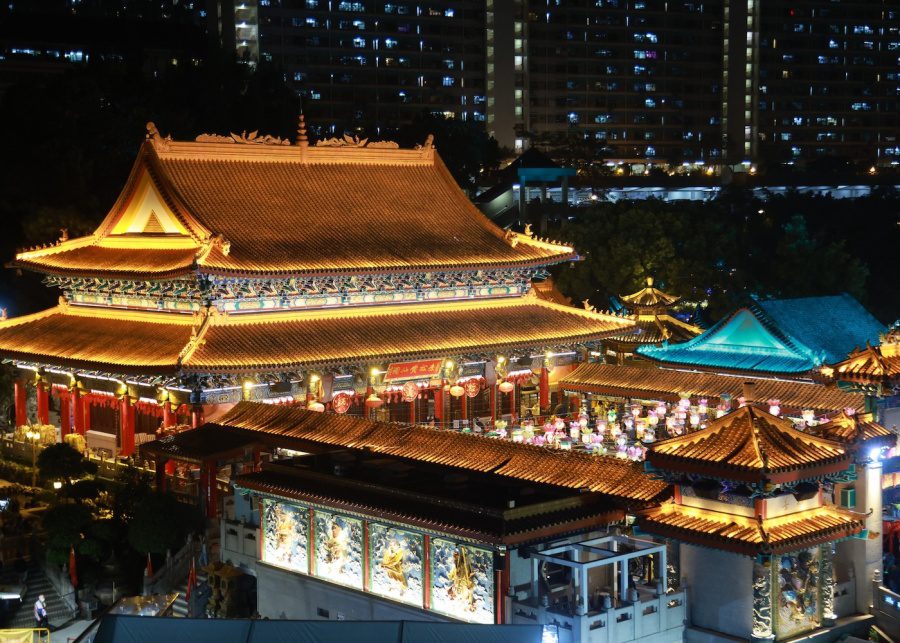 Want to have all your wishes granted? Say a prayer at the famous Wong Tai Sin Temple, which is believed to make every wish come true upon request. Paying tribute to a famous monk of the same name, Wong Tai Sin Temple is the busiest temple in Hong Kong with over 10,000 visitors daily. It's also home to three religions:Taoism, Buddhism, and Confucianism.
Discover more Chinese Temples to explore in Hong Kong and explore our Wong Tai Sing neighbourhood guide.
Wong Tai Sin Temple, 2 Chuk Yuen Village, Wong Tai Sin, Kowloon, Hong Kong, p. 2327 8141
10. Stanley Market
Another street market you should visit while in Hong Kong is Stanley Market, located by the seaside on Hong Kong Island's south coast. Find anything you want at this market, from clothing and accessories – this time for both the ladies and gents – to jewellery, home furnishings, souvenirs, and Oriental ornaments, following which you can stuff yourself at the nearby restaurants after a long shopping session. Definitely one of our fave Hong Kong tourist attractions.
Stanley Market, Stanley New Street and Stanley Market Road, Stanley, Hong Kong Island
11. Star Ferry
Looking for a top tourist attraction in Hong Kong that won't break the bank? Hop on the Star Ferry! For less than $5, you can take in the views of the skyline from the upper deck and cross the Victoria Harbour in a piece of Hong Kong's history. For those who want to get the full experience, book a Star Ferry Water Tour that can be taken at sunset or at night during the Symphony of Lights show.
Find out more about the Star Ferry.
12. Hong Kong Park
One of the best parks in the city, Hong Kong Park is a welcome break from the hustle and bustle of the concrete jungle. With everything from the Tai Chi Garden to an aviary, the park is a haven for many. Find a patch of grass to sit back and marvel at the serene artificial lake and waterfall after a long day of exploring the city. Hong Kong Park is also home to several cultural sites – feel free to explore converted historic buildings like the Flagstaff House Museum of Teaware.
Check out more parks in Hong Kong.
Hong Kong Park, 19 Cotton Tree Drive, Central, Hong Kong, p. 2521 5041