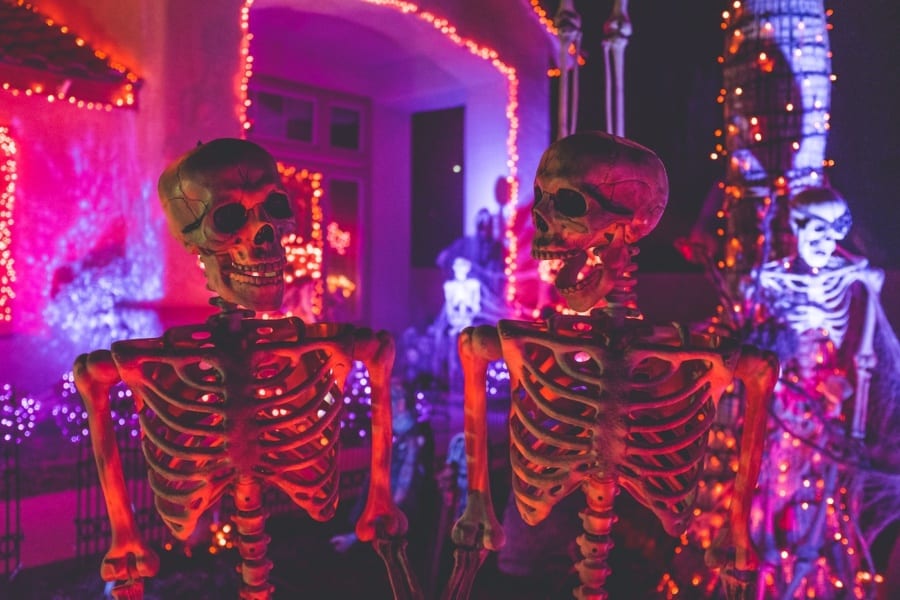 Parties, food, alcohol, shows, games… check out all the best 2020 Halloween events in Hong Kong
2020 is looking different for everyone, but we still found a list of spectacular Halloween events in Hong Kong. Just want a chill Halloween? Check out these best brunches in Hong Kong or hit these bars for a boozy drink. Feel like trying something cool? Explore these 6 haunted places in Hong Kong or check out the following events.
1. Vault Lockdown Party at The Dispensary: for drama and movie lovers
Ever watched the famous Netflix show La Casa De Papel (aka Money Heist)? Witness the bank robbery scene at Vault Lockdown Party on 29th October 9 pm. The Dispensary staff will put on the iconic red jumpsuits while guests will each be given a creepy Dali-mask. Visitors are also invited to join the Money Heist trivia quiz and win a special cocktail of the night "Dali". Free entry is given to guests who wear spooky costumes.
RSVP to The Dispensary's Vault Lockdown Party.
The Dispensary, Police Headquarters Block 01, Tai Kwun, 10 Hollywood Road, Central, Hong Kong, p: 2848 3088
2. Haunted Kong: a haunted house in Jordan
Ready to be chased after by psychopaths in a sketchy old building? Haunted Kong is a collaboration between makeup artists Gary Chan, No Money So Lonely, and our fave cafe Mamaday Studio. Participants will dress up as patients before walking up the seventy-year-old building with only one candle. Immerse in local urban legends while solving cues to enter the next room. After conquering the haunted house, feast on thematic food and beverages prepared by Mamaday Studio.
Watch their trailer and book your visit on their website.
105 Parkes Street, Jordan, Hong Kong; $258-$444 per two people (depends on the session)
3. Welcome to the Jungle Party at Aqua Spirit: most hectic Halloween party ever
Games, shows, free-flow alcohol, themed brunch, dance… experience all these at Aqua Spirit from 12 o'clock to late night for $688. Only on 31st October, Aqua Spirit's panoramic bar will transform into the Amazon forest inspired by the docuseries Tiger King. The party starts with a brunch featuring Japanese Italian specialties as well as free-flow champagne, wine, sake and beer for the entire day. At 3pm, guests can head to the 29th floor and enjoy dance performance, theatrical shows and live music.
Aqua Spirit, 29/F & 30/F, One Peking, Tsim Sha Tsui, Hong Kong, p: 3427 2288
4. Fortnum & Mason's spooky chocolates: for scaring your friends (shhh)
We all know that Fortnum & Mason makes delectable sweets. What's more, they are adding a bit of twist to their beautifully crafted chocolates with Halloween themes. The Chocolate Toad in Gift Box ($378) is a Belgian chocolate sculpture hand-painted by sculptors in South England. It is absolutely a perfect prop to scare your friends. If eating such a life-like chocolate toad scares you, opt for the three Deadly Chocolate Skulls ($98) with white chocolate, milk chocolate and dark chocolate.
Shop Fortnum & Mason online or visit their stores.
5. Spooky Churros from Twist & Buckle: if you're sick of eating candy
From 26th October to 1st November, dig into one of the best churros in Hong Kong with marshmallow spider web and oreo crumbles. Topped with two chocolate spiders, the churro comes with Hokkaido milk soft serve and even more Oreo crumbles. If you are loaded with candies from Trick or Treats, the Spooky Churro ($65) will surely give you a whole new sensation with its crunchiness. Other than this seasonal churro, we also love Cookie Monster ($58) and Crunchy Matcha ($38) from Twist & Buckle.
Twist & Buckle, 29-31 Chatham Road South, Tsim Sha Tsui, Hong Kong
6. Aqua Luna's Haunted Harbour Cruise: for romantic drinkers
Hop on a junk boat with free-flow wine, prosecco, beer and more! Exclusive on 31st October, sail on Aqua Luna's cruise from Central or Tsim Sha Tsui with pirates and ghosts. Other than the Evil Eye Cocktail, you can enjoy Halloween tunes, unlimited beverages and spectacular views of the Victoria Harbour at $400 (one hour) or $680 (two hours). Want to win a chest of dining prizes? Get spooky with your costumes, post your Aqua Luna Halloween night on Instagram and the treasure box might be yours.
Book your ticket for Aqua Luna's Haunted Harbour Cruise.
7. Día de los Muertos at Foxglove: be a fancy vampire
Foxglove has always been one of our to-go lunch places in Central. On 31st October, this elegant restaurant will take care of your alcohol cravings. Enjoy free-flow house mixers, margaritas, craft beers, prosecco and house white or red from 9pm to midnight ($700). Whether you choose table tickets or standing tickets, you will be able to have a crazy drink night with your friends in a beautiful setting.
Foxglove, 2/F, 6 Duddell Street, Central, Hong Kong, p. 2116 8949
8. Spooktacular treats at Lucullus: the iconic Hong Kong chocolate brand
A long-standing brand in Hong Kong, Lucullus recently introduced their new concept "bold and innovative", kicking start with the Halloween collection. Other than quirky chocolates, the Hallo-Scream Chocolate Cookie Box ($118) is another highlight, with assorted patterns such as pumpkin and ghosts. If you want something special, try the Lucullus x Loveramics Dessert Cups ($58), which is a mousse cup with layers of cream and sponge cake.
Shop Lucullus online or visit their stores.
9. Halloween drinks at Te Quiero Mucho: Experience the Mexican Día de los Muerto
Te Quiero Mucho, an authentic Mexican eatery and bar, is celebrating the Day of the Dead from 29 October to 5 November. Enjoy two hours of free-flow tequila, house wine, beers, cocktails and more for $198. To fully enjoy this Mexican festival, try their limited-time Olmeca cocktail for $100 (or $50 if you want to challenge a shot). Much on some Tacos or Quesadilla and you are good to go.
Te Quiero Mucho, 286 Queen's Road Central, Central, Hong Kong, p. 3423 3290 
9. Greek Wine Orgy at Artemis & Apollo: Not to forget Zeus and Poseidon!
Mmhmm orgy! probably not the one you're thinking though. Join the Greeks for a wild revelry full of music, wines, food and games. This $488 meal includes free-flow pours of wines and ouzo, and of course all the best Greek food to cure your soul. Dress up as your favourite Greek God, bring your friend along, and enjoy a crazy night out.
Artemis & Apollo, 9-11 Moon Street, Wanchai, Hong Kong, p. 2818 8681
10. LEE Lo Mei giveaway & party: Free beer, fried chicken… and Halloween tattoos!
Wanna join a Halloween lottery and a spooktacular celebration? Win free fried chicken, a full pint of YAU beer and other cool merchandise at LEE Lo Mei upon purchase of a pint of YAU beer. You are also invited to join LEE Lo Mei's Halloween party on 31 October, with buy-one-get-one-free YAU beer, 3-hour DJ performance and a range of Halloween tattoos. The special set menu ($398) features a variety of delectable starters, seafood and dessert, such as the signature LEE's Little Lobster and Shrimply The Best.
LEE Lo Mei, 8 Lyndhurst Terrace, Central, Hong Kong, p. 2896 7688
12. Landmark EATO: 12 spooky celebrations all in Landmark
Seafood and cocktail? Head to Cafe Landmark or Dot Cod. Cakes and sweets? How 'bout The Cakery or Le Dessert. Gin or whisky? Go to The Whisky Library or Dr. Fern's. This year, F&B outlets from Landmark EATO have come together to present a delicious Halloween for all foodies. From themed treats to luxurious delights, you can find all kinds of spooktacular Halloween specials at Landmark. Kids can enjoy ghoulish mousse cakes while adults sip in some bloody shrimp cocktails, making Landmark EATO a family-friendly place for Halloween celebration.