Visit picturesque Okinawa (Photography: Spacy Goody via Pexels)
Our guide to Okinawa covers everything you need to know about this island paradise from the amazing local delicacies to where to stay
With hotel quarantine finally over, we're looking for short trips from Hong Kong to scratch that travel itch! We love exploring Singapore, Kuala Lumpur and South Korea, but one of our fave spots in Asia is Japan. In fact, now that there are less travel restrictions in Japan, it's better late than never to book your next trip. With just a short 2.5-hour plane ride from Hong Kong, Okinawa is a gem just waiting for you to discover. One of five Blue Zones internationally, it's known for its amazing food and the people of Okinawa have some of the longest lifespans in the world! Find out where you have to visit with our guide to Okinawa.
GUIDE TO OKINAWA: Where to eat in Okinawa
Unlike other parts of Japan, Okinawa isn't known for its sushi (though there are damn good sushi restaurants there and we visit them on the regular.) It's most famed for its umibodu (sea grapes) and also for its soba noodles, both of which can be found at a number of restaurants across the island, and even at the airport! Also, you have to try the local rice wine Awamori when you visit. Not only does it taste delicious, but the bottles that it's served in are simply beautiful. Now, on to where to eat in Okinawa.
Orionya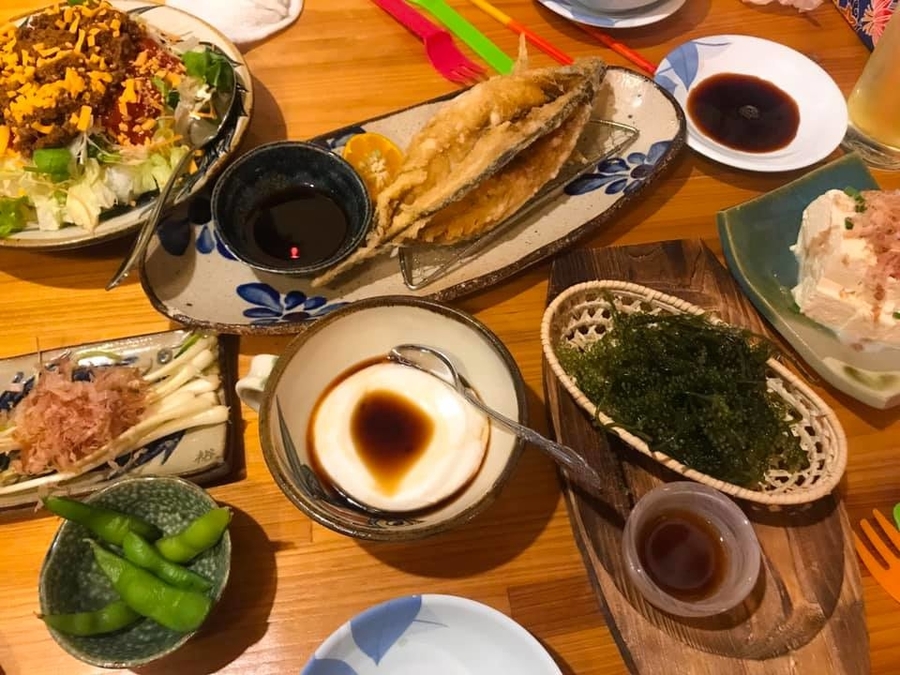 This little izakaya is just peachy. With vintage art and posters covering the wall, this quirky joint serves tasty food in a really fun vintage atmosphere, and we love the friendly staff. Pig out on all the Okinawan classics, including umibudo (sea grapes), mozuku (seaweed in vinegar), jimami dofu (peanut tofu), taco rice and a selection of grilled fish, and be sure to wash it all down with a pint of the local Orion beer.
Orionya, 2160–1, Nakama, Onna-son, Kunigami-gun, Okinawa, 904–0401, Japan
Lawson
We don't care what anybody says about this appearing on our list; Lawson rules! Pick up some sushi, a sandwich or a salad here if you're eating on the move, and we promise you won't be disappointed. They also have great hot food, including crispy rice cakes covered in seaweed and served on a skewer; perfect for the colder months.
Lawson stores are everywhere you go in Okinawa, so you won't have trouble finding one
Makishi Public Market
You can't miss a visit to this famous market when you're in Naha. Head to the first floor, and you'll find everything from fresh fish to vegetables, meats and a selection of Okinawan specialties. If you purchase some seafood here, you can then go upstairs to the second floor where the vendors will cook your purchases to perfection, but they also have a range of other dishes available too, including the famous Okinawa Soba and other delicacies.
Makishi Public Market, 2 Chome-10-1 Matsuo, Naha, Okinawa 900-0014, Japan
Hamaya Soba
Tuck into a bowl of soba that will warm you from the inside out at Hamaya Soba. A quintessential noodle shop in Okinawa, Hamaya Soba is not gourmet by any means but is well-known locally for having food to die for. You can't have a bad order here, with an original soup recipe that will have you slurping every last drop from your bowl.
Hamaya Soba, 2-99 Miyagi, Chatan, Nakagami District, Okinawa 904-0113, Japan
Sakanagaku Fish Sushi – Public Market Head Office
We feel that a guide to Okinawa should feature at least one sushi restaurant, and our favourite spot in Naha is Sakanagaku Fish Sushi – Public Market Head Office. Sit at the bench and watch as the pros craft your meal before your eyes. All the seafood is flown in fresh daily from across Japan and tastes exquisite, and they also do an amazingly crisp tempura that you won't want to miss. We especially love the fortune papers attached to each set of chopsticks that the waiters who speak English will translate for you.
Sakanagaku Fish Sushi – Public Market Head Office, 2-chōme-11-11 Matsuo, Naha, Okinawa 900-0014, Japan
GUIDE TO OKINAWA: What to do in Okinawa
As the capital city of Okinawa prefecture, Naha is where a lot of the action takes place in terms of what you can do on your trip. As the birthplace of karate and home to one of the busiest streets in Okinawa, Naha will definitely make up the bulk of your list of stops. However, don't forget to check out some places outside of Naha as well to find some hidden gems, and to truly take advantage of coming all this way. We have handily split our guide of what to do in Okinawa into "Naha" and "Outside Naha" for your convenience.
NAHA
Explore Kokusaidori
The main street in Naha, Kokusaidori translates as 'International Street' and is lined with restaurants, souvenir shops and malls. Arcades branch off the street and you can spend hours wandering along them as you look at fashion stores, markets, vintage stores and food stalls.
Visit Kokusaidori
Karate Kaikan
What guide to Okinawa would be complete without talking about one of the island's biggest claims to fame: karate?! Nestled away on a hill in suburban Naha sits Karate Kaikan, a special facility that aims to preserve and develop the martial art. If you're lucky, you may catch students training in the dojo, otherwise explore the exhibition rooms and learn how karate was born. Then, try your hand at some of the skills tests they have there to test your form. Don't miss out on seeing the special dojo: Shurei Hall, a beautiful structure with a red tiled roof that symbolises the status of Okinawa as the birthplace of karate.
Karate Kaikan, Tomigusuku 854-1, Tomigusuku-shi, Okinawa, Japan
Whale Watching
In the winter months, humpback whales travel down from the freezing waters of Alaska to the warmer waters that surround Okinawa. From December to April, you can jump on a boat from Naha and go out to see if you can spy any whales, and with the team at Cerulean Blue, you'll get a 100% refund if you miss out on seeing any! This is such a fun activity for the whole family, and the guides on this tour will talk you through all the different movements the whales have and give you information about their unique habits. On the day we went, we got to watch a mother and her calf playing in the ocean for hours; it was magical.
Cerulean Blue Whale Watching book online
OUTSIDE NAHA
Visit the cherry blossoms in Nago Central Park
Due to its southern location and warmer climes, Okinawa is one of the first places in Japan that the cherry blossoms bloom. The trees start to flower in mid-January, and it's said that the best time to visit is late January/early February, but it's best to keep an eye out online to see what people are saying about the exact dates each year, or just reach out to the hotel you're staying at for information. What's extra cool about seeing this spectacular site in Okinawa is that the trees there are actually different from the mainland (Kanhizakura), with larger and darker flowers.
Head up to Nago City in the north of the island and visit Nago Central Park to catch a glimpse. We suggest indulging in the selection of takoyaki, okonomiyaki and other snacks at the bottom of the park before climbing the steps/hill to get to the cherry blossoms themselves. We promise, they're worth the wait!
Nago Central Park, Okinawa, Nago, Gusuku 2-4
Yomitan Pottery Village
Okinawa has a number of artisans creating stunning fabrics, prints and fashion, but what its most known for is its pottery. If you're keen to pick up some beautiful earthenware on your visit, then head to Yomitan Pottery Village. Essentially, this is actually just a street lined with houses/studios that you can wander through and see the artists at work.
We love the bold blue coloured designs that reflect the colour of the sea that surrounds the island as well as seeing the giant kilns and live glass blowing. Be sure to have this place well marked out for your taxi driver, as it's kind of in the middle of nowhere and not too well known.
Yomitan Pottery Village, 2653 Zakimi, Yomitan, Nakagami District, Okinawa 904-0301, Japan
Ryukyu Mura
For those looking to see what Okinawa was like in yesteryear, a trip to Ryukyu Mura should be on the agenda. Step back in time at this historic village and see wonderful music and dance performances, while the kids (and adults) will be entertained by the comical shisa. Explore how village life once was and pick up some lovely pottery from the great selection of stores.
Ryukyu Mura, 1130, Yamada, Onna-son, Kunigami-gun, Okinawa, Japan
Beaches
There are so many amazing beaches in Okinawa that the most difficult thing will be picking which ones to visit. On the main island to the north, Emerald Beach is absolutely stunning, with crystal clear water and golden sands, while Zanpa Beach is more centrally located and has an array of water sports equipment for hire. There are also tons of islands around the main island with great beaches too, but our top pick would be Yonaha Maehama Beach on Miyako Island, which is a short 45-minute plane ride from Naha airport, but totally worth it.
GUIDE TO OKINAWA: Where to stay in Okinawa
With any worthwhile trip overseas, where you stay is often the key to making or breaking a good visit. One of the great things about Okinawa is that you don't have to break the bank in order to have good lodging and amenities. Read on to find some places you can book for your trip!
Hyatt Regency Seragaki Island
Located on the stunning north-west coast of the island, this hotel is heavenly, and a must for anyone looking to totally relax on their holiday. We loved the views from the guestrooms and you can not beat the luxurious spa treatments. Sign up for a yoga session that overlooks the ocean or kill time in the pools, whatever you're in the mood for, the friendly staff will take great care of you.
Read our full review on Hyatt Regency Seragaki Island Okinawa here
Hyatt Regency Seragaki Island Okinawa, 1108 Seragaki Onnason, Okinawa, Japan, 904-0404
Community & Spa Naha Central Hotel
While it may not be the fanciest hotel in Naha, what we love about Community & Spa Naha Central Hotel is its great location and the onsen that's attached. Spend time chilling at Natural Spa Rikkarikkayu, the largest bathhouse in Okinawa, and enjoy the baths, saunas and hot stone spa after a day of exploring the city. The hotel also has a lovely courtyard for relaxing and offers a wonderful traditional Japanese breakfast buffet, perfect fuel for all your adventures.
Community & Spa Naha Central Hotel, 900-0013 Okinawa, Naha, Makishi 2-16-36, Japan
GUIDE TO OKINAWA: Getting around Okinawa
In typical Japanese fashion, getting around Okinawa is easy, affordable and organised. If you've opted not to rent a car, then the bus will be your best friend if you're travelling across the island. The drive from top to bottom only takes around four hours in its entirety, so nothing is very far away, no matter where you're staying.
Taxis are easy to flag down, just be aware that as it's a small place, sometimes they may have to go and drop a passenger off before coming back to get you. Having access to where you want to go on your phone or written down will be a big help too.
There's even a monorail in Naha that transports you from the airport into the city and close to a number of key sights. We challenge you not to sing The Simpsons monorail song while riding it though.