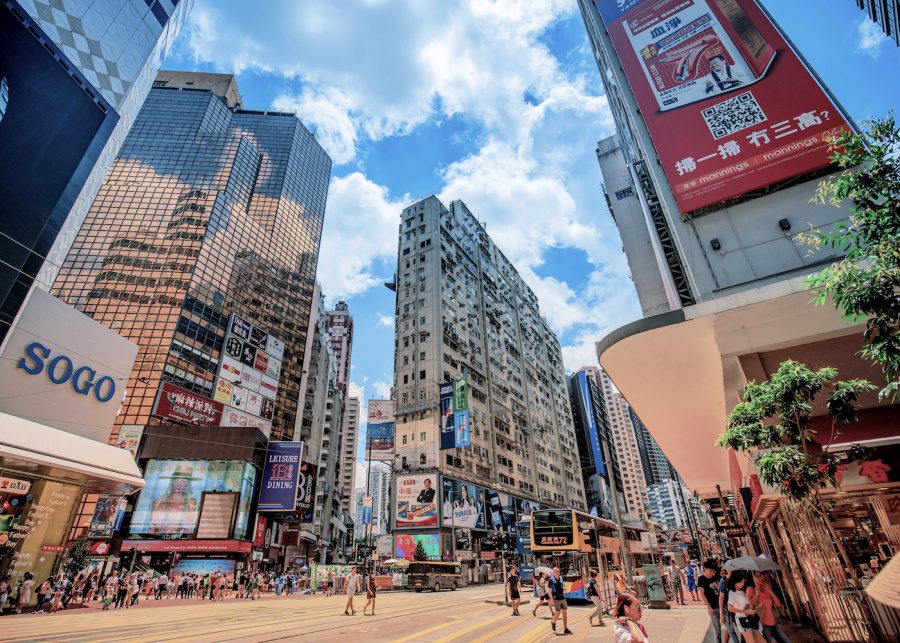 Causeway Bay has something for everyone
Get tipsy, go on a shopping spree, or make some furry friends – all at Causeway Bay!
You know we love giving you the 4-1-1 on our favourite neighbourhoods like Tai Hang, Kennedy Town, and Quarry Bay. And any Hong Konger would certainly have had clocked in some time in the hustle and bustle of Causeway Bay. In this fun and eccentric area, you can eat a Michelin-starred meal, get some drinks, or have coffee with some rabbits, all within a few blocks. Check out everything CWB has to offer with our guide to Causeway Bay.
Guide to Causeway Bay: Restaurants and cafes
1. Din Tai Fung (Causeway Bay)
Want some of the best xiao long bao in the city? Look no further than Din Tai Fung in Causeway Bay. This Taiwanese import has been serving up the steamed delicacies by the truckload to hungry guests over the years. Don't miss out on other tasty dishes too while you're there to get your money's worth. For instance, the black truffle dumpling and egg fried rice are certainly no slouches! Just be ready to wait a little while to get to your table but trust us – it'll be worth it.
Din Tai Fung (Causeway Bay), Shop G3-11, G/F, 68 Yee Wo Street, Causeway Bay, Hong Kong, p. 3160 8998
2. Roganic & Aulis
A metropolitan take on the farm-to-table experience, Roganic focuses on local and sustainable ingredients. You can expect contemporary British cooking with a commitment to traceability. Go for the tasting menu at Roganic, or opt for a seat at Aulis if you're truly looking for an experience to write home about. During the interactive and dynamic dining experience at Aulis' chef's table, you'll be guided through the tasting menu, with sommeliers pairing drinks with your meal. Talk about full service!
Roganic & Aulis, Shop 08, UG/F, Sino Plaza, 255 Gloucester Road, Causeway Bay, Hong Kong, p. 2817 8383
3. Artista Perfetto (Causeway Bay)
Another Taiwanese import on our list, Artista Perfetto brews delicious coffee in a little corner of Causeway Bay. If you're looking for a simple, no-frills, great cup of java, you've come to the right place. Artista Perfetto takes its coffee seriously, with black, white, and pourovers. The space is perfect for you to spend an afternoon unwinding, with its clean lines and relaxed atmosphere.
Artista Perfetto (Causeway Bay), G/F, 3 Sharp Street West, Causeway Bay, Hong Kong
4. Project C
Honeys, take note of this spot for your Insta! The concrete facade of Project C has a circular window that you'll definitely want to get a shot of – along with your cup of coffee. Aesthetics aside, the coffee here is top-notch. With black, milk, and carbonated coffee on the menu, you won't be lacking for options. You'll also get a sheet of tasting notes when you order a drink here, so try to notice all the flavours.
Project C, 29 Hysan Avenue, Causeway Bay, Hong Kong
Guide to Causeway Bay: Bars
5. Cadillac Bar & Grill
This Mexican-American bar and grill has got one of the best happy hour deals in town. You'll be downing the margaritas here for hours before you know it! Plus, Cadillac Bar & Grill has a prime location in Hysan Place. With a large outdoor patio, you can feel the wind in your hair as you get your evening (or afternoon) tipples. The food here is great as well for some bar nibbles, or even a full meal to line your stomach before the alcohol.
Cadillac Bar & Grill, 7/F, Hysan Place, 500 Hennessy Road, Causeway Bay, Hong Kong, p. 2521 2322
6. Alto
A chic place for a drink near the top of V Point, Alto is a classy affair. Choose a glass from the extensive wine list or grab a cocktail made with the finest spirits. While you can simply lounge and have a drink here, you can also try one of the mouth-watering steaks on the food menu. Alto's outdoor rooftop area gives you a spectacular view of the city – the ideal companion to a cheeky nightcap.
Alto, 31/F, V Point, 18 Tang Lung Street, Causeway Bay, Hong Kong, p. 2603 7181
7. Boba Bear
In the mood for shisha? Boba Bear will smoke you up till the wee hours of the morning. With great cocktails and spirits on the menu, this will be one drink-and-smoke sesh to remember. If all the fumes indoors is too much for you – or if you simply want a great view – you can head to the outdoor area. Boba Bear is perched on the 30th floor, giving you a look at the city from above. So, grab a refreshing cocktail and pass the mouthpiece!
Boba Bear, 30/F, Zing!, 38 Yiu Wa Street, Causeway Bay, Hong Kong, p. 2618 6907
Guide to Causeway Bay: Shopping
8. Shopping malls
One thing everyone knows about Causeway Bay is that it's a shopping mall haven. There's Times Square, Lee Gardens, Sogo, Fashion Walk, Hysan Place, and even more! You can find almost every designer store you can think of here. Affordable fashion is also available at these shopping malls, with Uniqlo, Cotton On, and an array of indie labels scattered around. Any bibliophiles in the house? Hysan Place has a huge bookstore, Eslite, that sells Chinese and English books. You can easily spend a full day mall-hopping in Causeway Bay.
9. Film camera shops
Did you know that there are still stores catering to film cameras nowadays? In fact, CWB has several dedicated film camera shops that are worth a visit. The Causeway Bay branch of Showa Film & Camera sells loads of used analogue cameras, film, and even offers developing services. Meteor HK on the other hand, while not offering development, has a collection of high-end cameras and lenses that are a great investment. Whether you're just starting to dabble with film photography or a seasoned snapper looking for more equipment, a trip to these film camera stores is definitely worth it.
Showa Film & Camera (Causeway Bay), Shop 2N, 2/F, Po Foo Building, 1-5 Foo Ming Street, Causeway Bay, Hong Kong, p. 9383 3437
Meteor HK, Lin Fook House, 3 Jardine's Crescent, Causeway Bay, Hong Kong, p. 2392 0363
Guide to Causeway Bay: Things to do
10. Get your nails done
Looking to pamper yourself after a busy day running around Causeway Bay? You can get a nice manicure (and pedicure) at one of the nail salons in the neighbourhood. Tinted is a place you should definitely check out for a mani-pedi that will last. You can get some snazzy nail art as well to complement any new goodies you've bought. Pikapika is another salon to check out for quality nail services. Styles like ombre, hand drawing, Swarovski, and more are available for you to deck out your nails and don little works of art.
Tinted, 5/F, 18-20 Pak Sha Road, Causeway Bay, Hong Kong, p. 6012 6444
Pikapika, Flat B4, 2/F, Kingston Building, 2-4 Kingston Street, Causeway Bay, Hong Kong, p. 6169 6069
11. Get lost (and found)
What would you say to being locked in a room with only puzzles and riddles to set you free? That's exactly the experience that Lost Hong Kong is offering. The Causeway Bay branch of Lost Hong Kong has many different themed escape rooms for you to choose from. Treasure Island 1881, Project Ultra, and Qin Immortal Life are just some of the rooms to have fun in, with differing levels of difficulty. Grab a few of your closest pals (that you wouldn't mind getting locked in a room with) and start cracking the case to escape!
Lost Hong Kong, 6 Sharp Street East, Causeway Bay, Hong Kong, p. 2892 2393
12. Make some animal friends
A quirky aspect of Causeway Bay is the amount of pet cafes located in the neighbourhood. You can make some animal friends over a cup of coffee and some treats. Mame and Shiba Cafe has oodles of shibas waiting to be cuddled, whereas Rabbitland Cafe is home to some hopping pals and smaller furry buddies. Are you a cat person? Visit Cat Island Cafe to make some feline friends. When you find yourself in the neighbourhood and want a side of fuzzy pals alongside your coffee, consider tracking down the nearest pet cafe!
Mame and Shiba Cafe, Room J, 3/F Po Foo Building, 1-5 Foo Ming Street, Causeway Bay, Hong Kong, p. 5931 8931
Rabbitland Cafe, 3/F, 530 Jaffe Road, Causeway Bay, Hong Kong, p. 5281 0280
Cat Island Cafe, 3/F, Flat D, Po Ming Building, 2-6 Foo Ming Street, Causeway Bay, Hong Kong, p. 2710 9953