Experience supreme sound quality with KEF at Home
Running out of space? Don't worry, we've all been there. Simply replace your bulky appliances with our list of gadgets for small spaces, and you should be good to go. You're welcome!
The fact that space is a commodity in Hong Kong hits us hard whenever we're packing things up for storage, moving houses, or even just redecorating our living space. Luckily, there are some useful gadgets for small spaces that are perfect for those of us living in Hong Kong. Grab your wish list – from mini projectors to indoor planters, here are our top picks.
Best home gadgets for small spaces and apartments in Hong Kong
1. Epson EF-12 projector from AV Life
Why buy a television when you can instead project whatever you want to watch on the walls of your home? At AV Life, Hong Kong's audiovisual specialty chain store, you'll be able to buy the Epson EF-12 projector. The compact machine has a laser projection lamp, Android TV, Yamaha speakers, and wireless connectivity – all within the box-like projector that's no more than just 18cm wide and 18cm tall. Now you can stream your favourite movies any time, anywhere!
AV Life (生活影音) has multiple branches across Hong Kong.
2. Bang & Olufsen Beosound Shape
Anything wall-mounted can free up floor space – that's one of the reasons why we love the Beosound Shape from Bang & Olufsen. With integrated noise dampers, a connectivity hub, and as many as 44 individual speakers, this gadget for small spaces can improve room acoustics and deliver an immersive sound experience. Not to mention, the stunning visual aesthetics of the Beosound Shape. This set of speakers is mounted on the wall like a bespoke piece of art that you can customise to your own design using B&O's configuration tool. Arrange the tiles to create your desired pattern, then choose the colours of the fabric covers to match the style of your interior decor. Elevate your living space visually and acoustically – sorted.
Bang & Olufsen has several branches in Hong Kong.
3. Nespresso x Chiara Ferragni Essenza Mini coffee machine
Add a splash of pink to your home with the Nespresso x Chiara Ferragni Essenza Mini coffee machine from the brand's summer 2021 collection. This limited-edition item is chic and stylish, inspired by the Italian fashion influencer and entrepreneur, Chiara Ferragni. Both small and smart, this capsule coffee machine makes excellent espresso-based drinks. We also like the fact that this Essenza Mini features sustainable design with an energy saving mode after three minutes and is made with 30 percent recycled plastic.
Nespresso has various branches and retailers across Hong Kong.
4. SteelSeries Prime Wireless gaming mouse
Calling all gamers! Global eSports label, SteelSeries, launched its Prime franchise in May 2021. Boasting a series of lightweight and streamlined equipment made with cutting-edge technology, Prime was developed with one goal in mind: to win. Among the Prime products, the Prime Wireless gaming mouse stands out to us by being, well, wireless. This reduces the potential clutter you can have at your desk. Plus, the mouse is only 80g in weight – which is super light – and carries over 100 hours of battery life. With fast charging capabilities, Quantum 2.0 Wireless technology (say goodbye to laggy gameplay!), and many more optimisations, this gadget is clearly engineered for top performance in competitive gaming.
Shop SteelSeries online in Hong Kong.
5. Renpho Smart Home Gardening Kit
No balcony? No problem. Bring nature indoors with Renpho's Smart Home Gardening Kit. Fitted with a high-performance LED growing light and a hydroponic circulation system, this smart planter optimises the environment to promote photosynthesis, so that your favourite greens will grow healthily and happily. Only 35cm long, 14cm wide, and 50cm tall, this fun-sized gadget can be placed in any small spaces at home or in the office. Moreover, the planter's height is adjustable and its lighting panel can be extended depending on the needs of your plants and, of course, your living space.
Shop products by Renpho at Fortress stores across Hong Kong.
6. Hydragun
Even Hong Kong's beloved Olympic swimmer Siobhan Haughey uses this! A widely acclaimed massage gun around the world, Hydragun finally launched in Hong Kong in May 2021. This quiet and lightweight device uses percussive therapy to relieve sore muscles and speed up the recovery of painful joints. Around 22cm in length, 6cm in width, and 18cm in height, Hydragun is of a similar size to other massage guns on the market. But, it stands out with its outstanding battery life (up to six hours, which is double that of most other full-sized massage guns) and its light weight of only 1kg. Most importantly, Hydragun is super quiet, thanks to its patented SmoothDrive Motor Technology. This means that you can use this gadget pretty much anywhere: bring it with you to the gym, or use it while you're winding down in front of the telly.
Shop Hydragun online.
7. KEF Egg Duo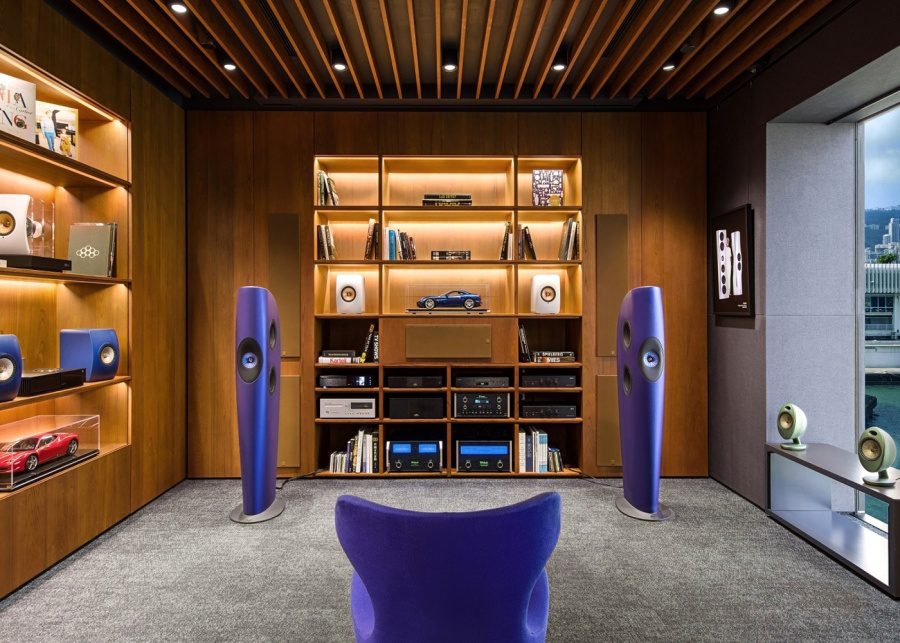 At no more than 17cm in length and 27cm in height, KEF's Egg Duo is the ideal gadget for small spaces. Not only is this pair of wireless high-fidelity speakers compact, but they're also versatile, both in colours and audio experience. You can take your pick between red, green, teal, black, and ruby to add a vibrant statement to your home. The Egg Duo is also designed with advanced audio technology to deliver the best sound, whether you're listening to music, watching movies, or playing games. So you see, the size doesn't always compromise the audio quality!
KEF has various branches and retailers across Hong Kong.
8. Gaggenau 200 series combi-steam oven from Kitchen Infinity
Established in 1683, Gaggenau is an internationally famous brand from Germany that specialises in premium kitchen appliances. This pioneer in technology and design was finally brought to Hong Kong via Kitchen Infinity in 1986, who's been Gaggenau's sole distributor ever since. Among Gaggenau's stunning range of products, we particularly like the 200 series combi-steam oven. You can fit this multi-purpose oven into the cavity of your kitchen cabinets – perfect for small spaces. It doesn't take up too much space horizontally either, as it's only 60cm wide and 45cm tall. That said, it still holds three tray levels and a net volume of a good 50 litres! Above all, this machine is extremely versatile, allowing you to steam, braise, bake, grill, gratinate, and sous-vide, so that you don't need to buy a different appliance for each cooking method.
Find out more about Gaggenau.
Shop products by Gaggenau at Kitchen Infinity, which has several showrooms in Causeway Bay and Wong Chuk Hang.