Every villa has its own pool and is secluded for privacy
With the best months to visit this Vietnamese island being end of October to start of May, Fusion Resort Phu Quoc is where you need to be to get away from it all.
One of the best things about living in Hong Kong is how easy it is to take short trips to amazing destinations throughout Asia. From Laos to Singapore to South Korea, there are so many colourful cultures to explore, and one of our faves has got to be Vietnam. Sitting of the coast of the country in the Gulf of Thailand, Phu Quoc promises crystal-clear waters, sunshine and friendly locals. We recently went to Fusion Resort Phu Quoc for some mega relaxation, and we think you'll love it as much as we did.
Just a few hours from Hong Kong: Fusion Resort Phu Quoc
Getting to Phu Quoc is easy, thanks to VietJet's daily direct flights from Hong Kong. The island is actually a Special Economic Zone, meaning most passport-holders don't have to worry about getting a visa (if you've waited for visa in Ho Chi Minh, you'll know why that's a bonus!), so after the 2.5-hour flight, just go through immigration (it took us ten minutes) and you're off on holiday!
All Fusion Resorts have been designed with the millennial traveller in mind, meaning that pick-up and drop-off services are included in your room-rate: yay for making life easy. We were soon on the road to the resort, a 40-minute drive north from the airport.
Villa life
When we checked in that night, we were introduced to our Fusionista, the term for the group of experts who act as part concierge/part Phu Quoc gurus. She talked us through the resort, showed us the map, made sure our spa bookings were correct and answered all of our questions before calling a buggy to take us to our villa.
Every single villa at Fusion Resorts Phu Quoc has a pool and the property is designed so that you are completely secluded from your neighbours, making it a great option for a complete-break holiday.
Our One-Bedroom Garden Pool Villa was tastefully decorated with a huge bed, room dividers filled with white seashells, and a gorgeous wooden bath that was something of a statement piece. I was later a little disappointed to find out that bath salts weren't available (word to the wise; take your own for all the bubbly fun!) Also, we'd neglected to take a power adaptor, and although they were able to provide us with one, it didn't really work with the sockets available. I was surprised that a property that's only three years old didn't have any USB ports. Again, remember to pack your own, and you'll be away laughing and ready to 'Gram all the sweet spots across the resort.
All the food
If you're heading to a resort for a weekend to bliss out completely like we did, then food is of utmost importance. The first night we arrived, we opted for room service, and the selection was mighty good, from vegetarian pad Thai to wonderfully fresh fish and a range of homemade sorbets (our fave was the Blackcurrant with Black Pepper), there's a lot to choose from.
Fusion Resorts have a 'Breakfast Anywhere Anytime' policy, so if you miss the buffet from 6:30-10:30am, you can just book breakfast in bed or breakfast by the pool or even breakfast by the beach; that's pretty cool. That being said, the buffet has a range of tasty stations that you might not want to pass up, including a Banh Mi station and a Banh Xeo (Vietnamese pancake) station, as well as a range of tropical fruit (mmm… passionfruit…), exceptional pastries and strong Vietnamese coffee that I really get behind.
You can order snacks at the pool and at the beach and there are two restaurants: Pezca and Secret Garden. The menu at Pezca was almost identical to the room service menu, so we opted to try Secret Garden for Vietnamese-style hot pot, and it was an absolutely fantastic mix of locally-caught seafood, fresh vegetables and tofu in a deliciously spicy broth.
Another coup in terms of food is that the property runs a nightly shuttle bus to the famed Phu Quoc Night Markets around 30-minutes away. Jump on at 8pm, and be whisked off to a lovely market filled with food and a small array of souvenir shops. I loved how friendly all the sellers were, it was a really relaxed vibe, and we ate our fill of street food (Vietnamese rice paper rolls, steamed corn, skewers) before trying out some seafood from one of the bigger restaurants, which was divine. You can't miss the chopped ice cream too; you'll hear it before you see it. Once you're done, you jump back on the shuttle and you'll be home in time for an evening dip in your pool, without even having to move a brain muscle.
Maia Spa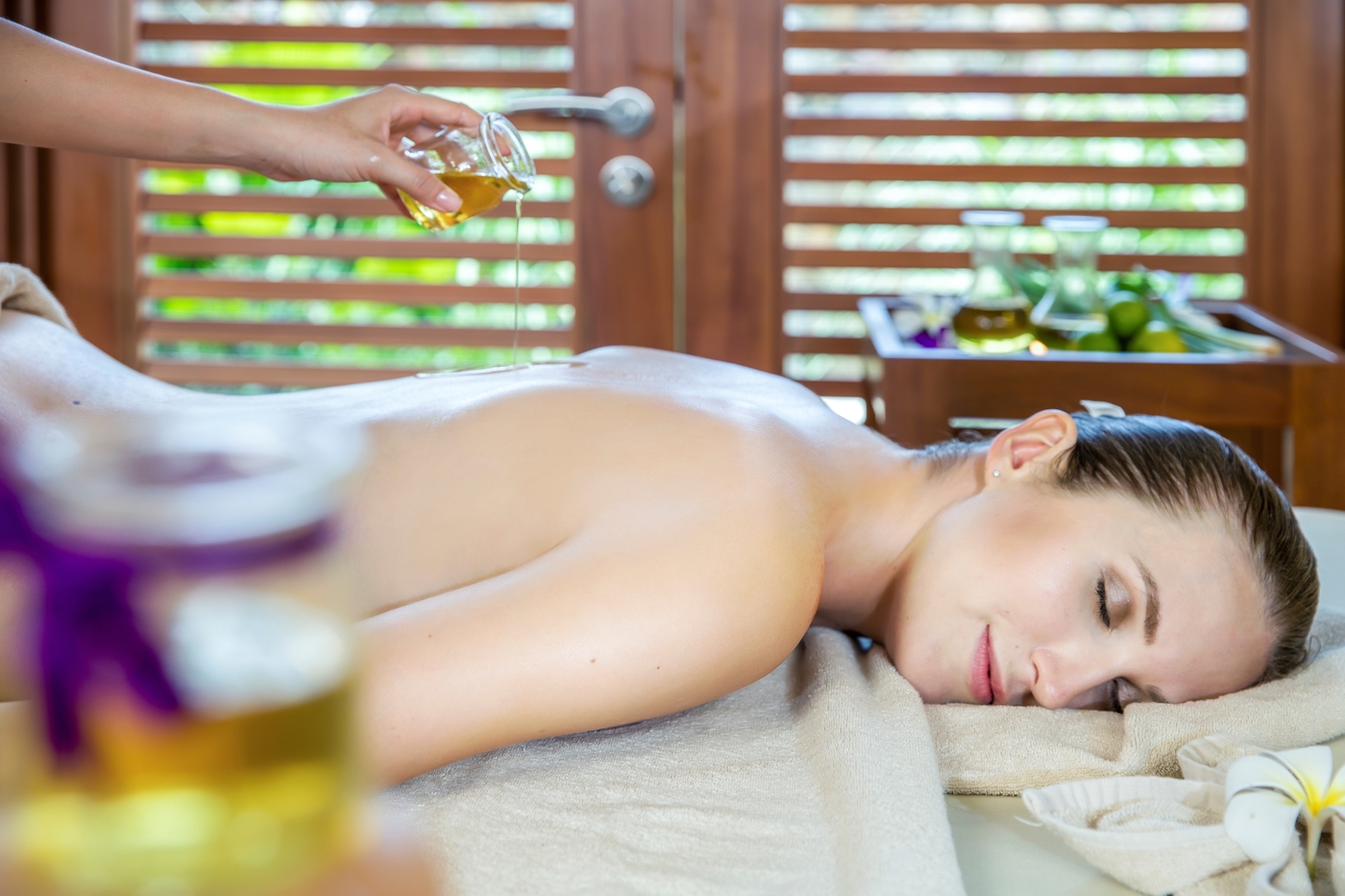 Another highlight of Fusion's way of doing things is the all-inclusive spa, meaning you can have as many as you like! On the first day of our trip we tried the Natural Living Pepper, a massage that incorporates the region's locally-grown black pepper along with Swedish techniques. It was heavenly, and the scent that the pepper oil left on the skin was divine. The following day, we tried the Tradition of Vietnam which was a bit more vigorous. Taking inspiration from Northern Tuina Chinese practices, South Vietnamese and Thai Massage, limbs were moving to angles they'd never been before and lots of patting and slapping was involved. While this wasn't the relaxing treatment of the day before, I've got to admit that I did feel really good after this one. You can also opt for a range of facials or for a selection of pedicures, all of which are included in your room-rate.
Things to do at Fusion Resort Phu Quoc
While a good book, a pool and a strong coffee are enough for me to get by for a weekend, I know that loads of you need entertainment, and thankfully Fusion has it in spades. The resort sits on Vung Bau Bay, and the beach is pretty much paradise, with clear waters and no rubbish. Here, you can swim, kayak of SUP or take it easy on the loungers or at the Beach Bar.
Yoga classes are held daily at the wellness centre which has its own pool, gym and sauna, while you can also opt to grab a bike and ride throughout the bicycle path that envelopes the resort. A tennis court, volleyball net and soccer goals mean that you'll never get bored, but honestly, the giant circular pool that looks out onto the ocean will be enough to keep most entertained. And failing that, there's a school of carp near reception who are huge thanks to the fish feeding station that you won't want to miss.
Fusion Resort Phu Quoc, Vung Bau Bay , Cua Can Village, Phu Quoc Island, Kien Giang Province, Vietnam