Sometimes the best things in life are free! (Photography: Robert Collins via Unsplash)
In search of free things to do with kids in Hong Kong? Keep the little ones entertained with these creative, educational, and adventurous activities.
From treating them to their favourite food at child-friendly restaurants, to buying them stylish kid's clothes and taking them on a staycay at family-friendly hotels, there are plenty of ways we can make the little ones happy. With summer holidays coming early this year, we know you'll be on the lookout for affordable options to entertain your family in the city. So, we've rounded up our top picks for free things to do with kids in Hong Kong. It's time to have fun and take a break together!
Free things to do with kids in Hong Kong
1. Visit Kowloon Park, an urban oasis
Tsim Sha Tsui isn't only about shopping and nightlife – it's also home to Kowloon Park, a large public park filled with facilities that will keep your kids active and happy. You've got to visit the playground and get lost in the maze garden. Plus, there's even a mini soccer pitch. Also, don't forget to visit the Aviary, which comprises of seven planted enclosures that are home to over 90 birds of 24 species – including flamingos! If you're planning on having a sporty family day out instead, visit Kowloon Park sports centre and swimming pool, which is one of the best equipped pool facilities used for various international events such as Hong Kong Games.
Take a look at some of our other favourite Hong Kong parks.
Kowloon Park, Kowloon Park Sports Centre, 22 Austin Road, Tsim Sha Tsui, Hong Kong, p. 2724 3344
2. Get in touch with nature at family farms
Are your kids raring to get away from the city? Venture together into the countryside to reconnect with nature at the leisure farms in Hong Kong. The famous Pineapple Farm in Kam Tin, Holiday Farm in Sheung Shui, and Kadoorie Farm & Botanic Garden in Tai Po are just a few of the many farms your children will love. You can go strawberry-picking, roam freely in the playgrounds, and get up close with adorable animals – some farms even have alpacas!
Check out the best family farms in Hong Kong.
3. Go geeky at Hong Kong Science Museum
While a standard ticket to Hong Kong Science Museum normally costs an affordable $20, you can actually visit the museum for free – yes you read that right – every Wednesday. Showcasing over 500 exhibits and fun science programmes, this museum is a perfect place to educate your little ones about science in an enjoyable environment as the visitors are encouraged to explore and interact with the exhibits. While you're there, don't miss the museum's highlights such as the 22-metre-high Energy Machine that displays energy conversion in an action-packed kinematical sculpture, and the DC-3 airplane!
Here are some other great Hong Kong museums that the kids will enjoy.
Hong Kong Science Museum, 2 Science Museum Road, Tsim Sha Tsui East, Hong Kong, p. 2732 3232
4. Sunbathe or splash about in Repulse Bay
There's no denying that almost every kid loves going to the beach, be it to take a splash or build a sandcastle. Among the beaches in Hong Kong, one of the best, and the most child-friendly, is Repulse Bay, thanks to its (generally) clean water and white sand. Overlooked by a high-end residential area, the crescent-shaped beach gives off a resort-like vibe, making it a perfect place to swim, sunbathe, and play volleyball. When the kids get hungry afterwards, you can easily find restaurants and even a shopping centre, The Pulse, which are only a few steps away from the beach.
Of course, Repulse Bay Beach also makes it to our list of best beaches in Hong Kong.
Repulse Bay Beach, Beach Road, Repulse Bay, Hong Kong
5. Hike and enjoy the great outdoors
Want a little bit of outdoor exercise that is not only good for you but also fun and adventurous? Take your kids for a hike to enjoy the beautiful scenery of Hong Kong from above. While this option may not be suitable for babies and toddlers (unless you're happy to carry them), some older kids may find this family bonding time entertaining, as they get to enjoy the nature without realising that they're actually doing some exercise.
If you don't know where to start, you can check out our guide to the stunning local hiking trails across the region with scenic views of the ocean, mountains, and the nearby islands, which make them a great spot to catch the sunrise or sunset. Nature is not the only thing you and your little ones can enjoy here, as some trails pass by historical and educational spots, beautiful flowers, and even some wild monkeys!
6. Picnic in the sun (or the shade!)
As much as you love eating out at malls and restaurants, there really is nothing better than a picnic. So instead of eating your breakfast or lunch indoors, how about you take both the meal and the family on an adventure? We bet your kids will love it, especially when they can play and run around at the park, bring their pet, or even fly a kite while Mum and Dad unwind and have some wine… Now all you have to do is prepare your packed lunch and your picnic mat, and you're ready to go!
Here's where we think are the best picnic spots in Hong Kong.
7. Explore an island
Hong Kong is blessed with over 250 islands across the region, giving us easy access to the island life with just a short ferry ride. Different islands have different attractions, from a visit to Sugarman in Cheung Chau, to camping in Tap Mun, there are a number of beautiful beaches and hiking trails at almost every island. The cost of ferries is super low, and that's why we think this should still makes the list of free things to do with kids in Hong Kong.
Check out our guide to the islands in Hong Kong to find another side to the city.
8. Hop aboard our DIY Hong Kong Tram Tour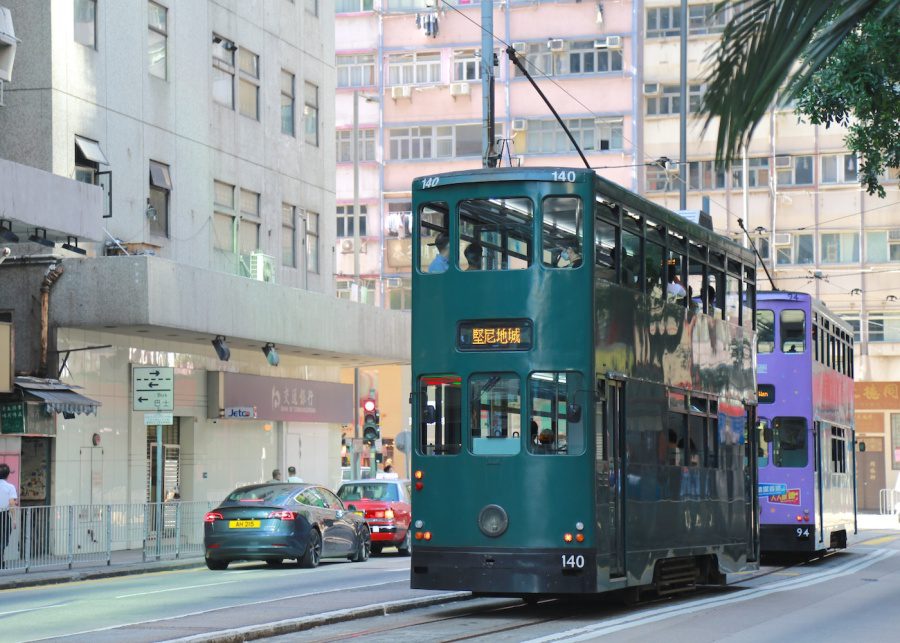 Thanks to the tram facilities in Hong Kong, we can explore the city by hopping on and off where we want to. Bring your kids along to explore the city with our DIY Hong Kong Tram Tour, following the line from Sheung Wan to Central and all the way to North Point. Riding one of the city's oldest forms of transport, it's a fun choice of family day out where you can visit iconic landmarks and cool spots like Instagram Pier, Western Market, Hong Kong Court of Final Appeal Building, Pak Tai Temple, and many more.
9. Take a stroll at Goldfish Market
Get your kids to spot all the exotic fish from Finding Nemo! The fluorescent-lit fish tanks at the Goldfish Market bring more vibrancy to the little fellas that just keep swimming. Aside from fish, you can also spot turtles, cats, dogs, and bunnies – it's literally a pet lane. Just be prepared for your kid to nag you to take one back home as a pet.
Experience local culture at these markets in Hong Kong.
Goldfish Market, 43-49 Bute Street, Bute Street, Prince Edward, Hong Kong
10. Relish the tranquility at Central Library
If your kids love to read, then the largest library in Hong Kong has got to be a paradise for them. The wide range of books and all the free space to sit and read will make a great day out and while you're there, you can grab something for yourself, too. Plus, this is definitely the easiest way to get your boys and gals to sit down quietly. Thank us later!
Hong Kong Central Library, 66 Causeway Road, Causeway Bay, Hong Kong, p. 2921 0503
11. Cycle through the great outdoors
If your kids don't already know how to ride a bike, this is the perfect time to teach them. Get the whole family's exercise in while having a fun time by cycling through nature. There are plenty of cycling routes you can take in the 852, with varying levels of difficulty. Just make sure you pack enough water for everyone!
Check out some of the most scenic cycling routes in Hong Kong.
12. Sleep under the stars on a camping trip
One of the best, and most beautiful experiences you can have for free in Hong Kong with your kids is camping. While there's no shortage of glamping experiences you can pay for, there's something to be said for just going to a campsite and pitching your own tent. From grassy islands to open areas in Sai Kung, you can definitely find a suitable camping ground for your family. Who says you need to pay the big bucks to get a priceless view of the starry sky?
Check out these campsites in Hong Kong.
[This article was originally published in March 2020 and updated in 2023 by Min Ji Park.]