Even Rich Uncle Pennybags will be impressed with our money-saving activities! (Photography: BP Miller)
You can save yourself some cash by idling your time away at iconic tourist attractions, or beautiful beaches in the city. Just check out these free things to do in Hong Kong.
Hong Kong is a fascinating compact city with endless entertainment – happy hours, nightclubs, art galleries, and different Hong Kong arts groups to check out. And if you're a little short on cash, we've scouted out a number of quirky attractions and interesting places to visit that cost absolutely nothing. Now, enjoy these free things to do in Hong Kong!
Our favourite free things to do in Hong Kong
1. Picnic at Cyberport Waterfront Park
When talking about free things to do in Hong Kong, you can't miss out on picnicking! Cyberport Waterfront Park is one of the best picnic spots in Hong Kong. It's not too crowded, so kids can play peacefully. Meanwhile, you can lounge on the beautiful patch of grass, blast out some music, enjoy some homemade sandwiches, and catch the sunset together.
Read more about parks in Hong Kong.
Cyberport Waterfront Park, 100 Cyberport Road, Telegraph Bay, Hong Kong, 數碼港道100號數碼港公園
2. Catch a basketball or football match at Southorn Playground
Southorn Playground is a sports and recreational space in Wan Chai where all the amateurs and semi-pros come to show off their skills. You can often catch an incredible basketball or football match in the evening and it's great spot to meet like-minded sport enthusiasts. Plus, the seating area catches the sun in the summer, making it the perfect spot to chill with friends. If you love sports and you're looking for free things to do in Hong Kong, this is the place to be.
Southorn Playground, 130-150 Hennessy Road, Wan Chai, Hong Kong, 灣仔軒尼詩道130-150號修頓球場
3. Experience local comic culture at Hong Kong Avenue of Comic Stars
Are you a fan of McDull? We are! Showcasing 30 local comic characters standing at a whopping two to three metres in height, the Hong Kong Avenue of Comic Stars is a wonderfully curated spot for everyone to look back at the heyday of local comics and learn more about the city's comic culture. See popular characters such as Miss 13 Dots, Old Master Q, and McDull, and be sure to take some selfies with the famous comic superstars.
Hong Kong Avenue of Comic Stars, Kowloon Park eastern loggia (entrance on Park Lane Boulevard), Tsim Sha Tsui, Hong Kong, p. 2788 5968, 尖沙嘴九龍公園東側長廊(柏麗大道九龍公園入口)香港漫畫星光大道
4. Have a stroll around the Hong Kong Cemetery
Hong Kong Cemetery is a serene and quiet space featuring a myriad of ornamental gravestones that show Hong Kong's colonial history and heritage. Also, there are more trees being grown in here than most recreational parks in Hong Kong, with six of them already earning the government's 'Old and Valuable Tree Register' title.
If you're hoping for a ghost story or two, we're sorry, but we have none here. That said, check out these MTR urban legends if you dare…
Hong Kong Cemetery, 1J Wong Nai Chung Road (beside Happy Valley Racecourse), Happy Valley, Hong Kong, 跑馬地黃泥涌1號 J(跑馬地馬場側)香港墳場
5. Take a swim at Repulse Bay Beach – or any beach
Away from the hustle and bustle of the city, Repulse Bay Beach is one of the most beautiful beaches located in the south of Hong Kong Island. Beloved by local citizens and tourists from across the globe, you won't be disappointed by its clean water and white sand. Trust us – it's worth the journey!
Here's our guide to some of the best beaches in Hong Kong.
Repulse Bay Beach, Beach Road, Repulse Bay, Hong Kong, p. 2812 2483, 淺水灣海灘道淺水灣泳灘
6. Go hiking on the Lion Rock
Hiking is one of our favourite free things to do in Hong Kong. Situated on the northern vista of Victoria Harbour, Lion Rock is considered the easiest hiking trail in the city. The track runs high above the skyline of the Kowloon Peninsula, and whether you're a tourist in Hong Kong or a beginner in hiking, Lion Rock will be a lovely spot for you to experience the city in a different way.
Learn more about hiking in Hong Kong.
Lion Rock, Hong Kong, 香港獅子山
7. Listen to some sweet street music
The overall street music scene in Hong Kong may have been dwindling over the past several years. But, fortunately, many aspiring musicians are still standing strong. As social distancing restrictions are increasingly relaxed, there's been a gradual comeback of buskers on the streets in Hong Kong. While the pedestrian zone in Mong Kok (one of the best known hubs for street performers) was closed down in 2018, performers still roam in the area and across the city – just listen, and you might be able to find them.
Find buskers and musicians opposite Langham Place in Mong Kok, and at the Tsim Sha Tsui and Central Piers.
8. A walk through the Ladies' Market
There are over 100 stalls of bargain clothing, accessories, cheap knick knacks, and souvenirs at the Ladies' Market in Mong Kok. You can find anything from stockings and teacups to children's watches here. It's always crowded and perfectly captures the fast pace of city life – definitely one of the most iconic places to visit in Hong Kong.
Read more about the different Hong Kong markets.
Ladies' Market, Tung Choi Street, Mong Kok, Hong Kong, 旺角通菜街「女人街」
9. Drop by the Sai Kung Waterfront Market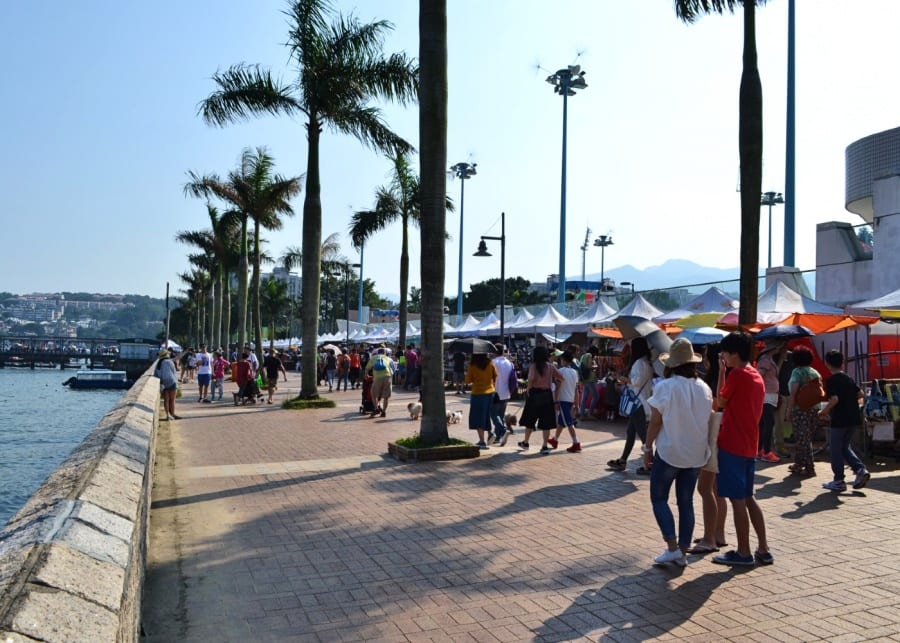 Looking for free things to do in Hong Kong? Head to the Sai Kung Waterfront Market, organised by Sai Kung District Community Centre. Every Saturday and Sunday, there are almost 40 market booths set up at the Sai Kung Waterfront Park. You'll see local artists and farmers selling an array of handicrafts, accessories, and fresh produce. It's a family-friendly, fun, and artistic outdoor space for everyone who loves free entertainment.
Sai Kung Waterfront Market, Sai Kung Waterfront Park, 18 Wai Man Road, Sai Kung, Hong Kong, 西貢惠民路18號西貢海濱樂園購物天地
10. Grab your next read at Hong Kong Central Library
Hong Kong Central Library is the biggest public library in Hong Kong with 12 floors and an area of 33,800 square metres. With facilities like a multimedia room, language learning centre, and music practice rooms, it's easy to spend an entire afternoon exploring the building simply digging through literatures, textbooks, back issues of newspapers, old comics, DVDs, and CDs. And of course, the Library has free WiFi too!
Are you a bookworm? Check out our favourite Hong Kong bookstores.
Hong Kong Central Library, 66 Causeway Road, Causeway Bay, Hong Kong, p. 3150 1234, 銅鑼灣高士威道66號香港中央圖書館