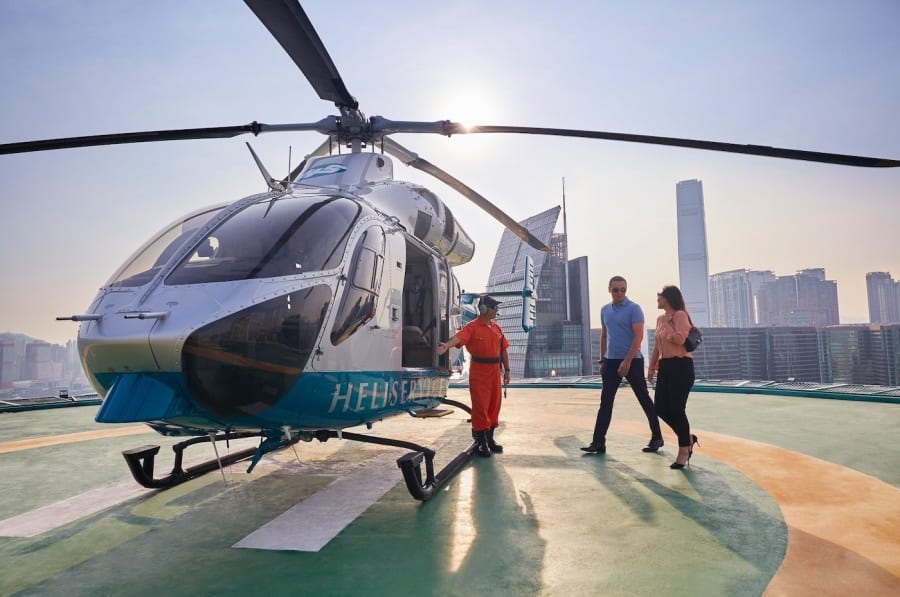 Jump aboard a helicopter flight with The Peninsula
These experience gifts in Hong Kong will help you create a whole lot of awesome memories with the special people in your life.
Hong Kong is full of fun tourist attractions, islands to explore and street markets, but if you're stuck for romantic gifts, gifts for men or you've shopped everything off our gift guides already, why not treat your loved one to an experience they'll never forget? From the gift of travel to cooking classes and wellness retreats, we've rounded up some of the coolest experience gifts in Hong Kong that will be truly appreciated.
Experience gifts in Hong Kong that everyone will love
1. Fly and dine with The Peninsula Hong Kong
Whether you're looking to whisk away your partner or treat your family to a special surprise, The Peninsula Hong Kong's Fly and Dine package does not fail to impress. Enjoy the stunning Hong Kong landscape with a thrilling 18-minute private helicopter flight paired with a luxury lunch or dinner at one of six restaurants at The Peninsula Hong Kong. If afternoon tea is what you are looking for, opt for the Fly and Tea package, which replaces lunch or dinner with an iconic high-tea experience at The Lobby Lounge.  When it comes to experience gifts in Hong Kong, they don't get much more iconic than this!
Find out more about our fave staycations in Hong Kong.
The Peninsula Hong Kong, Salisbury Road, Tsim Sha Tsui East, Hong Kong, p. 2920 2888
2. Give the gift of energy
Reiki Master Corie Chu has a brand new studio in the heart of Central, and it's the perfect spot to take some me-time and focus on the self. There's no better gift than a Reiki session to aid with healing and allowing someone you love to spend some time taking care of themselves. On top of that, Corie also offers numerology readings
Read about our experience with Corie Chu Healing.
Corie Chu Healing, 18-20 Lyndhurst Terrace, Suite 1504, Car Po Commercial Building, Central, Hong Kong, p. 9166 2495
3. Give them the thrill of a lifetime with AJ Hackett Macau Tower
Just a one-hour ferry ride away, Macau is an easy getaway from Hong Kong and the team at AJ Hackett has some of the most adventurous gifts in town on offer. Why not give your special someone a ticket to the world's highest Bungy Jump, or the opportunity to climb to the very top with the Tower Climb? Those who like things a little less extreme can take in the views from the Skywalk, where you can get some of the best pics in town. Or experience the thrill of the Bungy standing up thanks to the Skyjump. Best of all, everyone who buys a Bungy Jump gets a free Skywalk, and if you come back to try the same activity for a second time, you'll get 60% off!
Read the full story on why we love AJ Hackett Macau Tower.
AJ Hackett Macau Tower, Level T2 – Adventure Zone – Macau Tower, 999078, Macau, SAR, China
4. Vegan brunch or cooking class on Lamma
Got a friend or loved one who loves the flavours of the Mediterranean? Home cook Ayelet Idan offers regular brunch spreads at her beautiful home in Pak Kok Village on Lamma. Take a group and enjoy a hearty feast, complete with welcome drinks in the garden. If you want to give the gift of learning, she also runs cooking classes so guests can learn all her secrets and replicate the deliciousness at home.
Olive Leaf, Pak Kok, Lamma Island, Hong Kong, p. 9723 0459
5. See Hong Kong's endangered pink dolphins
Forget Ocean Park! Thanks to Hong Kong Dolphinwatch, you can get up close and personal with the beautifully rare pink dolphins who frequent the waters around Hong Kong. Each trip includes a talk on the environmental situation that the dolphins face in regards to the constant developments around Hong Kong, so the whole family will be able to take something valuable away from this experience on the water. Best of all, if you don't get to see any pink dolphins during your tour, you can go again for free!
Book a trip at Hong Kong Dolphinwatch online.
6. Food and Cultural Tour for Vegetarians
Got a special vegetarian in your life? Hong Kong Greeters is tapping into the city's demand for health-conscious food by launching a private Grass Routes Vegetarian Food and Cultural Tour. Combining the city's love for food and culture, the tour takes you on an off-the-beaten-track adventure through Kowloon and the New Territories where you will sample vegetarian dim sum, snacks and desserts while stopping at some of the city's lesser-known historical spots. This is the perfect experience gift in Hong Kong for foodies and explorers.
See our full guide to Hong Kong food tours.
Find out more about Hong Kong Greeters' Vegetarian Food Tour.
7. Kembali forest bathing
In-between our long working days, packed social schedules and monthly city events, it's all too easy to feel overwhelmed and sometimes burned out. From Sai Kung to Lantau and Sham Shui Po, Jasmine Nunns – a trained life-coach and eco-therapist – offers regular workshops and forest therapy walks to help you slow down and reconnect with nature while experiencing the lesser-known wonders of Hong Kong. At the end of each walk, enjoy a tea ceremony using natural ingredients found along the trails, which have been used by indigenous people for many years.
Read our full interview with Jasmine Nunns from Kembali.
Find out more about Kembali.
8. Paint jamming
Immerse yourself in a creative world of colours at this three-hour private paint jamming workshop for two. Even if you've never picked up a paintbrush before, your instructor will guide you through with some painting techniques. Unleash your imagination as you add splashes of paint to your canvas, and you'll find yourself with a trendy gift for someone special in no time.
Feeling crafty? Get hands on in these creative courses in Hong Kong.
Shop this gift on Spoilt Experience Gifts.
9. Scuba diving experience
For water sport enthusiasts, this scuba diving experience for two will teach you the basic diving skills and theory with a confined water session before moving out to dive in the open waters of Sai Kung. The unforgettable dive allows you to head out into the ocean and experience the magical underwater world of reef fish and corals. This super cool once-in-a-lifetime experience gift in Hong Kong is sure to be unforgettable.
Check out all the other water sports you can you try in Hong Kong.
Go scuba diving with Splash Hong Kong.
10. Baking class
Know someone who loves to bake? The Mixing Bowl in Sheung Wan offers a variety of fun hands-on classes for both adults and kids alike where you can learn how to do everything from measuring and mixing to rolling and kneading.  Whether your loved one is into bread making, cake master classes, raw vegan desserts or gluten free baking, they can leave each class feeling confident enough to repeat what they have learnt at home. The best part is, they'll be able to take home everything they baked. And who knows, maybe you'll get to try! Vouchers can be purchased online.
Explore the different baking classes and studios in Hong Kong.
The Mixing Bowl, 23/F, The Pemberton, 22-26 Bonham Strand, Sheung Wan, Hong Kong, p. 2524 0001
11. Luxury spa day
We all know someone who deserves to be pampered with a luxury spa experience and lucky for us, we are spoilt for choice in the 852. The Oriental Spa at The Landmark Mandarin Oriental continues to be one of the most popular options for a luxury retreat. Lie down and relax with a massage or facial with a luxurious treatment package. You can even book a wellness staycation to get completely recharged. This is one experience giftthat will surely be appreciated.
Take a look at our full list of hotel spas in Hong Kong that we're obsessed with.
The Oriental Spa, The Landmark Mandarin Oriental Hong Kong, 15 Queen's Road Central, Hong Kong, p. 2132 0011
12. Private deep sea fishing charter
For fishing enthusiasts, this gift allows you and your friends a seven-hour adventure aboard the Cougar – a luxurious 38-foot modern fishing boat – to one of many fishing destinations including Sai Kung, Ninepin Islands, and Po Toi Island.  What's more, you will be provided with all the essential equipment and for beginners, the Captain will guide you through the bottom fishing techniques before having the chance to catch Groupers, Snappers, Croakers, and more. At the end, the Captain will prepare your catch, ready for you to take home, and rustle up a storm.
Saffron Cruises, 69 Wing Lok Street, Sheung Wan, Hong Kong, p. 6493 2650
13. Theme park adventure
Have a thrill seeker in your circle? Take them to a theme park and get them screaming on the roller coasters! Ocean Park is a great place to have a well-rounded experience of rides and wildlife. The aquarium is an unforgettable experience of deep sea wonder with a variety of ocean critters, not to mention you can see some of the few giant pandas left in the world and learn about their conservation over in the Panda Village. You can do all that while riding the Hair Raiser in between for a day of non-stop thrills.
Ocean Park, 180 Wong Chuk Hang Road, Aberdeen, Hong Kong, p. 3923 2323
14. Jumping to new heights
No matter what age your loved one is, many cannot resist a good jump at a trampoline park. Ryze Hong Kong provides more jumping ground than you can cover with foam pits and obstacle courses. It's great if your giftee has some little ones or perhaps wants to let out their own inner child. Gift someone an experience they'll look back on with a smile.
Ryze Hong Kong, 3/F, Kodak House 1, 321 Java Road, Quarry Bay, Hong Kong, p. 2337 8191