Seize the weather and have fun with your doggo outdoors (Photography: Anna Dudkova via Unsplash)
Who let the dogs out?! Not that we're complaining (nor to sound creepy...), but we're always at these dog parks in Hong Kong to pet the passing pups.
Walking around Hong Kong, you may mistake that stroller for a baby's – pop your head over and you'll find a cute pup hanging its tongue out and enjoying the glances and attention from passers-by. So yes, we Hong Kong folks love our doggos and it's evident in pet-friendly cafes, pet-friendly hotels, and the abundance of pet supply stores. Here's our round-up of dog parks in Hong Kong for you and your four-legged best pal.
All the best dog parks in Hong Kong
1. Penfold Park
Also known as the green lung of Sha Tin, Penfold Park is a lush park in the infield of the Sha Tin Racecourse, managed by The Hong Kong Jockey Club. The park is also one of the most pet-friendly venues in Hong Kong, providing leisure facilities for both animal lovers and their pets. Doggos can show-off their swimming skills in the artificial pool; the huge lawn makes a perf spot for frisbee, and the park regularly promotes animal care and welfare. However, bear in mind that Penfold Park is closed to the public on horse-racing days.
Penfold Park, Sha Tin Racecourse, Sha Tin, Hong Kong
2. West Kowloon Art Park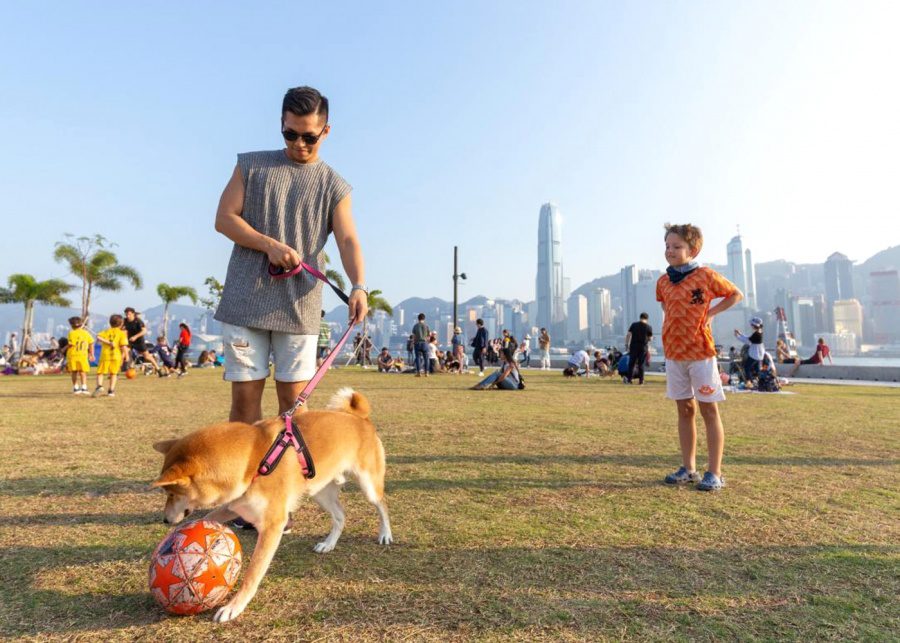 The West Kowloon Art Park will come as no surprise on this list. Not only does it feature massive grassy fields for playtime, but it's also home to many pet-friendly cafes, so that your canine bud can grab nibbles with you. Note that pets must be kept on leashes at all times, unless you venture up north a little where the Pet Zone is; simply look for the fenced up area with a double-gated entrance, pet waste bins, and a water tap. Don't forget to drop by the cafe-restaurant, Hooman, for some drinks and bites, too.
West Kowloon Art Park, West Kowloon Cultural District, Tsim Sha Tsui, Hong Kong
3. Wan Po Road Pet Garden
Ever had an issue with the little ones messing with the biggies (or vice versa)? You don't have to worry about that at Wan Po Road Pet Garden, the largest dog park in Hong Kong, as it has been thoughtfully separated into three zones for large dogs, small dogs, and one for all sizes to socialise. This venue is well equipped, with facilities including a dog latrine, dog excreta collection bins, pet shower area, rain shelters, a water fountain, and more.
Wan Po Road Pet Garden, Wan Po Road, Tseung Kwan O, Hong Kong, p. 2791 3100
4. Butterfly Valley Road Pet Garden
Unlike the name suggests, you're not going to find many butterflies at Butterfly Valley Road Pet Garden. But, you sure will stumble upon a tonne of excited and energetic doggos! This pet park knows how to keep the furry friends happy, with lots of playground equipment such as pipe tunnels and hoops. And, of course, you don't have to worry about the basic facilities like dog waste collection bins, drinking fountains for pets, and hand-washing facilities.
Butterfly Valley Road Pet Garden, 2 Butterfly Valley Road, Sham Shui Po, Hong Kong, p. 2386 0945
5. Ma On Shan Sai Sha Road Pet Garden
This humble little park doesn't take too long to walk around, so this one is great for short strolls with your pets. The facilities here may seem to fall short, so do carry your own water for your pup to stay hydrated. Other than that, this pet garden is not too crowded; it's rather peaceful and defo offers something different from the more popular ones on this list.
Ma On Shan Sai Sha Road Pet Garden, junction of Sai Sha Road and Hang Fai Street, Ma On Shan, Hong Kong, p. 2634 0143
6. Kwun Tong Ferry Pier Square Pet Garden
Located near Kwun Tong Promenade (so you know the view's gonna be great), this pet park is spacious and the perfect spot to be during sunset for that golden hour glow. There's plenty of play equipment for doggos; one we love is the balancing wood that pups love to jump onto. Moreover, the Kwun Tong Promenade attracts other exotic pets – best believe we've spotted lizards and parrots here before!
Kwun Tong Ferry Pier Square Pet Garden, junction of Hoi Yuen Road and Wai Yip Street, Kwun Tong, Hong Kong, p. 2341 4755
7. Central and Western District Promenade
If you're in for a long, brisk way by the sea from Central all the way to Kennedy Town, this one's for you and your whiskered companion. There are designated pet areas where your pets can go off the leash in full freedom (away from the hoomans). As these zones are fully fenced, don't worry about your dogs running too far beyond. The basic pet facilities are on point, too.
Central and Western District Promenade, Lung Wo Road, Central, Hong Kong, p. 2896 6192
8. Cyberport Waterfront Park
Much like West Kowloon Waterfront, you'll find a bunch of tents nestled under the shade and lots of doggos running about at Cyberport. This place also makes a great picnic spot to unwind during the weekends. While there are taps for pets to stay hydrated, one thing you need to be on the lookout for during summertime is snakes – not the nicest of encounters!
Cyberport Waterfront Park, 100 Cyberport Road, Telegraph Bay, Hong Kong, p. 3166 3111
9. Cheung Wan Street Rest Garden
Similar to Wan Po Road Pet Garden, Cheung Wan Street Garden has its zones divided but this one into two: one for big paws and one for the little paws. There are also a pet lavatory and dog excreta collection bin, so be sure to clean up after your dogs. And since there are areas for children's playgrounds and fitness facilities for all ages, you'll be keeping more than just your pup busy while you're there!
Cheung Wan Street Rest Garden, Cheung Wan Street, Tsing Yi, Hong Kong, p. 2619 9200
10. Victoria Peak Garden
Originally the garden of Mountain Lodge, the Governor of Hong Kong's Summer Residence, the Victoria Peak Garden is certainly one of the most scenic dog parks in Hong Kong. Despite being located near the top of Victoria Peak, this place is well worth the hike, with its elegant British-style lawn and Victorian pagoda. Furthermore, the Garden spans across 96,000 sqm, offering ample open space for your pets to roam around.
Victoria Peak Garden, 40 Mount Austin Road, Central, Hong Kong, p. 2853 2566
11. Tung Chung North Park
Situated in the residential areas of Tung Chung, the Tung Chung North Park attracts goers of all ages, but it is usually quiet. Aside from the pet garden, there's an elderly fitness corner, children's play area, Chinese herb garden, a soccer pitch, and skateboard ground. It's relatively new and the touch of modern wood creates a nice juxtaposition with the traditional elements that Hong Kong parks are used to.
Tung Chung North Park, 29 Man Tung Road, Tung Chung, Hong Kong, p. 2109 3423
12. Lam Tei Pet Garden
The location of Lam Tei Pet Garden may seem like a secret code area, as it's located beneath the Kong Sham Western Highway, but your furry friend could care less about the location because this one's got fun sandpits! In addition to designated areas for pet latrines, there are benches all around for you to sit on as your pet makes puppy eyes not wanting to leave.
Lam Tei Pet Garden, junction of Castle Peak Road and Wong Kong Wai Road, Tuen Mun, Hong Kong, p. 2451 0304