The vibrant spirit of Sai Ying Pun (Photography: Sung Won Bae via Getty Images)
Hidden bars, street art, and food for all occasions – find out what we're loving in our complete guide to Sai Ying Pun!
Sai Ying Pun has established itself as one of the most dynamic neighbourhoods on Hong Kong Island. With its unique blend of old-world charm and modern vibrancy, SYP has been a thriving hub for foodies, art enthusiasts, and culture seekers alike. In our guide to Sai Ying Pun, we invite you to join us as we uncover the treasures that make this neighbourhood a must-visit destination. Explore the bustling markets where local vendors proudly display their fresh produce and admire the vibrant street art that adorns the walls, telling stories of the area's history and contemporary spirit.
Guide to Sai Ying Pun: Where to eat
SYP is a dream for foodies, and though we've already written a full guide to 15 best restaurants in Sai Ying Pun we're sharing a few of our most favourite faves here. P.S. don't miss out on all these cheap Sai Ying Pun lunch spots too.
1. Pondi
Prepare your taste buds for an adventure at this hidden gem. With a fusion of Indian home cooking and classic French culinary philosophies, Pondi offers a truly unique experience. From carefully crafted vegetarian and gluten-free options to satisfying choices for meat lovers, there's something to delight every palate.
Psst – did you know that Pondi has an al fresco area, too? Be sure to book in advance to reserve your table and enjoy a range of delights straight from the childhood memories of the founders.
Pondi, 14 Fuk Sau Lane, Sai Ying Pun, Hong Kong, p. 6113 0195
2. Northern Dumpling Yuan
Northern Dumpling Yuan stands as a beloved culinary gem, renowned for its no-fuss, "hole-in-the-wall" charm. This bustling eatery has earned its reputation as the go-to destination for Northern-style dumplings. From steamed to pan-fried to soup-filled dumplings, Northern Dumpling Yuan delivers a satisfying culinary experience that combines speed, affordability, and taste.
Northern Dumpling Yuan, G/F, 1 Water Street, Sai Ying Pun, Hong Kong, p. 2549 9001
3. LucAle
Tucked away in a discreet alley, LucAle emerges as a hidden gem. Crafted by two native chefs, Alessandro Angelini and Luca De Berardinis, this neighbourhood eatery offers a relaxed and inviting atmosphere. With a focus on high-quality ingredients and the expertise of their chefs, it delivers outstanding value for a truly memorable meal. Highlights include their unique tiramisu with hazelnuts and a cocoa crisp, and the hand-cut tagliolini with a rich seafood ragout. LucAle is a must-visit spot for Italian food lovers!
LucAle, Shop A, G/F, 100 Third Street, Sai Ying Pun, Hong Kong, p. 3611 1842
4. Dara
Honestly, Filipino cuisine is underrated, and options for modern and fine-dining Filipino food have been limited. That is, until Dara, the first fine-dining Filipino restaurant in Hong Kong, came onto the scene! Dara draws its name from the Kapampangan word for "aunt", reflecting the language and home region of Pampanga – the culinary capital of the Philippines and homeland of the founder. The team at Dara serves authentic Filipino dishes and always takes the time to explain each one in detail, delivering an immersive cultural experience.
Dara, Shop 6, 1/F, Artisan House, 1 Sai Yuen Lane, Sai Ying Pun, Hong Kong, p. 5107 4474
Guide to Sai Ying Pun: Cafes
Fuelled by coffee and demanding only the best, SYP is known for its coffee fiends and accompanying coffee houses. Be sure to read our full list of best cafes in Sai Ying Pun, but these deserve a mention here too.
5. Winstons Coffee
Winstons Coffee is an iconic spot that demands attention with its vibrant, old-school cinema sign. By day, Winstons operates as a cosy coffee bar. The chai tea latte stands out, boasting a blend of ginger, cardamom, and cinnamon, creating a beautifully aromatic drink. As night falls, Winstons transforms into a lively cocktail bar, where its signature espresso martini reigns supreme.
Winstons Coffee, Shop 4, G/F, 213 Queen's Road West, Sai Ying Pun, Hong Kong, p. 2559 5078
6. Detour
Detour is a natural wine bar and coffee shop co-owned by Matt Cousins, a barista trained at Allpress Espresso in London, and Karen Leung, who brings her branding expertise to the table. The name is inspired by a 1945 film directed by Edgar G. Ulmer, which holds a special place in Matt's heart. It perfectly captures the couple's vision of creating a cafe that's slightly off the beaten track. Drop by for a handcrafted coffee that showcases Matt's expertise, or take home their specialty roasted beans for a taste of perfection.
Detour, G/F, Shop A, 35-37 First Street, Sai Ying Pun, Hong Kong, p. 2759 1872
7. NOC Coffee Co.
Fuelling Hong Kong's exploding coffee culture, NOC's flagship roastery in Sai Ying Pun is a caffeine lover's paradise. Within the airy, industrial-chic space, all of NOC's signature blends and single-origin beans are roasted on-site, filling the café with an irresistible aroma. Whether grabbing a quick coffee to go or lingering over brunch with friends, NOC Roastery provides a relaxed yet refined experience. As the brand expands rapidly across Hong Kong, this Sai Ying Pun hotspot remains the heart and soul of NOC's growing empire.
Before you go, don't forget to grab a bag of freshly roasted java beans from NOC, one of our favourite coffee roasters in Hong Kong.
NOC Coffee Co., Shop 4, G/F, Bohemian House, 321 Des Voeux Road West, Sai Ying Pun, Hong Kong, p. 3611 5300
8. Moojoo
Created by the team behind Pacific Coffee, Moojoo is a pet-friendly cafe that offers a warm and whimsical atmosphere. As you explore the cafe, you'll be captivated by the animal motifs adorning the space, from the photo wall filled with snapshots of adorable animals to the mural depicting cats and dogs overflowing from a coffee cup (cue the awws!). Quench your thirst with specialty drinks like the Passionate Shiba Inu or the Spicy Chihuahua, or opt for the range of coffee and tea beverages.
Moojoo, Shop 1, 2 & 22, G/F, Two Artlane, 1 Chung Ching Street, Sai Ying Pun, Hong Kong, p. 3619 5779
Guide to Sai Ying Pun: Bars
There are loads of places to grab a drink in this Western enclave but our favourites include:
9. Ping Pong 129
Ping Pong 129 transformed from an old ping pong hall into an urban-chic interior with a hidden hangout vibe. To enter this speakeasy, seekers must locate a small red door adorned with "Ping Pong City" in Chinese characters. With an extensive selection of gins and tonics, including renowned brands like Gin Xoriguer from Spain and locally owned Perfume Trees, its menu features over 150 varieties. Whether you're seeking a spot for a date, a hangout, or even an unconventional business meeting, this gem offers an unforgettable experience.
Ping Pong 129, 129 Second Street, Sai Ying Pun, Hong Kong, p. 9158 1584
10. Brut!
At Brut!, the focus is on creating a welcoming and relaxed atmosphere, where wine enthusiasts and novices alike can discover interesting new wines without feeling overwhelmed by an extensive list of labels. Embracing this unique approach, Brut! forgoes a formal wine menu, opting instead to display its wine selections on the wall and the wine fridge, adding an element of spontaneity to the experience.
Brut!, Shop C, G/F, 1 Second Street, Sai Ying Pun, Hong Kong, p. 3460 5863
11. Mostly Harmless
Mostly Harmless is a menu-less cocktail bar led by the talented Ezra Star, renowned for her expertise at Ponty Café. What sets Mostly Harmless apart is its ever-changing range of cocktails, which are crafted based on seasonal produce and Ezra's latest market finds. This means that no two visits are the same at this bar, and you're bound to discover something new every time. Step into the intimate space adorned in white tiles, where guests' names and the day's menu are handwritten on the tiles using magic markers.
Mostly Harmless, 2/F, 110 Queen's Road West, Sai Ying Pun, Hong Kong
Guide to Sai Ying Pun: Shop
From sustainable concept stores to local markets, you'll discover a diverse range of retail destinations that cater to every taste. Whether you're searching for artisanal crafts or specialty goods, Sai Ying Pun has something for everyone.
12. Live Zero
Hong Kong's first sustainable grocery store has become a well-loved part of the SYP neighbourhood. Shop for all your baking supplies, nuts & seeds, grains, supplements and even cleaning products. Their bulk beauty store across the street also sells a range of products for face and body; just take your jars and containers and stock up.
Live Zero, G/F, 33 High Street, Sai Ying Pun, Hong Kong, p. 9433 3394
13. Tuck Chong Sum Kee Bamboo Steamer Company
If you're looking for a great gift or just something for yourself, make a visit to one of the last spots where bamboo steamers are made by hand. Having been in the business for four generations, the Lam family make beautiful products that are perfect for steaming your fave dumplings.
Tuck Chong Sum Kee Bamboo Steamer Company, 12 Western Street, Sai Ying Pun, Hong Kong, p. 2548 5751
14. Greenladies
A pioneering social enterprise in Sai Ying Pun, Green Ladies operates on a consignment model and advocates for sustainable fashion practices. It collects high-quality fashion and accessories for resale, breathing new life into unworn items. The shop showcases the value of circular fashion while challenging the public's perception of preloved clothing. Green Ladies welcomes well-maintained items, including blouses, pants, dresses, coats, shoes, bags, scarves, and accessories that are in good condition.
Green Ladies, G/F, 168 Queen's Road West, Sai Ying Pun, Hong Kong, p. 2110 3482
15. Sai Ying Pun Wet Market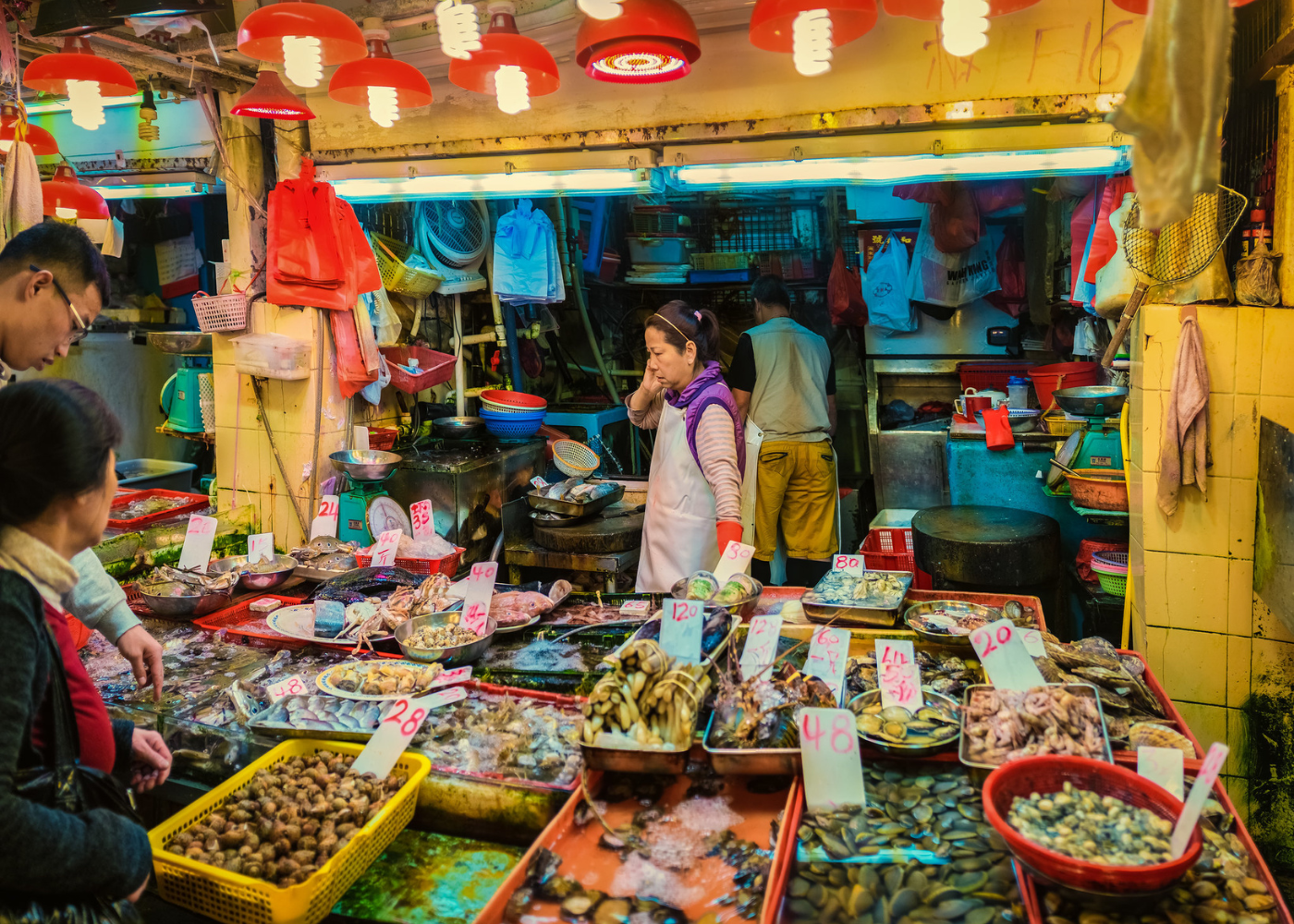 If you're on the hunt for groceries at reasonable prices, then you need to shop at the wet market. They have a great selection of fresh fruit and vegetables, seafood, fish and poultry, all at a fraction of the price of supermarkets. Grab your containers and get shopping!
Sai Ying Pun Wet Market, 45 Centre Street, Sai Ying Pun, Hong Kong
16. Thorn and Burrow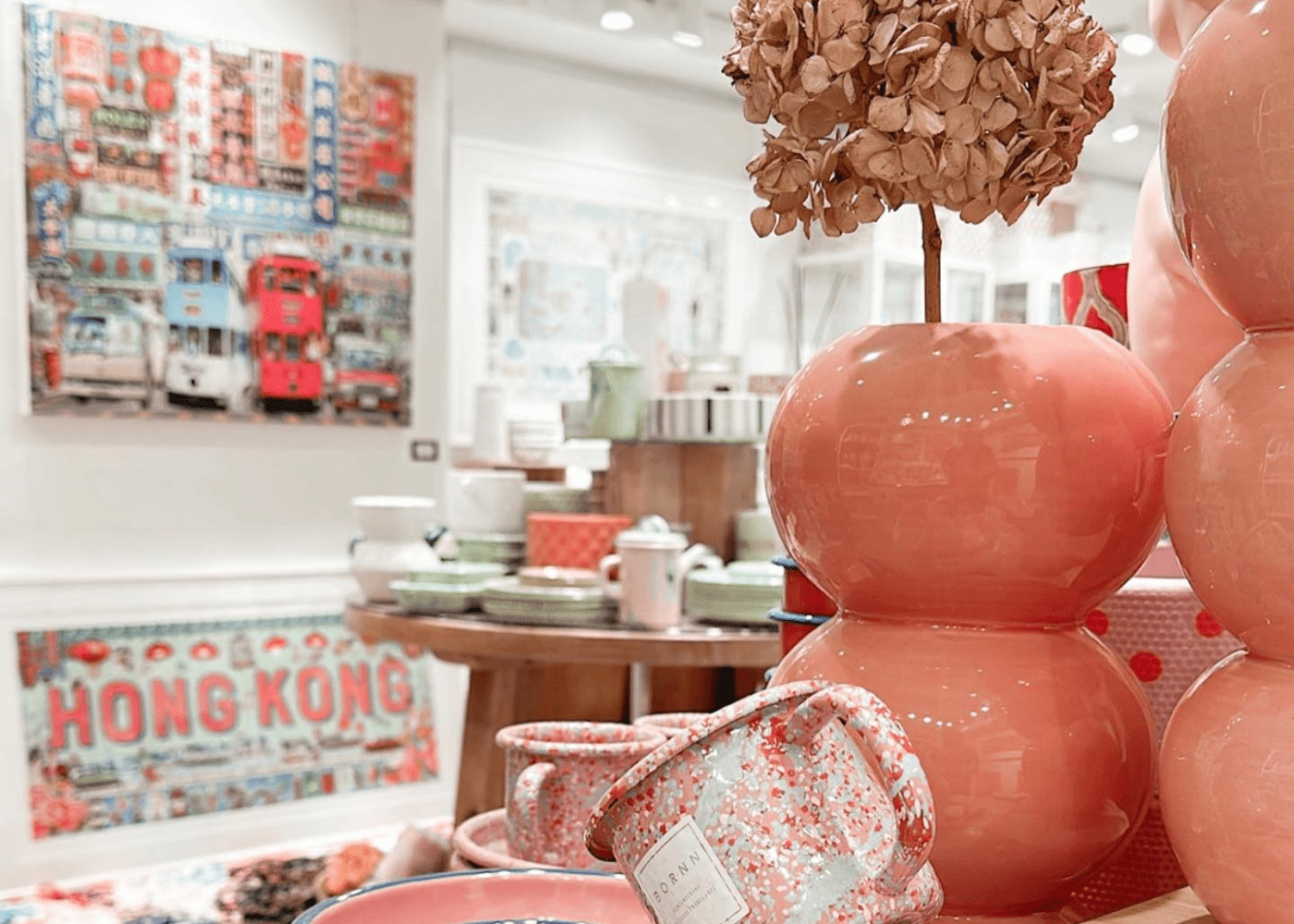 For those seeking eclectic home decor pieces in Sai Ying Pun, Thorn and Burrow is the place to be! Owner Tamsin personally sources each item from various corners of the globe – think India, Africa, Asia, Latin America, and Turkey. She offers a range of independently designed and handcrafted decor items and home accessories. From eco-friendly furniture and rugs with stunning patterns, to locally designed cushions and Turkish towels, you'll find an abundance of quirky and colourful finds.
Thorn and Burrow, 1/F, Cheong King Court, 30 High Street, Sai Ying Pun, Hong Kong, p. 9840 8437
Guide to Sai Ying Pun: Things to do
17. Sun Yat Sen Memorial Park
What's a visit to Sai Ying Pun without a trip to Sun Yat Sen? This waterfront park always draws the crowds thanks to its good views, ample playgrounds, running ring and grassy knoll. It's the perfect spot to picnic or do some outdoor fitness, or to just wander along the boardwalk to Shek Tong Tsui or Kennedy Town. There's even a public swimming pool in the fitness complex if you're feeling so inclined.
Sun Yat Sen Memorial Park, 16 Eastern Street, Sai Ying Pun, Hong Kong
18. Galaxy Tattoo
Home to a number of different tattoo artists, Galaxy Tattoo offers designs in a selection of styles, so you're sure to find your perfect person for your custom here. From hyper realistic black and whites to colourful cartoon-like creations, have a chat with them about what they can do for you and your canvas.
Find out why Galaxy Tattoo makes it to our list of top tattoo parlours in Hong Kong.
Galaxy Tattoo, Shop 2C, 2 Siu Cheung Fong, Sai Ying Pun, Hong Kong, p. 9708 5500
19. LAP Cat Adoption Centre
Always fancied adopting a fur baby? Head over to LAP Cat Adoption Centre and find a number of cats looking for their forever homes. Can't adopt? Why not foster a kitty, volunteer or make a donation instead?!
Check out more places where you can adopt pets in Hong Kong.
LAP Cat Adoption Centre, 11 First Street, Sai Ying Pun, Hong Kong, p. 6477 1492
20. Artlane
An urban art project launched in 2018 by Henderson Land to showcase the area's culture, Artlane injects vibrant street art into the neighbourhood's nooks and crannies. Local and international artists alike have adorned Ki Ling Lane and Chung Ching Street with stylish graffiti spanning entire building walls. From geometric patterns to larger-than-life portraits, Artlane's technicoloured artworks liven up the streets.
Artlane, Chung Ching Street, Sai Ying Pun, Hong Kong
Guide to Sai Ying Pu: Gyms
Sai Ying Pun boasts an impressive number of gyms, catering to a wide variety of workout styles and fitness levels. This abundance of gyms is a testament to the neighbourhood's dynamic lifestyle.
21. Utime Fitness
Spread over multiple floors, Utime Fitness offers everything you need from a gym, including 24-hour access. What we like most about this fitness centre is that you don't get locked into an expensive contract. Just pay month-by-month and get sweaty.
Utime Fitness is one of our go-to gyms in Hong Kong.
Utime Fitness, 120 Connaught Road West, Sai Ying Pun, Hong Kong
22. Crossfit Typhoon
If you're looking for one of the best CrossFit gyms in town, then meet Crossfit Typhoon. They've got classes for all levels and use the surrounding hills and streets for extra training and conditioning. Get to the box!
CrossFit Typhoon, Shop C, 16 South Lane (Woo Hop Street), Sai Ying Pun, Hong Kong, p. 5137 9470
23. F45 Sai Ying Pun
If repetitive treadmill trots make you yawn, F45's ever-changing circuits will keep you on your toes. It offers high-intensity 45-minute workouts that never repeat. With over 1,000 diverse exercises across 30 unique routines, you can say goodbye to boring workouts. Also, F45's "Split by Science" philosophy divides each week into specialised training focuses, like strength and cardio, for maximum results. Rather than the same old routine, expect variety from kettlebell swings one day to rowing the next.
Read our full story on F45 Sai Ying Pun here
F45 Sai Ying Pun, Unit 1A, Bupa Centre, 141 Connaught Road, Sai Ying Pun, Hong Kong, p. 6990 2403
24. Anytime Fitness
Head underground for a 24-hour gym with all the right stuff. They have a huge selection of equipment, including free weights, racks and cardio equipment, plus they have a studio where you can take virtual classes, do yoga or stretch. This is affordable fitness at its best.
Anytime Fitness, Basement, Andes Plaza, 323 Queen's Road West, Sai Ying Pun, Hong Kong
25. Ursus Fitness
As Hong Kong's first Strongman gym, Ursus Fitness emphasises functional powerlifting with equipment like sledgehammers, kegs, and massive tires. While flipping tires that weigh hundreds of kilos sounds daunting, the professional yet friendly team eases beginners into the workouts through HIIT, Muay Thai, boxing, and yoga classes. Build your strength steadily before conquering the tire flip challenge. Whether a new or seasoned lifter, you'll benefit from Ursus' inclusive environment and up your game.
Ursus Fitness, G/F, Units 2-4, 64-68 Pok Fu Lam Road, Sai Ying Pun, p. 2803 2774
[This article was originally published in April 2020 and updated in 2023 by Catherine Pun.]