Gift someone classic Italian bakery items from Pane e Latte
From fine wine to decadent treats, these Christmas hampers in Hong Kong will certainly gift your spirits!
Not sure what to bring to family gatherings this holiday season? You can't go wrong with a Christmas hamper. Filled with premium wine, food, confectionery, and even stuffed toys, these baskets are bound to have something for everyone. (Though, of course, you can also check out our gift guides!) Without further ado, let's dive into some of the best Christmas hampers in Hong Kong for 2022.
Shop these fantastic Christmas hampers in Hong Kong
Psst: We're working on updating our Christmas list for 2023 as more information comes in, so stay tuned for updates!
1. Pane e Latte
Celebrate the holidays the Italian way with a hamper from Pane e Latte. Guests may select the Christmas Delight Hamper ($688) or the Festive Luxuries Hamper ($888) for Christmas gems straight from the bakery. The Christmas Delight Hamper features four signature bomboloni, pastries, Prosecco, and other treats. The Festive Luxuries Hamper, on the other hand, contains 18 items including bomboloni, pastries, classic panettone, and cookie cutters. Both are available throughout December and will make wonderful gifts for the holidays!
Pane e Latte, G/F, U-C Court, 25 Stanley Market Road, Stanley, Hong Kong, p. 2337 7221
2. City'super
Have a lot of loved ones in your life you need to get something special for? City'super has you covered, with nearly 30 bespoke Christmas hampers ready for you to choose from. The pinnacle of these hampers is the City'super Christmas Extravaganza Hamper ($68,888). Available for ordering before noon on 9 December, this behemoth of a hamper features over 75 gourmet items that will eliminate the bulk of your Christmas party shopping. For those looking for a little less, the Luxurious Christmas Hamper ($9,888) has 30 goodies including Champagne and handcrafted panettone. And if you're looking to save after buying all your Christmas gifts, the Seasonal Greetings hamper ($988) features sparkling drinks, chocolate, popcorn, and more. All of these hampers are available online for your festive convenience. It's time to go shopping!
City'super has locations across Hong Kong.
3. Heimat
Heimat is bringing the German Christmas experience to Hong Kong this year! Included in that are its Christmas hampers all stuffed with German delights. The Weihnacht Gummibärchen (from $688) features eight jars of Heimat's famous gummies, with a choice of a small or large luxury teddy bear. The Nikolaus ($888) and Weihnachtsmarkt ($1,488) hampers include sweet almonds, gingerbread, mulled wine, pear compote, and more to help you celebrate the holiday season the German way. The hampers can be ordered for pick-up or delivery, so what are you waiting for?
Heimat, 8/F, LKF Tower, 33 Wyndham Street, Central, Hong Kong, p. 2881 1022
4. Nina Hospitality
Treat yourself this holiday with three Christmas hampers from Nina Hospitality. The Delightful Christmas Hamper ($988), Joyous Christmas Hamper ($1688), and Grandeur Christmas Hamper ($2,688) are all chock-full of festive confections from Nina Patisserie. Each hamper includes Champagne, palmiers, chocolates, tea, and more to keep you and your loved ones satisfied this Christmas.
Nina Hospitality has locations across Hong Kong.
5. Fortnum & Mason
Celebrate Christmas this year joyfully with Fortnum & Mason. The Fortnum's Classic Christmas Hamper ($2,688) is perfect for the merrymakers in your life looking to celebrate the holiday in style. Pop open the bottles of sparkling and still tipples, then dig into puddings, buttery biscuits, and jars of sweet delights. Lean on Fortnum & Mason to supply the revelry this holiday season with this special holiday hamper.
Fortnum & Mason, Shop 022, K11 Musea, 18 Salisbury Road, Tsim Sha Tsui, Hong Kong, p. 3916 8181
6. Pamper Hamper
Pamper Hamper will be your newest obsession for holiday goodies. Curated with treats imported from the UK, these hampers won't just look good but taste amazing as well. Each hamper contains items that are seasonal and limited edition, so grab some before they disappear until next year. Not to mention, the hampers themselves are handmade with sustainable and recyclable materials – and cute enough to keep around the house!
Shop Pamper Hamper online.
7. Paul Lafayet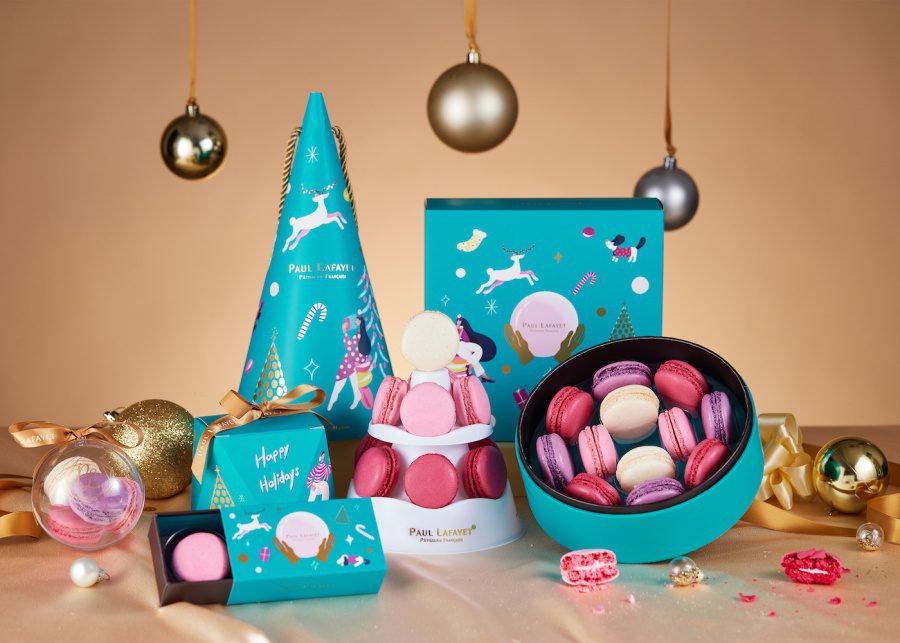 Patisserie Paul Lafayet is bringing the flavour to this holiday season with Christmas hampers overflowing with delicious delights. The Christmas premium hamper – Small ($698) and Christmas Deluxe Hamper – Large ($1,498) both include the Paul Lafayet Macaron Gift Box, Palmiers, Honey Jars, a Christmas Mug, Chocolate, and more. The Deluxe Hamper additionally includes items such as Paris Lady Cookies, Chocolate Pearls, a Christmas Candle, among other premium items. The hampers are available both online and in-stores, so take a bite!
Paul Lafayet has locations across Hong Kong.
8. Conrad Hong Kong
Conrad Hong Kong is coming in swinging this holiday season with three extravagant hampers. The Gourmet Hamper ($1,888) features Italian panettone and cookies, perfect for Christmas. Next, the Deluxe Hamper ($2,688) is loaded with goodies like red wine and English breakfast tea, among gastronomic treats. Last but not least, the Indulgent Hamper ($3,688) holds Christmas spirit in the form of black truffle-infused foie gras, Champagne, and more. Check out Conrad Hong Kong's e-shop to gift someone a well-tailored basket of holiday cheer.
Conrad Hong Kong, 88 Queensway, Admiralty, Hong Kong, p. 2521 3838
9. The Ritz-Carlton, Hong Kong
The festive hampers from The Ritz-Carlton are certain to make your 2022 Christmas one to remember. The Classic Hamper ($2,888) and The Ritz-Carlton Hamper ($6,888) include treats like Homemade Christmas Stollen, Deluxe Christmas Cookies, Deluxe Christmas Chocolate Praline, and much more. In addition, there is the Deluxe Spa Hamper ($1,280) and Grand Spa Hamper ($2,080) that both include a Spa Gift Certificate for $500 among other luxurious items. Whether you're looking to sample gourmet items or take the time to rejuvenate yourself, The Ritz-Carlton has you covered.
The Ritz-Carlton, Hong Kong, International Commerce Centre, 1 Austin Road West, Kowloon, Hong Kong, p. 2263 2263
10. Date by Tate
Treat yourself and loved ones this holiday season with a hamper from Date by Tate. The Ode to Wellness Christmas Hamper ($2,380) is brimming with festive indulgences. Included in the curated collection is Champagne, Fruit Cake, Raspberry Rocher, a DIY Tofu Kit with 1L Extra Thick Soy Milk redemption card, Soy Blend Wax Candle, and more. The hamper will be available for the month of December and is limited to 60 pieces only, so get your order in before it's too late!
Date by Tate, Tai Ping Mansion, 210 Hollywood Road, Sheung Wan, Hong Kong, p. 6730 2494