Improve your health with the professionals at ATLAS Chiropractic
Looking for chiropractors, osteopaths, and physiotherapists in Hong Kong? These experts offer a range of services to help with post-injury rehabilitation and get you back in the ring (or gym) again.
Joining a running club, hitting the gym, and going on hikes are all good for your body, but when you bust a knee or pull a hammy, it's time to call in the experts. These chiropractors, osteopaths, and physiotherapists in Hong Kong will keep those niggles at bay with intensive doses of focused, physical therapy. Here are some of the most reliable professionals that can help get you started on your body maintenance journey and stay in peak form.
Best chiropractors, osteopaths, and physiotherapists in Hong Kong
1. ATLAS Chiropractic
Life in the fast lane of Hong Kong can often take a toll on your body. By sitting at an office all day, you may be wanting to find new ways to optimise your health and wellness. Luckily, ATLAS Chiropractic is at the ready to provide bespoke chiropractic care, right in the heart of Central. Here, you won't find traditional chiropractic practices, but a different holistic way of looking at your body.
ATLAS does more than just momentarily take pain away – Dr Ben Dyer founded ATLAS to offer a gentle approach to chiropractic wellness that would help your body naturally and holistically. By getting to the root of your problem, ATLAS delivers long-term improvement with its system of care, education, community, and healthy habits to optimise your wellbeing. Thanks to ATLAS, thousands of clients have rejuvenated their bodies, reduced pain, and transformed their health. Whether you have a pre-existing condition, or simply want to better yourself, ATLAS will address your needs with its holistic approach to chiropractic wellness. One visit here will have you looking at your body and health in a whole new way!
ATLAS Chiropractic, 8/F, 10 Pottinger Street, Central, Hong Kong, p. 2110 3901 or 9877 9539 (WhatsApp)
2. Osteopathic Centre Hong Kong (OCHK)
Just a stone's throw away from the Central MTR Station, Osteopathic Centre Hong Kong is a refuge from the hustle and bustle of Hong Kong, and a much-needed oasis that provides patient-centred osteopathic care. Aiming to get to the root of your issues and provide rehabilitation for both your mind and body, OCHK offers hands-on treatment and a range of holistic practices, including osteopathy, corrective exercise, counselling, massage, and yoga therapy. You can trust the experts at OCHK to transform your wellbeing.
Osteopathic Centre Hong Kong, Suites 1801-02, 18/F, The Chinese Bank Building, 61-65 Des Voeux Road, Central, Hong Kong, p. 2505 2220
3. Sports & Spinal Rehab Centre (SSRC)
Whether you're suffering from sports injuries or common strains, Sports & Spinal Rehab Centre is the one-stop recovery station for you. Offering one-on-one assessment, diagnosis, and rehabilitation, SSRC tailors the treatment to each of its clients. The friendly and professional team deals with all types of pain from frozen shoulders to cervicogenic headache, using effective methods such as IASTM (Instrument Assisted Soft Tissue Mobilisation) and manual therapy to improve your spinal health and posture.
Oh, and did we mention that Sports & Spinal Rehab Centre gives out offers for first trials every month? Simply WhatsApp the team at 9606 5677 to find out more and nab yourself a discount!
Sports & Spinal Rehab Centre, Room 1912, 19/F, One Grand Tower, 639 Nathan Road, Mong Kok, Hong Kong, p. 9606 5677
4. Hong Kong Sports Clinic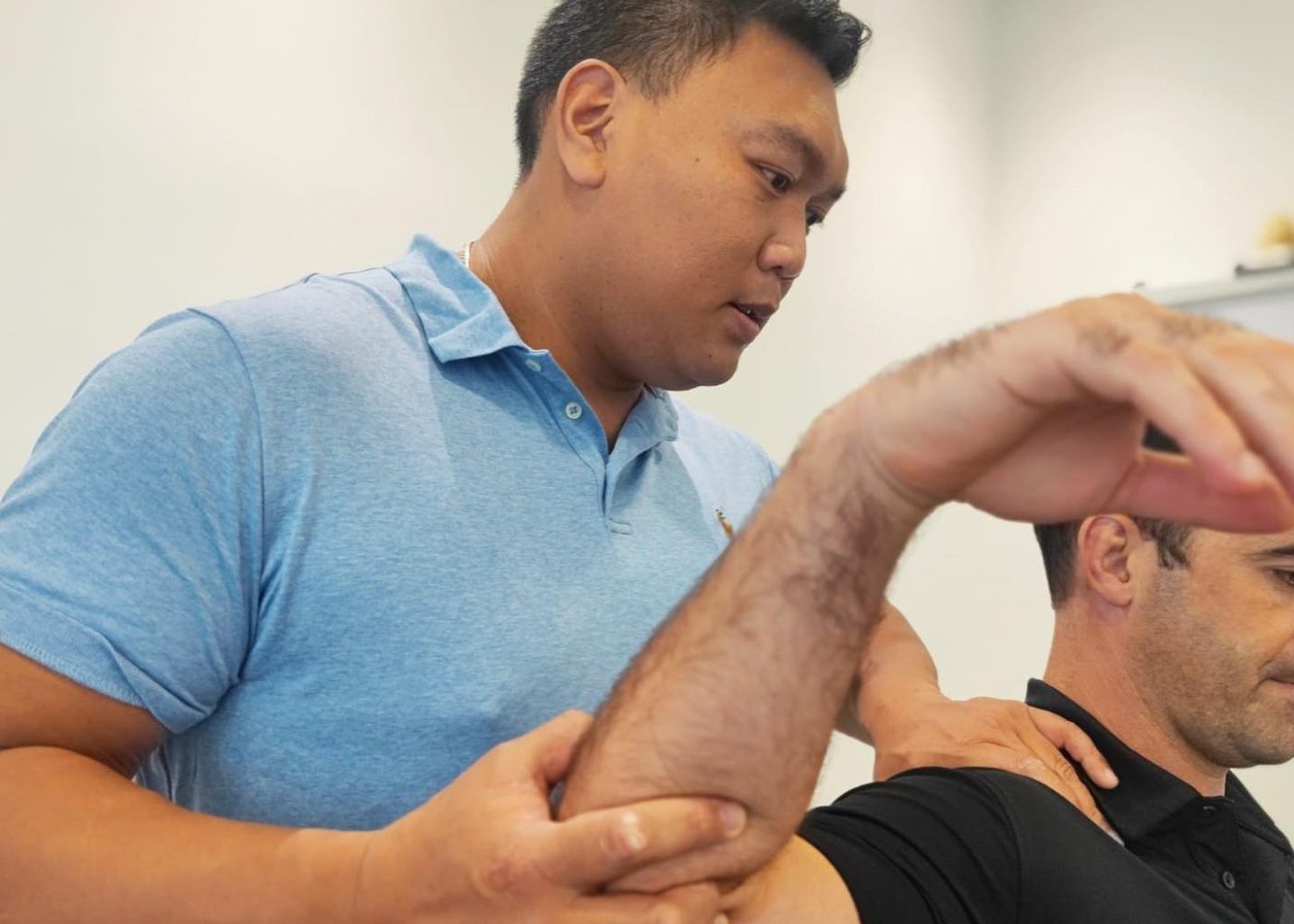 More than its name suggests, Hong Kong Sports Clinic offers a diverse range of services including chiropractor, osteopathy, and physiotherapy. You can experience personalised, hands-on treatment for pain, injury, as well as post-operative and neurological rehabilitation. The experts will guide you through your path of recovery using precise touch and movement assessments, in addition to tailored exercise plans.
Hong Kong Sports Clinic, 1/F, Li Dong Building, 9 Li Yuen Street East, Central, Hong Kong, p. 3709 2846
5. YourSpine Centre
Believing that a healthy spine is key to a person's vitality, YourSpine Centre offers chiropractor care and education to patients of all ages. Dr Jack Hau and Dr Jacqueline Ng are qualified experts in making chiropractic adjustments, which are more targeted and accurate than spinal "manipulations", and can reduce irritation in the nervous system more effectively.
YourSpine Centre, Room 12E, China Insurance Building, 48 Cameron Road, Tsim Sha Tsui, Hong Kong, p. 2721 3999
6. Joint Dynamics
Joint Dynamics takes a holistic approach to wellness and fitness by incorporating physiotherapy, osteopathy, sports massage therapy, nutrition consultation, and personal training disciplines into the care of its clients. After assessing your needs – whether it's daily niggles, post-operative habilitation, sports injuries, or posture correction – the team at Joint Dynamics will work as a group to solve the issues that are causing you pain and dysfunction. You can also consult the in-house osteopath for treatments that can help alleviate pain and manage long-term conditions.
Joint Dynamics has locations in Central and Quarry Bay.
7. Balance Health
As one of the city's earliest natural alternative clinics, Balance Health has transformed the physical, mental, and spiritual wellbeing of thousands. The clinic offers post-injury rehabilitation and treatment plans in physiotherapy and osteopathy to help your body regenerate. Experienced physiotherapists can provide individualised programmes, with a combination of techniques such as hands-on manual therapy, trigger points release, strengthening exercises, and more. The practitioners in osteopathy can also treat all sorts of conditions, ranging from chronic pain to acute injuries, and can cater to children, adults, seniors, pregnant women, and athletes alike.
Balance Health, Room 2705, 27/F, Universal Trade Centre, 3-5 Arbuthnot Road, Central, Hong Kong, p. 2530 3315
8. Rin Spine Clinic
Specialising in treating various pain conditions, including neck pain, lower back pain, and headaches, Rin Spine Clinic is run by a trio of registered chiropractors in Hong Kong: Dr Rin Park, Dr Ji Young Lim, and Dr Eric Hwangbo. All highly trained and experienced, these practitioners aim to make their patients feel at ease and help them achieve optimal wellness, with a personal approach in chiropractic care, physiotherapy, and TCM.
Rin Spine Clinic, Suite 1703, 17/F, Century Square, 1 D'Aguilar Street, Central, Hong Kong, p. 2886 8482
9. The Round Clinic
Established in 2015, The Round Clinic is made up of a team of professional healthcare therapists in Hong Kong, who strive to help those suffering from acute or chronic ailment. Using a combination of therapies such as osteopathy and physiotherapy, the clinic offers manual and natural solutions to discomfort in pregnancy and sports injuries, as well as treatments for infants and children. Those who have poor joint health and arthritis, neck or back pain, muscle tightness, and issues in postural alignment can also seek the help of the in-house physiotherapist at The Round Clinic.
The Round Clinic, Unit 602-03, 6/F, One Island South, 2 Heung Yip Road, Wong Chuk Hang, Hong Kong, p. 2648 2612