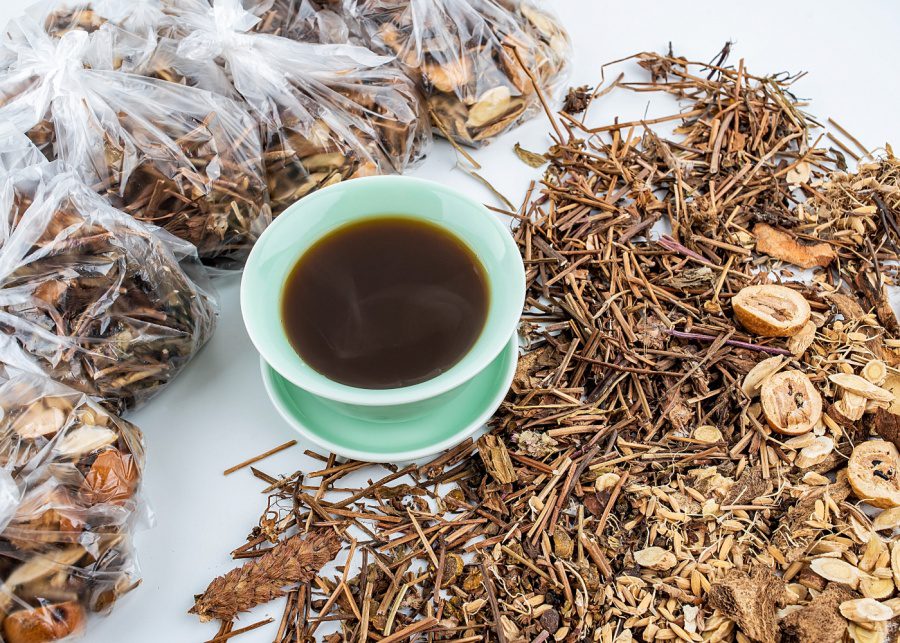 You can find a number of Chinese herbal teas on the street for less than ten dollars
Ever passed by one of those Chinese herbal tea shops and wondered what they were selling? Here are some of the most popular local herbal drinks that you should try.
There is just something special about Cantonese food. While it might not look the most extravagant – think Cantonese desserts and street food in Hong Kong – you'll probably find that much of it is surprisingly delicious and addictive. Instead of taking you on a Hong Kong food tour this time, we're teaching you how to hunt down some the best Chinese herbal teas in the city – even though they all look the same shade of brownish black.
Chinese herbal teas that are popular in Hong Kong
1. 24 Flavours Tea (廿四味)
Why's it called 24 Flavours Tea? Because it's a mixture of around 24 ingredients, although sometimes as few as ten or as many as 28. As one of the most commonly seen Chinese herbal teas in Hong Kong, the 24 Flavours Tea is great to aid digestion, alleviate sore throats and common colds, and it helps clear toxins and "internal heat" (yeet hei) in the body.
2. Spica Prunellae (夏枯草)
Spica Prunellae is known for lowering blood pressure and blood sugar levels, as well as for treating liver fire and conjunctival congestion. While a lot of Chinese herbal teas are described as bitter and dull, Spica Prunellae is one of our personal favourites in terms of flavour, as it carries a  subtle sweetness. It's probably the best one to start your journey into the world of Chinese herbal teas in Hong Kong.
3. Five Flower Tea (五花茶)
Made of five kinds of flowers, Five Flower Tea is most known for its excellent benefits for nourishment and improving your eyesight. This anti-inflammatory drink is also good for your lungs as it helps clear excessive heat in your body.
4. Rorippa Indica (野葛菜)
Just like most Chinese herbal teas, Rorippa Indica also helps remove excessive heat and toxins in your liver and bones, making it perfect to consume during summer. And if you happen to have a sore throat or a cough, this might just be what will help you kick it to the curb.
5. Canton Abrus Herb (雞骨草)
Are you a victim of insomnia? Are you used to pulling all-nighters? Canton Abrus Herb is known for relieving stress in damaged livers (especially suitable for those who smoke and drink a lot) and clearing toxins, so make sure you give it a try.
6. Monk Fruit Tea (羅漢果茶)
Naturally sweet, monk fruit (aka luo han guo) is loved by many Chinese households for its health benefits, such as curing sore throats and coughs. Since it is believed to have cooling effects, it is widely consumed by Chinese during summer. Although it tastes very sweet, monk fruit contains barely any carbs and calories, thus your insulin levels will not rocket after drinking.
7. Fire Hemp Seed Tea (火麻仁茶)
Rich in monounsaturated fat, protein, and vitamin E, fire hemp seeds are believed to have many health benefits. Constipation prevention, anti-aging, reducing the risk of cardiovascular diseases – just to name a few. Moreover, fire hemp seeds have been used as Chinese medicine for over 2,000 years, and are still loved by many Chinese medicine practitioners today.
8. White Sugar Cane Tea (白茅根茶)
If you're stressed out and suffering from insomnia, drinking a cup of White Sugar Cane Tea might be helpful. Other than clearing your internal heat, this liang cha can also cure bad breath and hangovers, making it a perfect drink for late-night party gangs.
9. Chrysanthemum Tea (銀菊露)
Fragrant chrysanthemum flowers boiled with honey and cane sugar makes the perfect chrysanthemum tea. Cooling, detoxing, and clearing internal heat are just some of its benefits. While people often consume chrysanthemum tea when they have a cold or flu, some simply drink it as a refreshing tea on a daily basis.
Great shops to buy Chinese herbal tea in Hong Kong
1. Herbaceous Tea
Making fresh liang cha in Sha Tin everyday, Herbaceous Tea serves refreshing hawthorn tea, barley water, ginseng tea, and many other liang cha with no added sugar and preservatives. The teas come in a cool bottle. Other than Chinese herbal tea, you can also want to try its medicine broth and pear honey pastes.
Herbaceous Tea (良茶隅) has several shops and retailers in Hong Kong.
2. Chau Ka Yuen Herbal Tea
This Chinese herbal tea shop is a family business established over a half-century ago. Everyday, the shop owner carefully washes the herbs and prepares everything all by hand, earning Chau Ka Yuen many loyal customers. While drinks like the twelve-hour boiled Canton Abrus Herb Tea and 24 Flavours Tea are customers' all-time favourites, Chau Ka Yuen's Gui Ling Gao (龜苓膏) herbal jelly is also a must-try during hot summers.
Chau Ka Yuen Herbal Tea, G/F, 52 Ap Lei Chau Main Street, Ap Lei Chau, Hong Kong, 鴨脷洲鴨脷洲大街52號地舖周家園涼茶舖
3. Chuen Chun Tong Chinese Herbal
Known for its original 28 Herbs Tea, Chuen Chun Tong has long been supported by Kowloon residents for the effectiveness of its remedies. A Chinese medicine practitioner first established the store over 60 years ago and passed on the business to his son. Some must-try items including Five Flower Tea, Apple Pear Tea, Fieldcrest Maculata Soup, and Canton Abrus Herb Tea. After enjoying a bowl of refreshing herbal tea at Chuen Chun Tong, make sure to grab their handmade five-spice pork dumplings to take home!
Chuen Chun Tong Chinese Herbal, Shop B2, G/F, 29 Nga Tsin Wai Road, Kowloon City, Hong Kong, p. 2383 7081, 九龍城衙前圍道29號地下B2號舖全珍堂生草藥涼茶舖