Eating cake is a piece of cake (Photography: Amawasri via Getty Images)
Planning a birthday party or special occasion? Satisfy your sweet tooth as we give you the skinny on the best cake shops in Hong Kong.
While we love chowing down on street food, steaks, and Korean BBQ in Hong Kong, is there anything in life more enjoyable than biting into a really good piece of cake? That's why we took it upon ourselves to go through all the corners of the city to find out where to buy the best ones. From new cafes churning out Insta-bait desserts, to luxe French patisseries that are masters of their craft, here are the creme de la creme of cake shops in Hong Kong.
Our 19 favourite cake shops in Hong Kong
1. Arte by Padaria
The ultimate spot for cake couture in Hong Kong, Arte by Padaria is a haven for those who appreciate edible art. Innovation is at the heart of its passion, resulting in creations that are as delightful to the eye as they are to the palate. Imagine sinking your teeth into galaxy-inspired chocolate mirror glaze cakes that glisten like stardust. Or perhaps you'd prefer to indulge in the Basque burnt cheesecake in hues of matcha green and sesame black, crowned with colourful fruit jewels. With novelty creations disguised as suckling pigs and pastel macarons that are just begging to be featured in your next post on the 'gram, you can expect nothing less than satisfaction!
Arte by Padaria has locations in Sheung Wan and Tsim Sha Tsui.
2. Sugar Me Kissery
If you want a cake with real wow-factor, check out Sugar Me Kissery's creatively sculpted cakes. Founded by an award-winning sugar artist, the cake shop churns out jaw-dropping creations that look and taste great. The sky's the limit when it comes to the imaginative sugar work of this patisserie – just name the cake of your dreams and you're sorted. Some of its most stunning creations include a 40th birthday cake inspired by Banksy, a cake in the shape of the Millennium Falcon, and a towering tier shaped like an Hermes shopping bag (plus a Kelly to match).
Sugar Me Kissery, 83 Bedford Road, Tai Kok Tsui, Hong Kong, p. 6110 8967
3. La Famille
Any of you recall when La Famille was just a small cafe tucked in the streets of Tai Hang circa 2014? Yes, we're the OG fans – and that's why we're over the moon that this cake shop has since expanded to having almost a dozen branches across the city. It's all hits and no misses with La Famille's chiffon cakes – be it the signature strawberry cake, the luscious Double Chocolate, or our fave Japanese yuzu cake. Also, the shop makes Insta-worthy bavarois and comes up with seasonal specials every now and then. Moreover, La Famille runs a Birthday Star event every month. If your birthday lands on the particular date that the shop has announced on its social media, you may get to win a petite chiffon cake from La Famille. Good luck!
La Famille has branches across Hong Kong.
4. 65.cakes
These South Korean-style cakes are straight out of a cartoon. 65.cakes, an online cake shop in Hong Kong, has been whipping up the most adorable, colourful cakes since 2019. You can order retro cakes, character cakes, or even a recreation of the cake from Harry Potter here. 65.cakes is definitely taking the baking scene by storm and creating cakes that look out of this world!
Order from 65.cakes online.
5. Vive Cake Boutique
Any sweet tooth knows that Vive Cake Boutique is a dessert lover's paradise. The pretty pink cafe offers bespoke confections that are so stunning, you might not want to ruin them. To go with the Instagram-ready pastel pink backdrop are its Instagram-worthy confections. Here's where you can order a unicorn cake, a galaxy cake, and everything in its softest, prettiest form.
Read our full review of Vive Cake Boutique.
Vive Cake Boutique, G/F, 12 Gough Street, Central, Hong Kong, p. 9602 2869
6. Jouer
Jouer literally translates to "play", as apparent in its playful confections. This artisanal cafe excels at French pastries, but the stunning cakes steal the show. Signature naked layered cakes offer refined takes on comforting flavours like sticky toffee pudding, banoffee, and s'mores. For more sugar, Jouer's macarons, canelés, and madeleines are executed with finesse. With its elegant execution of childhood classics, Jouer brings sweet fun and nostalgia to the table.
Jouer, Shop LG23, Lee Garden Two, 28 Yun Ping Road, Causeway Bay, Hong Kong, p. 3489 3903
7. Infiniti C
With a mission to raise awareness around sustainable eating, Infiniti C has proudly staked its claim as Hong Kong's first 100% gluten-free specialty cafe. Putting faith in the philosophy that quality cuisine should be inclusive, Infiniti C caters to a range of dietary needs including gluten-free, vegan, and ketogenic diets. Every ingredient is carefully sourced to promote a reduced carbon footprint, a commitment that is reflected in its decision to exclude beef and lamb from the menu. We're heartily tipping our hats to its efforts in creating goodies that everyone can enjoy without a worry about allergies or dietary restrictions.
Infiniti C, Shop G03, G/F, Nan Fung Place, 173 Des Voeux Road Central, Central, Hong Kong, p. 2988 8398
8. Sbakery
A true labour of love, Sbakery by Mama Soo has successfully transported the charm of New York-style cheesecake to the heart of Hong Kong. After captivating a loyal following online, it opened a flagship store in Sheung Wan to offer a nostalgic cheesecake experience. Here, you can savour the unadorned classics: creamy cheesecakes with a delicate crust and just the right hint of tang. With flavours like blueberry, tiramisu, and s'mores, each slice tempts the tastebuds in perfectly proportioned indulgence. From humble beginnings in her own kitchen, Mama Soo has found the ideal balance and now shares her gift with the city, serving up cakes that are skilfully crafted from quality ingredients.
Sbakery, Shop B, 22-24A Tai Ping Shan Street, Sheung Wan, Hong Kong
9. Dang Wen Li by Dominique Ansel
Often referred to as "the Culinary Van Gogh", Dominique Ansel has opened his flagship store at H Queen's this year. Blending Hong Kong culture into his desserts, some of the goodies at Dang Wen Li look like local savoury snacks, such as dumplings, fish balls, and sandwiches, while there's also the unsuspecting lemon juice box – which is actually earl grey bergamot cake. If you try the baguette-like cake, expect it to be, well, not a baguette, but it's something delicious nonetheless. And this time, we won't spoil the surprise for you!
Dang Wen Li by Dominique Ansel has several branches in Hong Kong.
10. Jomo
Jomo sells homemade vegan pastries. Being named the best chiffon cakes in town, the moist cake is slightly crunchy on the outside and topped with a robust layer of cream. At Jomo's branch in Tseung Kwan O, you can even visit its gym before heading to the cafe outside for a post-workout cake. Bonus: the cafe's sea view is stunning!
Jomo, Shop G01 & 1A, Monterey, 23 Tong Chun Street, Tseung Kwan O, Hong Kong, p. 2331 3003
11. Ms B's Cakery
Pure decadence is the name of the game at Ms B's Cakery. Founded by Sevva's Bonnae Gokson, this luxe patisserie has signature cakes with names like the choco-holics dream Better Than Sex (a dark chocolate fudge cake with chocolate caramel crunch and salted toffee), Pink Diamond Heart (pretty pink layers of Dom Perignon Rose champagne jelly, white chocolate mousse, and French vanilla chiffon sponge – topped with diamonds), Champagne Chocolate and Diamonds (the chocolate version with champagne jelly, white chocolate mousse, and French vanilla chiffon sponge – also topped with diamonds), and of course, its famous Million Dollar Truffle Cake (a rich and velvety chocolate truffle with toffeed nuts, topped with 24K gold and dribbled with gold coins). Ms B's Cakery also has gluten-free and sugar-free options, so when it comes to cake shops, this one is a winner!
Ms B's Cakery, Shop 248, Prince's Building, 10 Chater Road, Central, Hong Kong, p. 2530 0203
12. The Cheesecake Factory
First launched in Beverly Hills in the 1970s, this brand has received loyal support from cake lovers as it has grown across the globe. From Strawberry Cheesecake to Pumpkin Cheesecake, to Hot Fudge Sundaes to Carrot Cake, you can take your pick from over 30 flavours. It also serves steaks and salads for you to balance out the sweetness.
The Cheesecake Factory, Shop G102, Harbour City Gateway Arcade, 25 Canton Road, Tsim Sha Tsui, Hong Kong, p. 2791 6628
13. The Mandarin Cake Shop
If you feel like splurging a little for your loved ones and/or yourself (because why not?), head to The Mandarin Cake Shop at Mandarin Oriental, one of the most famous cake shops in Hong Kong. Its freshly crafted French pastries are meticulous works of art, and the 1963 Mandarin Cheese Cake is a classic. Don't miss the chance to pick up a jar of its legendary Rose Petal Jam while you're there!
The Mandarin Cake Shop, M/F, Mandarin Oriental Hong Kong, 5 Connaught Road, Central, Hong Kong, p. 2825 4008
14. Lady M
We're sure you're familiar with Lady M's exquisite Japanese and French Mille Crepes by now. If not, you need to get a slice for yourself, stat! Layers upon layers of paper-thin crepes are slathered with the softest pastry cream for a subtle decadence. At Lady M, the Mille Crepes come in Signature, Green Tea, Coconut, Salted Caramel, and Rose flavours. Other must-try confections include its Strawberry Shortcake and Banana Mille-Feuille.
Lady M has branches across Hong Kong.
15. The Cakery
Trying to eat clean but can't help your sweet cravings? Fret not, The Cakery is a boutique cake shop that specialises in gluten-free, vegan, organic, sugar-free, and paleo treats. The Cakery uses organic ingredients and superfoods like chia seeds to whip up a tasty range of desserts for the health-conscious. Signature cakes include their giant Sunflower Cake, a pumpkin sponge with dark chocolate; Aloha Cake, a gluten-free sponge cake layered with pineapple slices and covered in meringue frosting; and Hidden Gem, a gluten-free black sesame cake with black sesame paste and black sesame frosting. Yum!
Check out why we love the vegan cupcakes from The Cakery.
The Cakery has branches across Hong Kong Island.
16. Date by Tate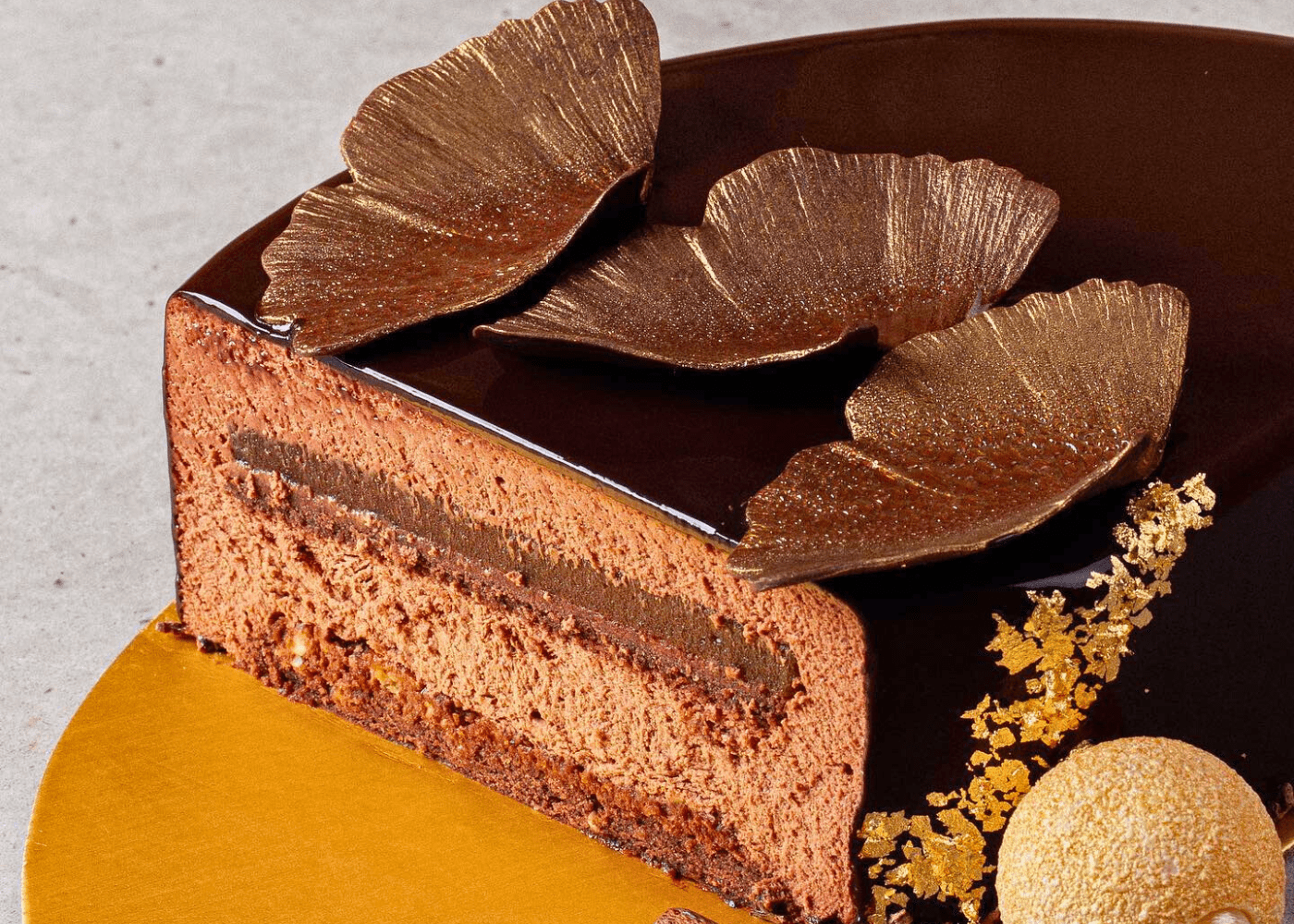 If you're looking for a stunning cake to wow the pants off your guests, then Date by Tate should be your first port of call. Founded by the esteemed chef Vicky Lau, Date by Tate is the ultimate haven when it comes to cake shops in Hong Kong, with a team that makes cakes that come to life and tell stories – a true work of art.
Date by Tate, G/F, 210 Hollywood Road, Sheung Wan, Hong Kong, p. 6730 2494
17. Butter Cake Shop
Smooth like butter like a criminal undercover… Sorry, but Butter Cake Shop's got us singing with its scrumptious, buttery cakes! From the classic New York cheesecake, to everyone's favourite s'mores cake, Butter's cakes and pies will serve as the perfect treat for any party.
Butter Cake Shop has locations across Hong Kong.
18. Le Dessert
Not having a physical store is not stopping Le Dessert from taking on Hong Kong the French way! Chef Julian landed in Hong Kong missing the desserts he used to get in Paris. He was soon armed with a dream to create Le Dessert, and bring a bit of French pastry tradition to Hong Kong. The Charlotte Celebration Layer Cake is as traditional and amazing as they come. With whipped mousse, fluffy sponge cake, and encircled by lady fingers, this cake will be a hit for any occasion. Pavlovas and individual pastries are just some of the other delectable treats offered by Le Dessert in lieu of cake.
Order from Le Dessert online.
19. Chateraise
Created to deliver a taste of Japan, Chateraise bakes up sweet sensations using ingredients fresh from its Japanese farm. This popular patisserie franchise skilfully fuses traditional Western and Japanese flavours. With locations spread conveniently across Hong Kong, it's the go-to for last-minute treats and gifts. Chateraise's cakes feel indulgent yet ethereally light, from fluffy cream puffs to lush strawberry shortcake. The star player is its strawberry cream cake, built on a delicate sponge soaked in fruit and cream. With each blissful bite, it transports you to the pink-hued Yamanashi orchards.
Chateraise has multiple locations across Hong Kong.
[This article was originally published in December 2020 and updated in 2023 by Catherine Pun.]