Confused about buying second-hand electronics in Hong Kong? Don't be. We're decoding everything from where to go to what to look for.
So you have GAS (Gear Acquisition Syndrome), and you constantly find yourself browsing the latest and greatest wearable wellness tech, home sound systems, and electronics. It's an expensive hobby, and interventions can only do so much. Buying new (and peeling back the plastic) is undoubtedly appealing, but it isn't the only way to satisfy your electronic desires. Which is why we've put together this guide to buying second-hand electronics in Hong Kong, which can be just as fun (if not more so) and way cheaper too. Now go forth and multiply your gadget collections!
How do you buy second-hand electronics in Hong Kong?
Technology is improving at a rapid pace. With upgrade cycles getting shorter and shorter, it's meant that many new products have only marginal improvements, and older generations (of iPhones, for example) are still fantastic devices today. But if you've never bought second-hand before, where do you even start? How do you make sure you don't get ripped off? What do you need to look out for? We know all this and more.
1. Do your Research!
There are plenty of second-hand products on sale – and they're all there for a variety of different reasons. You need to figure out if something is worth having or not – some products have stood the test of time, and it doesn't matter that you own it a couple of years later than the release date; other items are being sold because they're just not very good and nobody should own it.
Check out review sites, and learn to read the good and the bad professional and user reviews. Be careful of confirmation bias and look for helpful comments and reviews instead. Sites such as the Wirecutter compile lists of recommended and still great products that are a generation or two old. The Wirecutter, in particular, helpfully reviews with the average consumer in mind and not just hardcore users who only demand the best.
Go on Reddit and find your device category. Almost every electronic subreddit (e.g. Photography) has a weekly: Ask anything you want about X thread, where you can ask about specific devices and whether it's still recommended in 2021 (and how much is a reasonable price to pay). It's also likely that other people have asked the same question, so a Reddit search might also work. This is also the best place to find out if there are things to look out for when inspecting products – is the damage surface level, or is it a problem that is entirely unfixable?
Search YouTube – there is a tonne of content that might be relevant to you as well. Be specific with your searches. For example, 'Is the 2015 MacBook Pro still good in 2021' and 'Is the SONY a6000 (a 7-year old camera) worth it in 2021?' are videos that exist and can help tip the balance on whether you should pull the trigger on a second-hand device or not.
Finally, remember to do a quick Google search to check how much the item you're looking for might cost brand new. Second-hand and brand new should not cost the same.
2. Marketplaces
So you know what to look out for; you have your heart set out on finding your pre-loved electronic device. Where do you go about finding it?
There are two main types of sellers – direct sellers (regular consumers selling their own things) and dealers (this is their day-to-day business).
Direct sellers are generally cheaper (you can find steals), but there is more variance on how functional the product is. It can also be annoying to arrange a time to make the exchange – most likely at an agreed-upon MTR station.
Dealers are typically at least 20-30% more expensive. These dealers buy second-hand devices and make money on the mark-up. However, they have stricter quality control and will allow for exchanges should there be any issues. Some dealers will pretend to be direct sellers, but you'll be able to spot them with their high prices (and the volume of things that they are selling).
3. Direct Sellers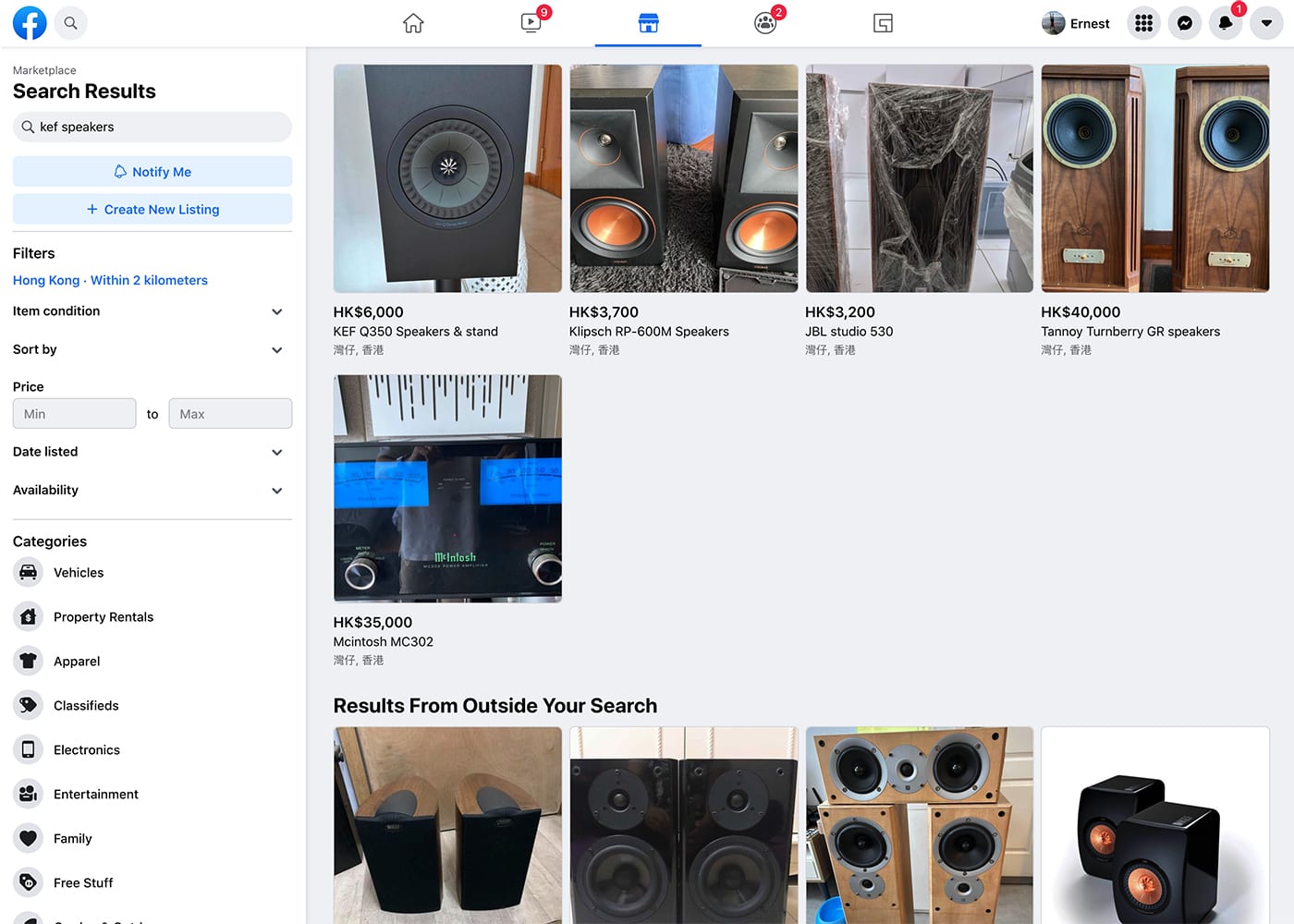 This is the easiest and best place to start. Searching is straightforward, and the built-in messaging system is the easiest to use. Filters will also help you sort through all the items on sale. Depending on what you're looking for, there might not be a lot of volume, so if you're not in a rush, you'll need to check regularly.

Next, head to Carousell. While most items are listed in Chinese, you will still be able to search and find things by using English. The sellers here are typically slower to reply (the messaging can be a little buggy). We'd recommend checking up user ratings to see whether the seller can be trusted or not. Always negotiate at least 10% here.

This is a Chinese only platform BUT worth trying as well. It is a good mix of cheap + well-looked-after second-hand devices (it started as a forum strictly for camera enthusiasts in Hong Kong). Almost every device type has its specific page (for example, you can find pages specifically kitchen gadgets or tablets). If you can't read Chinese, a friend will be able to help you out (thankfully, it's much easier than trying to use Taobao).
4. Dealers
Computer Centres
Whether you're in Wanchai Computer Centre, Golden Computer Arcade or 298, there will be 2-3 stores that sell second-hand electronics. The items on sale are typically smaller, have no online presence, and stock more popular consumer devices (e.g. phones, laptops, cameras, etc.) rather than household items (e.g. vacuum cleaners). The second-hand gadgets here are thoroughly checked and will work, but usually, it's also the most expensive place to buy devices.
5. Checklist
So assuming you've found your device at a price you're willing to pay, make sure you (at a minimum) ask the seller these questions.
Does it have a warranty or original receipt?
Do all the main functions work? Can I test it?
How has the product been maintained?
How heavily has it been used?
How is the battery life?
Where and when will the transaction be made? (only relevant to direct sellers)
Can it be cheaper?
And before you pull the trigger, remember to ask yourself this – do you really need this?
6. Tips & Tricks
Last few things to keep in mind/think about:
– How popular is this brand? How much value does it retain? For example, Apple phones can easily retain 60% of their value after three years, whereas Samsung phones values drop significantly after three years. This is good to know if you regret buying something and need to sell it back out.
– How hard will this be to fix? Older mechanical items (with no computer chips) and popular brands will be easier to fix (more parts are available). This is important to know in case something happens and you're left with an expensive brick.
– If you can't find the exact product you want, are there others that will be just as good? In the ideal world, you'll find what you want at the price you want. In reality, the thing you want might be hard to find. Are you willing to wait 3, 6, even nine months? Or is there a second or third choice that will be just as good?
Buying second-hand can be incredibly rewarding. You'll save thousands, and it can itself become a hobby. Good luck!