Summer Palace Red Bean Paste with Rare 80-Year Dried Tangerine Peel Collector's Gift Box and Summer Palace Seven-Star Mooncakes are both bestsellers at Island Shangri-La
If you're looking to buy mooncakes in Hong Kong in 2022, you can't beat the spots on this list.
In between eating salads and filling up on healthy meals, it's okay to spoil yourself a little. And what better time than to do so during the Mid-Autumn Festival, when you can spend some quality time with your loved ones? If you're wondering where to buy mooncakes in Hong Kong in 2022, we have a list of the best hotels, restaurants, and specialty shops that have created a range of tasty treats. With classic and modern flavours to suit everyone, we simply love them all to the moon(cake) and back – and we think you will, too!
Where to buy mooncakes in Hong Kong 2022
1. Conrad Hong Kong
Gin and mooncakes, anyone? Conrad's Chinese restaurant, The Golden Leaf, is joining hands with the local distillery, Two Moons, to debut a unique gin mooncake gift box set ($688). Inside, you'll find four mooncakes, of which two are filled with Creamed Egg Yolk with Gin, and the other two Red Bean Paste with Mandarin Peels and Egg Yolk. We love how the former is remarkably smooth, while the aroma of the mandarin peel stands out well in the latter. Also, both contain just the right amount of sweetness! Don't forget to make yourself a refreshing G&T or a Bee's Knees with the two mini bottles of Two Moons' signature gin (The Dry Gin and Calamansi Gin) inside the box, too.
Oh, and did we mention that the beautiful writing on the mooncake box is the work of the renowned calligraphy master Yeung Kai? His design adds a sense of elegance and timelessness to the box, making it ideal for gifting this season. Find out more about Conrad's Mid-Autumn offerings and make your purchase on the eshop for exclusive discounts.
Conrad Hong Kong, Pacific Place, 88 Queensway, Admiralty, Hong Kong, p. 2521 3838
2. The Landmark Mandarin Oriental, Hong Kong
Never know what to do with mooncake boxes after Mid-Autumn Festival? You wouldn't have to worry with The Landmark Mandarin Oriental's unique mooncake handbag ($438)! Intertwining festivity, food, and sustainable fashion, the bag encompasses six silky-smooth mini egg custard mooncakes, each packaged in FSC-certified paper made with responsibly sourced materials. The bag itself encourages an eco-friendly lifestyle by being reusable as an everyday handbag with its stylish shade of yellow, which represents the full moon.
Shop LMO's mooncakes online (available until 10 September), or purchase them in person at the Hotel.
The Landmark Mandarin Oriental, Hong Kong, The Landmark, 15 Queen's Road Central, Central, Hong Kong, p. 2132 0188
3. The Peninsula Boutique
The time-honoured Peninsula mooncakes are always a crowd favourite. This year, the Hotel is launching three new mooncake flavours: egg custard with Peninsula Blend tea; sesame and mung bean paste mooncake with yolk; and salty lemon with white lotus seed paste. You'll find the latter two in the Star Chef Moon Gazing Gift Box ($2,488) – an elegant champagne-coloured box decorated with The Peninsula's classic lotus motif. Perfect for those who enjoy the finer things in life, the box contains eight mooncakes in total, along with a tin of Pu Er tea and a set of limited-edition porcelain tea service.
The Peninsula Boutique, The Peninsula Arcade, The Peninsula Hong Kong, Salisbury Road, Tsim Sha Tsui, Hong Kong, p. 2696 6969
4. Cova
Calling all chocoholics! Cova, the celebrated Italian chocolate and confectionery brand, is presenting a brand new Lava Chocolate Mooncake this year. Crafted with Cova's signature house-made chocolate, the mooncake will reveal a decadent molten chocolate filling after being warmed and cut – talk about indulgence! In addition to the Lava Chocolate Mooncake are a variety of flavours: egg custard; white lotus seed paste with egg yolk; and cranberry and assorted nuts. These mooncakes are all packaged in luxuriously designed gift boxes, inspired by the full moon and embellished with a touch of gold. Among the six different mooncake gift boxes, those who want to try a bit of everything would love the luxe Milan Autumn Mooncake Giftbox ($998). Want to take things up a notch? Take your pick between five sumptuous Mid-Autumn Festive Hampers, which offer artisanal teas, preserves, fine wines and, of course, Cova's famous Gianduiotti chocolates.
Cova has multiple branches across Hong Kong.
5. Ming Court, Cordis, Hong Kong
Michelin-starred Cantonese cuisine crossing over with French artisanal crystals – say what? The collaboration between Ming Court and Lalique is resulting in a stunning limited-edition mooncake gift box (from $3,288/box) for 2022. In addition to four pieces of the signature Ming Mooncakes with White Lotus Seed Paste and Double Egg Yolks, the box contains a bottle of selected fine wine, plus a pair of Lalique x James Suckling 100 Points Universal Glasses. If you're a wine aficionado, this set is not to be missed.
Order the Ming Mooncake Gift Set online and find out more about the full range of Ming Mooncakes.
Ming Court, Level 6, Cordis, Hong Kong, 555 Shanghai Street, Mong Kok, Hong Kong, p. 3552 3301
6. The Cakery
Mooncakes making you feel guilty? Try The Cakery's health-conscious vegan mooncakes! Not only are these treats gluten-free, completely vegan, and free from preservatives and food colouring, but they also contain a much lower sugar content compared to traditional mooncakes. The four flavours this year include Black Sesame Lava, Mango Lava, Yuzu Blueberry, and Yame Hojicha Chocolate. Yes, we know they all sound equally tempting but, fear not, as each box ($568) comes with all four flavours – one of each – so call your dibs!
The Cakery has multiple locations in Hong Kong.
7. The Fullerton Ocean Park Hotel Hong Kong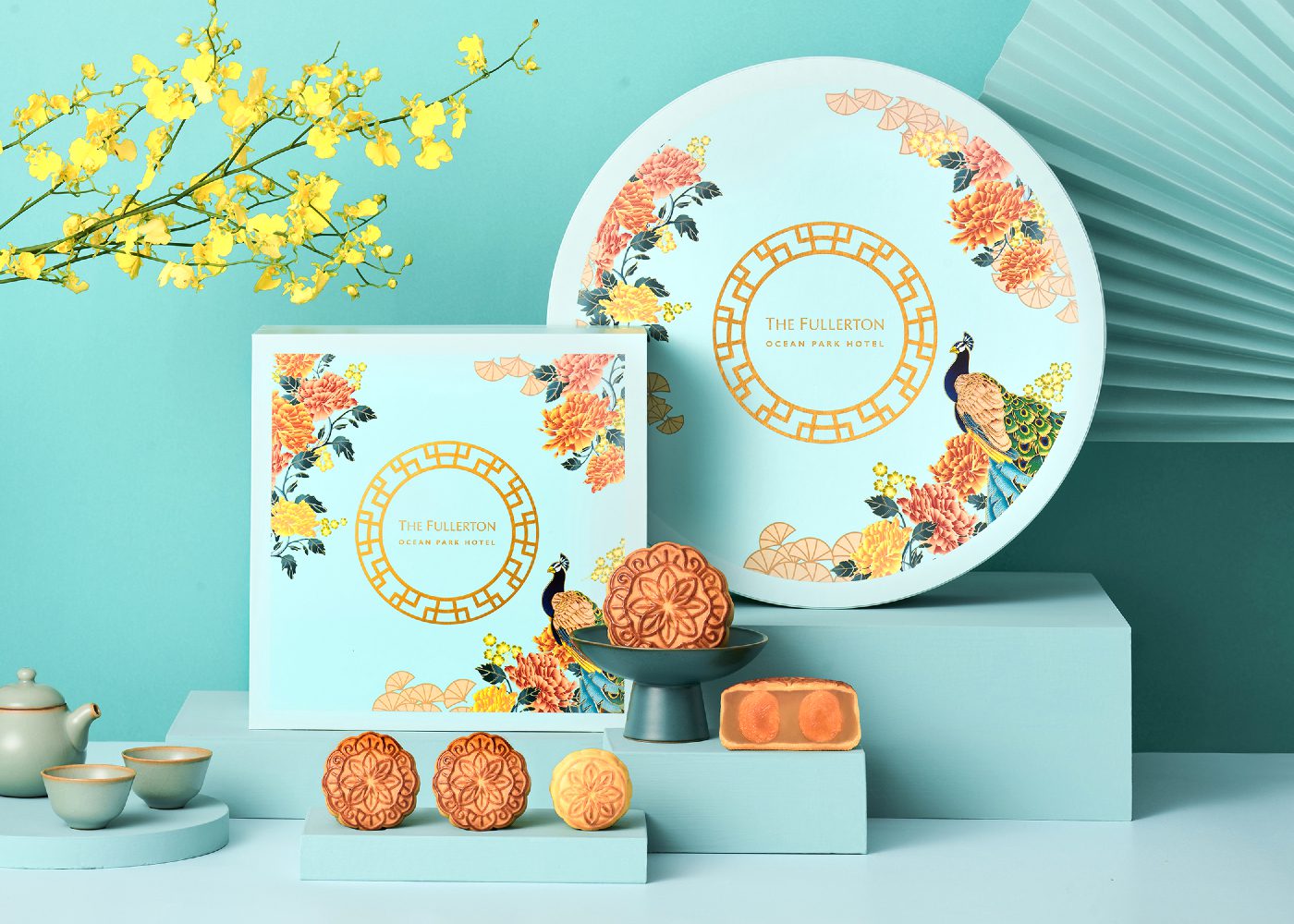 New kid on the block alert! The Fullerton Ocean Park Hotel debuts a mooncake offering of decadent flavours packaged in elegant turquoise boxes. The Fullerton Classic Mooncake Gift Box ($438) features the always reliable White Lotus Seed Paste Mooncake With Double Egg Yolk, the perfect satisfying treat. For families or individuals with more diverse palates, The Fullerton Eight Treasures Deluxe Mooncake Gift Box ($618) offers the classic mooncake alongside crowd favourites such as the Egg Custard Mooncake; Red Bean Paste With Citrus Peel Mooncake; and Red Bean Paste With Egg Yolk Mooncake. If you want a little something to go with your mooncakes, sets are available with Premium Pu'erh Tea and various gourmet treats.
Order The Fullerton's mooncakes via the hotel's e-shop for pick-up at various locations.
The Fullerton Ocean Park Hotel Hong Kong, 3 Ocean Drive, Aberdeen, Hong Kong, p. 2166 7388
8. Yat Tung Heen, Eaton HK
With Yat Tung Heen, you can treat yourself this holiday season without creating more waste for the planet. Presented in a reusable wooden box, you can enjoy your mooncakes elegantly and guilt-free. Opt for A Taste of Tradition ($458) with six Mini White Lotus Seed Paste with Egg Yolk Mooncakes – a classic choice that never goes out of style. Or, you can go down a more indulgent route with A Taste of Delight ($428), which offers six Mini Egg Custard Mooncakes for a special treat. To further the spirit of giving this festive season, you can also get Yat Tung Heen's Signature Gift Box ($388) featuring house-made XO Sauce; Candied Walnuts; and Ginseng Oolong Tea Leaves.
Yat Tung Heen, Level B2, Eaton HK, 380 Nathan Road, Jordan, Hong Kong, p. 2710 1093
9. Gaia Group
Prominent restaurant group, Gaia Group, is commemorating Mid-Autumn Festival with the Blissful Harmony Mooncake Gift Set ($338) this year. In the box are six different flavours, including the classic Lotus Seed Paste Mooncake (with and without egg yolk); the savoury Assorted Nuts with Premium Chinese Ham Mooncake; the more innovative Aromatic Roasted Coffee Mooncake; Refreshing Lemon Cheese Mooncake; and – the highlight – Salted Egg Yolk with Meat Floss Mooncake. This final flavour is an exclusive new recipe created by Lokyi Lai, a prominent local actor, self-taught chef, and Gaia Group's Creative Ambassador.
Order Gaia Group's Blissful Harmony Mooncake Gift Set via its e-shop. Enjoy 20% off on early bird offers on or before 19 August. You'll also receive a discount of 25% or 30% off your mooncake order upon spending over $500 or $1,000 at any Gaia Group restaurant – guess it's time to dine out!
Find out more about Gaia Group and browse its list of restaurants.
10. Kiki Noodle Bar (Kiki Tea)
This trendy Taiwanese brand's mooncakes are back to celebrate 2022 Mid-Autumn Festival, with its new "Kiki Moon" Collection ($298 for six). Inspired by the brand's own signature teas, the flavours this year include Pineapple Custard Mooncake; Peach Oolong Custard Mooncake; and Jasmine Green Tea Custard Mooncake. Freshly made in Hong Kong, the mooncakes are playfully packaged in reusable bunny carrier bags to delight young and old alike.
Order before 31 August to enjoy the early bird discount of $90 off!
Kiki Noodle Bar (Kiki Tea) has locations in Central and Tsim Sha Tsui.
11. Shake Shack
Not a huge fan of mooncakes in Hong Kong, but still want to celebrate the season with a festive treat? Shake Shack has you covered! For the first time, the iconic New York burger brand is localising its offerings for Mid-Autumn Festival, launching the special Lava Custard Shake ($48) and Lava Custard Concrete (from $45), which are available from 22 August to 22 September. While they're not exactly mooncakes, these two limited-time products are inspired by the traditional treat. Expect rich lava custard and vanilla ice cream, balanced by refreshing pomelo and grapefruit, plus mooncake crunches on top. In addition to seasonal packaging (think lanterns and the Moon), Shake Shack has also created an actual Mid-Autumn Paper Lantern which come with any meal with a Lava Custard Shake or Lava Custard Concrete (between 1 and 12 September). Simply visit your local Shack to find out more.
Shake Shack has multiple branches across Hong Kong.
12. Phoebe's Kitchen
Breaking the norm of sweet mooncakes, Phoebe Chan, the creator of Hong Kong's first ever Mooncake Wellington, is back with a new Salmon Wellington! While the classic Mooncake Wellington contains beef tenderloin, parma ham, and mushroom paste, the salmon one is stuffed with pink salmon fillet, creamed spinach, buffalo mozzarella, and parmesan cheese. Made in Hong Kong, both versions ($258 per box of two) preserve the shape of traditional Chinese mooncakes and are perfect for sharing with your friends and family.
Order your box of Mooncake Wellington online and follow Phoebe's Kitchen on Instagram for updates.
13. Shangri-La Group
Collect them all! Each of the three Shangri-La resorts in Hong Kong – Island Shangri-La, Kowloon Shangri-La and Kerry Hotel – have their own signature Mid-Autumn mooncakes and hampers to celebrate the holiday. Among the 30+ flavours, new products include Summer Palace Mini Black Truffle Custard Mooncakes; Shang Palace x Hsinchu Fuyuan Peanut Butter Mooncakes; Hung Tong Mini Mooncakes Trio; and more. In addition, to celebrate Shangri-La's golden anniversary, the Group is releasing its Signature Mooncake Series ($888 for nine pieces), including the exquisite 50-year Aged Mandarin Peel, Rose, and Red Bean Paste Mooncake.
Shop Shangri-La Group's mooncakes via its online boutique.
14. Cuisine Cuisine
In addition to its signature Egg Custard Mini Mooncakes and White Lotus Seed Puree Mooncakes with Double Yolks, Cuisine Cuisine has unveiled its latest collection of Mid-Autumn treats. The Petit Four Mini Mooncakes box set ($518) features unique flavours like House-made Pineapple Purée, Rose Purée, and the brand new Organic Fig with Hawthorn Fruit and Kumquat Purée. Fruity and floral, these mooncakes at Cuisine Cuisine are sure to please those who like to explore more innovative flavours.
Purchase the Cuisine Cuisine's mooncakes via Mira eShop for extra discounts!
Cuisine Cuisine has locations in Tsim Sha Tsui and Central.
15. T'ang Court, The Langham, Hong Kong
Presented in an elegant wooden box adorned with roses in full bloom, the mooncakes from the three-Michelin starred T'ang Court are the ideal gift for family and friends. The collection includes the signature classic Mini Egg Custard Mooncake ($528 for six pieces)and the White Lotus Seed Paste with Double Egg Yolks Mooncake ($568 for four pieces), a favourite with both the young and old.
Find out more about mooncakes at The Langham.
T'ang Court, The Langham, 8 Peking Road, Tsim Sha Tsui, Kowloon, Hong Kong, p. 2375 1133
16. The House Collective
Behold, The House Collective is back with its second year of mooncakes, offering four different mooncake box sets for 2022 Mid-Autumn Festival. Partnering with design studio Editecture, the eco-conscious designs are inspired by each of the four Houses across the continent. They also pay homage to curio boxes, which are traditional Chinese boxes nicknamed "the emperor's toy chests"; similarly, you can open The House Collectives' mooncake box to discover a gorgeous set of mooncakes. The Upper House box ($488) contains Maltitol Low Sugar Mini White Lotus Seed Paste with Yolk Mooncake – a healthy twist on the classic mooncake; Mini Earl Grey Tea Custard Mooncake; Mini Assorted Nuts with Dried Figs Mooncake; and Mini Red Bean Paste with Mandarin Peel Mooncake.
Find out more about The House Collectives' mooncakes.
17. Ying Jee Club
Are you a fan of Ying Jee Club's handmade Mini Egg Custard Mooncakes? This year, the two Michelin-starred restaurant is once again bringing us this crowd favourite – but with a twist. Adding in kumquats to the mooncakes, the all-new Mini Egg Custard with Kumquat Mooncakes ($438 for six) are citrusy, refreshing, and bound to appeal to all ages. Handcrafted daily by Executive Chef Siu Hin-chi and his team, the treats are elegantly presented in a teal jewellery box.
Ying Jee Club, Shop G05, 107 & 108, Nexxus Building, 41 Connaught Road, Central, Hong Kong, p. 2801 6882