The signature egg yolk and white lotus seed paste mooncakes presented by Shangri-La Group
If you're looking to buy mooncakes in Hong Kong in 2021, you can't beat the spots on this list.
In between eating salads and filling up on healthy meals, it's okay to spoil yourself a little. And what better time than to do so during the Mid-Autumn Festival, when you can spend some quality time with your loved ones? If you're wondering where to buy mooncakes in Hong Kong in 2021, we have a list of the best hotels, restaurants, and specialty shops that have created a range of tasty treats. With classic and modern flavours to suit everyone, we simply love them all to the moon(cake) and back – and we think you will, too!
Where to buy mooncakes in Hong Kong 2021
1. Shangri-La Group
Collect them all! Each of the three Shangri-La resorts in Hong Kong – Island Shangri-La, Kowloon Shangri-La and Kerry Hotel – have their own signature Mid-Autumn mooncakes and hampers to celebrate the holiday. Among several other flavours, the Kerry Hotel has mooncakes with aged mandarin peel and red bean paste, the Kowloon Shangri-La has mooncakes with pandan leaf, yam paste, and salted egg yolk, and the Island Shangri-La has 'Molten Lava' milk custard mooncakes.
Find out more on Shangri-La Group's website.
2. Cuisine Cuisine
Aside from their signature Egg Custard Mini Mooncakes and traditional White Lotus Seed Puree Mooncakes with Double Yolk, Cuisine Cuisine has unveiled the latest collection of Mid-Autumn treats. The Petit Four Mini Mooncakes box set features unique flavours like Pineapple Rose Purée, Rose Purée and Roselle, as well as Black Sesame Purée. Early bird discounts end 14 September.
Cuisine Cuisine has locations in The Mira and IFC.
3. Hyatt Centric Victoria Harbour
Gather your furry friends 'cause this one's for them! Hyatt Centric Victoria Harbour Hong Kong has partnered with pet food manufacturer Meal Rical and illustration studio Petstudiohk to co-launch Doggy Moon Cake, an edible treat suitable for all dogs. This comes as no surprise as Hyatt Centric Victoria Harbour is one of the most well known pet-friendly hotels in the city. Head to The Farmhouse Deli and purchase on or before 10 September to enjoy a 20% discount. Alternatively, you can buy their mooncakes online.
The Farmhouse Deli, 2/F, West Tower, Hyatt Centric Victoria Harbour Hong Kong, 1 North Point Estate Lane, North Point, Hong Kong, p. 3896 9896
4. The House Collective
Behold, the first-ever Artisanal Sustainable Mooncake Set by The House Collective. The set features eight delectable mini mooncakes of four enticing flavours, ranging from classic favourites to modern reinventions. Treat your family and friends to delish flavours like Assorted Nuts Mini Mooncake with Dried Figs and Red Bean Paste Mini Mooncake with Mandarin Peel. The gift box is sustainably crafted using FSC-certified wood and recycled paper that can be reused to store stationery, keepsakes, accessories, and even toys. Mooncakes are available for pickup from 16 August to 21 September.
The House Collective, The Upper House, 88 Queensway, Admiralty, Hong Kong, p. 2918 1838
5. Cookie Smiles
If you're looking for a sweet treat with lower calories, how about some moon cookies for a change? The social enterprise Cookie Smiles has three flavours to choose from: coconut jam and egg custard, sesame and egg custard, and chicken floss, egg custard and black pepper. Each bag of moon cookies comes with two of each flavour. In addition to supporting Cookie Smiles' mission to provide training opportunities for the disadvantaged, and to provide jobs for the physically impaired, a portion of proceeds from the moon cookies will be donated to Impact HK and SPCA. Pre-order your goodies before 13 September, for either pick-up or delivery.
Find out more about Cookie Smiles' moon cookies.
6. Phoebe's Kitchen
Breaking the norm of sweet mooncakes, Phoebe Chan has created Hong Kong's first ever Mooncake Wellingtons! Made with the basic ingredients of a classic Beef Wellington, including beef tenderloin, parma ham and mushroom paste, the Mooncake Wellington preserves the shape of a traditional Chinese mooncake. Made in Hong Kong, this savoury mooncake is perfect for gifting and sharing with the family.
Order your box of Mooncake Wellington online and find Phoebe's Kitchen on Instagram for updates.
7. St. Regis
As the Executive Chinese Chef of Rùn, Hung Chi-Kwong is introducing three flavours of mooncakes this year; traditional White Lotus Seed Paste with Double Egg Yolks, Mini Red Bean Paste with Tangerine Peel, and Mini Assorted Caramel Nuts. Presented in bespoke boxes inspired by André Fu's design of the traditional Chinese tea pavilion, the new mooncakes are paired with a curated selection of traditional Chinese tea.
From now until 20 September, the mooncakes are available for purchase online at e-boutique or in-person at Rùn.
Rùn, St. Regis, 1 Harbour Drive, Wan Chai, Hong Kong, p. 2138 6808
8. Ying Jee Club
Two Michelin star restaurant Ying Jee Club once again brings us our favourite handmade Mini Egg Custard Mooncake gift boxes. Each gift box comes with six silky smooth mooncakes, presented in an elegant jewellery box that makes a perfect gift for family and friends. The limited quantity of mooncake boxes are available until 21 September.
Ying Jee Club, Shop G05, 107 & 108, Nexxus Building, 41 Connaught Road, Central, Hong Kong, p. 2801 6882
9. The Langham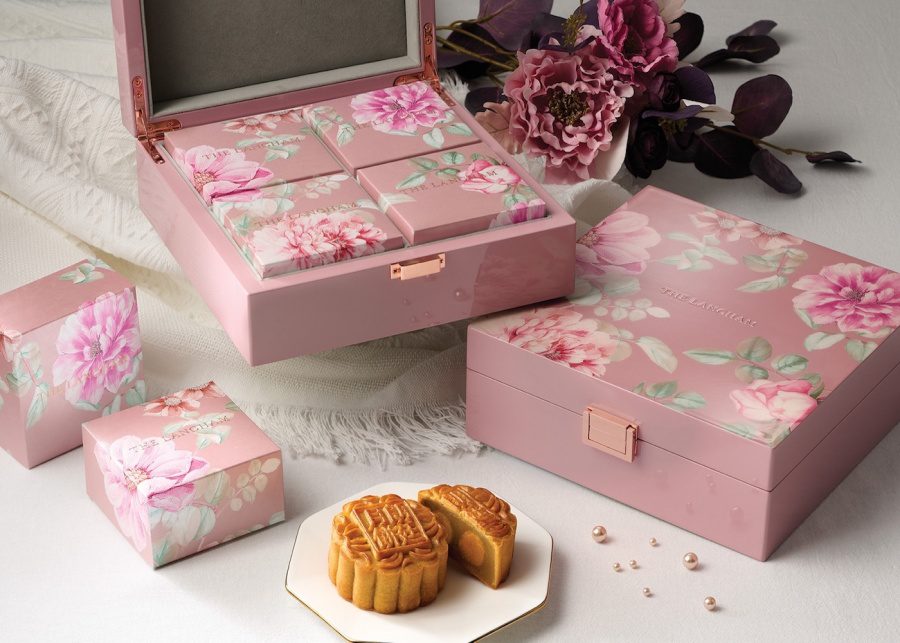 Presented in a lacquered box adorned with peonies in full bloom, these mooncakes are the ideal gift for family and friends. The Langham's collection of mooncakes include the signature classic Mini Custard with Egg Yolk Mooncake and the White Lotus Seed Paste with Double Egg Yolks Mooncake, a favourite with both the young and old. Enjoy the early bird offers on or before 15 August. You can purchase the mooncakes in either T'ang Court or Ming Court (Wan Chai).
T'ang Court, The Langham, 8 Peking Road, Tsim Sha Tsui, Kowloon, Hong Kong, p. 2375 1133
Ming Court, Level 2, Great Eagle Centre, 23 Harbour Road, Wan Chai, Hong Kong, p. 2878 1212
10. Rosewood Hong Kong
Mooncakes are always a huge affair at Rosewood. This year, The Legacy House at the Hotel has created sustainable mooncake gift boxes, named Love Parcels from the Moon. Each box contains a curation of Executive Chef Li Chi-Wai's recipes, and is presented in eco-friendly packaging. The selection of boxes include the Rosewood Traditional White Lotus Seed Paste with Double Yolks ($498/set of four), and the Mini Assorted Flavour Mooncakes ($458/set of six). The latter contains a medley of Jasmine Egg Custard, Lapsang Souchong Lotus, and Red Bean Mandarin Peel flavours – a great combination of classic and innovative flavours. Alternatively, fans of custard mooncakes can go for The Legacy House Mini Egg Custard Mooncakes ($438/set of six).
In addition, Rosewood is collaborating with Dashijie, a Hong Kong-based gourmet brand, to produce a special edition mooncake gift box. This Rosewood x Dashijie set (HK$588/set of four) features Yellow Lotus Seed Paste with Olive Seeds and Double Egg Yolks mooncakes. Feeling spoilt for choice? Just opt for the Rosewood A Sense of Taste Mooncake Gift Box Limited Edition ($988/box), which features pretty much everything above. Oh, and it comes with a glowing lantern, too – cue the festive vibes!
Pre-order mooncakes from Rosewood Hong Kong via its online shop.
Rosewood Hong Kong, Victoria Dockside, 18 Salisbury Road, Tsim Sha Tsui, Hong Kong, p. 3891 8888
11. Lung King Heen, Four Seasons Hotel Hong Kong
Indulge yourself and your loved ones in the three Michelin-starred luxury that is Lung King Heen of Four Seasons Hotel Hong Kong. The Assorted Signature Mooncake box ($598/set of six) has a good variety of flavours, including the restaurant's famous Five Nuts and Majestic Ham Mooncake with Osmanthus, Preserved Eggs and Pickled Ginger, and Lotus Seed Paste Mooncakes with Salted Egg Yolk and Black Truffle. Those who prefer traditional flavours will most likely enjoy the iconic White Lotus Seed Paste Mooncakes with Double Salted Egg Yolks ($538/set of four). If you like mini mooncakes, go for the Cream Custard with Toasted Pine Nuts Mooncakes ($568/set of six).
Purchase Four Seasons' mooncakes via the Hotel's eShop to enjoy exclusive offers.
Lung King Heen, Podium 4, Four Seasons Hotel Hong Kong, 8 Finance Street, Central, Hong Kong, p. 3196 8882
12. The Peninsula Boutique
The time-honoured Peninsula mooncakes are always a crowd favourite. The highlight this year is the Star Chef Moon Gazing Gift Box ($2,288/box) – a collector's box in red and gold tones, akin to a treasure box and topped with lotus pond decorations, this is the ultimate set for those who enjoy the finer things in life. Inside, the box has four pieces each of walnut- and fig-flavoured egg custard mooncakes, plus red and south date lotus seed paste mooncakes. There are even two pairs of limited-edition, hand-painted porcelain tea cups and plates for you to have the Hotel's Chinese tea with, and to accompany the mooncakes. Be sure to check out The Peninsula's other best-sellers too, such as the Mini Tea-Flavoured Egg Custard Mooncakes ($448/set of eight).
Order mooncakes from The Peninsula Boutique online for exclusive offers.
The Peninsula Boutique, The Peninsula Arcade, The Peninsula Hong Kong, Salisbury Road, Tsim Sha Tsui, Hong Kong, p. 2696 6969

13. Ming Court, Cordis, Hong Kong
Michelin-starred Cantonese cuisine crossing over with French artisanal crystals – say what? The collaboration between Ming Court and Lalique has resulted in a stunning limited-edition mooncake gift box (from $3,288/box) for 2021. Aside from signature Ming Mooncakes with White Lotus Seed Paste and Double Egg Yolks, the box contains a bottle of selected fine wine, plus a pair of Lalique x James Suckling 100 Points Universal Glasses. If you're a wine aficionado, this set is not to be missed.
Simply complete this order form and email it to Ming Court to make your purchase.
Ming Court, Level 6, Cordis, Hong Kong, 555 Shanghai Street, Mong Kok, Hong Kong, p. 3552 3301
14. Yat Tung Heen, Eaton HK
Yet another Michelin-starred restaurant on the list – and we ain't complaining! This year, Yat Tung Heen at Eaton HK is offering two types of mooncake. Opt for the regular-sized White Lotus Seed Paste with Double Egg Yolks ($458/box of four) if you'd like something classic and straightforward. Or, try the popular mini Custard with Egg Yolk mooncakes ($398/box of six). Expect a buttery pastry, and the perfect balance between sweet and savoury. BTW, Eaton HK has chosen to present its mooncakes in a beautiful and reusable olive green box as part of its ongoing efforts in contributing to sustainability. Flaunt it, we'd say!
Order mooncakes from Yat Tung Heen via its online shop.
Yat Tung Heen, Level B2, Eaton HK, 380 Nathan Road, Jordan, Hong Kong, p. 2710 1093
15. Häagen-Dazs
Calling all ice cream fans! Because the only thing better than ice cream is… Well, ice cream mooncakes, of course. Under the theme of Twinkle Twinkle Little Wishes, Häagen-Dazs has released a series of ice cream mooncakes (from $229/set) for 2021. With names like Twinkle Night, Twinkle Fruity, Moonlight Bloom, among others, you can imagine how dreamy and decadent the mooncakes will be. Encasing your favourite ice creams (such as chocolate, mango, summer berries, green tea, earl grey, and more) are modern and adorable designs, inspired by the Moon and the Moon Rabbit. These ice cream mooncakes are simply ideal for kids and families!
Shop mooncakes from Häagen-Dazs online, or visit its branches across Hong Kong.
16. Venchi
Launching three brand new mooncakes, Venchi's capsule collection is inspired by the sparkling lights dancing in the sky during the celebration of the full moon. With mooncakes shaped like flower petals, the gift box includes traditional Chinese packaging. Previous flavour favourites are making a comeback this year, including the Matcha Mooncake—filled with matcha, pistachio cream, and crunchy cocoa nibs. The Dark Suprema Mooncake is a vegan treat for all, with a 60% dark chocolate shell filled with creamy dark chocolate Suprema that'll melt in your mouth. There are a number of gift boxes and hampers to choose from, and early bird offers last until 4 September.
Venchi has multiple locations in Hong Kong.
17. Paul Lafayet
For some quali-tea mooncakes, Paul Lafayet infuses traditional mooncakes with blends of Rosa Tea, Jasmine, Hojicha, and Earl Grey. Made of a two-layer structure, the locally crafted mooncakes are filled with a smooth custard wrapped in a thin and moist pastry crust. Paul Lafayet collaborated with French illustrator Emilie Sarnel to create an Artistic Mooncake Gift Box; the hexagonal boxes come with four mooncakes and four corresponding tins of loose leaf tea.
Paul Lafayet has locations around Hong Kong.
18. KiKi Noodle Bar
This trending Taiwanese brand's mooncakes are back by popular demand to celebrate the Mid-Autumn Festival this year. Freshly made in Hong Kong with a low-sugar recipe, KiKi Noodle Bar's mooncakes combine mochi with sweet and nutty taro and premium dried sakura shrimp from Taiwan. The mooncakes are playfully packaged in reusable bunny-shaped bags to delight young and old alike. We recommend pre-ordering before the end of August to enjoy early bird discounts and the boxes are limited in number.
KiKi Noodle Bar has multiple locations in Hong Kong.
19. Fortnum's
This year, Fortnum and Mason is bringing three new tea-infused mooncakes with matching tea pairings. Each gift box contains six mini mooncakes – each one filled with custard infused with one of Fortnum's signature tea blends: Earl Grey, Rose Pouchong, and Matcha. The gift box also includes three miniature tins of quality tea. Choose from a selection of gift boxes created by Fortnum's especially for the festival, or create your own bespoke hamper full of your personal favourites.
Fortnum and Mason, Shop 022, K11 Musea, 18 Salisbury Road, Tsim Sha Tsui, Hong Kong, p. 3916 8181
20. The Landmark Mandarin Oriental
The Landmark Mandarin Oriental's stylish and eco-friendly tote bag brims with Mid-Autumn Festival motifs, and inside are six meticulously crafted egg custard mooncakes. The mooncake tote bags are made of 100% cotton and are fully biodegradable. Adding some panache to your style, the bag can be reused as a chic tote bag for everyday use after the mooncakes are consumed! Orders can be placed online – enjoy early bird discounts before 6 August.
The Landmark Mandarin Oriental, 15 Queen's Road Central, Central, Hong Kong, p. 2132 0188
21. Duddell's
This Michelin-starred Cantonese restaurant is launching its signature lava cream custard mooncakes that come in two different packages, each one ringing in the festivities in style. The Signature Gift Box comes with six mooncakes presented with a 3D moon featuring gold, red, and blue accents. Second, the limited-edition LED Lantern Gift Box is an ingenious combination of eight mooncakes and lanterns – the two essential customs of the Mid-Autumn Festival. Don't forget to check out Duddell's luxurious gift hampers that come with a complete set of mooncakes, Champagne, walnut cookies, and more! Early bird discount applies for orders until 15 August.
Duddell's, 1 Duddell Street, Central, Hong Kong, p. 2525 9191
22. China Tang
Enjoy the full moon whilst savouring China Tang's authentic white lotus seed paste with double egg yolk mooncakes. The classic mini egg custard mooncake contains premium salted egg yolk and butter as a filling that's fluffy-yet-flaky and creamy with a melt-in-your-mouth sensation. The vibrantly coloured gem boxes are eco-friendly and could even be repurposed into unique jewellery boxes with four or eight small drawers. Enjoy the early bird offer upon purchasing now until 20 August.
China Tang has locations in Landmark Atrium and Harbour City.
23. Lady M
First, an ode to the team for curating a super cute box in the shade of a ferris wheel that's lit up by the moon (yes, it actually lights up!) as the rabbit gazes up at the sky. Each side of the wheel opens to reveal Lady M's iconic mini mooncakes in flavors of custard and chocolate. The box contains three classic custard mooncakes and three silky chocolate custard ones with a modern twist. Early bird discount applies until 31 July.
Lady M has multiple locations in Hong Kong.
24. Royal Caviar Club
Caviar mooncakes?! Yes, you read that right. Following Royal Caviar Club's successful launch of Hong Kong's first savory caviar mooncake last year, the lavish trend continues to celebrate the Mid-Autumn Festival this year. The mooncakes are a luscious combination of premium Imperial Ossetra caviar paired with either cream cheese filling or fresh Madagascan vanilla filling. Each box contains three of each flavour, early-bird orders are available until 21 August.
Royal Caviar Club, 29/F, Singga Commercial Centre, 148 Connaught Road West, Sai Ying Pun, Hong Kong, p. 9447 8565
25. The Cakery
This year, The Cakery presents four creative and equally delicious mooncake flavors with a health-conscious twist. Not only are the mooncakes gluten-free, completely vegan, and without food coloring, but they also contain a much lower sugar content compared to traditional mooncakes. The four flavours include; Black Sesame Lava, Mango Bean Paste Lava, Jasmine Raspberry, and Taro Bean Paste. Yes, we know they all sound equally tempting but, fear not, each box comes with all four flavours (one of each so call your dibs!). Early bird discounts end 30 July.
The Cakery has multiple locations in Hong Kong.