Pick the right luggage for your travels (Photography: Vlada Karpovich via Pexels)
Looking for suitcases that marry durability and design? Now you know where to find them. Here's where to shop luggage in Hong Kong.
We've all been there – that bitter feeling when seeing all your friends' travel updates: beach-ready bodies in Okinawa, chilling at different sustainable resorts, or simply making the most of post-pandemic travel. So you quickly went online and booked yourself a tropical escape, only to remember that your go-to suitcase broke after years of service. But, don't sweat it, we know where to buy luggage in Hong Kong. Replace your worn-out trunk with a handsome and sturdy piece of luggage from the brands below, perfect for your next getaway.
Where to buy luggage in Hong Kong
1. Lojel
This 30-year-old carry essentials brand is any traveller's dream. Featuring Insta-worthy colours such as baby pink, mustard, and rusty rose, Lojel's suitcases are designed for you to travel in style. The best thing? These premium cases are more than just a pretty face – they come with tamper-proof double coil zipper and TSA-compatible lock system, while quiet-running casters let you roll smoothly and silently. Lojel also offers a generous 10-year warranty, making it one of our firm favourites when buying luggage in Hong Kong.
Lojel has locations across Hong Kong.
2. Rimowa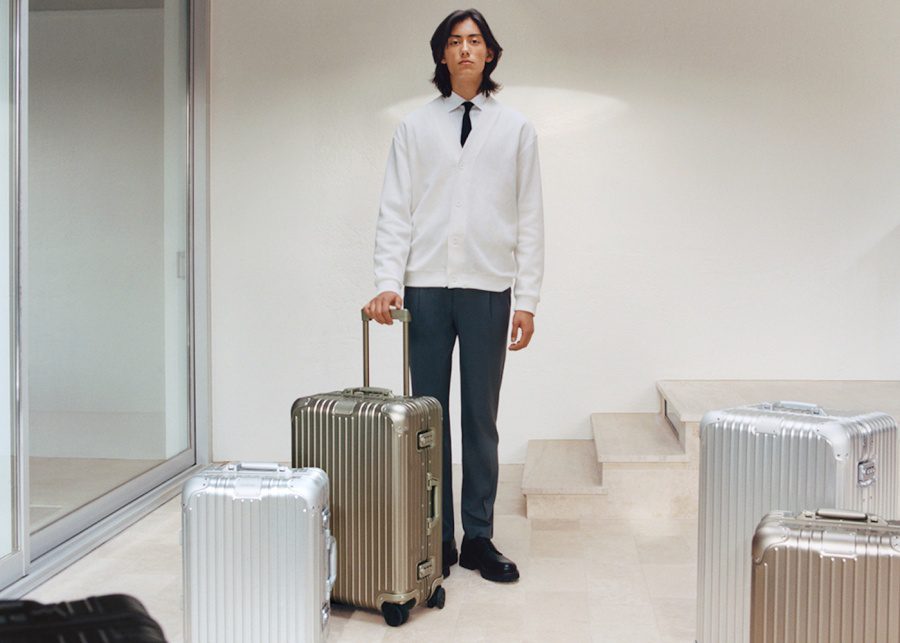 When it comes to durability, this German brand is a true pioneer. In 1937, Rimowa launched the first-ever game-changing aluminium trunk, raising the bar for durable and lightweight luggage. One of its best loved creations is Essential Lite Check-In Large, a polycarbonate bag that is the company's lightest suitcase yet. While it doesn't have the same aluminium status as its other products, it's available in a range of glossy colours. Special features include TSA-approved lock, its patented wheel, and a Flex Divider.
Rimowa has locations across Hong Kong.
3. Tumi
Wondering where to buy luggage in Hong Kong? Tumi is a practical and design-driven brand that counts many A-listers among its fans – think the Rock, Heidi Klum, and Gisele Bundchen. This doesn't come as a surprise when Tumi offers complimentary monogramming, onsite repairs, lost luggage tracking, and options such as the "add-a-bag" system, which makes it convenient to carry extra items. Aside from its iconic hard-side suitcases, the brand also features products in fine leather and abrasion-proof ballistic nylon.
Tumi has locations across Hong Kong.
4. Away
Having only entered the market in 2015, Away quickly created waves in the world of suitcases as they won over the Millennial jetsetters. If customisation is your thing, then you will love the brand – from picking your own palette and the size of the case, to whether or not it has a battery pack so you can recharge your phone after long-haul flights – you call the shots. Bonus: with a generous no-questions-asked return policy, you can try any suitcase for a hundred days. Once you do decide to keep it, Away also offers a lifetime guarantee to fix or replace damaged bags. Isn't it amazing?
Shop Away online.
5. Samsonite
This American brand is like that reliable uncle that's always got your back – plus, he's cool. Known for its sleek design and high durability, Samsonite has been around for over a century. In addition to its Xylem 2.0 and bestselling Toiis C series, Samsonite's collaboration with BTS has caught our eye as well. We're loving the stylish, purple set of spinner, carry-on bag, and travel accessories.
Samsonite has multiple branches in Hong Kong.
6. American Tourister
Tired of having to go through hundreds of identical black and boring suitcases at baggage claim? Enter American Tourister, a brand that is known for its love for pulsating shades, cool designs, and quirky prints. In case you don't know, American Tourister is the official luggage company for Walt Disney World and Disneyland, so you can expect to catch a glimpse of Mickey Mouse or Little Mermaid popping up on its luggages every now and then. See? It's making travelling extra fun already!
American Tourister has various locations in Hong Kong.
7. Victorinox
Only the makers of some of the world's finest Swiss army knives could create pieces of luggage so durable, flexible, and chic. Victorinox suitcases aren't just beautiful to look at, they're made with the finest materials like nylon, high-tech fabrics, and ultra-light shockproof polycarbonate. What's more, Victorinox offers a quality warranty programme with protections for up to 11 years so you can always travel in style.
Victorinox has locations across Hong Kong.
8. Delsey
Although Delsey luggage may be a tad pricier than the usual luggage in Hong Kong, rest assured that the years you put into your suitcase will be well worth it. This French company touts excellent prices for quality. Delsey luggage comes with TSA-approved locks, dual density wheels, and anti-theft double zips. Each suitcase comes with a warranty of up to 10 years, so your Delsey product will remain in top condition.
Delsey has locations across Hong Kong.