Enjoy a spicy Diabla cocktail with your Mexican-style Street Corn and Guacamole at Brickhouse
A restaurant from Maximal Concepts - the team behind Limewood, Mercedes Me and Mott 32 - Brickhouse is the ultimate Central location for when you want to party a little as you eat.
Having devoured luxurious Beijing-style cuisine at Hutong, sampled vegan cuisine at Chilli Fagara and almost licked the plate at Arcane, we had a yearning for tacos. Brickhouse in Central is renowned for its laid back setting, late night hip hop sessions, tasty cocktails and delish food. Find out why it's a must-visit.
Brickhouse: An upbeat Mexican restaurant hidden in LKF
Your biggest problem with Brickhouse will probably be locating it. Hidden down an alley in LKF, the multi-awarded Mexican restaurant is a Central hangout, that allows you to escape the madness of the party area, but still offers a good time and great food.
With a backdrop of street art, dim lights and hip hop music – that moves between early 80s throwbacks, such as Grandmaster Flash and Eric B & Rakim, and more recent gems – the restaurant-cum-bar is a great spot to hang with friends before going out on the town, although they don't take bookings, so it's best to get there early, as it packs out later into the night.
What about the food?
The first word that springs to mind is: mmmmmm.
Actually, the restaurant has recently refreshed its cult menu (don't worry, many of the classics remain), reinventing some dishes and bringing some new flavours along too.
A visit to Brickhouse is incomplete without partaking in their amazing Mexican-style Street Corn, which comes smothered in cheese, chili mayo and creamy goodness, so definitely add that to your hit list, along with some homemade guacamole and salsa to get you started.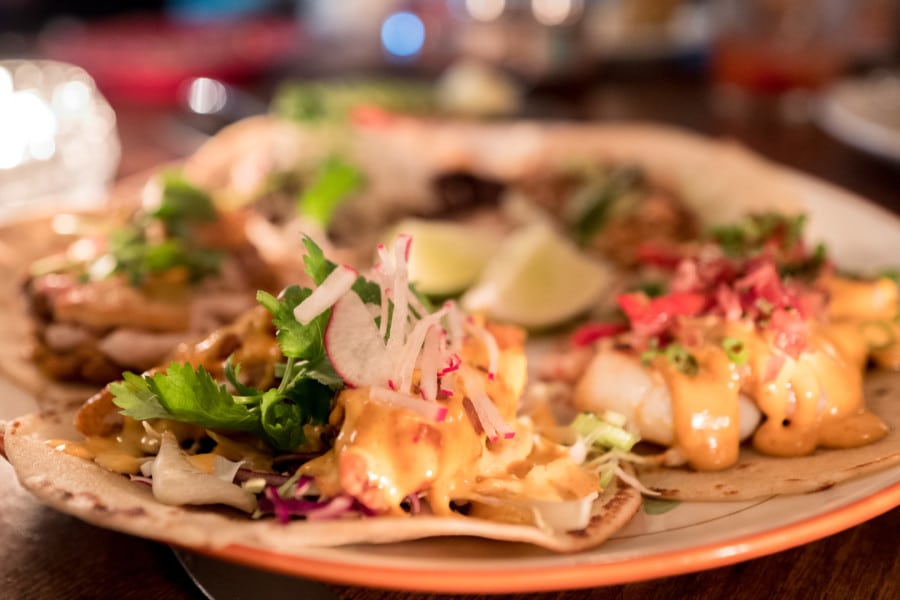 The mixed taco platter is another winner, featuring a number of seafood and meat delights; I could have eaten about three of the prawn ones. We love the names too: the Wagyu Lookin' At, Piggie Smalls, In Cod We Trust, Cluck You and Prawn To Be Wild. And you can spice them up with homemade chili condiments such as Rocket Fuel or the smoky Salsa Negra – so good!
You've definitely got to try the ceviche too. The Honeycombers Hong Kong team loves the Barramundi version that features leche de tigre, green papaya, cilantro and quinoa. It's really fresh tasting and a nice way to break up the richness of some of the other cheese-ladened dishes.
Wash all this deliciousness down with some Mexican beer, fine tequila or their Diabla cocktails – that feature vodka, jalapeno, raspberry and pomegranate – and you will be away laughing.
P.S. don't miss the ONTAS Night Brunch on Saturdays, $650 for free-flow food and drink between 8-10:30pm.
Brickhouse, G/F, 20A D'Aguilar Street, Lan Kwai Fong, Central, Hong Kong, p. 2810 0560, 中環蘭桂坊德己立街20A號地下