Don't miss a dip in the St. Regis Hong Kong swimming pool
Want to stay in the heart of the city? We've found the best hotels in Wan Chai for you to dine and relax at away from home
There are a great number of hotels that offer a perfect staycation in Hong Kong – think the most pampering hotel spas and mouth-watering boozy hotel brunches. Considering that Wan Chai is a popular area for central accommodation with great vegetarian restaurants and cosy dive bars, we've put together a list of our favourite Wan Chai hotels (that include swimming pools, fine dining restaurants and luxurious spas). Have a great stay and relax!
Check out these top Wan Chai hotels
1. The St. Regis Hong Kong
The newest hotel on our list, The St. Regis Hong Kong is a little slice of something special. Step inside, and immediately you will feel like you're no longer on the crowded streets of Hong Kong. With elegant design by Andre Fu and the team at AFSO, there's no detail left unthought of. Sample afternoon-tea at The Drawing Room, enjoy a drink at the gorgeous St. Regis Bar, or indulge in Cantonese cuisine at Rùn before heading up to wonderfully chic guest rooms. Workout at the gym, take a dip in the pool, or enjoy some relaxation at the pool, best of all, you've got the best of Wan Chai at your doorstep if you're looking for some action.
The St. Regis Hong Kong, 1 Harbour Drive, Wan Chai, Hong Kong, p. 2138 6888
2. Grand Hyatt Hong Kong
Grand Hyatt Hong Kong is known for its classy outdoor swimming pool and its boozy brunches. Offering a stunning view of Victoria Harbour, the hotel is interconnected with the Hong Kong Convention and Exhibition Centre, making it a great choice for those in town on business. The 542-room hotel offers nine restaurants and bars that serve local and international cuisine. We are big fans of the treatments available at the luxury Plateau Spa too, definitely one of our favourite Wan Chai hotels!
Grand Hyatt Hong Kong, 1 Harbour Road, Wan Chai, Hong Kong, p. 2588 1234,香港島灣仔港灣道一號
3. The Fleming
Looking for a Wan Chai hotel with exceptional design? The Fleming is a boutique hotel that promises excellent service and a wonderful stay. The design ini inspired by the cross-harbour ferry, bringing brass, blue and striped details into many of the spaces. Downstairs, Osteria Marzia serves coastal Italian food and whips up great cocktails.
Read our full review on The Fleming here.
The Fleming, 41 Fleming Road, Wan Chai, Hong Kong, p. 3607 2225, 香港灣仔菲林明道41號
4. Mira Moon
Mira Moon – Hong Kong's Most Awarded Boutique Hotel

#MiraMoon is the very first 5-star boutique hotel within the Mira Hotel Collection conceived under the creative direction of the famous design guru – Wanders & YOO. Equipped with 91 one-of-a-kind guestrooms and suite, all five guestroom types and the striking suite of Mira Moon are the modern rendition of the Chinese Mid-Autumn Festival mythology. Tech-savvy features are available at your finger tips allow you to stay connected at all times including portable Wi-Fi On The Go, Wi-Fi throughout the hotel and more.

Posted by Mira Moon on Monday, August 8, 2016
The design at this 91-room hotel, is influenced by a contemporary abstract interpretation of Chinese culture, drawing inspiration from the moon festival fairytale. Located in the heart of Wan Chai, Mira Moon has a friendly environment and tech-savvy features that are perfect for those staying for business. Eat and drink from one of their three restaurants and bars – we like to hangout on the Secret Garden Terrace – or workout at their gym that is available 24 hours.
Mira Moon, 388 Jaffe Road, Causeway Bay, Hong Kong, p. 2643 8888,香港銅鑼灣謝斐道388號
5. The Upper House
While technically in Admiralty, it would be remiss of us to leave The Upper House off our list. Designed by Andre Fu, The Upper House is a contemporary luxury hotel and one of the coolest destinations in town. The hotel offers modern European dining at Cafe Gray Deluxe on the 49th floor which also has an extensive wine and champagne list, and a great view of the city. Recharge with yoga lessons available every Saturday and Sunday morning, and let off some steam with a ride around the city on the hotel's complimentary bicycles or work-out at the fitness centre that is open 24/7.
Find out why we're mad for the revitalising menu at Cafe Gray deluxe at The Upper House.
The Upper House, Pacific Place, 88 Queensway, Hong Kong, p. 2918 1838,香港金鐘道88號太古廣場
6. Hotel Indigo
Sitting in an interesting part of Hong Kong between the wet markets and heritage buildings, Hotel Indigo's exterior features a shimmering bronze dragon created by solar fins. The animal-friendly hotel offers guest rooms that are enclosed by ceiling to floor windows providing a panoramic view of Wan Chai. Hotel Indigo has a fitness centre for you to sweat it out at, and also has a beautiful cantilevered glass-bottom infinity pool, which is one of the most secret in Hong Kong. Eat at Cafe Post which serves up local favourite Cantonese cuisine including Dai Pai Dong-style street noodles.
Hotel Indigo, 246 Queen's Road East, Wan Chai, Hong Kong, p. 3926 3888,香港灣仔皇后大道東246號
7. Renaissance Hong Kong Harbour View Hotel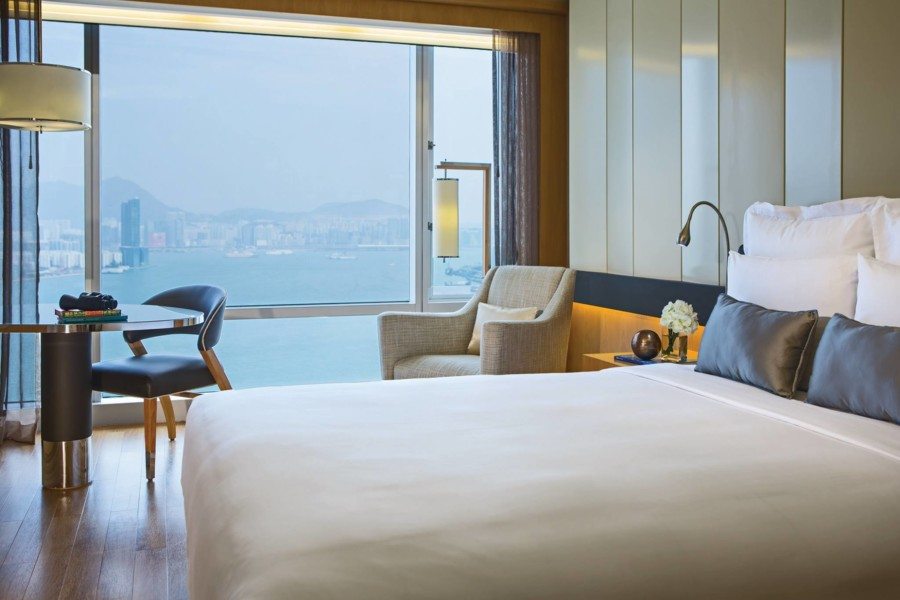 Adjacent to the Hong Kong Convention and Exhibition Centre, and with a beautiful view of Victoria Harbour, Renaissance Hong Kong Harbour View Hotel is a 10 minute walk from the closest subway station, and is within minutes from the central business district and the major shopping areas. Swim in the heated outdoor swimming pool and workout in the fitness centre and tennis courts, or hang out at Dynasty, one of the tastiest Cantonese restaurants in town.
Renaissance Hong Kong Harbour View Hotel, Hong Kong Convention And Exhibition Centre, 1 Harbour Road, Wan Chai, Hong Kong, p. 2802 8888,香港灣仔港灣道一號香港會議展覽中心上蓋