The best toilets are never out of loo roll! (Photography: Marilyn Braun via Getty Images)
From bathrooms with lounges that dispense candy to comfortable restrooms with great designs, these are our favourites.
We've all been there. After a morning coffee at your local cafe, or accidentally binge-drinking at your favourite bar during happy hour, you desperately need a restroom on the way home. No need to sweat, we've rounded up the best toilets in Hong Kong – they're clean, modern, and sanitary, and some of them even give you candy!
Need a relief? Read on for the best toilets in Hong Kong
1. K11 Musea
A few minutes away from the Garden Restroom is K11 Musea, so if you really need air-con to do your business (fair enough), make a run for it. With K11 Musea being renowned as one of the most luxurious art and retail hubs in Hong Kong, its bathrooms certainly don't disappoint either. Even if you're not a VIP (who has access to a private lounge), you can expect stunning water features, botanical decorations, artsy ornaments and the highest levels of cleanliness in their regular lavatories as well.
K11 Musea, Victoria Dockside, 18 Salisbury Road, Tsim Sha Tsui, Hong Kong, p. 3892 3890
2. Pacific Place
Designed by Thomas Heatherwick, Pacific Place is a shopping mall located in Admiralty that houses many high-end designer brands in stylish and spacious surroundings. In keeping with such luscious surroundings, on the ground floor in the beauty gallery, you will find the restroom. The design resembles a futuristic space station and is modern, white, simple and clean. Each cubicle is incredibly private, as every stall door reaches the ceiling, and every sink is equipped with a sensor-activated water tap.
Pacific Place, 88 Queensway, Admiralty, Hong Kong, p. 2844 8988
3. Hysan Place
Need a break from busy Causeway Bay? Find a moment of unexpected serenity in the newly renovated restrooms at Hysan Place. Designed with comfort and creativity in mind, these contemporary facilities feature porcelain tiles in muted colours and unique teardrop-shaped sinks. The thoughtful details continue with vanity legs that mimic cosy dining tables and ample private spaces for grooming and freshening up. Subtle touches like these make the restrooms both relaxing and refreshing.
Hysan Place, 500 Hennessy Road, Lee Garden, Causeway Bay, Hong Kong, p. 2886 7222
4. IFC Mall
While the washrooms at IFC see near constant foot traffic, they stay very clean thanks to the hardworking janitors. Lines can get long during peak mall hours, but most agree it's worth the wait, as they're almost always spotless. The attention to detail in the design, like the illuminated "vacant" signs on the cubicle doors, make the experience even more convenient and functional.
IFC Mall, 8 Finance Street, Central, Hong Kong, p. 2295 3308
5. Stanley Municipal Services Building
The newly renovated Stanley Municipal Services Building Public Toilet took home the Silver Award in the 2022 Best Hong Kong Public Toilet competition. The public toilet's lobby now features long benches where you can rest your feet after exploring the seaside village. But the highlight is the overall cleanliness and modern amenities that make this an excellent, accessible option when visiting Stanley Market.
Read our neighbourhood guide to Stanley.
Stanley Municipal Services Building, 6 Stanley Market Road, Stanley, Hong Kong, p. 2813 0306
6. The Landmark
There are no signs to the lavatories at The Landmark, but if you need a peaceful spot to fix your makeup, they will be worth the search. While queues can get pretty crazy on the weekend, head to the second floor of the shopping building, and in the corner of the mall, there is a huge washroom. The toilets here have a vintage hotel bathroom design, and the stalls are very private as each door reaches the ceiling.
The Landmark, 15 Queen's Road Central, Central, Hong Kong, p. 2500 0555
7. LHT Tower
Unbeknownst to many of the public, there is a washroom in LHT on the first floor. Just ask the concierge for a key, and head into the restroom. With limited stalls, the room can only hold up to three people at a time, but these loos are incredibly clean, private and hardly used. If you feel guilty for nabbing these 'private' bathrooms, just pay a visit to The Tea Academics on the same floor while you're in the building.
LHT Tower, 31-31A Queen's Road Central, Central, Hong Kong
8. PMQ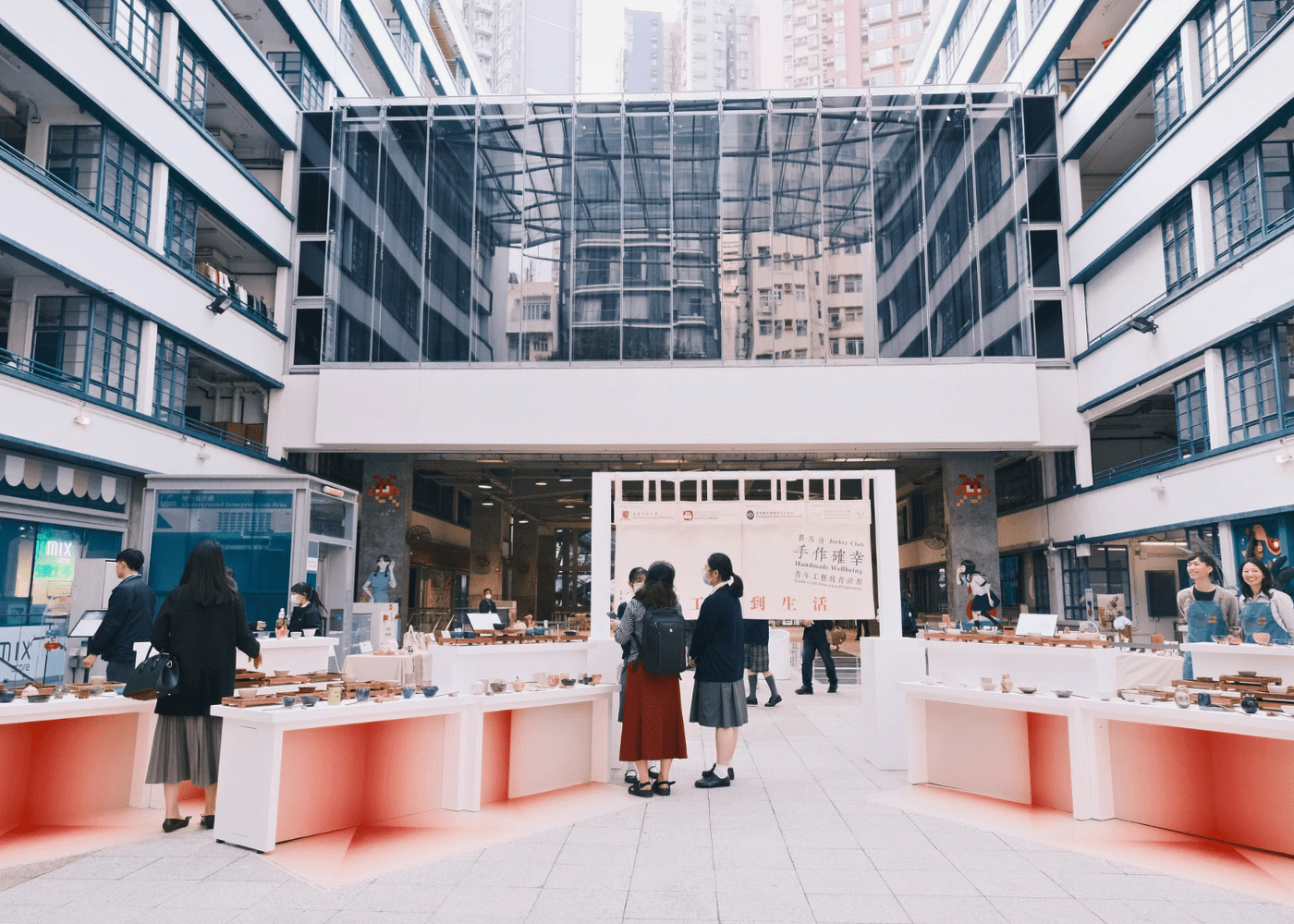 Located inside PMQ, the toilets have a lot of natural light that comes in through the tinted windows. Each cubicle is wide, offering plenty of space, and they tend to be rarely used by the public, which means discretion is guaranteed! We also love the concrete interior and its minimalistic design.
PMQ, 35 Aberdeen Street, Central, p. 2870 2335
9. Peak Galleria
Talk about heroic work: in 2020, the Hong Kong Toilet Association awarded Peak Galleria with their prestigious Innovative Hygiene Toilet Award– and for good reason. This place is cleaner than clean thanks to having an antimicrobial coating, created by local biotech stars Germagic, on top of all its surfaces. Evidently, this formula can kill over 100 nasty viruses and bacteria, including the infamous SARS-CoV-2. Now that's something we can get behind in a public washroom in Hong Kong!
Peak Galleria, 118 Peak Road, The Peak, Hong Kong, p. 2849 4113
10. Elements
The Elements mall in West Kowloon has one of the largest and most spacious bathrooms in Hong Kong. These washrooms are both bright and clean, and even have an exclusive area for you to get ready and freshen up in. Find free Mentos candies in the lounge, too – talk about sweet customer service!
Elements, 1 Austin Road, West Kowloon, Hong Kong, p. 2735 5234
11. Mira Place
Want to feel like a movie star even in the lavatory? Mira Place's movie-themed bathroom has an actual dressing room to do your hair and makeup. Live the high life here and spend every moment you need touching up and dolling up. Another good reason to stop by this toilet is that not many people know about it too–until now, maybe. Oops!
Mira Place, 132 Nathan Road, Tsim Sha Tsui, Hong Kong, p. 2730 5300, 尖沙咀彌敦道132號
12. Garden Restroom
【️ 茅室 Garden Restroom 】 茅室是我們為尖沙咀梳士巴利花園設計的公廁。半透明的磨砂玻璃從地下延伸至屋頂,把四周的自然環境帶進茅室。白天, 室內清明透徹,讓大家可以安心地歇腳;夜裡,它默然佇立,是陪伴旅人趕路的一盞燈。屋頂是傾側的,我們借用了周遭建築的設計語言,用木條刻畫茅室的細紋,豐富了花園的視覺效果和空間體驗。 茅室的入口開敞明亮, 如廁空間卻很隱密。我們用連綿起伏的牆來規劃室內的空間, 同時把燈,喇叭和抽風機等設備隱藏起來。室內還有大自然潺潺的流水聲,讓大家能輕鬆自在地方便 。Garden Restroom is a public lavatory we designed for the Salisbury Garden in Tsim Sha Tsui. The translucent facade rolls up to the roof, bringing natural sunlight to the interior; at night, the architecture lights up like a lantern in the dark. Borrowing the architectural language of adjacent buildings, we use timber fins to create a diagonal pitched roof, providing a dynamic spatial experience for visitors while creating a visual surprise for those standing from afar. Inside the lavatory, we construct a curvilinear wall to create enclosure with a sense of privacy, while concealing light bulbs, speakers, and exhaust fans underneath. Garden Restroom plays the sound of flowing water, users can enjoy a moment of privacy with comfort and ease./A project by Leisure & Cultural Services Department . HKSARG & New World Development Limited Our great pleasure to make this happen with Jeff, Angel, Edwin, Gemma, Daniel, TommyDesign Architect: LAAB ArchitectsSherry Fung . Otto Ng . Yin Lih . Hang Yip . Gordon Yuen with the support from Anderson Chan . Hon Chan . Catherine Cheng . Minjung Kim . Kelvin Lam . Janis Poon . Alfred Pun . Charlie Wong . Yam Kin MingCollaborators:Authorized Person: Ronald Lu & PartnersDesign Landscape Architect: James Corner Field OperationsExecutive Landscape Architect: Urbis LimitedExterior Lighting Designer: Speirs + Major Exterior Signage Designer: PentagramFacade & Structural Engineer: ArupFacade & Structural Contractor: ICGLInterior Contractor: YearfullInterior Lighting Designer: Lightswitch Managing Contractor: New World ConstructionMEP Engineer: WSPSustainability Consultant: Arup SustainabilityStarring:Jeff Tung . Aelita Chan . Ivan Chan (Special thanks to Calvin !)Video Production:DCinematic 滴 骰 映 画

Posted by LAAB Architects on Wednesday, March 21, 2018
Looking for a loo outdoors? Maintained by the Leisure, Culture and Services Department (LCSD), Art Square at Salisbury Garden has an amazingly designed bathroom by LAAB Architects. The award-winning Garden Restroom uses polished dark brown timber on its exterior, plus plenty of natural lighting and nostalgic decorations on the inside. Surrounded by lush greenery, this restroom contributes to the excellent landscape architecture of the Garden, creating a mini oasis much welcomed in the bustling city.
Art Square at Salisbury Garden, between the Hong Kong Museum of Art and K11 Musea, Salisbury Road, Tsim Sha Tsui, Hong Kong
13. Smithfield Municipal Services Building
The Smithfield Municipal Services Building is home to an award-winning public toilet, recognised as the Best Hong Kong Toilet of 2021 by the Hong Kong Toilet Association. The cleaning team works tirelessly to keep the stalls spotless all day long. Even with lots of people using the facility each day, the hardworking team manages to keep everything clean and tidy, wiping down surfaces after every use. Thanks to their hard work, this simple public bathroom becomes a little oasis amidst the hustle and bustle of the market.
Smithfield Municipal Services Building, 12K Smithfield, Kennedy Town, Hong Kong
14. Ma Tau Kok Road Public Toilet & Bathhouse
Blending artistry and efficiency, the Ma Tau Kok Road Public Toilet features an artistic exterior that complements the neighbouring Cattle Depot Artist Village. Inside, the thoughtfully designed space provides a clean, comfortable experience for users. By matching attractive design with practical considerations, the Ma Tau Kok Road facility demonstrates how public toilets can be functional works of art.
Ma Tau Kok Road Public Toilet & Bathhouse, No. 180, Kowloon City Road, Hong Kong
[This article was originally published in August 2018 and updated in 2023 by Catherine Pun.]