Applying and reapplying is the name of the game in this Hong Kong sun! (Photography: Mikhail Nilov via Pexels)
Not all sun protection is created equal, especially when you're living in a humid climate like ours. Luckily, we've taken the guesswork out of skin safety with our guide to the best sunscreen for Hong Kong's heat.
Summertime in Hong Kong is almost synonymous with sweat. No matter where you are – be it out enjoying water sports, high up in the hiking trails, or down walking the markets in Hong Kong – there's no avoiding the humidity that gathers on your skin. Fear not, however, if you're on the hunt for something that'll withstand this tropical weather, for we've discovered seven tried-and-true products to recommend to you. Test out the best sunscreen in Hong Kong for yourself, and protect your precious skin from premature ageing and sunburn. Now go enjoy that junk without fear.
Best sunscreen in Hong Kong
1. Anessa Perfect UV Skincare Milk by Shiseido
The Anessa Perfect UV Skincare Milk by Shiseido is perfect for those who are constantly moving around the city. This silky formula (with an SPF of 50, no less!) glides on to any skin type smoothly, effortlessly, and leaves no sticky texture behind. It also gives a powdery finish, which is the perfect base for makeup. Just be sure to shake up the bottle before you use it to get the most out of your Anessa.
2. Neutrogena: Cool Dry Sport Water-Resistant Sunscreen Spray
A favourite of ours is the Neutrogena Cool Dry Sport Water-Resistant Sunscreen Spray with an SPF of 70, which stands well against extreme sweat and water action. We regularly take this gem with us to junks on the weekend and find it easy to apply (that spray nozzle helps you reach hard-to-get places like your back), quick drying, and it never makes a mess all over our beach bags. We think it's safe to say that this is perhaps one of the most resilient sunscreen sprays we've ever encountered.
3. Play Everyday Lotion by Supergoop
Supergoop's Play Everyday Lotion is a water-resistant moisturising lotion for the face and body. This gorgeous cream pairs just as well with sensitive, dry skin as it does oily skin, without leaving any white cast. Plus, it doesn't leave your skin oily, and is easy to re-apply; it even comes in a family-friendly pump bottle size. Verdict? We're here for it.
4. Ultra-Light Mineral Sunscreen by La Roche-Posay
We'd heard that La Roche-Posay's Anthelios Ultra-Light Mineral Sunscreen may be the best zinc oxide option in years and we can't say we disagree! It's 100% mineral-based (note: it also includes titanium oxide), is paraben-free, protects you from UVA and UVB rays, and gives off a perfect matte finish that we just can't stay no to. Bear in mind though that this mineral sunscreen is made for the face and while the solution may help to combat environmental damage, we'd suggest using another option for your arms and legs.
5. thinksport Safe Sunscreen
This reef-safe sunscreen from thinksport is the first sunscreen to pass Whole Foods Premium Care Requirements, and has been consistently rated No. 1 by EWG (Environmental Working Group) since 2010. It's produced in the U.S. and is gluten-free (that gluten is hiding everywhere!), is vegan, and they don't test their products on animals. This sunscreen goes on smoothly with a non-oily feel and doesn't have an obtrusive smell that could potentially harm or make its way through the food chain. Plus, with an SPF of 50+, UVA/UVB protection, and a water resistance of up to 80 minutes, you can't go wrong with this mineral sunscreen for when the whole family is having some fun in the sun.
6. Erbaviva sunscreen
Take it up a notch with this organic sunscreen that is crafted using all-natural products – aloe, sunflower, jojoba oils infused with organic essential oils of chamomile, and lavender. Erbaviva predominantly produces baby-friendly products so there's no worry if you have sensitive skin, this brand can be trusted by all means. This sunscreen is paraben-free, vegan, and cruelty-free – we can't think of a reason not to buy it!
7. Drunk Elephant: Umbra Sheer Sunscreen
This unique formulation – with sunflower shoot extract, virgin marula oil, and aloe vera extract – is ideal for daily use without any white residue or greasiness. Drunk Elephant's Umbra Sheer is suitable for all skin, including the most sensitive. Not to mention the handy size which you can easily slip into your bag and it'll be your constant companion for summers in Hong Kong.
8. Everyday Humans: Oh My Bod! SPF50 Sunscreen Lotion
This is a great choice of sunscreen in Hong Kong for those with sensitive skin. Everyday Humans' Oh My Bod! is infused with skincare ingredients as well as having an SPF of 50. With a sweat and water resistance time of up to 80 minutes, no white cast or need for excessive rubbing is required with this product. The formula doesn't contain an intense chemical smell; instead, it carries a refreshing cucumber and green tea scent. This bottle will be your go-to companion during these sunny months!
9. Coola: Classic Body Organic Sunscreen Spray SPF50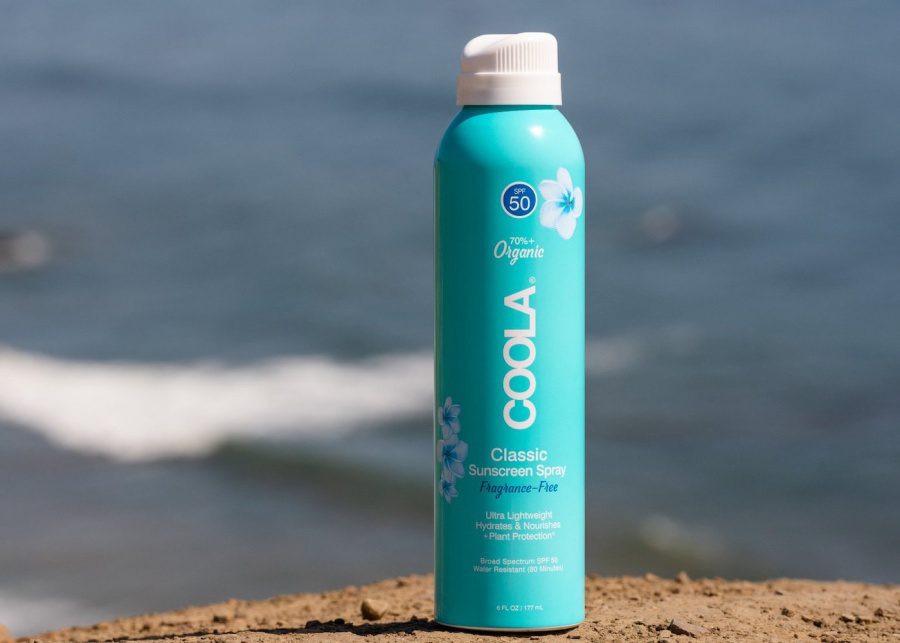 Ultra sheer and free of fragrance, the Coola Classic Body Organic Sunscreen Spray SPF50 is strong enough for long days in the sun, but also light enough for everyday use. The bottle comes in a handy spray can that makes applying and reapplying a breeze – especially for the kiddos! The formula is cruelty-free and rich in antioxidants, nourishing the skin as it is applied.