Use the Service Apartment Hong Kong (SA/HK) platform to find your next new home
Whether you're looking to live the luxe life or have a taste of co-living, our contenders for best serviced apartments in Hong Kong will make your stay comfortable and enjoyable.
Hong Kong is known for its great food and culture, as well as its endless amounts of entertainment, including the best happy hours, nightclubs, and karaoke bars. And if you're looking for a trustworthy and fully furnished place to stay short-term or long-term, our picks for the best serviced apartments in Hong Kong (for any budget!) take convenience to a new level by providing everything you need – some of them even have swimming pools, 24-hour gyms, and gorgeous balconies. We're moving in!
Our 20 favourite serviced apartments in Hong Kong
1. Service Apartment Hong Kong (SA / HK)
Finding a serviced apartment in Hong Kong can often be a daunting and time-consuming task. Enter Service Apartment Hong Kong, who has cracked the code on acquiring the perfect accommodation for you! By covering the entire serviced apartment market in the 852, you are guaranteed to find the best prices for economy, mid-range, and luxury apartments. You'll be hard-pressed to find a place not featured on Service Apartment Hong Kong too, as it lists over 300 independent serviced and furnished apartments on its platform. And if you really don't find a property on the website? Simply let the dedicated team know and you'll be rewarded with Apple gift cards worth up to $8,000 via your bookings through the site! Let Service Apartment Hong Kong take the reins to help you locate your ideal serviced apartment today.
Learn more about Service Apartment Hong Kong.
2. Hong Kong Parkview
Want to immerse yourself in nature without staying too far from the city? Hong Kong Parkview's urban oasis with gorgeous greenery and views of the coastline is your dream abode – and just 15 minutes away from the CBD. Hong Kong Parkview's serviced suites are spacious and luxurious, offering you a state-of-the-art living environment. Residents also enjoy exclusive access to the private club, where you'll find premium recreational facilities and all the practical comforts you'll need for your "home away from home".
Hong Kong Parkview, 88 Tai Tam Reservoir Road, Tai Tam, Hong Kong, p. 2812 3456 or 5200 8060 (WhatsApp)
3. KAZA Serviced Apartments
Established in 2010, KAZA is a friendly operator for serviced apartments in Hong Kong, aiming to provide a carefree environment for its tenants. KAZA has three fully furnished, traditional walk-up properties in the prime neighbourhoods of Wan Chai, Sai Ying Pun, and Stanley. The studio apartments go from 420 square feet, with an optional private terrace. Wanna go deluxe? Opt for the 980-square-foot loft in Sai Ying Pun. As for the facilities, you'll find a fully equipped kitchen and bathroom; washing and drying machine; complimentary broadband access; an LCD TV; and more across all three properties. Maid service and linen change service are available in the Wan Chai and Sai Ying Pun buildings, too.
KAZA Serviced Apartments has properties in Wan Chai, Sai Ying Pun, and Stanley.
4. The Repulse Bay
Escape to the pristine beaches of Hong Kong with a serviced apartment at The Repulse Bay, where beautiful greenery and panoramic views of the ocean await you. Perfect for families, the airy and luxurious accommodations come in two-bedroom and three-bedroom units, on top of great perks such as shuttle bus services into the city (just 15 minutes away from Central), a shopping arcade with a large supermarket, pet-friendly environments, and plenty of other facilities, as well as close proximity to international schools. What's more, residents get to enjoy complimentary membership and access to the 60,000-square-feet clubhouse. Complete with a fitness centre, outdoor and indoor pools, and a jacuzzi, The Repulse Bay will have your resort-like lifestyle sorted!
The Repulse Bay, 109 Repulse Bay Road, Hong Kong
5. The Mercury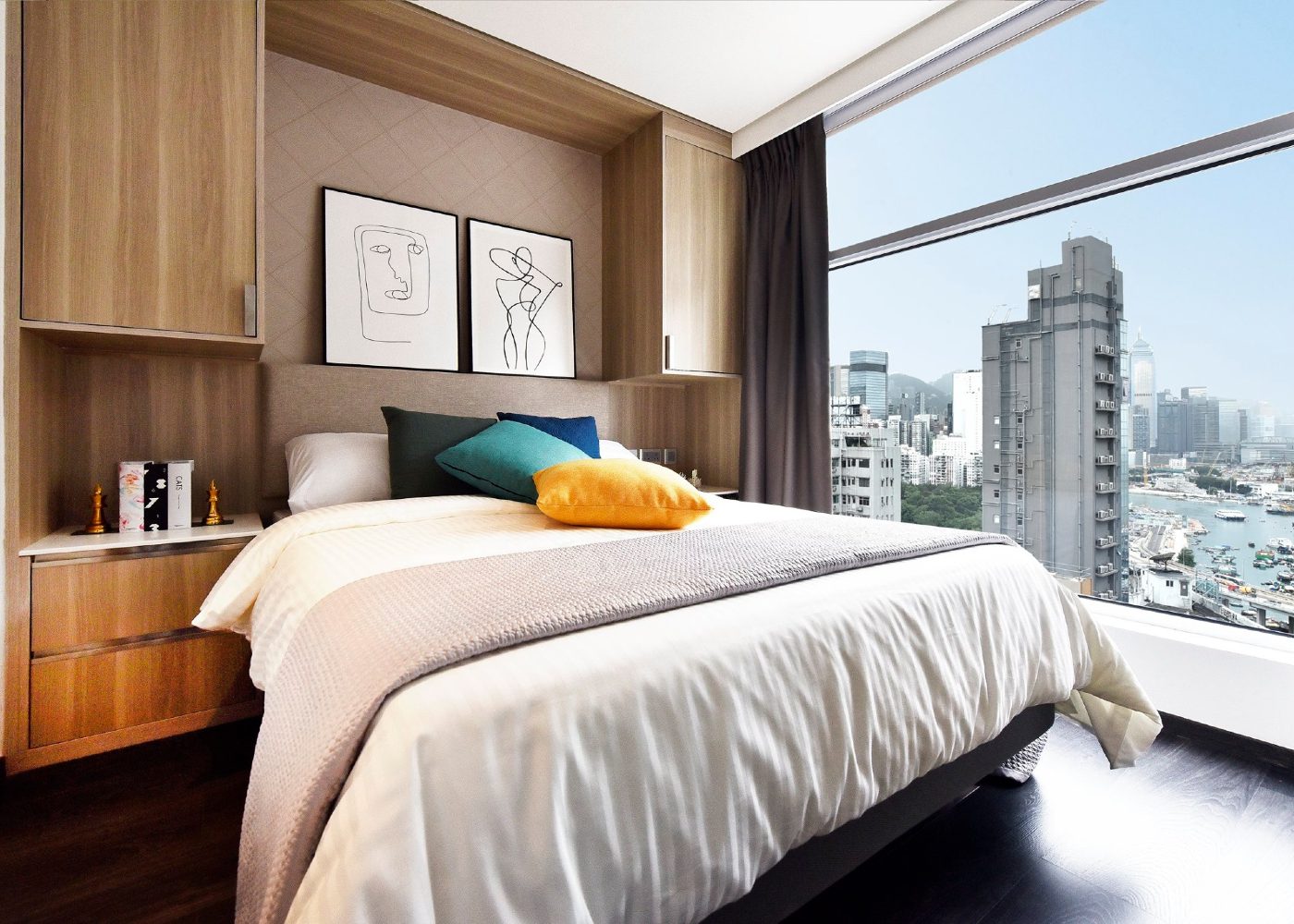 Bringing modern chic living from New York's SoHo to Hong Kong, The Mercury offers spacious apartments (with harbour views) designed by Goudie Associates. Apart from being fully equipped with appliances from Nespresso, Dyson, Panasonic, and Whirlpool, there's also a range of premium services and facilities that make your life more convenient, including an expansive rooftop terrace, concierge, gym, and laundry. The exterior welcomes guests with a stunning Instagram-worthy photo spot – a specially commissioned mural of a pair of large and photogenic wings – created by artist Alana Tsui who has crafted bespoke wall art in Hong Kong and NYC.
The Mercury, 23 Mercury Street, Tin Hau, Hong Kong, p. 2842 4411, 天后水星街23號
6. The Bauhinia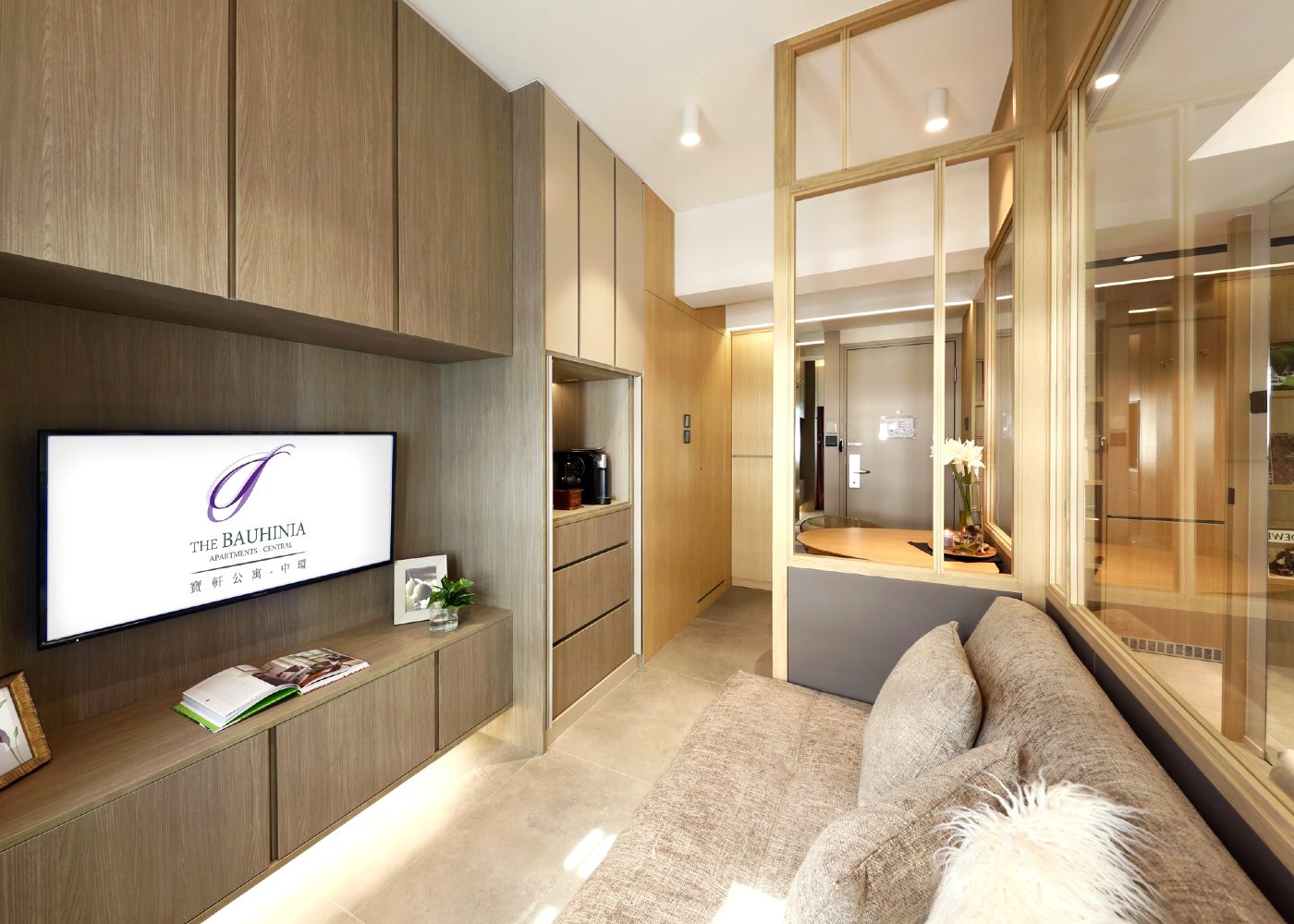 With three boutique hotels and two serviced apartments in Hong Kong and Shenzhen, the core value of The Bauhinia is to create a modern and comfortable place for travellers to stay. Situated between Central and Sheung Wan, making it super convenient, The Bauhinia offers studios, as well as one- to four-bedroom layouts that are fully furnished with cooking facilities. Also, they come with air-conditioning, LCD TV, in-room electronic safe, free Wi-Fi, and other household appliances. To make things more convenient for you, a fitness room, self-service coin laundry, meeting room, as well as photocopying and printing services are available. We love the comfortable design and location of The Bauhinia.
The Bauhinia, 119-121 Connaught Road Central, Sheung Wan, Hong Kong, p. 2156 3000, 上環干諾道中119-121號寶軒
7. The Nate
Located between Tsim Sha Tsui and Jordan MTR stations, The Nate is perfect for those on business who adore a well-designed living space. The Nate provides various serviced studios to choose from, all inclusive of modern furnishings and utilities. Aside from offering housekeeping and linen change, safe box, private bathrooms, and air purifier, The Nate's communal area also consists of a full kitchen for its guests to use.
Read our full review of The Nate.
The Nate, 176 Nathan Road, Tsim Sha Tsui, Hong Kong, p. 2265 8211, 尖沙咀彌敦道176號
8. Little Tai Hang
This boutique serviced apartment has got all the essentials despite its relatively hidden location. With a well-equipped gym, 24-hours laundry room, and professional services, Little Tai Hang will take care of all your needs in the beautiful Tai Hang neighbourhood. They have over 10 types of residence such as studios, penthouse with terrace, and superior harbour view bedroom; each equipped with distinct views that give you entirely different vibes.
Little Tai Hang is the Gold Award winner for Best Serviced Apartments in Hong Kong in our Love Local Awards 2022!
Little Tai Hang, 98 Tung Lo Wan Road, Causeway Bay, Hong Kong, p. 3899 8888, 大坑銅鑼灣道98號
9. Shama Island North Hong Kong
Located near bustling Causeway Bay is the modern residence Shama Island North Hong Kong. The serviced apartment features over 90 furnished residences with different sizes, ranging from studios to two-bedroom. With an array of restaurants within walking distance, Shama Island North Hong Kong has a great location on the east of Hong Kong Island.
Shama Island North Hong Kong, 310 King's Road, North Point, Hong Kong, p. 3605 3088, 北角英皇道310號香港莎瑪港島北服務式公寓
10. Como Como
Conveniently located in SoHo and the heart of Causeway Bay, lifestyle-oriented serviced apartments Como Como is dedicated to creating a nature-inspired and relaxed living space for its guests. Rooms feature free Wi-Fi, Samsung LED TV, KEF surround-sound, a DVD home theatre system, well-equipped kitchen, and more. Don't forget to check out its 24-hour gym, the rooftop garden, and barbecue pit, too!
Como Como has properties in Hollywood and Causeway Bay.
11. The Johnston
Located in bustling Wan Chai, The Johnston of Sino Suites allows its guest to experience the excitement of Hong Kong. Due to its proximity to all sorts of entertainment, you'll find shopping malls, local eateries, and dive bars right on your doorstep. The Johnston's premium service apartments are furnished with contemporary touches, as well as well-equipped with a comprehensive home entertainment system, kitchen supplies, washing machine and dryer, air-conditioning, and more. The facilities also include 24-hour gymnasium, rooftop leisure area, and outdoor terraces. Providing five types of residences from Deluxe residences to Executive Terrace, there is definitely one that will suit your serviced apartment needs at The Johnston.
Find out what to do in Wan Chai after dark.
The Johnston, 74-80 Johnston Road, Wan Chai, Hong Kong, p. 8107 0038, 灣仔莊士敦道74-80號囍寓
12. Lanson Place Waterfront Suites
A set of serviced apartments in Shau Kei Wan, Lanson Place Waterfront Suites is where you can enjoy both buzzy city lives and panoramic harbour views. Their rooms are bigger than many other serviced apartments in Hong Kong, with the three-bedroom penthouse (including a pool!) as their biggest highlight. Enjoy complimentary breakfast at the suites' peaceful lounge, and grab some evening canapes when you return from work. Waterfront Suites' 24-hour gym and cosy yoga garden are where you can indulge in a moment of relaxation, making them a perfect serviced apartment for wellness-oriented residents.
Lanson Place Waterfront Suites, 1 Oi Tak Street, Shau Kei Wan, Hong Kong, p. 2178 2288, 筲箕灣愛德街1號香港逸蘭蘇豪東服務式公寓

13. Cityloft Studios & Flats
Living with a tight budget? Check in at Cityloft Studios & Flats, as they provide comfortable and modern residences in Hong Kong's prime neighbourhoods, including Causeway Bay, Wan Chai, Central, Sheung Wan, and Sai Ying Pun – all at affordable prices. Their furnished studios and flats include a private bathroom, TV and DVD player, unlimited broadband, weekly bed linen change, as well as microwave, refrigerator, and electric cooker (kitchenette with built-in stove for longer-term flats). If you're looking to rent a short-term studio while on business, Cityloft will sort you out with its selection of serviced apartments in Hong Kong.
Cityloft, Lin Wai Building, 13-15 Hillier Street, Sheung Wan, Hong Kong, 上環禧利街13-15號連威大廈
14. Apple Dorm
Looking for serviced apartments in Hong Kong that do co-living on a budget? Apple Dorm provides a cosy living space at affordable prices. Situated in Sai Ying Pun and Sham Shui Po, Apple Dorm is only a few minutes away from the nearest MTRs. Offering two types of rooms, single bedroom and loft bedroom with hot water, electricity, and free wi-fi, it's perfect for those who are here for a school year or term. Are you ready to mingle and make new friends during your stay in Hong Kong?
Apple Dorm (苹果宿舍) has properties in Sai Ying Pun and Sham Shui Po.
15. Apartment O
As the ultimate 1930s Shanghai and Hong Kong-themed boutique serviced apartments in the 852, Apartment O is all about taking guests down the memory lane to the good old days. Offering bedrooms of different themes, such as Old Shanghai and Old Hong Kong – with a fully-equipped kitchen, three bathrooms with jacuzzi, and a balcony, as well as a lounge, cigar room, business centre, and rooftop BBQ facilities – you'll be surrounded by a blend of nostalgic and futuristic designs where you escape the urban hustle. Not to mention, its locations are close to all kinds of entertainment in the city – you'll never have to wonder where to eat in CWB!
Apartment O (陳公館) has locations in Causeway Bay and Happy Valley.
16. Hmlet
With over 100 properties in Singapore, Tokyo, and Hong Kong, Hmlet offers designer apartments, fully furnished with kitchenware, fridge, TV, and other modern amenities. Newly added to its local portfolio of homes (in Central, Sai Ying Pun, Mong Kok, and more) in August 2022 is Hmlet Austin Avenue in Tsim Sha Tsui, which comprises 38 accommodations of varying sizes – from small to extra large, to even a swanky penthouse. While Hmlet Austin Avenue requires a minimum stay of three months, some of its other properties allow stays as short as just six nights – pretty flexible, we'd say!
Hmlet has multiple properties across Hong Kong.
17. Vega Suites
Hoping to stay a little further away from the bustling Central area? Look no further than Vega Suites, which will offer you a change of scenery with its refreshing views of the sea and the neighbouring mountains. Sitting atop the Tseung Kwan O MTR Station, Vega Suites is not only well connected to the up-and-coming commercial hubs of Kowloon East and Island East, but it is also right above the PopCorn Mall – talk about a prime location! Moreover, the building is fully equipped with facilities such as a gym, swimming pool, spa, barbecue area, and a lush Green Terrace.
Vega Suites, Tseung Kwan O MTR Station, Tseung Kwan O, Hong Kong, p. 3963 7888, 將軍澳地鐵站上蓋星峰薈
18. Townplace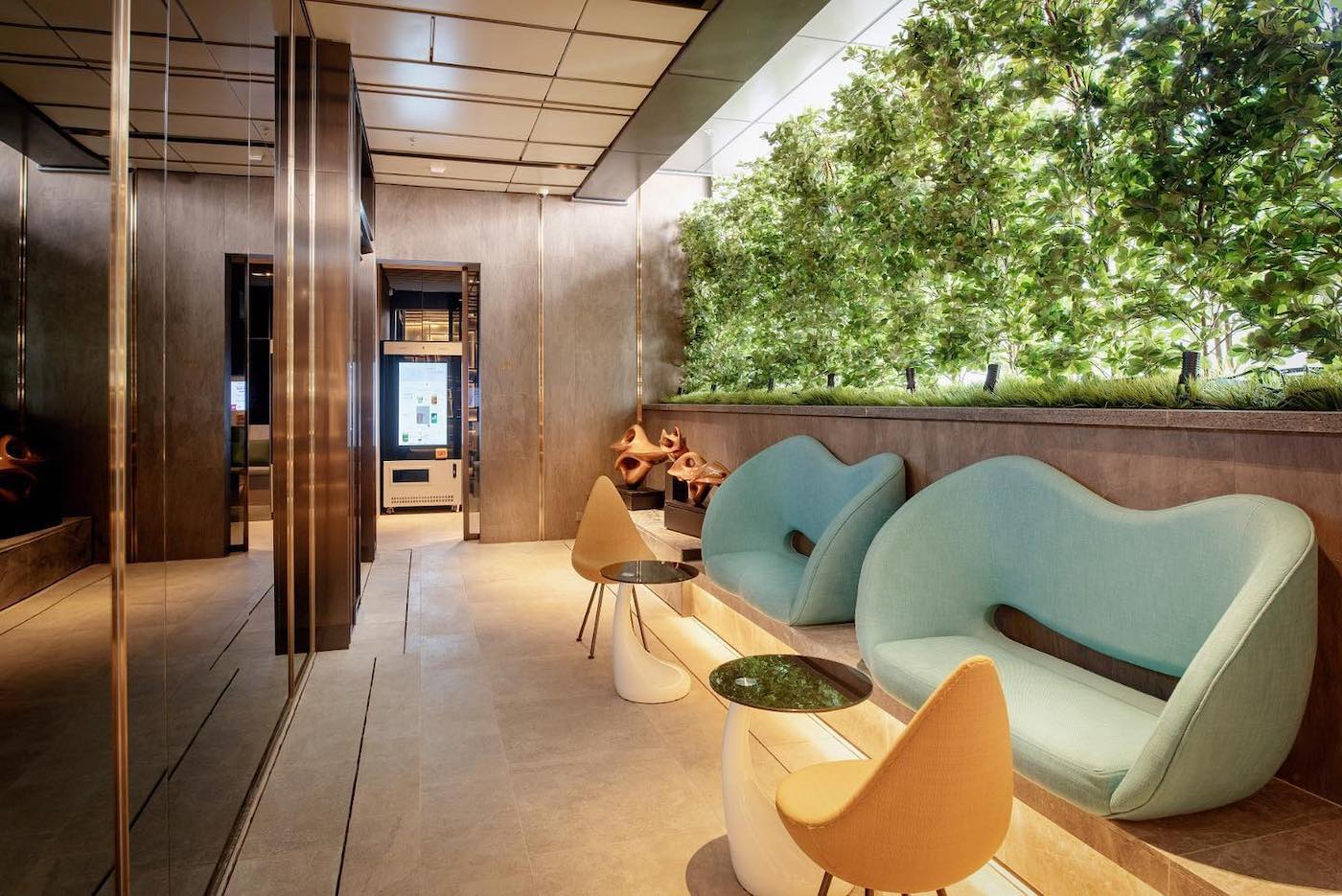 Townplace is not just one of the best serviced apartments in Hong Kong, but also a lively community that aims to helps its residents connect. Guests can choose from serviced, refurnished, and unfurnished rooms, customising their own spaces according to their needs. To make your experience truly hassle-free, enjoy an array of advanced home monitoring systems, like voice-controlled electrical appliances and automated lights. Also, you can relax on their spacious sundeck, at the sea-view gym, banquet room, and many other facilities.
Townplace is the Silver Award winner for Best Serviced Apartments in Hong Kong in our Love Local Awards 2022!
Townplace (本舍) has properties in SoHo and Kennedy Town.
19. Victoria Harbour Residence
If you want to enjoy a panoramic view of Victoria Harbour and Kowloon East during your time in HK, Victoria Harbour Residence might just be one of the best serviced apartments in Hong Kong for you. Rooms are elegantly furnished and well-equipped, including state-of-the-art Home Automation System by voice and mobile app, wide screen LED television, soundbar with bluetooth technology, coffee maker, microwave oven, and wine cellar. Furthermore, The Clubhouse by Victoria Harbour Residence features its own indoor and outdoor pool, 24-hour gymnasium, banquet room, and spa. Last but not least, the complex is integrated into the chic Hyatt Centric Victoria Harbour hotel, which houses Cruise, one of the nicest al fresco restaurants in Hong Kong and loads of dining options to make life easy.
Victoria Harbour Residence, 133 Java Road, North Point, Hong Kong, p. 2284 2988. 北角渣華道133號海璇匯
20. K11 Artus
Located right in front of the Victoria Harbour is the latest serviced apartment K11 Artus. Their residences come in various types, ranging from one-bedroom to studios and penthouses. With their luxurious dining place The Commune, and a 25-metre outdoor infinity pool, this five-star serviced apartment will give you one of the most comfortable stays ever. Bonus: you can shop up a storm at K11 Musea right downstairs.
Learn more about K11 Artus.
K11 Artus, Victoria Dockside, 18 Salisbury Road, Tsim Sha Tsui, Hong Kong, p. 2107 3388, 尖沙咀梳士巴利道18號 Victoria Dockside