Mexican gems like Chino thrive in Kennedy Town (Photography: Chino HK via Facebook)
The best restaurants in Kennedy Town span everything from dim sum to Mexican (and everything in-between).
Oh, sweet K-town. We love your café scene and great beauty spots like Nail Care 2, but most of all, we love your food! The dining options on the west side have varied throughout the years but the good ones stay for years and years. Here's a selection of some of the best restaurants in Kennedy Town to get fed at – nom, nom.
Where to eat in Kennedy Town
1. 11 Westside
The taco game at 11 Westside has become legendary in Hong Kong since its opening. While the freshly made guacamole is certainly something to write home about, it's the tacos that are the kings here. From classics like the Al Pastor and Carne Asada to the vegetarian California Veggie, there's something for everyone. The drinks here never fail to impress as well, so come by during happy hour or on Taco Tuesday for a taco and a tipple in each hand.
This spot also makes it to our list of best Mexican restaurants in Hong Kong.
11 Westside, 1/F, The Hudson, 11 Davis Street, Kennedy Town, Hong Kong
2. Sun Hing Restaurant
For those with dim sum cravings, hit up this old time shop anytime between 3am to 5pm (yup, that's right!), which makes it a great place to get some post-partying grub. Many seniors in the area and countless taxi drivers love to come here for their daily dim sum, which is always a good sign that the food is legit. There's plenty of table space here but bear in mind that service is quite limited and slow, and in order to get what you want to eat, you've got to head on over to the dim sum table near the front of the restaurant to pick up your food. Must-eats here include their gigantic siu mai, chicken feet, Cantonese steamed minced beef (served with rice!), and freshly steamed custard buns. The creamy, salty and sweet flavour combination of the custard buns here will leave you wanting more.
Sun Hing Restaurant, Shop C, G/F, 8 Smithfield Road, Kennedy Town, Hong Kong, p. 2816 0616
3. Alvy's
Perhaps one of the most controversial pizza spots in Hong Kong, and with a dark sense of humour that we appreciate (you're missing out if you've never read their Instagram captions), Alvy's manages to hit the spot every time we get a craving for a hot pie. Opt to share a few slices of the Four Cheese (they use a combination of mozzarella, fontina, piedmont blue, and pecorino) or try the Meatball pizza, complete with Sunday sauce, bocconcini mozzarella and parmigiano. If you're feeling brave, go ahead and try the Bak Gwei, featuring gruyere béchamel, char siu pork, mozzarella and geung yeong. Or, head straight for Popeye-Roni complete with 'nduja, scamorza and – you guessed it – sautéed spinach.
Alvy's, 8 Holland Street, Kennedy Town, Hong Kong, p. 2312 2996
4. Thalassic
Perhaps one of the most satisfying eats in Kennedy Town, Thalassic is one of those places where the menu runs for miles and yet service is timely and food is cooked well and comes out of the kitchen within a 20 minute wait. The decor here is a fair bit outdated, but who cares when you can indulge in perfectly cooked prawn cakes, delicious satay skewers, and a fine tom yum, or green curry? Count me in for a mango smoothie too, please!
Thalassic, Shops C & D, G/F, Chi Ping Building, 38 Hau Wo St, Kennedy Town, Hong Kong, p. 3606 3111
5. Chino
This famous little spot by the water is a real gem. A modern Mexican restaurant that uses Japanese ingredients and cooking techniques means that Chino's dishes may be some of the most interesting options around town. Try the Shima Aji with Shiso Lime and Pickled Pineapple or the Brussels Sprouts with Abrol Miso and Cotija for flavourful explosions. The tacos here include interesting items such as Ox Tongue with Pickled Jalapeños and Arbol, or Chicken Tinga with Pickled Onions and Avocado. A main that we've been eyeing is the Wagyu Beef Cheek with Mole Poblano – traditional mole is hard work alone but paired with a Wagyu cut? Yum. Pair any of these bites with one of fourteen highballs (they also have cocktails and sake available here) and you'll see why Chino is such a hit.
Chino, 1B-1C New Praya, Kennedy Town, Hong Kong, p. 2606 0588
6. Bistronomique
If you're a sucker for French cuisine, get your fix at Bistronomique. This restaurant serves a variety of authentic French dishes, including lobster bouillabaisse, escargot, frog legs meunière, oxtail ballotine, among many others. In addition, you can overlook amazing views of the sea from the second floor of the bistro, which simply elevates the whole dining experience. No wonder this is regarded by locals as one of the best restaurants in Kennedy Town!
Bistronomique, Shop 1, G/F, Grand Fortune Mansion, 1 Davis Street, Kennedy Town, Hong Kong, p. 2818 8266
7. Breeze Bistro
Channelling the spirit of the Mediterranean, Breeze Bistro brings seasonal flavours to the waterfront promenade of Kennedy Town. Munch on Lobster Linguine, New Zealand Lamb Shank, and Porchetta. Don't forget to grab a glass of wine or a cocktail from the well-curated bar menu to take advantage of the refreshing ambience. Complete with outdoor dining and pet-friendly tables, happy hours just got a little nicer with Breeze Bistro.
Breeze Bistro, 7-8 New Praya, Kennedy Town, Hong Kong, p. 9020 6210
8. Grain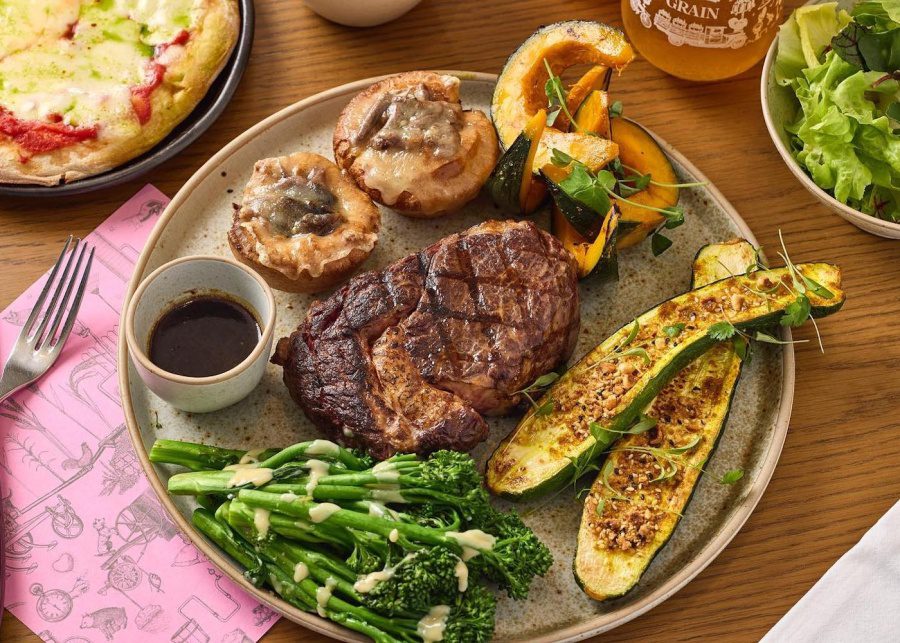 Fancy a beer with some mates? With Gweilo Brewlab, Grain is the only eatery in Hong Kong with a working brewery on-site – so you know the beer is always gonna be flowing! Enjoy elevated gastropub fare like Fish and Chips, Bangers and Mash, and Kale and Spinach Spaghetti. If you're going for a fun and boozy night, there's a workshop and beer tasting space where you can learn to become a beer connoisseur. Grain also frequently hosts quiz nights, so grab some friends to get your brains tickled!
Grain, Shop 1, New Fortune House, 3-5 New Praya, Kennedy Town, Hong Kong, p. 3500 5870
9. Shoreditch
Here's a slice of Britain right in the heart of Kennedy Town. Using high-quality ingredients, Shoreditch offers modern British fare with a twist. Anglophiles, homesick expats, and local foodies can enjoy gems like the Beef Shin & Bone Marrow Pie or the classic Full English Breakfast. Top off your meal with a trusty gin and tonic or bloody mary that'll take you straight to the River Thames with a satisfied stomach.
Shoreditch, 18 Catchick Street, Kennedy Town, Hong Kong, p. 2242 3777
10. Pici (Kennedy Town)
The neighbourhood pasty eatery that's taken Hong Kong by storm has a branch in Kennedy Town! In addition to the classic Burrata Cheese, the fresh, handmade pastas at Pici are also crowd favourites. The Pici "Cacio e pepe" with Pecorino and Black Pepper is a savoury delight while the Lasagna Classica with Beef Ragu, Bechamel, and Parmesan is a piping hot meaty treat. Leave some room for dessert like the classic Tiramisu and a glass of Italian wine – you've got yourself a meal!
Pici (Kennedy Town), G/F, 45-55 Cadogan Street, Kennedy Town, Hong Kong, p. 2699 1033
LG Taproom (permanently closed)
Calling all carnivores! Head to LG Taproom for quality steaks, craft beers, and nice, laidback vibes. Instead of the typical salad and pasta (as delicious as they are), try the restaurant's signature stone grilled steaks. There are the Australian ribeye, sirloin, wagyu from the US, and more. If you'd like something less filling, we hear that LG Taproom does some decent hand drip coffees and desserts too.
LG Taproom, Shop 7, G/F, The Hudson, 11 Davis Street, Kennedy Town, Hong Kong, p. 3462 2173
Catch (permanently closed)
This restaurant has been a steady go-to spot for Melbourne style brunch fare, belly-filling lunches, and wholesome dinners in Kennedy Town for years. Their collective brunch menu includes dishes such as Dirty Eggs, fried eggs, paprika potato, avocado, chipotle mayo, melted cheddar, kidney beans AND the options to add on a chorizo or a Bloody Mary; and Smoked Trout, poached eggs, house smoked trout, sautéed spinach, hollandaise, and sourdough bread, both of which will leave you with a fine food coma to stroll off at nearby Instagram pier.
Lunches here usually mean a fine range of seafood dishes and we're not complaining! Check out the Catch Fish & Chips (beer-battered sea perch with hand-cut chips – yes please!); Soft Shell Crab Burger, where they even added chipotle mayo and pickled cabbage; or the mouth-watering U.S. 300g Rib Eye Steak with red wine sautéed mushrooms, hand-cut chips, and a rocket salad to boot. Oh, and dinners here aren't complete without the Salmon Tartare, Lamb Tacos, or Charred Squid. This is seafood heaven.
Catch, 95 Catchick Street, Kennedy Town, Hong Kong, p. 2855 1289
Aziza (permanently closed)
If you're visiting this spot on the weekend during dinner hour, expect to wait a little bit. This homey little restaurant holds no more than 20 seats, is family-run and serves tantalising dishes of Egyptian and Mediterranean fare. They offer a great set lunch menu, and their tagines are heavenly – we recommend the fish tagine, or the okra tagine with lamb. Remember to order a mixture of hot mezze, including haloumi cheese and wara inab. Note: the tabbouleh here has a strong, citrus-y flavour and the Labna is so delicious you'll want to lick the bowl. Mains such as the shawarma, or aziza chicken, are bound to hit the spot and get rid of those hunger pangs.
Check out our full review of Aziza.
Aziza, G/F, Shun Cheong Building, 28 Hau Wo Street, Kennedy Town, Hong Kong, p. 3462 2844
Mama Malouf (permanently closed)
A sister restaurant to Catch, Mama Malouf embraces the Mediterranean flavours through a lengthy but unqiue Lebanese menu. We love digging into Mama's Mezze, a complete combination of humus, baba, taramasalata, pickles, and bread to start. The Haloumi Fondue with Fig Jam and Brioche is truly a poem for the senses – just close your eyes and enjoy every bite. The Mains that jump out from the rest are the Lamb Shoulder with farro, pumpkin, and mint labne and the Eggplant baked with Goat's Cheese Cream, Pomegranate and Tomato. Oh and by the way save some room for dessert. They've got unique sweets such as the Negroni Sorbet with Orange Blossom Jelly, Kahlua Crème Brulee and Pistachio Ice Cream, or the Coffee & Cardamom Ice Cream Sandwich. Eating the food at Mama Malouf is, quite simply, blissful. However if you can't choose (and this is quite a common problem), opt in for the Banquet Menu and let Mama do what Mama does best!
Read our full review of Mama Malouf.
Mama Malouf, 93 Catchick Street, Kennedy Town, Hong Kong, p. 2817 3828