Cheers to good food and good company! (Photography: Le Chefeteria via Facebook)
Hong Kong's best private kitchens invite you to discover unique dining experiences, where chefs curate memorable meals in intimate settings and offer a culinary journey like no other.
Forget crowded restaurants and Instagrammable spots – venturing off the beaten path in Hong Kong is where the fun begins! Uncover cosy private kitchens where talented chefs enjoy more creative freedom, departing from traditional banquets to artfully designed venues, made for those in the know to savour great company and even greater eats. Whether you're looking for a fun cooking class, celebratory meal under the stars, or just a unique dining experience in a laid-back hideaway, the best private kitchens in Hong Kong have you covered.
Secret's out! We've found Hong Kong's best private kitchens
1. Le Chefeteria
Crowned the "Favourite Private Kitchen" by Hong Kong Restaurant Week for two editions in a row, Le Chefeteria is one of the best known secrets in Hong Kong. Led by French-trained Balinese Chef Azmi Arialda, this private kitchen has earned rave reviews for its bold flavours, showcased in a menu that celebrates local ingredients and multicultural influences. We especially admire Le Chefeteria's "slow food" philosophy: not only does the team create breads and stocks from scratch, they also try to deliver healthier dishes without sacrificing taste. By substituting butter, cream, and cheese with avocado, milk, and coconut milk, on top of using plentiful Southeast Asian herbs and spices (especially the lemon), Chef Azmi's artisanal recipes always give a distinct tropical tang that make us crave for more. While the menus change from time to time, do check if the signature Duck Leg Confit Risotto; Coconut Husk Smoked Beef Tenderloin; and our favourite Lobster Bisque are available. Finally, note that in order to dine at this private kitchen, you first need to become a member – simply fill out a membership application form upon entry. Easy!
Le Chefeteria, 4/F, 4 Sun Wui Road, Causeway Bay, Hong Kong, p. 9328 6390
2. Pomegranate Kitchen
Under the mastery of Chef Maria Bizri, Pomegranate Kitchen breathes life into events at its stunning minimalist venue. Maria's culinary talents shine through dishes that fuse her Middle Eastern roots, Asian influences, and worldwide experiences. Her dedicated team, meanwhile, brings each event to fruition with care and passion. The venue's open kitchen serves as the heart of the adaptable indoor and outdoor spaces, each equipped for luxurious transformations. Busy hosts can even leave all the details to the capable hands of Pomegranate's stylists: from decor to tablescape, your event will be ensured to reflect your vision.
Pomegranate Kitchen, 4B, Sing Tech Factory Building, 44 Wong Chuk Hang Road, Aberdeen, Hong Kong, p. 6192 2014
3. Pata Negra House Group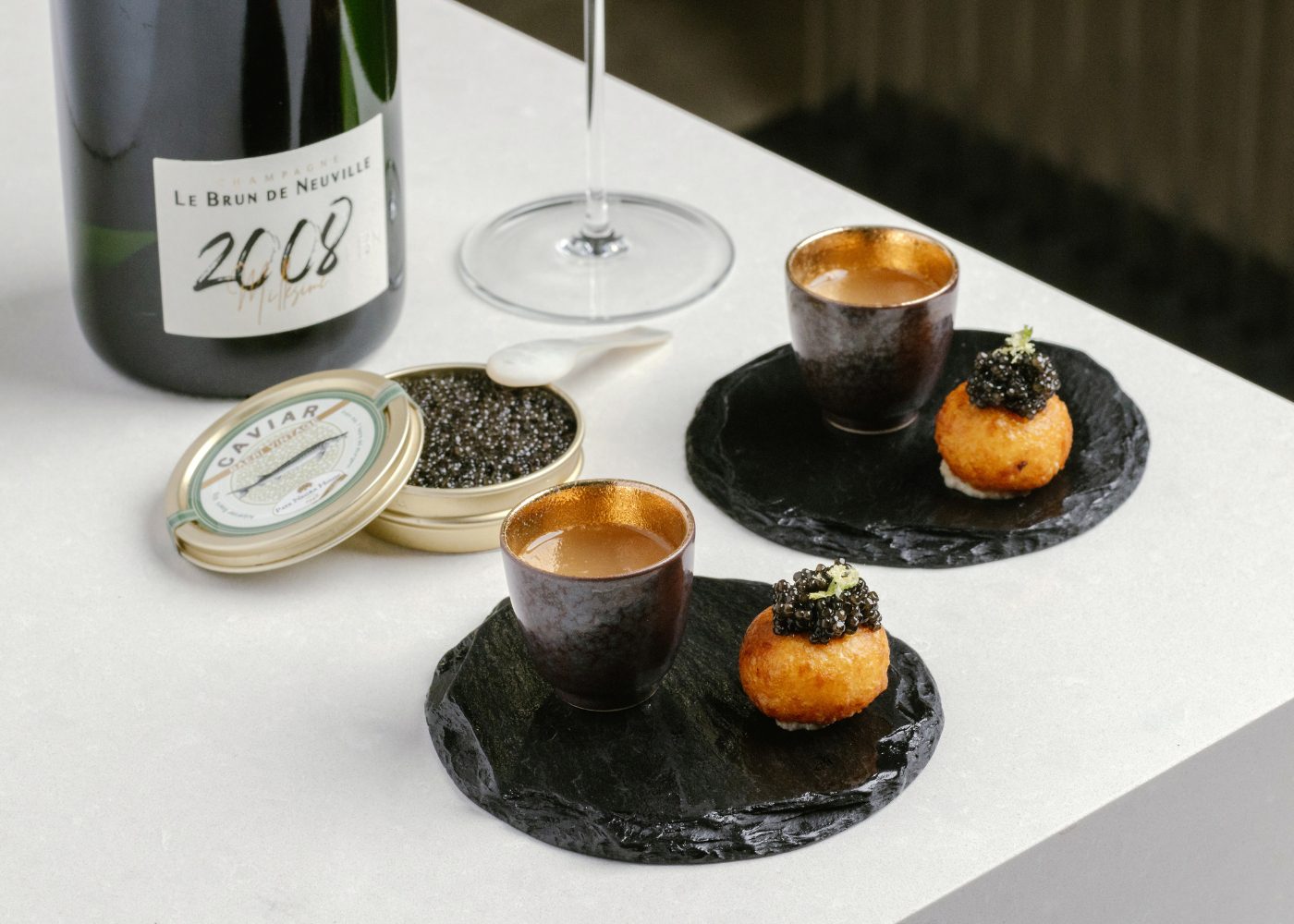 Offering one of the most unique dining experiences in Hong Kong, Pata Negra House Group's private kitchen, Iberico Bar, is only open to the participants of the tastings and events at the space. Dining at the Iberico Bar is the third and last part of the experience package at Pata Negra House Group, after you've tasting a variety of Spanish delicacies such as cold cuts, Manchego cheese, seafood, as well as the signature Iberico ham and sherry pairings. This grand finale features an eight-course tapas menu designed by Chef Heloise Fischbach, with highlights such as Iberico Pork Rice (our favourite!); Spanish Basque butcher "Txuleton" (rib-eye) with caramelised stuffed piquillo pepper; and homemade Spanish pear in syrup sorbet, made with Pata Negra House's special dessert sherry wine blend.
Pata Negra House Group, Unit 1A, 6/F, Lee Sum Factory Building, 28 Ng Fong Street, San Po Kong, Hong Kong, p. 2517 1808
4. Olive Leaf
Escape Hong Kong's concrete jungle by sampan to find Olive Leaf, a vegan oasis on Lamma Island. Surrounded by the island's beautiful countryside, this secluded spot serves up fresh Middle Eastern cuisine, courtesy of Chef Ayelet Idan. Here, you can enjoy Mediterranean dishes in a rustic outdoor courtyard, revelling in the joy of being miles away from the city. Ayelet's dishes, influenced by her Israeli roots and grandparents' cooking, use seasonal ingredients to create a feast for the senses. She also hosts social dining events and cooking classes, where foodies gather to learn her healthy, simple techniques. Though often booked up, those who do manage to nab a seat at Olive Leaf are always rewarded with a memorable feast celebrating community, nature, and delicious vegan fare.
Read our neighbourhood guide to Lamma Island.
Olive Leaf, Pak Kok Tsuen, Lamma Island, Hong Kong, p. 9723 0459
5. Amtarda
Escape to the lush hills of Thailand without leaving Hong Kong at Amtarda, a hideaway perched high above Clear Water Bay. This Thai-inspired villa instantly transports guests with its sweeping sea views and an epic 10-course tasting menu. The regal yet cosy sala, lined with hand-carved teakwood from Burmese forests, exudes class and luxury. Though the location is a well-kept secret, Instagram gives a tempting glimpse into Amtarda's lavish celebrations full of gorgeous scenery and sumptuous shared plates. Groups of 10 to 80 can delight in an unforgettable experience here, feasting on Thai comfort dishes as well as fresh abalones and lobsters plucked straight from the sea.
Amtarda, 10 Tai Au Mun Village, Tai Wan Tau Road, Clearwater Bay, Hong Kong
6. Ta Pantry
Step into Ta Pantry's French cottage-style dining room, where acclaimed Chef Esther Sham and her Michelin-starred team create masterpieces inspired by around the globe. Behind the scenes, Esther had honed her skills at renowned venues like Joël Robuchon before opening this humble hideaway that seats up to 25. As you gather around the family-style farm table, take in the aromas from the open kitchen where Esther artfully fuses French, Japanese, Thai, and other cuisines into her passionate creations. Savour her iconic Melting Duck, fine wines, and elevated comfort food in an intimate atmosphere at Ta Pantry.
Ta Pantry, 1A Star Street, Wan Chai, Hong Kong, p. 2521 8121
7. Masala Bay
Led by half-Indian, half-Afghani chef Vandana Anand, Masala Bay transports guests to India within the Clearwater Bay home. Vandana first started hosting private dinners as a hobby before opening her doors to share vibrant, home-cooked Indian fare made with ingredients purchased daily. Groups of eight to 30 bond over family-style shared plates, either in her intimate dining room or sprawling garden, both filled with rich aromas drifting from Vandana's kitchen. Her passion for cooking shines through in every freshly made dish, be it fragrant curries, fluffy naan, or flavourful chutneys.
Masala Bay, 19A Hung Uk Village, Clearwater Bay, Hong Kong, p. 9306 3967
8. Relish
Situated in Wong Chuk Hang's industrial backdrop lies Relish, a hidden gem ready to elevate your next special occasion. The indoor dining area features a customisable graffiti wall and window into the lively kitchen, creating an urban vibe perfect for intimate gatherings. Just upstairs, the lush rooftop offers a tranquil setting adorned with hanging bulbs, wooden decking, and tropical greenery. Since 2005, Relish has been crafting dining experiences centred around seasonal and sustainable cuisine. Now, you can be the one to create your bespoke celebration filled with delicious food, drinks, and decor. Whether you're planning an after-party, launch event, banquet, or brunch, Relish's blend of modern amenities and rustic charm makes it an ideal second home for any stylish soiree.
Relish, 22D, Yally Industrial Building, 6 Yip Fat Street, Wong Chuk Hang, Hong Kong, p. 3481 9124
9. One-thirtyone
Tucked away in Sai Kung's scenic Three Fathoms Cove, One-thirtyone feels like an escape to the European countryside, yet it's just 30 minutes from the city. The charming multi-level bistro has dining rooms and breezy outdoor patios overlooking the sea. Whether you choose to dine al fresco or inside the rustic-chic interior that's perfect for groups, every bite delivers a comforting flavour. Each thoughtfully sourced dish serves as a unique culinary journey to Europe, lovingly crafted with a local touch.
One-thirtyone, 131 Tseng Tau Village, Shap Sze Heung, Sai Kung, Hong Kong, p. 2791 2684