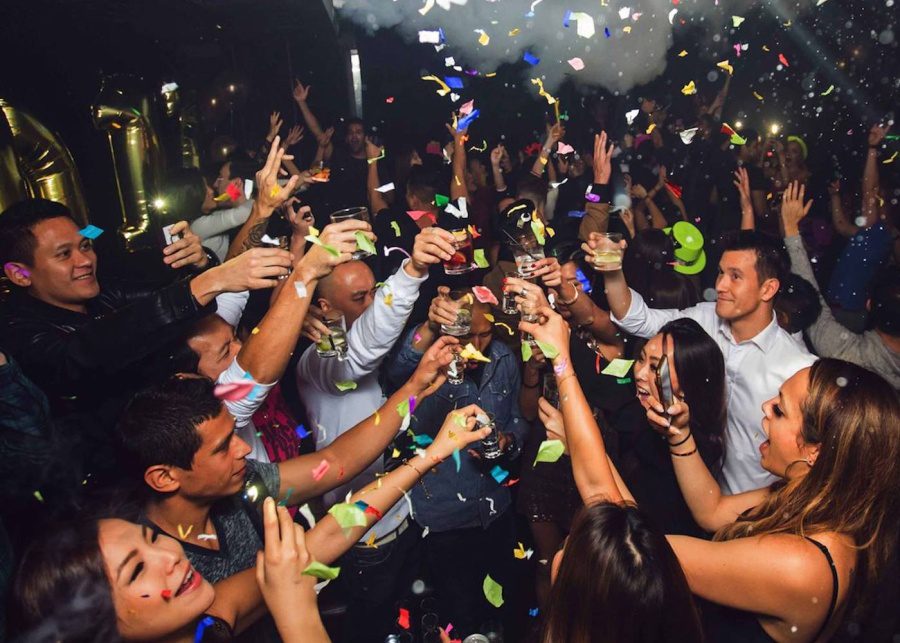 Party all night at clubs like Tazmania Ballroom (Photography: Tazmania Ballroom via Facebook)
Out and about in LKF with your gang? Enjoy the best of this city's nightlife by getting lit at these clubs in Hong Kong!
There are so many gin joints and bars in Hong Kong that we love and swear by, such as The Pontiac. But if you're looking for the best Hong Kong clubs to dance and party at till the sun rises, these are the ones you should hit up the next time you plan to pull an all-nighter. Now, let's drink up and have some fun!
Dance the night away at these Hong Kong clubs
1. Dragon-i
Dragon-i has previously hosted a range of world-renowned celebrities including Paris Hilton, Chris Brown, Shaquille O'Neal, Wiz Khalifa, Tyga, Snoop Dogg, and Dr Dre. The nightclub regularly features party models and live performances from professional dancers, artists, and DJs. Find yourself lost in a large crowd, with faces from all around the world partying hard here.
Dragon-i, UG/F, The Centrium, 60 Wyndham Street, Hong Kong, p. 3110 1222
2. Petticoat Lane
One of our fave LGBTQ+ clubs in Hong Kong, Petticoat Lane is located in the heart of Lan Kwai Fong. Always abuzz with music and dancing, this nightclub offers cocktails as well as wallet-friendly small bites you can fuel up on. The big draw at Petticoat Lane is its roster of drag performers, with many tipples named after the familiar faces.
Petticoat Lane, 8/F, California Tower, 30-32 D'Aguilar Street, Central, Hong Kong, p. 2808 2893
3. Faye
Want a taste of the high life – literally? Faye is a premium rooftop club that'll let you party under the stars. The interior is classy and cosy while the outdoor skydeck is constantly buzzing with energy. Dancing and sipping cocktails all in full view of the skyline is certainly a bucket list experience for anyone, whether you're a local or a tourist in Hong Kong. An elite crowd gathers here every weekend – the line you see forming outside California Tower is often for a chance to frolic at Faye.
In search of more sky-high entertainment? Check out our guide to the best rooftop bars in Hong Kong.
Faye, 25-26/F, California Tower, 30-32 D'Aguilar Street, Central, Hong Kong, p. 3619 4282
4. Zentral
Another hotspot located in Lan Kwai Fong's iconic California Tower, Zentral is the place to go when you want a night of drinks and dancing. You'll find a regular crowd here every weekend ready to party. With giant LED walls, top-shelf alcohol, and pulsing music, Zentral is one of the Hong Kong clubs where you'll find almost everyone on their feet at all times.
Zentral, 4-5/F, California Tower, 30-32 D'Aguilar Street, Central, Hong Kong, p. 2111 8110
5. Tazmania Ballroom
Did you know one of the hottest nightlife spots in Hong Kong is also a place you can shoot some pool? Tazmania Ballroom has pool and ping pong tables galore, as well as tasty cocktails to sip on in between sets. Tables all full up? Kill time by dancing like no one's watching or lounging at the outdoor terrace. You know you're in for a night of madcap fun when there's a DJ providing the soundtrack to a ping pong tournament!
Tazmania Ballroom, 1/F, LKF Tower, 33 Wyndham Street, Central, Hong Kong, p. 2801 5009
6. Shuffle
What do the clubs in Hong Kong need? A wild card – no pun intended. Shuffle is a designer nightclub that seeks to provide a curated experience for its partygoers. The space is split into three zones, each intending to emit a certain ambience. You'll first enter a warmly lit reception area, followed by a lounge and bar space where you can drink in a relaxed atmosphere. Finally, move into the club space with a dance floor and DJ booth for the ultimate dance-off. Whichever zone you find yourself in, you're in for a fun night!
Shuffle, 19 Lan Kwai Fong, Central, Hong Kong, p. 6016 8965
7. Graffiti
Here's a nightclub in Hong Kong you can walk into right off the street and immediately begin partying. Situated within the hustle and bustle of Lan Kwai Fong, Graffiti is an old favourite for a night of revelry. You'll find a local crowd here every weekend dancing and drinking against the LED wall. With in-house DJs and flowing alcohol, Graffiti certainly deserves a stop-in on your night out.
Graffiti, 17 Lan Kwai Fong, Central, Hong Kong, p. 9384 3768
8. Oma
A smaller nightclub with a lot of heart, Oma is a lower basement space filled with house and techno music. This hidden gem in Hong Kong takes partying seriously. You can sample excellently crafted cocktails and nosh on some bar snacks during your breaks from the dance floor. If you want the underground club experience in Hong Kong, Oma is definitely the place for you.
Oma, LB/F, Harilela House, 79 Wyndham Street, Central, Hong Kong, p. 2521 8815
Cé La Vi (permanently closed)
One of the hottest Hong Kong clubs, Cé La Vi, is spread across three floors in Central, with a restaurant, a club, and a sky roof lounge bar. At the highest nightclub on our list, you can enjoy stunning and breath-taking panoramic views of the city with a drink in hand. Enjoy some delicious modern Asian and Japanese-inspired cuisine from their kitchen and tasty cocktails at the bar. Then, head over to dance to heart-pumping EDM, R&B, and rap music by celebrity and resident DJs.
Cé La Vi, 25-28/F, California Tower, 32 D'Aguilar Street, Central, Hong Kong, p. 3700 2300
Volar (permanently closed)
Located in Lan Kwai Fong, Central, Volar hosts DJs who play a wide spectrum of music, including hip-hop, R&B, mashup, dubstep, electronic, and more. Find yourself lost in an modern installation of over 100 million LED pixels and experience the music through quality sound systems. Volar also has a Crystal Room that has multi-faceted wall panels and furniture pieces that aim to reduce echo. Plus, you can pose in the mirrored maze hallway which comprises of 3000 moving red laser diodes. Definitely one of our favourite Hong Kong clubs!
Volar, B/F, Ho Lee Commerical Building, 38-44 D'Aguilar Street, Lan Kwai Fong, Central, Hong Kong, p. 2810 1510
Play (permanently closed)
Play is a premium club that caters to the Hong Kong elite and routinely hosts individuals from all around the world, from international socialites to thrill-seeking jetsetters. Find state-of-the-art lighting effects on the dance floor and on the ceiling when dancing to the beats spun by celebrity guest and resident disc jockeys. Moreover, Play has hosted many renowned DJ artists including Skrillex, Paul Van Dyk, Afrojack, and Mýa. The nightclub also prides itself on offering a wide selection of quality champagnes and spirits, so prepare to live your best V.I.P life here!
Play, 1/F, On Hing Building, 1 On Hing Terrace, Central, Hong Kong
Levels (permanently closed)
Levels is a club in Central that is located on the second floor of On Hing Building. The nightclub is usually filled with a local crowd that return every weekend to indulge in the remixes of latest pop music tracks on Levels' state-of-the-art sound systems. You can also head over early on Mondays to Saturdays from 6 to 11pm for some happy hour drinks, and enjoy a game of beer pong and slap cup with your friends.
Levels, 2/F, On Hing Building, 1 On Hing Terrace, Central, Hong Kong, p. 2850 6826