The fried momos at Funky Monkey make us want to dig right in!
We love them in all their glory, no matter the shape, size, and texture. Chow down at these top spots in Hong Kong and don't forget the chilli and garlic chutney!
The ultimate comfort food differs from person to person. We can all admit we love a good hearty plate of pasta (and tiramisu!) at Italian restaurants, or a sushi spread at any of these Japanese joints, or ordering extra guac at these Mexican restaurants. But momos deserve a special spot in our heart—and stomach! Hop on, we know where to get the juiciest, tastiest momos in Hong Kong.
The best momos in Hong Kong
1. Funky Monkey
This fusion joint is funky to say the least! It merges tiki vibes with Nepalese cuisine for a winning combination. You cannot miss their momos platter which combines steam, fry, chilli, and pan-fry momo in one share-able serving. It comes in a rattan dish with banana leaf and two chutneys in the middle, oh so photogenic! Don't forget to pair it with Funky Monkey's drinks, they are absolute fire!
Funky Monkey has three locations in Hong Kong.
2. Timur
A low-key eatery tucked in Kennedy Town, Timur is an easy one to miss. The authentic food is all reasonably priced and the restaurant has a homey feel evoking the nostalgic Nepalese diaspora in Hong Kong. You can give them a call and place your order while you're on your way as preparation takes about 10-15 minutes. They serve both fried, deep-fried, and steamed momos with either chicken, beef, or vegetarian stuffing. Alternatively, you can go for their jhol (soup) momos for an extra punch of spice.
Timur, Hau Wo Court, Hau Wo Street, Kennedy Town, Hong Kong, p. 6970 0709
3. Manakamana Nepali Restaurant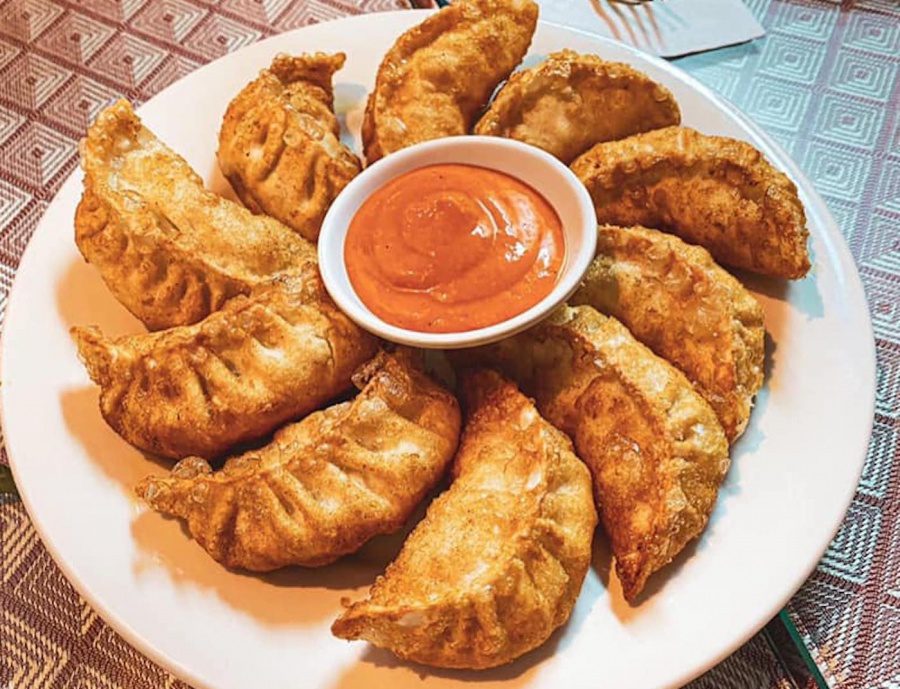 One of the most sought after Nepalese restaurants in Kowloon has to be Manakamana. Popular with locals and tourists alike (pre-COVID-19), the restaurant serves reasonably priced momos that are either fried or steamed. You can choose between the chicken or vegetarian stuffing and snack away with a mango lassi in hand!
Manakamana Nepali Restaurant, 107 Temple Street, Jordan, Hong Kong, p. 2385 8293
4. Momoz
For a contemporary fusion spin on traditional momos, head over to Momoz. On the menu you'll be able to find the classic lamb momos, kimchi momos with edible flowers, Swiss-Italian cheese fondue momos, and more! Additionally, you can grab a signature roll (inspired by Indian kati rolls) with housemade mocktails, cocktails, or grab a local beer from the fridge.
Momoz has locations in Tsim Sha Tsui and Central.
5. Tell Camellia
A tea-inspired cocktail bar serves amazing momos? Yes, yes it does. While the Nepal-inspired tea-tails may be the show-stealers, the lone dish at Tell Camellia is equally worth the buzz. The two co-founders of Tell Camellia also operate Momo House, from which you can order at the bar at Tell Camillia or order on Deliveroo. The momos come in four different folds, each with its own filling. Want to know more? Make your way downtown to this bustling bar!
Tell Camellia, H Code, LG Floor, 45 Pottinger Street, Central, Hong Kong, p. 9821 5501
6. Himalaya Restaurant
Serving Nepalese and Indian cuisine at reasonable prices, you can dig into a whole variety of classic dishes. Though the momos may be overshadowed by the other choices, they definitely get our vote on being juicy and fresh. While they only serve chicken-stuffed momos, you can choose to either get them steamed or fried. If you're tempted by all the options on the menu, make a note to come back for the weekend buffet.
Himalaya Restaurant, 1/F, 22–30 Tai Wong Street East, Wan Chai, Hong Kong, p. 2527 5899
7. The Jungle
This vibrant fusion restaurant is a jack of many trades. Offering everything from fish and chips, pizza, Mexican specialties, and Nepalese specials. The Jungle's Chillies Momos are a must-try, served with different spices, mixed peppers, and chicken. If you're not a big fan of spicy, you can always go for the classic steamed or fried momos that come with either chicken, pork, or paneer stuffing. Their drinks menu also offers something for everyone (non-alcoholic options available too).
The Jungle, Shop no.3, G/F, 273-275 Temple Street, Po Fat Building, Yau Ma Tei, Hong Kong, p. 2602 3636