Go all out for lunch in Central – because why not? (Photography: Carbon Hong Kong via Facebook)
Looking for the best lunches in Central? Find sushi, Chinese fusion, Thai, bagels, sandwiches, salads, burgers, wraps, and much more!
We at Honeycombers Hong Kong have found the sweetest cakes, the best dim sum, and the most elegant fine dining restaurants in the city. And recently we've been scouting around Hong Kong for the best lunches to indulge in. Check out our picks for the best lunches in Central to fill your belly during the week!
Best lunches in Central that will leave you happy and satisfied
1. Carbon
Rooftop views, shisha, a prime location, and scrumptious meals – Carbon has it all! Having revamped its menu earlier this year, the restaurant and bar now offers a range of signature cuts and Gin Immersions. Want to enjoy a quick lunch in Central? Opt for the weekday lunch set, available from 12 to 4pm, from Wednesdays to Fridays. You can choose between starters like Beef Tartare and Poached Prawn Salad. Next, mains include a choice between USDA Prime Pasture Raised Rib Eye; Catch of the Day; and more. Add a dessert (how does the "Cookie DPT" Skillet sound?) if you'd like a sweet ending, then wash it all down with a Zero Proof non-alcoholic drink.
Carbon, 26/F, H Code, 45 Pottinger Street, Central, Hong Kong, p. 6166 8585, 中環砵典乍街45號 H Code 26樓
2. Orka Restaurant, Bar & Cafe
In search of a healthy lunch in Central? Orka will be the ideal spot. Aiming to provide delicious and nutritious meals for vegans and non-vegans alike, this new cafe and restaurant offers an affordable Quickie Menu, featuring items like the vegan Yogi on Sands; the signature Mighty Bulgogi Burger; as well as seasonal dishes. If you want something more filling, try the three-course Executive Set Lunch, complete with starters such as the Tartare Elevation; and mains like Fish or not to Fish. Before you leave, grab a Butterfly Blue-pea Elixir to-go, which will keep you energised for the rest of the day.
Orka Restaurant, Bar & Cafe, G/F, 36 Wyndham Street, Central, Hong Kong, p. 3489 1217, 中環雲咸街36號地舖
3. Treehouse
If you're on the hunt for wholesome wraps, bowls, and burgers made with love, then you need to make a visit to Treehouse. With a completely vegetarian and vegan menu, you can choose from one of their signature combos (we love the Banyan and the Sequoia) or design your own, filled with all your faves, like quinoa, tofu, eggplant, kale, and more. Don't miss the sweet potato fries and the selection of sweets and fresh juices, too!
Treehouse is the Gold Award winner for Best Plant-based Eatery in Hong Kong in our Love Local Awards 2022!
Treehouse, Shop 1, Ground Floor, H Code, 45 Pottinger Street, Central, Hong Kong, p. 3791 2277, 中環砵甸乍街45號 H Code 地下1號舖樹屋
4. Spiga
A main plus unlimited salads and desserts? Yes, you can satisfy your huge cravings at Spiga. Smoked salmon, parma ham, coffee tart, coconut cream… There are a variety of appetisers and sweets that go well with the extensive list of mains. We know it's tempting to try everything at the buffet, but make sure to leave some space for pizzas and homemade pastas!
Spiga, 3/F, LHT Tower, 31 Queen's Road Central, Central, Hong Kong, p. 2871 0055, 中環皇后大道中31號陸海通大廈3樓
5. Club Rangoon
If you don't want heavy burgers and fries for lunch, here's a great option for you. Club Rangoon never disappoints us with their authentic Burmese food, serving amazing Mohinga (fish broth noodle) and Lah Phet Thoke (tea leaf salad). The lunch set here consists of four courses, including a salad, appetiser, main, and dessert. In addition to the two items mentioned above, the Shan Tofu Hnway (warm shan tofu with rice noodles) is also a must-try.
Read our full review on Club Rangoon.
Club Rangoon, 33 Aberdeen Street, Central, Hong Kong, p. 2503 3077, 中環鴨巴甸街33號地舖
6. Babacio
A famous pizzeria hailing from Italy, Babcio's set lunch includes a salad, pizza, drink, plus the spectacular view of Tai Kwun. The must-try Margherita DOP is super chewy on the inside and crispy on the outside. Although getting a seat is not that hard, you might have to book in advance to secure the Instagrammable outdoor tables.
Babacio, 5/F, Carfield Commercial Building, 77 Wyndham St, Central, Hong Kong, p. 2808 1961, 中環雲咸街75-77號嘉兆商業大廈5樓
7. Uoharu
Famous for their A4 Wagyu Sandwich, Uoharu is a Japanese izakaya that offers all kinds of authentic nourishment. Their variety of sets ensures you quality Japanese food such as Eel Rice Box, Wagyu Shogayaki (beef ginger grill), and Seafood Don. Although the lunch already includes a salad, a few sides, and miso soup, you can add on their homemade beef croquette for more volume. That should leave you satisfied for hours!
Uoharu, 7/F, M88, Wellington Place, 2-8 Wellington Street, Central, Hong Kong, p. 2217 8880, 中環威靈頓街2-8號威靈頓廣場M88 7樓魚治
8. R&R Bagels
Calling all lovers of bagels, check out R&R Bagels in Central for lunch. The cafe caters to meat-eaters, vegetarians, and vegan diets. Find a range of bagels like the English Breakfast that features smoky bacon, to Smoked Salmon, and Avocado Feta to The Vegan that is topped with arugula, coconut, almonds, and more. Pick up a coffee, tea, or fresh juice as well to complete your meal.
R&R Bagels, G/F, 28 Li Yuen Street West, Central, Hong Kong, p. 2178 5168, 中環利源西街28號地舖
9. HAND3AG
If you need an affordable grab-and-go meal during lunchtime in Central, HAND3AG will be the best spot. Located in the revitalised Central Market, this stall offers a myriad of scrumptious sandwiches, featuring teppanyaki meats and fillings. Popular items on the menu include the Soft Shell Crab & Shrimp Salad Sandwich and the Continental Iron House Sandwich; vegetarians can go for the AI Pork Cutlet, which is made with meat-free schnitzel, mozzarella, guacamole, and more.
Wanna explore more at the Central Market? Check out our handy guide.
HAND3AG, Shop 242C, 2/F, Central Market, 93 Queen's Road Central, Central, Hong Kong, p. 6275 8839, 中環皇后大道中93號中環街市2樓242C號舖
10. Testina
Casually elegant, yet exceptionally filling – this was our lunch experience at Testina. This new restaurant in Hong Kong delivers much more than your typical Italian fare. Going beyond pastas and salads – which are all wonderful, BTW – are its signature dishes that put the spotlight on offal. From the addictive Fried Tripe, to the flavourful Charcoal Grilled Bone Marrow, to the Insta-worthy Pig's Head with Salsa Verde, Testina will transform the way you see and consume this ingredient. Still feeling unsure? Go for items like Roasted Onion; Hanger Steak; and you're definitely "safe" in the dessert section, with Cherry Tart and other treats to round off your lunch. For the ultimate feast, let Chef Marco take care of the menu for you – to be shared between your whole table.
Testina, 3/F, 8 Lyndhurst Terrace, Central, Hong Kong, p. 2798 0668, 中環擺花街8號3樓
11. Cornerstone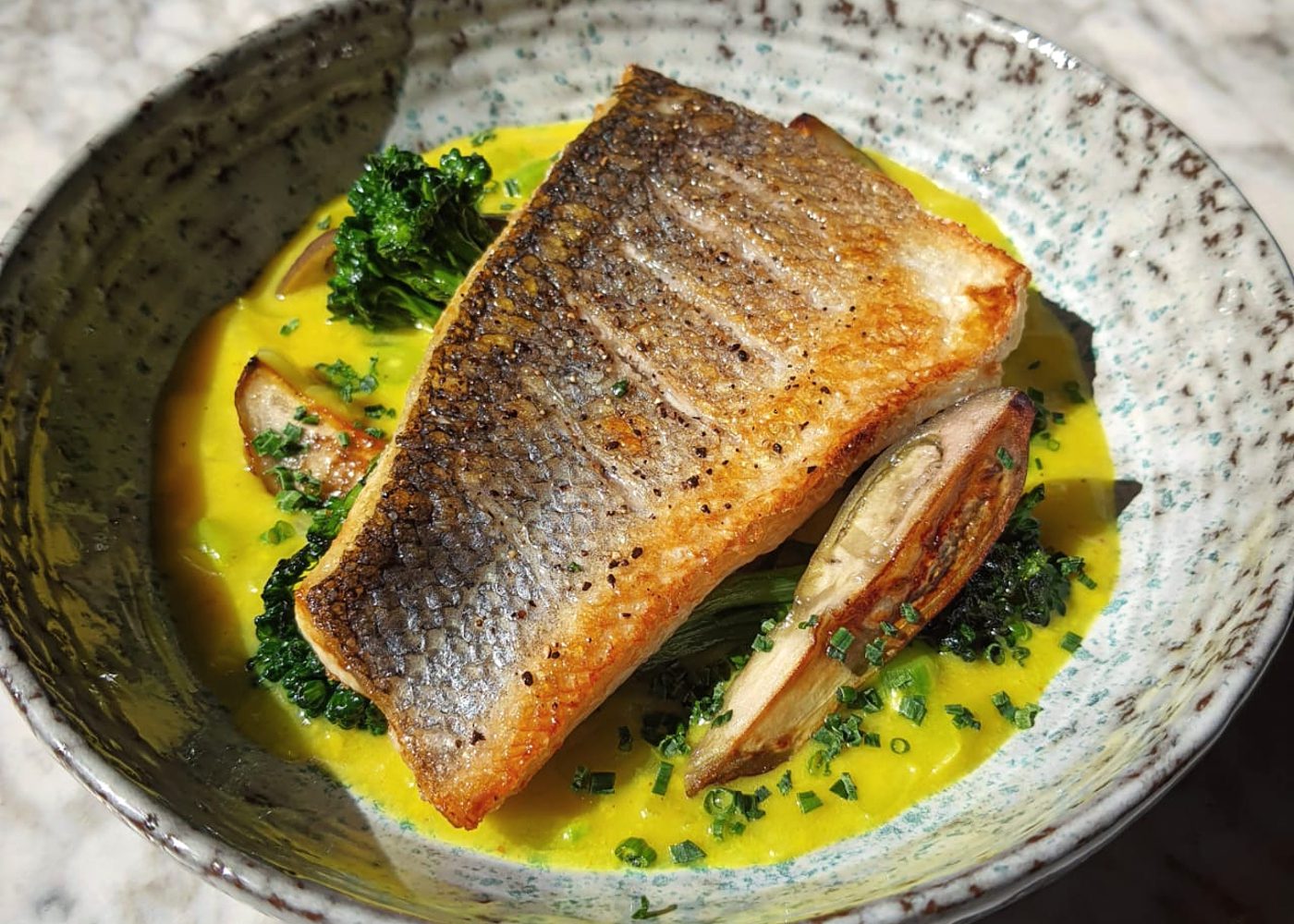 This little gem from Shane Osborn (the man behind Arcane) is a must-try for both lunch and dinner. Cornerstone Express is a lunch menu that takes the hassle (and time) out of ordering, offering an appetiser and a main that changes weekly. Crafted from the freshest sustainable ingredients, expect seasonal delights that'll make you happy and satisfied.
Cornerstone, 49 Hollywood Road, Central, Hong Kong, p. 6809 9771, 中環荷李活道49號
12. Uma Nota
Bringing the flavour (and value) to your lunchtime, Uma Nota's weekday lunch concept is a must-try for those who love fresh and tasty cuisine with friendly service to boot. From 12 to 3pm, enjoy unlimited starters to share, followed by a main, with choices such as coconut rice with grilled tiger prawns; half roasted spring chicken; or the vegetarian Karana jackfruit rice, served with cassava farofa and carioca beans. Add a sweet treat, coffee, or tea, and you'll be all refreshed to bring your A-game back to work in the afternoon.
Uma Nota, 38 Peel Street, Central, Hong Kong, p. 2889 7576, 中環卑利街38號
13. Chotto Maki
Did someone say sushi? At Chotto Maki, you can choose from over 30 fresh ingredients like truffle, unagi, tempura prawns, crabstock, beetroot, asparagus, and more to design and make your sushi roll. There are also recommended rolls, classic rolls, and nigiri sushi available. With big fat rolls under $100, Chotto Maki is one of our fave lunches in Central.
Read more about Chotto Maki.
Chotto Maki, G/F, 3 Li Yuen Street West, Central, Hong Kong, p. 5111 6074, 中環利源西街3號地舖
14. J.A.M. Joint Asian Market
Offering authentic Asian cuisine from Singapore, Vietnam, Korea, and China, J.A.M. Joint Asian Market is a casual food court in the heart of Central. We also enjoy its range of Thai dishes here, including Fried Shrimp Cakes, Grilled Pork Necks, Thai Basil Minced Pork Fried Rice, Pandan Coconut Sesame Dumplings, and more.
J.A.M. Joint Asian Market, Shop G04 & G06, G/F, Nexxus Building, 41 Connaught Road Central, Central, Hong Kong, p. 2808 1086, 中環干諾道中41號盈置大廈地下G04及G06號舖
15. BaseHall
Yet another food hall perfect for lunch in Central is BaseHall. It presents a diverse line-up of vendors, including Moyo Sik for Korean grub; Nüte for healthy options; Francis for Middle-Eastern delights; Honbo for American fare; and more. In addition to the variety of options, we also love the friendly, casual vibes here.
BaseHall, LG9, Jardine House, 1 Connaught Place, Central, Hong Kong, 中環康樂廣場1號怡和大廈LG9號舖
16. Veda
Another one of the best vegetarian restaurants in Hong Kong that serves up a mean lunch is Veda. Its lunch set includes a main of either a Dosa or a three pieces of Idli, accompanied by coconut chutney and sambhar; along with two sides, with choices such as Silk Route Momos and Sauteed Broccolini. Add a dessert or a glass of wine if you're feeling cheeky!
Read our full review of Veda.
Veda, 2 Arbuthnot Road, Central, Hong Kong, p. 3755 3067, 中環亞畢諾道2號
17. Foxglove
You can order the delectable lunch set for two or Chef's Recommendation at Foxglove. Whichever you pick, you get to enjoy a wide variety of starters, soup, entree, and desserts. Items include Pork Dumpling, plum sauce glazed pork spareribs, wagyu beef fried rice, and more. The restaurant environment is extremely elegant – perfect for a business lunch in Central.
Foxglove, 2/F, Printing House, 6 Duddell Street, Central, Hong Kong, p. 2116 8949, 中中環都爹利街6號印刷行2樓
18. The Aubrey
If you're marking a special occasion, or you feel like treating yourself to world-class dishes just because, then head to The Aubrey on the top floor of The Mandarin Oriental. There are various lunch sets available here, including Chirashi Don set, Donburi set, and the popular three-layer bento box. This box offers a choice of main (which changes seasonally), with items such as pan-fried duck breast; pork katsu sando; cauliflower with shiso salsa; sea bass; and the signature Miyazaki wagyu tenderloin. The main dish is accompanied by house-made pickles, tempura, miso soup, and more. Be careful not to overrun your lunch hour as The Aubrey's stunning interior (and food) will keep you enticed – you won't even notice the time!
Read our review on The Aubrey.
The Aubrey, 25/F, Mandarin Oriental Hong Kong, 5 Connaught Road, Central, Hong Kong, p. 2825 4001, 中環干諾道中5號香港文華東方酒店25樓
19. Bedu
Fancy some middle-eastern delights for your lunch? Try the weekday lunch set at Bedu, which offers a starter and a main. The Three Yellow Chicken Mousse with saffron mustard and pickled apple may be a good choice to start with, but we simply can't pick a favourite for the mains! Take your pick between Charred Chermoula Chicken with pickled chilli, tabouli, and lemon; Garlic Prawn Mujaddara with fennel, chilli, and caramelised onions; and vegetarians can go for Roasted Local Eggplant paired with hummus and couscous salad.
Check out our full review on Bedu.
Bedu, 40 Gough Street, Central, Hong Kong, 中環歌賦街40號地舖
20. Morty's Delicatessen
Sandwiches are a classic lunch option, and Morty's Delicatessen in Jardine House delivers. Find smoked meat sandwiches like Classic Pastrami and Smoked Turkey, as well as speciality sandwiches like Grilled Cheese, Egg Salad, and Smoked Truffle Chicken Salad. Every sandwich also comes with half a pickle, fries, or a house salad – talk about a great lunch set!
Morty's Delicatessen, Shop 12-14, LG/F, Jardine House, 1 Connaught Place, Central, Hong Kong, p. 3665 0900, 中環康樂廣場1號怡和大廈地庫12-14號舖
21. Mak Mak
When it comes to the best lunches in Central, what list would be complete without this joint? Head over to Landmark for some great Thai food at Mak Mak. This restaurant not only caters to meat eaters, but also has menu items that will appease every vegan needs. Get your classics in like Tom Yum Goong, Pad Thai, and green curry. We definitely recommend their pomelo salad and their wok-fried crispy soft crab. Moreover, the grab-and-go station out the front has a selection of curries, stir-fries, and sweets for those looking for an easy lunch on the go.
Mak Mak also makes it to our list of restaurants with secret vegan menus, so that the whole crew can be fed.
Mak Mak, Shop 217A, 2/F Landmark Atrium, 15 Queen's Road, Central, Hong Kong, p. 2983 1003, 中環皇后大道中15號置地廣場2樓217A室
22. Nood Food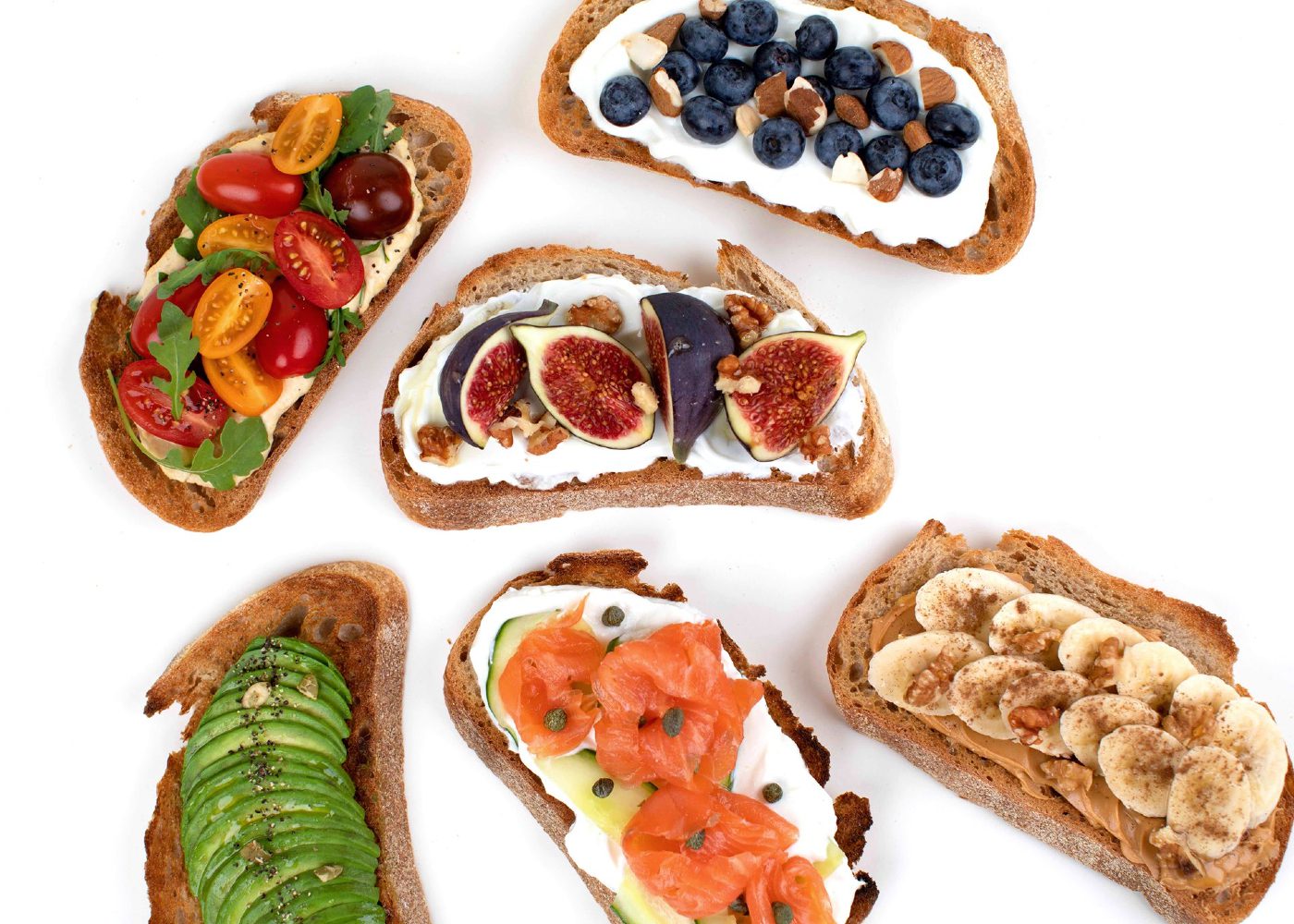 Looking for a light but tasty lunch in Central? Find Nood Food on Hollywood Road, serving great salads, tender chicken pieces, vegetable soup, fresh fruit smoothies, and cold-pressed juices. Sit inside the brightly lit cafe and enjoy the street view, or take away your lunch in recyclable containers.
Nood Food also makes it to our guide of best juice bars in Hong Kong.
Nood Food, 2/F, Kinwick Centre, 32 Hollywood Road, SoHo, Central, Hong Kong, p. 8199 8189, 中環蘇豪荷李活道32號建業榮基中心2樓
23. The Pizza Project
The affordable lunch set at The Pizza Project got us feeling fusilli! Plunge into your favourite Italian comfort foods; pick an appetiser, drink, and a classic pizza of your choice to make lunch hour worth looking forward to (even more). If you want a dolce vita at 1pm, just add on a tiramisu you can't go wrong with. You may have to throw in a couple extra bucks if you plan on going for the burrata or salsiccia – but it's worth it.
The Pizza Project, G/F, 26 Peel Street, Central, Hong Kong, p. 2311 1815, 中環卑利街26號地舖
Mamma Always Said (permanently closed)
Located in SoHo, Mamma Always Said is a chill hangout with various small bites and beverages. The Sandwich Country Ham is our fave for its crispiness, but we also like the Grilled Octopus and Hanger Steak. If you want a glucose spike to recharge your energy, grab their delicious Passion Fruit Cheesecake or a Nutella Cookie.
Read our full review on Mamma Always Said.
Mamma Always Said, G/F, 42 Peel Street, Soho, Central, Hong Kong, p. 2386 2216, 中環卑利街42號地舖
Poem (permanently closed)
Helmed by two native Balinese chefs, Poem is dedicated to serving sustainable family-style Balinese cuisine. Despite being in the CBD, Poem serves a refreshing salad on top of the main course from just over $100. Whether you choose to have an earthy vegetable yellow curry or spicy red snapper, you will feel like being in a Balinese resort. Another thing we like about Poem is that you can add on a range of chef's specials, such as Soft Shell Crab and Wagyu Cheek Bao.
Poem, 5/F, LKF Tower, 33 Wyndham Street, Central, Hong Kong, p. 2810 6166, 中環雲咸街33號 LKF Tower 5樓
POP Vegan (permanently closed)
So, POP Vegan is technically in SoHo, but it's definitely worth heading up the escalators and escaping the madness in Central. Offering an entirely vegan menu that includes everything from pizza and pasta to hedgehog mushroom shakes, we love the relaxed vibe here. Plus, you can pick up a range of vegan cooking ingredients while you're there.
Read our full review of POP Vegan.
POP Vegan, 1/F, 28 Elgin Street, SoHo, Central, Hong Kong, p. 2628 6211, 中環蘇豪伊利近街28號1樓