Sizzling hot yakitori is a must at izakaya restaurants (Photography: Mokutan via Facebook)
We're spoiled for choice when it comes to izakaya restaurants in Hong Kong, but we've got some less well known ones up our sleeves! Read on for our favourites.
Is it just us, or do Hongkongers simply love Japanese food? (And Korean fried chicken. Oh, and Italian pasta, too.) So it's no surprise that so many izakaya restaurants are popping up across the city. But hey, we aren't complaining! After all, izakaya restaurants – think of them as Japanese pubs and taverns – always have the best sake and beer, fresh-off-the-grill yakitori, and super cosy vibes. And as much as we adore Fukuro, Tokyolima, Honjo, and Kyoto Joe – and because we know you, too, are also regulars by now – it's time for us to give some love to the less well known izakaya in Hong Kong. See if you've made it to any of the ones below!
Hidden gems in Hong Kong: Izakaya edition
1. Mokutan
Kimberley Street in TST may be known as Korean Street, but did you know there's also a popular Japanese izakaya in the mix? Mokutan specialises in omakase menus, where the chefs decide the menu for you – these are more common in sushi bars in Hong Kong, so if you wish to try yakitori (skewers) omakase-style, Mokutan is the place to be. With only around two dozen seats, this intimate izakaya offers a 12-course omakase menu, as well as an a la carte menu. The restaurant also offers a lunch set menu, featuring a variety of donburi (Japanese rice bowls) at relatively economical prices.
Mokutan, Shop 2, G/F, 8 Kimberley Street, Tsim Sha Tsui, Hong Kong, p. 2708 2009, 尖沙咀金巴利街8號地下2號舖黑木
2. Enso
Believing that there's more than one way to approach the traditions of yakitori and izakaya, Enso fuses Japanese culinary techniques with western elements to bring about a modern and unique dining experience. You can take a seat by the bar to get a closer look at the action in the kitchen, or gather with your friends in the box seats. As for the food, our favourites are the grilled ox tongue, Angus tataki, and the scrumptious Bom Bom Bom – runny egg yolk encased in a ball of minced chicken, with bits of chicken soft bone to enhance the texture. In addition, we love the fact that Enso is conveniently located by the sea and is a pet-friendly restaurant. So, feel free to drop by for a drink and enjoy the sunset after walking your dog along the promenade.
Looking for more places to go in K Town? Check out our guide to Kennedy Town.
Enso, Shop 5, G/F, 25 New Praya, Kennedy Town, Hong Kong, p. 6899 0960, 堅尼地城新海旁街25號地下5號舖
3. Isono Suisan
Craving some seafood? Isono Suisan has you covered. While the restaurant specialises in hamayaki – cooking freshly caught seafood as it is – it also offers several other preparations, such as sliced and diced as sashimi, braised in sake, or simmered in a hotpot. Moreover, there's a range of seafood at Isono, with crowd favourites being the abalone, snow crab legs, and lobster. Want to try a bit of everything? Order the Seasonal Boxes, each featuring a different combination of seafood.
Isono Suisan, 19/F, Macau Yat Yuen Centre, 525 Hennessy Road, Causeway Bay, Hong Kong, p. 2766 3678, 銅鑼灣軒尼詩道525號澳門逸園中心19樓磯野水產
4. Hige Izakaya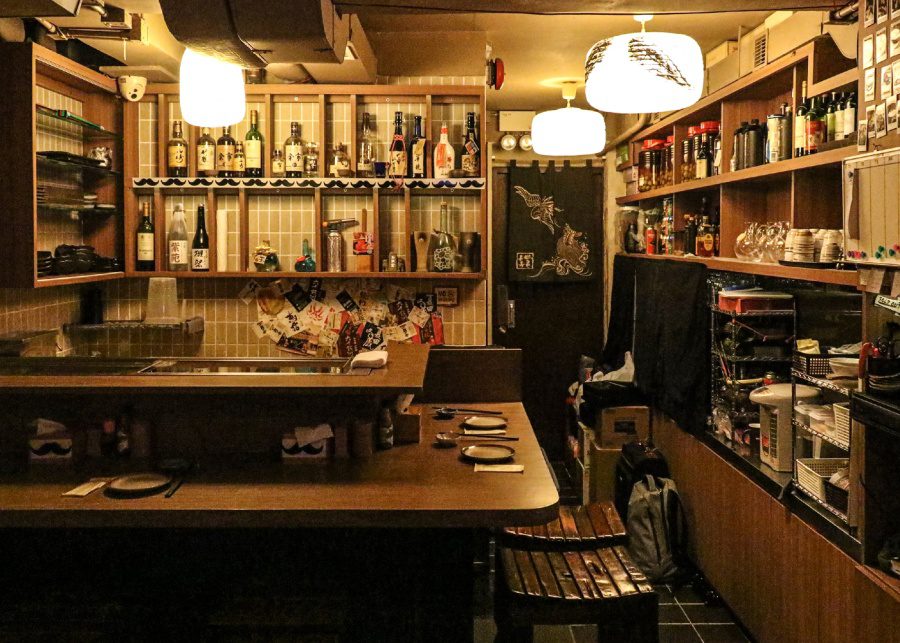 Don't let Hige's location put you off! We promise it's well worth the work. Hidden just a few steps away from Caine Road, Hige is a casual and cosy izakaya that's reminiscent of eateries in small Japanese towns. On top of its signature kushiyaki (meat skewers), the restaurant also offers a variety of grilled and pan-fried dishes, deep-fried items, sashimi, Japanese hotpots, and more. Complete your izakaya experience by pairing the dishes with sake, shochu, draught beer, whiskey, soft drinks, and other beverages. If you're not sure what to order, Hige also features special sake pairing menus, as well as omakase menus.
Hige Izakaya, Shop A, G/F, Woodland House, 9A-9C Castle Road, Mid-Levels, Hong Kong, p. 2503 3533, 半山衛城道9A-9C號活倫大廈地下A舖髭
5. Kyozasa Restaurant
You can't go wrong with a Japanese restaurant in Hong Kong when it's actually recommended by the Japanese community here! One of the most authentic izakaya in Hong Kong, Kyozasa is down-to-earth and reasonably priced. Popular items include dried puffer fish, grilled rice balls, and Japanese horse mackerel sashimi. Make sure to ask the restaurant to prepare the fish bones for you as well; after deep-frying, they're the perfect complement to any drink!
Kyozasa Restaurant, 1/F, Bo Fung Building, 34 Haiphong Road, Tsim Sha Tsui, Hong Kong, p. 2376 1888, 尖沙咀海防道32-34號寶豐大廈1樓京笹居酒屋
6. Hana Izakaya
Complete with a faux cherry blossom tree, a kimono and an assortment of sake labels on the walls, Hana's beautiful decor will make you feel as if you're in Japan. Although Hana doesn't feature a semi-open kitchen like most other izakaya, it offers a good range of skewers. Its sushi is also popular. In addition, Hana has an awesome buy-one-get-one-free deal for lunch sets, so make sure to pay the restaurant a visit during the day.
Hana Izakaya, G/F, Tsuen Bik Building, 108-114 Hoi Pa Street, Tsuen Wan, Hong Kong, p. 2155 0980, 荃灣海壩街108-114號荃碧大廈地舖花居酒屋
7. Juuko
For those who enjoy sake pairings, look no further than Juuko. This izakaya in Hong Kong has come up with several sake and omakase pairing menus, as well as a-la-carte items for kushiyaki, sashimi, deep-fried dishes, and more. And of course, there is a variety of seasonal sake available here, too. Before you leave, be sure to take a pic in front of the izakaya; it has a small, unique space decorated like a Japanese bus station – perfect for the 'gram!
Juuko, Shop 93, G/F, Fuk Shing Mansion, 89-93 Ma Tau Wai Road, To Kwa Wan, Hong Kong, p. 6019 3998, 土瓜灣馬頭圍道89-93號福星大廈地下93號舖十戶