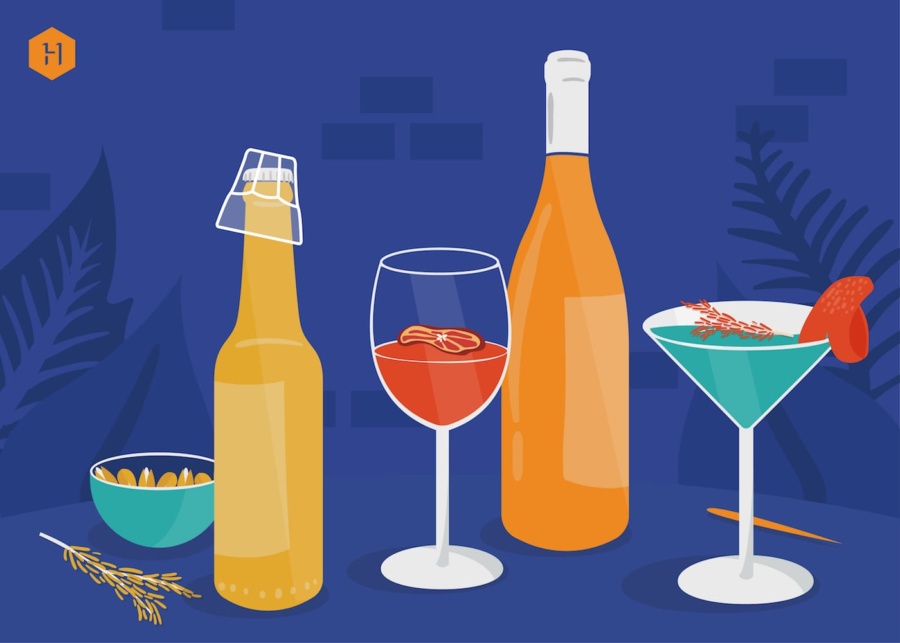 Illustration: Julia Azron
Looking for a cheap night out with loads of delicious drinks and indulgent finger food? These are the best happy hours in Hong Kong that you need to know about.
Planning on a fun night out to catch up with your friends, or just looking for a post-work treat? While our long-awaited farewell to the pandemic signifies the return of karaoke bars, live music venues, and stand-up shows, nothing beats some good happy hour deals in Hong Kong. So, grab your gang for a tipple or two!
Chill out with the best happy hours in Hong Kong
1. Aqua Spirit
Chase the sunset at Aqua Spirit, one of the most glamorous rooftop bars in Hong Kong. With killer views to complement your tipple, happy hour just can't get much better! Start your weekend celebrations early every Saturday from 4 to 9pm, during which you can enjoy drinks at special prices from the "Ritual" menu. In addition to Champagne and wines by the glass or by bottle, you can choose between a selection of classic and creative cocktails. From the good ol' Aperol Spritz ($80) to the refreshing Tropical Sour ($100), to the fruity (and our fave!) Berry and Gold Martini ($100), Aqua Spirit has your Saturday eve sorted.
Aqua Spirit, 17/F, H Zentre, 15 Middle Road, Tsim Sha Tsui, Hong Kong, p. 3427 2288
2. Maka Hiki
Let your hair down at this "tiki chic" bar and grill! At Maka Hiki, you can enjoy Sunset Happy Hour from Monday to Friday between 3 and 7pm. Cocktails such as Aperol Spritz start from $70, house beers at $45, and a selection of wines at $60. Wanna try something a little more special? Kick back with Maka Hiki's infamous sharing cocktails, which can be ordered a la carte. Make it a real party with the Forgotten Shell ($1,888) which serves eight to 12 people and topped up with a whole bottle of Champagne. You can also take your pick between quirky cocktails like Dum Dum Give Me Rum Rum ($150), Maka Hiki Punch ($180), and Bikini Girl ($130, or $90 during happy hour) – all served in authentic tiki glasses.
Maka Hiki, 2/F, Little Tai Hang, The Corner House, 98 Tung Lo Wan Road, Tai Hang, Hong Kong, p. 2155 1777
3. Tempo Tempo
Wanna enjoy the sunshine, but also cool down from the heat? Head to Tempo Tempo, the spacious al fresco terrace at The Sixteenth, and enjoy a refreshing tipple. The happy hour here goes from 3 to 7.30pm on weekdays, offering bubbles, wines, and cocktails from $68. Pair them with Italian nibbles, cold cuts, mini pizzas, sushi, desserts, and other snacks. If you're at Tempo Tempo on a Thursday, be sure to try its Pink Thursdays promotion, which features a selection of pink cocktails – think Strawberry Mojito and Pink Tommy's Margarita – from 3 to 7.30pm. Oh, and you can get a complimentary double-size upgrade on the AIX Rosé, too!
Tempo Tempo, The Sixteenth, 2/F, Oxford House, Taikoo Place, 979 King's Road, Quarry Bay, Hong Kong, p. 2788 3037
4. Cruise, Hyatt Centric Victoria Harbour
Speaking of rooftop bars in Hong Kong, you can't miss out on Cruise in Hyatt Centric Victoria Harbour. We're big fans of its outdoor terrace (who can say no to its views?), as well as its Cruise Happy Hour. Going from 4 to 7 pm everyday, you can grab selected drinks at 50% off.
Cruise, 23/F, West Tower, Hyatt Centric Victoria Harbour, North Point Estate Lane, North Point, Hong Kong, p. 3896 9898
5. The Pontiac
Nothing beats The Pontiac when it comes to having a lit time and enjoying the best deal in Central. Its Ponty Hour runs daily from 4 to 7pm, during which you can enjoy a glass of wine for $40, and a range of super fun cocktails, including both classic and unique creations, for just $50. Don't be fooled by its friendly rates – this bar never compromises on the quality of its drinks. Plus, the fact that the staff is amazing and the vibe is a refreshing change from the usual HK hang makes us love it even more.
Read our full review of The Pontiac.
The Pontiac, 13 Old Bailey Street, SoHo, Hong Kong, p. 2521 3855
6. Frites
Looking for that regular stopover for post-work drinks? Well, look no further – the happy hour is available at Frites from 3 to 8pm on weekdays. You can pair your steaks with half-priced bottled beer, draught beer, champagne, wine, and spirits.
Frites has multiple locations in Hong Kong.
7. Ask for Alonzo
If you're looking for a refreshing cocktail after work, then you're going to want to head for Ask for Alonzo. Between the Alonzo Hour of 3 and 8pm everyday, its vodka lemonade is $58 while a selection of their house wines and prosecco is reduced to just $48. Other equally affordable options include the Classic Negroni, Campari Spritz, and more.
Ask for Alonzo has several branches across Hong Kong Island.
8. Yurakucho
Delight in delicious Japanese izakaya flavours while knocking back a few at Yurakucho! You won't wanna miss out on the special happy hour, happening from Monday to Saturday between 5 and 7pm. Inspired by gado-shita – "below the train tracks" – the drinks at Yurakucho aims to bring the underground hangouts of Tokyo to Hong Kong. At just $60, you can sip on flavoured highballs, wines, prosecco, and even highballs on tap. Look out for the "Sonic on Tap", which is made with Ki No Bi gin, Kyoho grape, sencha tea, soda, and tonic. Or, upgrade to cocktails and house spirits like Negroni, Aperol Spritz, or Margarita for $80.
Yurakucho, G/F, Yu Yuet Lai Building, 43-55 Wyndham Street, Central, Hong Kong, p. 2663 0068
9. Beefbar
Here's your chance to enjoy a Michelin-starred experience at unbeatable value! Beefbar's happy hour goes from 5pm till late between Monday and Saturday. What's more, things get turned up a notch on Thursdays and Fridays! With hip hop tunes from a live DJ thumping in the background, you can delight in two hours of free-flow drinks and skewers at $600 between 5 and 8pm. Go bottomless on house wines, beers, spirits, and signature cocktails.
Beefbar, 2/F, Club Lusitano, 16 Ice House Street, Central, Hong Kong, p. 2110 8853
10. Ichu
There's nothing like unwinding on the beautiful al fresco terrace in Ichu. Known for its Peruvian delicacies, Ichu also offers a mean happy hour deal: La Hora Sagrada. Take your pick between house wines, prosecco, and draft beer for just $50, or add another $10 to 20 for cocktails. Just head over any weekday from 3 to 6pm. Additionally, every Wednesday for the ladies is a chance to try refreshing cocktails at special prices. The Ginspiration ($80) and Aperol Spritzes ($60) will keep the ladies satisfied while a live DJ pumps tunes all evening.
Ichu, 3/F, H Queen's, 80 Queen's Road Central, Central, p. 2477 7717
11. The Continental
Forget about day drinking – morning drinking is what we're talking about at The Continental. While Monday to Friday happy hour spans from 4.30 to 7.30pm, come the weekend it's pretty much all day! Spirits, beers, house wines, and selected cocktails go from $68 here, ensuring that you have plenty of time to get boozed up – with change left in your pockets, too. With a tropical garden terrace, The Continental is one of our favourite places to enjoy a leisurely happy hour in Hong Kong.
The Continental, Unit 406, L4, Pacific Place, 88 Queensway, Admiralty, Hong Kong, p. 2704 5211
12. Pazta
Enjoy wines, beers, and cocktails at discounted prices during Pazta's happy hour from 3 to 7pm on weekdays. You can even munch on some selected snacks while knocking back the drinks – all at happy hour prices, of course!
Pazta, Shop 03-G08, G/F, Barrack Block, Tai Kwun, 10 Hollywood Road, Central, Hong Kong, p. 2626 1186
13. The Praya
Hong Kong snacks with a twist are coming to The Praya for happy hour. From 3 to 7pm daily, you can munch on Crispy Prawn & Pork Wonton at a reduced price. And of course, happy hour wouldn't be complete without a few tipples, so sip on the two inventive cocktails – the Hong Kong Tonic and Orange Blossom – at special prices. Or, you can go for the selection of house wines, too. Enjoy happy hour the Hong Kong way!
The Praya, Level 3, 181 Connaught Road West, Shek Tong Tsui, Hong Kong, p. 3181 1666
14. Hugger Mugger
Have you spotted the mysterious little red door on Wyndham Street? British speakeasy Hugger Mugger has a happy hour you won't want to miss. Offered daily from 5 to 8pm, you can enjoy wines, spirits, and beers starting at $48, as well as cocktails starting at $55. Let this hidden gem transport you to the cool underground and escape from the hustle and bustle of Central.
Hugger Mugger, Basement, 43-55 Wyndham Street, Central, Hong Kong, p. 2362 8988
15. Armoury Terrace
Head to the Armoury Terrace in Tai Kwun and score selected drinks at happy hour prices between 3 and 6pm from Sunday to Thursday. Whether you're looking for wine, beer, or a cocktail, this social hub is the place to be.
Armoury Terrace, Shop 02-G/F, Armoury Building, Tai Kwun, 10 Hollywood Road, Central, Hong Kong, p. 9738 4979
16. James Suckling Wine Central
​​Wine lovers, this one's for you! From 4.30 till 6pm, drop by James Suckling Wine Central to try out 10 hand-selected wines on its happy hour menu, all for just $60 per glass. The wines vary daily, so you can be sure to enjoy something new every time you visit. Feel free to pair the wines with a snack or two, as well.
James Suckling Wine Central, 2/F, 22 Staunton Street, Central, Hong Kong, p. 2539 7999
17. Boticario Bar & Grill
Let the vibrant waterfront hangout Boticario Bar & Grill cure your work stress. From 3 to 7pm everyday, you can enjoy a two-for-one deal for drinks. Inspired by the concept of healing (hence Healing Hours), Boticario's cocktails come in picture-perfect glass containers. Make sure to check out Boticario's spacious balcony for soothing sea breezes, too.
Boticario Bar & Grill, Shop G5 & UG 15, Tsim Sha Tsui Centre, 66 Mody Road, Tsim Sha Tsui East, Hong Kong, p. 2765 0800
18. Foxglove
A classy and contemporary-chic tavern tucked behind an umbrella shop, Foxglove is one of our firm favourites in Hong Kong. The bar's retro vibes are often paired with live music, dim sum, and fine happy hour discounts. You can get red wine, white wine, craft beer, vodka, and gin for $60, and selected cocktails for $100. Happy hour goes from 5 to 7pm on weekdays.
Foxglove, 2/F, Printing House, 6 Duddell Street, Central, Hong Kong, p.2116 8949
19. Emmer Pizzeria & Café
A slightly upscale pizza joint, Emmer's happy hour comes with ridiculously affordable quality house drinks, priced from just $45. Drop by any day from 4pm until 8pm to pair your pizza with the best reds on the menu. We love to chill in the al fresco dining area during the evening when the Pacific Place terrace lights up.
Emmer Pizzeria & Café, Shop 407, Level 4, Pacific Place, 88 Queensway, Admiralty, Hong Kong, p. 2780 1110
20. Amalfitana Central
Every weekday between 3 and 6pm, head to Amalfitana Central for Amalfi Hour! Drinks cost only $28 from 3 to 4pm, then it goes up by $10 every hour until 6pm. During this period, you can enjoy wines, prosecco, bottled beers, Aperol Spritz, and more.
Amalfitana Central, Shops D & E, G/F, Yu Yuet Lai Building, 43-55 Wyndham Street, Central, Hong Kong, p. 2688 2001
21. The Dispensary
Here's yet another hideout nestled inside the quarters of Tai Kwun. Sandwiched between Cantina and The Chinese Library, The Dispensary's happy hour starts from 3 to 7pm everyday. Enjoy a two-for-one deal on drinks along with bar bites.
The Dispensary, Block 01, Tai Kwun, Police Headquarters, 10 Hollywood Road, Central, Hong Kong, p. 2848 3000
22. Funky Monkey
One of the best known tiki bars in Hong Kong, Funky Monkey is a fun and exotic getaway ideal for clocking off and some crazy good times after sundown. While there are different offers for each of Funky Monkey's three branches, the happy hour deal remains the same – buy one, get one free.
If it's your first time at the Funky Monkey, we'd recommend the Flaming Monkey, which is a variation of the Zombie, a popular tiki cocktail. This rum-based bev is pretty damn strong, plus it has a fire performance (!) to go with it – perfect for the 'gram!
Funky Monkey has several locations in Hong Kong.
23. Cadillac Bar & Grill
Did you know that your favourite neighbourhood Mexican-American joint has an amazing happy hour discount? From 2 to 7pm on weekdays, selected drinks (like the famously lethal margaritas) start at just $18 and go up by $10 every hour. Start drinking earlier to save the most and get your money's worth with this sweet deal.
Cadillac Bar & Grill, 7/F, Hysan Place, 500 Hennessy Road, Causeway Bay, Hong Kong, p. 2521 2322
24. The Optimist
Friendly service? Check. Beautiful interiors? Check. Great drinks? Check! The Optimist is a wonderful spot for an after-work tipple, serving The Optimistic Hour between 3 and 7.30pm, every day of the week. Grab a selection of wines, cocktails, and beers from just $48, and wash your drink down with some of its signature Padron Peppers – yum.
The Optimist, G-2/F, 239 Hennessy Road, Wan Chai, Hong Kong, p. 2433 3324
Carbon (temporarily closed)
Discounted drinks paired with priceless rooftop views? Sign us up! This summer, Carbon is launching its happy hour deal. From noon till 7pm every day (note that Carbon is closed on Mondays, though), selected spirits, beers, wines, and cocktails go from just $58. What's more, you can enjoy all-day happy hour on Wednesdays, so that you can say goodbye to your midweek blues!
Carbon, 26/F, H Code, 45 Pottinger Street, Central, Hong Kong, p. 6166 8585
Piin Wine Restaurant (permanently closed)
From Monday to Saturday 12pm to 7pm, enjoy French Hour at PIIN Wine Restaurant in Central. Sample unlimited white and red Burgundy wines for two hours at $350, and cure any lingering work stress in the process.
Piin Wine Restaurant, 2/F, H Code, 45 Pottinger Street, Central, Hong Kong, p. 2832 7123
Gradini Ristorante e Bar Italiano (permanently closed)
Looking for the best happy hours? Gradini wants you to sparkle during happy hour, so they offer Prosecco-Tio between 5 and 9pm every day. For $78, enjoy drinks from the bubbly collection and complimentary sample plates of cheese and cold cuts. Bellisimo!
Gradini Ristorante e Bar Italiano, Lobby Level, The Pottinger Hong Kong, 74 Queen's Road Central, Central, Hong Kong, p. 2308 3088
Hemingways (permanently closed)
In Discovery Bay and looking for some of the best happy hours in Hong Kong? You can't beat the price at Hemingways, complete with ocean views. Pull up a seat and indulge in drinks from just $35. The best part is that Hemingways offers special deals, such as Bubbly Sundays – from $45 for a glass of prosecco – and also $45 for a Cosmopolitan on Tuesdays. It's definitely the place to be when you're in need of a quick tipple.
Hemingways, Shop G09, D'Deck, DB Plaza, Hong Kong, p. 2987 8804
Candour (permanently closed)
Another season, another brand new happy hour deal at Candour! Named "Bounce Back", the happy hour at this hip hop lounge goes from 5 to 9pm every Tuesday. Delight in trusty house pours, wines, beer, and a selection of bar bites – all from just $48. And if you're of the fairer sex, you're in luck: Candour has launched Planet Her, a new Ladies' Night offer, every Wednesday night. Immerse yourself in the hip hop tunes from the live DJ decks while sipping on Lillet Blanc highballs on the house between 8 and 9pm. Say buh-bye to those mid-week blues!
Candour, 65 Peel Street, Central, Hong Kong, p. 2362 8100
Rula Live (permanently closed)
Wanna watch a game of sports while downing a pint? Head to Rula Live and enjoy discounted prices on selected beers, wines, ciders, and spirits, with drinks going from just $49 everyday from 4 to 8pm.
Find out why Rula Live is also one of our fave Irish bars in Hong Kong.
Rula Live, G/F, Grand Progress Building, 58-62 D'Aguilar Street, Lan Kwai Fong, Central, Hong Kong, p. 6031 2116
Monsoon (permanently closed)
We've fallen head over heels for Monsoon's refreshing drinks and delicious snacks. Priced at $168, its daily 90-minute free-flow package is a great addition to your meal. The menu features over 18 types of beverages, ranging from wines to spirits, and juices to cocktails. If you happen to be at Monsoon between 3 and 5.30pm for happy hour, try its high tea set ($248 for two) and pair your rice paper rolls, cakes, seafood, and more with some booze.
Monsoon, Shop 1045, 1/F, Elements, 1 Austin Road West, Tsim Sha Tsui, Hong Kong, p. 2511 0100