Thanks to food delivery in Hong Kong, we can get fed up right even without leaving the comfort of our homes.
Living in the food paradise that is Hong Kong, we are always on the hunt for beautiful cakes and delicious hot pot. And while al fresco dining and fine dining may give the most uplifting experiences, don't you sometimes just want to enjoy good food while cosying up at home? So, we've rounded up the best food delivery in Hong Kong that will fix your cravings in no time.
Cosy up with the best food delivery in Hong Kong
1. Hotel Icon
Can't wait to travel to Southeast Asia? Journey to Singapore, Malaysia, and Thailand with Hotel Icon's 'Southeast Asian Cuisine Takeaway' service. With over 30 authentic and mouthwatering dishes on offer, including the classic Bak Kut Teh, Black Pepper Crab, Curry Fish Head with Claypot, Thai Red Curry Seafood Platter, and many more, you'll be spoiled for choice.
Order Hotel Icon's 'Southeast Asian Cuisine Takeaway' online.
2. The Upper House
If you're looking for a sumptuous feast to share with your family, the food delivery from The Upper House will not disappoint. In addition to the array of Mediterranean-inspired a la carte items, we love the Family Dinner Set from Salisterra, which features a Roasted Herbes De Provence Chicken (which is just oh-so-juicy!), Olive Oil Crushed Potatoes, Lemon Tart, a bottle of rosé, and our favourite Saicho Sparkling Tea.
Order from Salisterra online.
3. Shangri-La To Go
Island Shangri-La, Kowloon Shangri-La, and Kerry Hotel are re-introducing its 'Shangri-La To Go' services. From Japanese bento boxes to sizzling clay pot dishes, to elegant afternoon tea sets, you'll find a variety of premium food and beverage options available. New items from Island Shangri-La include Lobster Bar and Grill's signature dessert pies; classic dim sum from Summer Palace; and more. There are also new releases over on the Kowloon side, such as the five-course Italian set meal from Angelini, and creative dishes in the takeaway buffet box from Big Bay Café.
Order via the eShops of Island Shangri-La, Kowloon Shangri-La, and Kerry Hotel.
4. JIA Everywhere
If you are fans of Jia Group's restaurants like Chachawan, Duddell's, Louise, and 22 Ships, you have to try their delivery service JIA Everywhere. From a la carte dishes to catering menus, an array of food and beverages from Jia Group's 13 restaurants are available on one platform.
Order from JIA Everywhere.
5. Black Sheep GO
From Greek chicken gyros to beef pho, you can enjoy all kinds of cuisines from Black Sheep Restaurants. That's right, whether you'd like to try the zesty tacos from Taqueria Super Macho; curated Beiruti Boxes from Maison Libanaise; or fresh-out-of-the-oven pizzas from Motorino; Black Sheep GO has them all. Moreover, you can now purchase from The Cellar Selection, which offers a rotational selection of wines curated by the expert sommeliers at Black Sheep. Cheers to that!
Order from Black Sheep GO.
6. ZS Delivery
Wanna experience fine dining at home? ZS Hospitality Group restaurants are now available for pick-up and delivery via ZS Delivery. For those craving contemporary Korean cuisine, go for the meal sets created by the team at Hansik Goo. Options include Abalone Samgyetang Sharing Set and Galbi Jjim. If you feel like having some Chinese or vegetarian food on the other hand, Miss Lee is at the ready. With Hot & Sour Shanghai Noodles and the 3-Course Set, you'll surely find something to satisfy your hunger.
Order from ZS Delivery online.
7. Le Comptoir
From two-Michelin-starred French cuisine, to traditional Japanese fare, you can enjoy them all in the comforts of your own home. Le Comptoir delivers our favourite bites from places like Ecriture and Umi, such as Caviar and Uni Tart from the former, and Premium Chirashi Rice and Nigiri Sushi Set from the latter.
Order from Le Comptoir online.
8. Meraki at Home
Bedu and Uma Nota are now available for delivery with Meraki at Home. The menu from Bedu includes set meals of chicken, prawns, veggie, or lamb, as well as a la carte favourites. Also, all set lunches and a la carte options from Uma Nota are available for delivery, with dishes like Frango Asado and Carne de fumeiro.
Order from Meraki at Home online.
9. Nutrition Kitchen
Looking for regular meal plans that are healthy and won't have you shopping for groceries or washing the dishes? Nutrition Kitchen offers regular, flexitarian, and vegetarian meal plans, with different commitment options (two weeks or four weeks). You can count on the team to have your breakfast, lunch, and dinner delivered to your doorstep every morning. All you have to do is heat it up and enjoy! You can take a look at the next week's entire menu before deciding to sign up for the meals.
Check out  our experience with Nutrition Kitchen.
Find out more about Nutrition Kitchen.
10. Foodpanda
A pioneer of food delivery apps, Foodpanda collaborates with over seven-thousand restaurants in Hong Kong, including exclusive vendors such as Gong Cha and CIAK. Their delivery fee is generally cheaper and serves a wider geographic area than some other apps. Other than food delivery, you can also pick up your food from vendors, or shop daily necessities from Pandamart that can be delivered fastest within twenty minutes.
Order from Foodpanda online
11. Deliveroo
Partnering with over eight-thousand restaurants in Hong Kong, Deliveroo has five years of delivery experience in this city. Some Deliveroo-exclusive vendors include Pizza Express, Eric Kayser and The Pasta Project. For users subscribed to Deliveroo Plus ($98 per month), delivery fee can be waived for all orders of $100 or more.
Order from Deliveroo online
12. McDonald's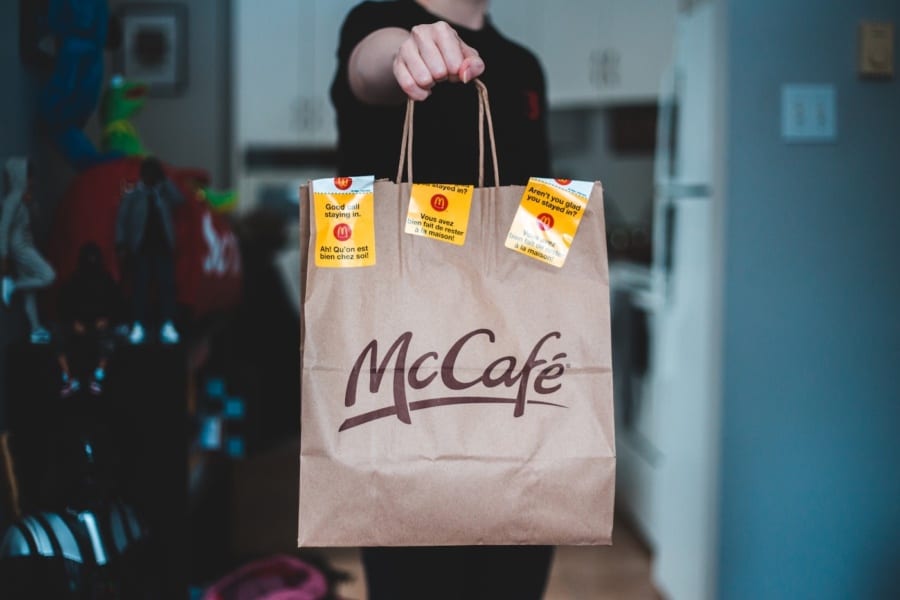 When it comes to the fastest delivery services in Hong Kong, you can never miss out on McDonald's. We love the fact that 24-hour McDelivery does not have delivery fee, plus there are many coupons available on their mobile app. A lot of their combos that come with fries, a burger and a drink cost less than $50, becoming one of the most affordable delivery options in Hong Kong.
Order from McDonald's online
13. KFC
Hands up if you love fried chicken! We have fallen head over heels for KFC's signature fried chicken, egg tart, creamy chicken rice and mashed potatoes. KFC has all kinds of deluxe combos that can cater up to twenty-four people, and they offer different coupons on their mobile app.
Order from KFC online
14. Pizza Hut
Available from 11am to 10:30 pm, Pizza Hut delivery comes with free delivery for orders above $90. Other than a la carte items like Chicken Supreme Pizza and Seafood Fettuccine, huge sets for two to six people are also available. You can even order wings that come in a variety of mouthwatering flavours, with set deals for two or three flavours.
Order from Pizza Hut online.
15. Eatology
Another one for the health enthusiasts! Eatology is a meal plan delivery service in Hong Kong that uses premium ingredients to craft food tailor-made to whatever your diet is. You can choose between vegetarian, Asian, paleo, or even gluten-free low-carb diets for your meal plan. Moreover, you get a free nutritionist consultation for every two weeks purchased. All you have to do is pick your meal plan, get it delivered, heat up your food, then sit back and enjoy.
Find out more about Eatology.