Fish Bar at JW Marriott has a great choice of fresh and sustainable seafood. (Photography: JW Marriott Hotel Hong Kong via Facebook)
Fish and chips aren't just a British affair – these pubs and restaurants in Hong Kong are total a-fish-ionados too! Read on for our top picks.
If anything smells fishy, it's that we are not eating fish and chips as much as we should be. After all, who says only Fridays are for fish and chips when Hong Kong has so many pubs and restaurants that do them well? So whether you're looking for some good ol' pub grub during happy hour, or simply craving a fresh and satisfying meal, here are the best places for fish and chips in Hong Kong.
Where to find the best fish and chips in Hong Kong
1. Fish Bar
Imagine lounging by the pool at a five-star hotel in the heart of Hong Kong. Now add a menu of daily fresh catch and sustainable seafood to the mix. No, it's not a drill – this is all possible at Fish Bar, JW Marriott's classy alfresco restaurant. And of course, fish and chips are one of its signature dishes. Pair it with refreshing cocktails from the Pool Lounge, and that's your foodie staycation getaway – sorted.
Fish Bar, Level 7, JW Marriott Hotel Hong Kong, Pacific Place, 88 Queensway, Admiralty, Hong Kong, p. 2810 8366
2. The Chinnery
If you think fish and chips can't be fancy, think again. The Chinnery – one of the most prestigious hotel restaurants in Hong Kong – serves traditional British cuisine, including classic dishes like fish and chips and shepherd's pie. Upscale, but not stuffy, The Chinnery is the ideal place for you to unwind with a pint (or a whisky) in hand.
The Chinnery, 5 Connaught Road Central, Mandarin Oriental, Hong Kong, Central, Hong Kong, p. 2825 4009
3. The Globe
In search of a friendly gastropub? The Globe is a neighbourhood favourite in Soho, offering British pub grub, a variety of beers, and warm, casual vibes. While The Globe's set menu changes every week, its fish and chips are always on the a la carte menu. Feel free to complement that with one (or two) of the 18 rotating craft brews in the pub, or take your pick from over 100 bottles featured on the beers list.
The Globe, Garley Building, 45-53 Graham Street, Central, Hong Kong, p. 2543 1941
4. White Beard Fish n Chips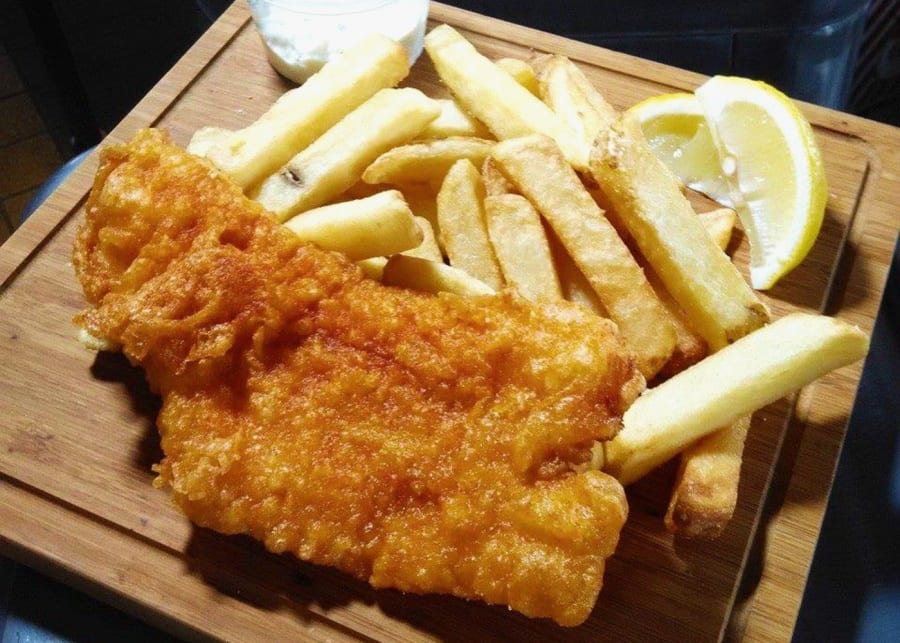 A juicy fillet encased in a thin and crispy batter, served with a generous portion of chips, covered in salt, vinegar, and gravy – fish and chips can't get any better than those at White Beard's. And although the space is intimate, service is responsive and welcoming. On a side note, make sure you eat those chips while they're still hot, otherwise they might turn soggy a little too soon!
White Beard Fish n Chips, G/F, 55A Peel Street, Central, Hong Kong, p. 2803 0082
5. Delaney's
One of Hong Kong's best loved Irish pubs since 1994, Delaney's has made a name for itself with its friendly staff, entertaining atmosphere, and authentic pub food. Get a taste of Ireland with Delaney's lamb or vegetarian boxty, or try its classic fish and chips, featuring deep-fried beer-battered Atlantic cod fillets. While Delaney's is famous as a sports bar, its Kowloon branch is now also offering a special deal every Monday from 3 to 11pm, during which its fish and chips only cost $99. Don't miss out!
Delaney's has multiple locations across Hong Kong.
6. Dot Cod Seafood Restaurant & Oyster Bar
Established in mid-2000, Dot Cod has been one of the go-to seafood restaurants for a refined dining experience in Central. The restaurant entrance features a tall aquarium teeming with tropical fish. Serving beer-battered Atlantic haddock, accompanied by thick-cut chips, mushy peas, and sauce gribiche, Dot Cod's fish and chips is a crowd favourite.
Dot Cod Seafood Restaurant & Oyster Bar, Shop B4, B/F, Landmark Prince's, 10 Chater Road, Central, Hong Kong, p. 2810 6988
7. Fish & Chick
For those who prefer sea bass and barramundi, instead of cod and haddock for their fish and chips, you're in luck. And for the fish averse, Fish & Chick also has French-style rotisserie chicken on its menu. But, this doesn't mean the brand's any less dedicated to its fish and chips!
Fish & Chick has locations in Kennedy Town and Sai Ying Pun.
8. Hooked (reopening in August 2021)
Hooked is one of the best places for fish and chips in Hong Kong, hands down. Prepare to be spoiled by choice at this joint with its range of sustainably caught fish from New Zealand, as well as pies, fresh shellfish, condiments, and more. Prepared in the classic Kiwi style, Hooked's fish and chips will get you hooked without the guilt of being super unhealthy, as the restaurant only uses high-grade, heart-healthy Australian sunflower oil.
Hooked, 80-88 Caine Road, Mid-Levels, Hong Kong, p. 2915 1118