Dig in at the buffet at JW Cafe
From sushis to seafood platters, these 22 dinner buffets created by leading Hong Kong hotels and restaurants are where you go to absolutely pig out.
Whether you're in search of gourmet cheese shops, traditional Hong Kong tea houses, or the best brunch in Hong Kong, the city has its fair share of classy and delicious meals. If you're looking to splurge a little on delicious food, these dinner buffets in Hong Kong will be worth your every penny! Check out our guide to the most incredible all-you-can-eat buffets in town.
Best dinner buffets in Hong Kong
1. JW Café, JW Marriott
Using an open concept, JW Cafe features eleven show kitchens giving it a buzzy, vibrant atmosphere which Hong Kongers love. Here, you are treated to the finest Chinese delicacies, including braised abalone with shiitake mushroom, braised fish maw with supreme sauce, braised sea cucumber with superior oyster sauce and steamed grouper with crab roe. Another standout with popular appeal is the Shanghainese appetiser station as well as the noodle bar, where you can select toppings of your choice. Wrap up this extravagant feast with a flavoured soufflé – or cheeses and fresh fruit if you want to keep that cholesterol intake to a minimum.
JW Café, 5/F, JW Marriott Hong Kong, One Pacific Place, 88 Queensway, Admiralty, Hong Kong, p. 2810 8366
2. The Verandah, The Peninsula Hong Kong
Keeping in mind its colonial roots in an Asian setting, The Verandah oozes old-style charm and class and keeps its menu fresh with seasonally themed buffets. When it comes to dining – or gorging – here, it's best to start with the the fresh salads and sandwiches. Another magnet for buffet eaters is the iconic seafood counter, and those with a sweet tooth will want to save room for classic desserts like New York cheesecake, chocolate brownie, and key lime tart.
The Verandah, 1/F, The Peninsula Hong Kong, 22 Salisbury Road, Tsim Sha Tsui, Hong Kong, p. 2696 6766
3. Cafe, Hyatt Regency Hong Kong, Tsim Sha Tsui
Serving some of the greatest Alaskan crabs in town, one of the best dinner buffets in Hong Kong, Cafe at Hyatt, is always delighted to serve up something special, ranging from Boston Lobster to Foie Gras and Garlic Butter Steak to Hainan Chicken. Cafe at Hyatt also offers a variety of food from sushi and tempura, fresh pasta and pizza to Indian cuisine. Truly a banquet worth remembering.
Cafe, Lobby Level, Hyatt Regency Hong Kong, Tsim Sha Tsui, 18 Hanoi Road, Tsim Sha Tsui, Hong Kong, p. 3721 1891
4. Tiffin, Grand Hyatt Hong Kong
Freshly shucked oysters, whole live lobster, juicy prime ribs… There's nothing you can't get from Tiffin at Grand Hyatt Hong Kong. In addition to the exceptional food, this five-star dining experience comes with an elegant atmosphere and welcoming service. Since Tiffin Lounge makes extraordinary cakes and scones for high tea, their dessert will not disappoint you for sure.
Tiffin, Mezzanine Floor, Grand Hyatt Hong Kong, 1 Harbour Road, Wan Chai, Hong Kong, p. 2584 7722
5. The Place, Cordis Hong Kong
An international all-day dining at Cordis, The Place is an 8,600-square-feet restaurant with a bright design and welcoming vibe. Their lavish buffet features items like oyster, sashimi, steak, lobster, foie gras, as well as refreshing salads and juices. From re-imagined dishes to authentic cuisines, let the professional culinary team make your dining experience unforgettable.
The Place, Level 4, Lobby, Cordis Hong Kong, 555 Shanghai Street, Mong Kok, Hong Kong, p. 3552 3200
6. Café TOO, Island Shangri-La Hong Kong
From the teppanyaki grill, guests can enjoy Australian wagyu beef prepared à la minute. Another two of the house specialities are scallop sashimi with sea urchin and fresh Boston lobsters from the food counters, which also includes a spread of langoustines, flower crabs, whelks and mussels. The Asian theatre serves dim sum, freshly steamed xiao long bao (steamed pork dumplings in soup), double-boiled soup which is served from stunning ceramic Chinese urns, steamed abalone in tiny bamboo baskets, as well as authentic Indian fares such as tandoori prawns, naan bread and various kinds of curry. For the dessert lovers, an array of traditional Chinese desserts are displayed including delightful cakes and pastries – this is sure to be a hit with the kids.
Café TOO, 7/F, Island Shangri-La Hong Kong, Supreme Court Road, Central, Hong Kong, p. 2820 8571
7. Clipper Lounge, Mandarin Oriental Hong Kong
Clipper Lounge has one of the best dinner buffets in Hong Kong! Gastronomes will enjoy Clipper Lounge dinner buffet, which includes a French bouillabaisse station and a Thai noodle station, alongside a raw bar with sushi selections, a salad bar and a carving station. The chefs shuck the oysters à la minute, which are then served by the table so that you can indulge in the freshest taste of oysters without leaving your seat.
However, the crème de la crème is the whimsical dessert garden with over 45 sweet treats created by Executive Pastry Chef Yves Matthey and his team. A number of signature items include the famous 1963 Mandarin cheesecake and strawberry napoleon, a range of hand-made chocolates, as well as macaron lollipops. Not only will you be completely filled by Clipper Lounge's variety of edible temptations, but your phones will also be full of beautiful photo shares!
Clipper Lounge, M/F, Mandarin Oriental Hong Kong, 5 Connaught Road, Central, Hong Kong, p. 2825 4007
8. The Farmhouse, Hyatt Centric Victoria Harbour
Miss the smell and taste of the countryside? Hyatt Centric Victoria Harbour is offering diners a truly amazing experience as The Farmhouse delivers memorable countryside flavours over an impressive-sized open kitchen, lush outdoor garden and scenic views of Hong Kong harbour. Their expansive selection of food features highlights such as the fresh red crab from New Zealand, Australian black mussels and hamachi from Japan.
The Farmhouse, 2/F, West Tower, Hyatt Centric Victoria Harbour Hong Kong, 1 North Point Estate Lane, North Point, Hong Kong, p. 3896 9896
9. The Greenery, The Royal Garden
Located on the third floor of The Royal Garden Hotel, The Greenery offers an amazing array of delicately prepared food, including made-to-order skewers, authentic Indian papadum and seafood noodle soup. Most importantly, their dessert table is not to be missed. Definitely one of the best dinner buffets in Hong Kong!
The Greenery, 3/F, The Royal Garden, 69 Mody Road, Tsim Sha Tsui, Hong Kong, p. 2733 2030
10. Cafe Circles, Nina Hotel Tsuen Wan West
Enjoy views across Tsuen Wan and the Rambler Channel as you indulge in Cafe Circles' international buffet. Western and Asian dishes are abundant here, including a mouthwatering seafood selection. The desserts are no slouch either, making this restaurant one of the best dinner buffets in the area.
Cafe Circles, 9/F, Nina Hotel Tsuen Wan West, 8 Yeung Uk Road, Tsuen Wan, Hong Kong, p. 2280 2868
11. The Market, Hotel Icon
When it comes to enjoying a feast fit for royalty, The Market at Hotel Icon will do more than fit the bill, it will leave you longing to repeat the whole luxurious food workout once again. Yes, The Market is one of those places where you're considered lucky if you manage to snag a table!
Inspired by Hong Kong's iconic wet markets, The Market offers a wide range of top-quality Asian and international delicacies. Some of the clear favourites from the Asian selection are the Hainanese chicken rice and the fiery hot laksa. Seafood lovers will automatically gravitate towards the long leg crab, mussels, and prawns followed by the sushi and sashimi. Among the main dishes from the open kitchen, the slow-cooked Norwegian smoked salmon is a star dish, and for a soothing finish, you've got to try the double-boiled soups. Then it's time for dessert in the form of exquisitely prepared durian delights – another Asian favourite!
The Market, 2/F, Hotel Icon, 17 Science Museum Road, Tsim Sha Tsui East, Kowloon, Hong Kong, p. 3400 1388
12. Kitchen, W Hong Kong
It's time to experience Las Vegas without the need to fly there! At W Hong Kong, expect lavish food with an atmospheric Las Vegas theme which takes you to a whole other world of glamour. We just love how glitzy neon lights are incorporated to set the mood and this luxurious buffet offers something for everyone.
The stars of this bonanza are the beef tacos with sesame soya cacao marinated hanger steak, shredded Chinese cabbage, red cabbage, smoky creamy sauce and ginger mango-coco emulsion and the mini Vegas Wagyu beef sliders. Level up the spice with a fragrant Thai coconut bouillabaisse with barramundi, shrimp, clams, mussels and soak it all up with spiced sesame rice crackers and saffron curry aioli. We'd suggest cooling off with a beet-cured Scottish salmon gravlax salad and sesame soba noodles with edamame, zucchini, nori and pickled ginger. Over at the desserts counter, they kick it up a notch with desserts shaped as casino tokens and cards – so this will definitely hit the spot for casino-goers.
Kitchen, 6/F, W Hong Kong, 1 Austin Road, Kowloon, Hong Kong, p. 3717 2889
13. Three on Canton, Gateway Hotel
Find a sumptuous selection of international cuisine at Three on Canton, with the most popular items being chilled seafood; freshly shucked oysters; sashimi; cooked-to-order noodles; Indian curries; Peking Duck; handcrafted cakes; and more.
Three on Canton, Level 3, Gateway Hotel, 13 Canton Road, Harbour City, Tsim Sha Tsui, Hong Kong, p. 2113 7828
14. Cafe Lantau, Sheraton Hong Kong Tung Chung
Satisfy all palates at Cafe Lantau, Sheraton Tung Chung's all day-dining and buffet restaurant that takes inspiration from Hong Kong's fresh food culture and lively wet markets. Featuring live cooking stations and a wide selection of international delicacies from fresh seafood to a noodle station to grilled meats, Cafe Lantau serves elevated soul food. Must try dishes include Japanese kushiyaki, blue-lipped mussels, and Boston lobster.
Cafe Lantau, 1/F, Sheraton Hong Kong Tung Chung, 9 Yi Tung Road, Tung Chung, Hong Kong, p. 2535 0021
15. Marina Kitchen, Ocean Park Marriott Hotel
Located in the lobby of the Marina Wing at Ocean Park Marriott Hotel is Marina Kitchen, the hotel's all-day dining and buffet restaurant. From the open interactive kitchens with a splendid seafood station to the designated kids dessert and ice-cream station, Marine Kitchen serves dinner buffets every night, but it starts a little earlier during public holidays, Fridays, and Saturdays. Signature dishes include Marriott's classic burger, seafood linguine, and the Hainanese chicken.
Marina Kitchen, G/F, Marina Wing, Ocean Park Marriott Hotel, 180 Wong Chuk Hang Road, Aberdeen, Hong Kong, p. 3555 1700
16. SkyCity Bistro, SkyCity Marriott Hotel
Located in the Hong Kong International Airport, SkyCity Bistro pays homage to a variety of international cuisine. From Indian curry to American beef, and New Zealand oysters to sushi and sashimi, prepare to be overwhelmed (in a good way) at your dinner buffet. Marvel at the open display kitchen or choose a private booth for exclusive dining, either way your food is going to taste uh-mazing!
SkyCity Bistro, 1/F, Hong Kong SkyCity Marriott Hotel, 1 Sky City Road East, Hong Kong International Airport, Chek Lap Kok, Hong Kong, p. 3969 2500
17. Yakiniku Gyukura (燒肉牛蔵)
What's special about Yakiniku Gyukura? There's no time limit to their yakiniku buffet! Serving an array of US Angus Beef ribeye, premium ox tongue, seafood, tempura and other Japanese food, Yakiniku Gyukura is where you can take your time and slowly enjoy the dinner with your friends. Add extra fees to enjoy free-flow wagyu, sashimi or alcohol for a better dining experience. What's more, kids under 1.2 metres get to eat for free.
Yakiniku Gyukura, Shop 701, 7/F, iSquare, 63 Nathan Road, Tsim Sha Tsui, Hong Kong, p. 2628 0993
18. Deluxe Daieiki Japanese Restaurant (極尚大瀛喜)
If you are sceptical about the food quality of affordable Japanese buffets, Deluxe Daieiki won't disappoint you. Serving an array of sashimi platter, rice bowls, tempura, udon and many other delectable foods, this restaurant offers a great value for the money. The ordering website is user-friendly and the menu is so long that you can't possibly try everything. Deluxe Daieiki also offers a variety of Haagen Dazs and Movenpick ice-cream – only if your stomach still has space for them.
Deluxe Daieiki Japanese Restaurant has locations in Causeway Bay and Kwun Tong.
19. Gyujin (牛陣)
As one of the earliest restaurants in Hong Kong to serve Japanese shabu shabu and sukiyaki hotpot, Gyujin provides all-you-can-eat hotpot buffets at an affordable price. Start the dinner with a mouth-watering broth like Yuzu Salt Soup or Tonkotsu Soup. Then, feast on unlimited supreme Wagyu and Kagoshima Kurobuta, accompanied by refreshing Japanese veggies like shungiku and mizuna. Don't forget to grab a few scoops of Haagen Dazs ice-cream before you leave: you will find a total of six flavours (including seasonal ones) at the counter.
Gyujin is also one of our favourite hotpot places in Hong Kong.
Gyujin has several branches in Hong Kong.
20. The Grand Buffet
The Grand Buffet is the only 360° revolving restaurant in Hong Kong. They make it to the list of best dinner buffets in Hong Kong as it provides a wide range of delicious food options, including freshly prepared oysters, red king crabs, delicious scallops and more. Also, they're now serving a-la-minute Hong Kong-style egg puffs alongside their signature cakes and desserts!
The Grand Buffet, 62/F, Hopewell Centre, 183 Queen's Road East, Wan Chai, Hong Kong, p. 2506 0888
21. Mr. Steak Buffet à la minute
When you think of the best dinner buffets in Hong Kong, what do you imagine? We imagine steak, the usual appetisers, savoury mains, and desserts. Well, buffet restaurant Mr. Steak Buffet à la minute offers all these – and more – as it specialises in made-to-order steak. From grilled wagyu steak to foie gras to salmon sushi, this place has a scrumptious range that will leave you super satisfied.
Mr. Steak Buffet à la minute, 6/F, World Trade Center, 280 Gloucester Road, Causeway Bay, Hong Kong, p. 2881 5757
22. Ahimsa Buffet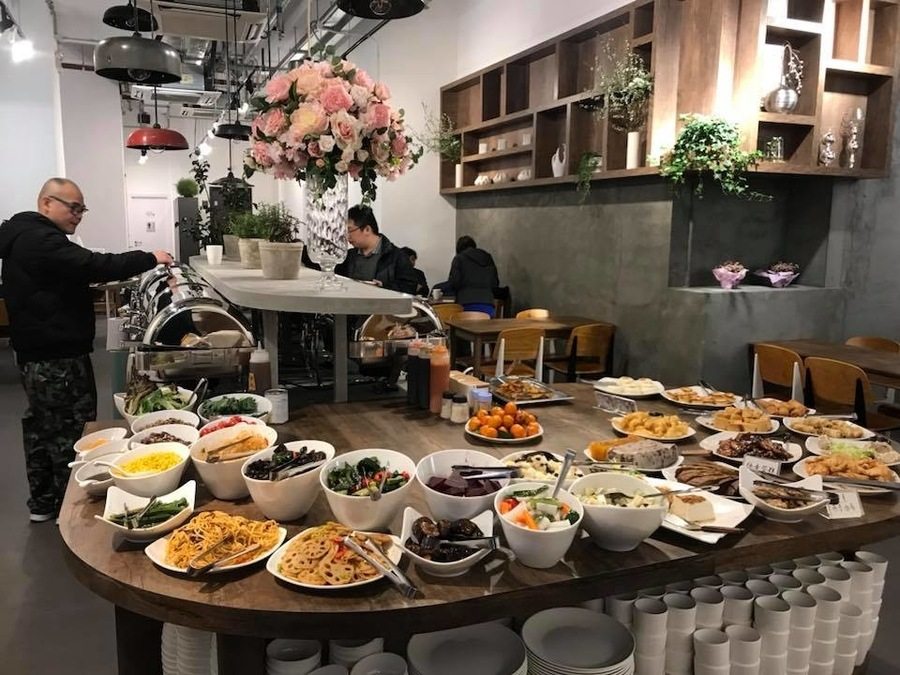 If you're a vegetarian and are looking for the best dinner buffets in Hong Kong, you can't miss out on Ahimsa Buffet. Ahimsa Buffet's third branch in Mong Kok, features delicious vegan chocolate, banana and apple pie cake that are only available in this location. They also serve a vast selection of savoury food, from homemade turnip cake to Cantonese fried glutinous dumplings.
Ahimsa Buffet has several locations across Hong Kong.
What we love about Eatstreet the buffet at Pentahotel is the diversity. Whatever mood you're in, there's something to match your appetite. You can explore the stunning seafood and dessert bar or take a look around the array of food stations. We went Italian during our stay at Pentahotel and loved how our food was prepared on the spot with our pic of the ingredients, that's why it belongs our list of the best dinner buffets in Hong Kong.
[email protected], 1/F, Pentahotels Hong Kong, Kowloon, 19 Luk Hop Street, San Po Kong, Kowloon, Hong Kong, p. 3112 8222
Pure Veggie House (closed)
For all the vegans and vegetarians out there, Pure Veggie House offers you one of the best dinner buffets in Hong Kong. Not only does Pure Veggie House offer four different types of delicious broth, such as Spicy Sichuan Style Soup, Tomato & Potato Soup with Coriander and Thai Style Tom Yum Soup, they also have the most epic and juicy vegan taro balls, soft silken tofu sheets and more fresh vegetables for you to have a satisfying and healthy hot pot dinner buffet experience. Since the vegan hot pot buffet is a seasonal offer, remember to call ahead and see whether it's available.
Pure Veggie House, 1/F, Ka Wing Building, 27 Granville Road, Tsim Sha Tsui, Hong Kong, p. 2525 0552