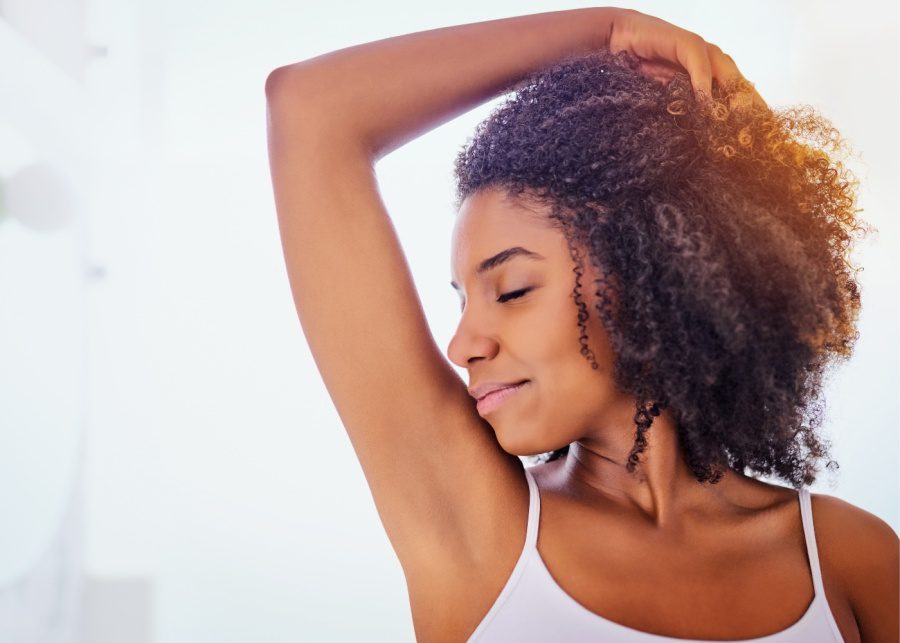 Stay fresh in the summer heat! (Photography: PeopleImages via Getty Image Signature)
With the heat comes the sweat, and with the sweat comes the odours… Hong Kong heat is notorious for leaving us sweaty in seconds, so be sure to combat any unwanted smells with some of the best deodorants in Hong Kong.
Hong Kong summers are notoriously hot and humid. Whether you're hiking, biking, or enjoying a junk party, the heat will follow you. Although sweating is a natural thing, we'd all like to find a way to eliminate some of the not-so-fresh odours that come along with it. Luckily, there are plenty of deodorants out there that will help you combat the pitfalls of the heat. Here are some of the best deodorants in Hong Kong that'll become permanent fixtures in your bag.
Stay fresh with the best deodorants in Hong Kong
1. Kosas: Chemistry AHA Serum Deodorant
The Kosas Chemistry AHA Serum Deodorant is a stain-free serum made up of a special blend of alpha-hydroxy acids that, in turn, creates a pH environment that fights odour-causing bacteria. With no aluminium or baking soda, this deodorant is also blended with aloe vera juice to help soothe skin. Coming in Serene Clean, Beachy Clean, and fragrance-free versions, you'll be smelling fresh with just one swipe.
2. Secret: Fresh Clear Gel Antiperspirant & Deodorant
One of our favourite deodorants in Hong Kong is the budget-friendly Secret Fresh Clear Gel Antiperspirant & Deodorant. Its unique formula is quick-drying, protecting you from sweat and odour for 48 hours. Available in over 10 different scents, you can select a fragrance based on your mood or the occasion. Bonus: this deodorant is also cruelty-free!
3. Kopari: Aluminum-free Coconut Deodorant
With one of the smoothest applications around, Kopari Aluminum-free Coconut Deodorant is definitely something you should keep in your bag. Aluminium- and baking soda-free, this deodorant is made with sage and coconut oil to hydrate and soothe the skin. Moreover, it contains a blend of plant-based enzymes which helps break down odour-causing bacteria, making this a natural, non-toxic deodorant that's easy to use and well worth the investment.
4. Native: Deodorant
An effective natural deodorant, Native Deodorant applies easily without grease or residue. Vegan and cruelty-free, Native uses ingredients like coconut oil and shea butter – with no aluminium added. With many different scents like Coconut & Vanilla or Powder & Cotton, you'll have ample choice depending on your preference.
5. Dove: Original Antiperspirant Deodorant Stick
Sometimes the clean, simple choice is the way to go. The Dove Original Antiperspirant Deodorant Stick is a straightforward combatant of sweat and odour. This deodorant is one of the best at providing up to 48 hours of antiperspirant protection. Easily applicable with a delicate scent, it also contains moisturising cream to keep your underarms smooth and soft. In addition, applying this deodorant can help reduce irritation from shaving, giving you a thoroughly comfortable experience.
6. Nécessaire: The Deodorant Gel
Another AHA (alpha-hydroxy acid) blend, Nécessaire's The Deodorant Gel is a 5% AHA and Niacinamide deodorant. Designed to combat odour, treat hyperpigmentation, and help minimise bumps, this product dries quickly when applied, without leaving a sticky mess. Free of aluminium, baking soda, and parabens, you can get a fragrance-free version, or one with scents like eucalyptus or sandalwood. Certified vegan and cruelty-free, this is one of the best deodorants in Hong Kong.
7. Sol de Janeiro: Rio Deo Aluminum-Free Deodorant Cheirosa '62
The Sol de Janeiro Rio Deo Aluminum-Free Deodorant Cheirose '62 is a product that provides skincare benefits as well as odour control. With a 98% naturally derived formula, this deodorant works with your body's rhythms to handle pH levels and odour-causing bacteria. It can even soothe irritated skin, even out your skin tone, and fight ingrown hairs. Keeping you smelling good, this deodorant has a tropical scent that gives notes of pistachio and salted caramel. And here's a win for the environment: the packaging is refillable – allowing you to replenish your bottle without creating unnecessary waste.