Hoping to save some cash but still live your best life? Seize these sweet deals, pop-ups, and limited-time discounts in Hong Kong.
There's nothing like finding yourself a good bargain! From affordable massages to staycation packages to limited-time afternoon teas, why spend more when you don't have to? If you're on the hunt for the best deals, pop-ups, and seasonal menus in Hong Kong, you're in the right place – let us comb through the city's sweetest offerings for you this month.
Honey Hacks! Sweet deals and news in Hong Kong: December edition
1. Le Dessert x Pierre Hermé Paris
Calling all sweet tooths and dessert lovers! Le Dessert Studio, a new platform by Le Dessert, is now inviting the most prestigious pastry chefs across Hong Kong to showcase their confectionary prowess via special partnerships and creative recipes. Kicking off with an exclusive collaboration with Pierre Hermé Paris, Le Dessert Studio is introducing a unique selection of iconic desserts. Available only until 30 February 2024 on Le Dessert's website and at Pierre Hermé Paris's IFC Mall location, Hong Kongers can sample sweet treats like the Ispahan Cheesecake, Montebello Nomade Entremet, and Emotion Mango and Lime. We challenge you to choose a favourite – they're all too good!
Find out more about Le Dessert.
2. La Brasserie: Seasonal promotions
Celebrate the festive season with a full stomach, thanks to decadent French eatery La Brasserie. An exclusive series of dining offers are available here to take you on a joyful culinary journey. The Cake and Coffee Set ($88) is available from 3 to 6pm at the expanded Cake and Pastry Counter, offering a selection of savoury French classics such as croissants and croque monsieurs. Those who fancy a tipple will love the Four Cheese & Wine Pairing ($388), as it features carefully selected wines, all enhanced by delicious cheese pairings. Craving a bit of bubbly? Opt for the Champagne & Oyster Package ($998), provided from 12 to 6pm, to add an indulgent touch to your holidays.
La Brasserie, G/F, 29 Lyndhurst Terrace, Central, p. 2506 0990
3. Hjem x Gentle Books
As the winter chill arrives, there's no better time than to curl up with a good book. Neighbourhood Nordic cafe, Hjem, has fostered a partnership with Gentle Books to bring a handpicked selection of secondhand books to the cafe. Kicking off on 7 December with a browse-and-sip party and continuing for the rest of the month, Hjem will have books on offer, along with its signature Nordic drinks and eats. The system is streamlined and simple, with $50 for paperbacks and $80 for hardcovers. With a mission of nurturing the local community of readers, Hjem and Gentle Books have created a cosy little haven for finding new gems to read. Additionally, as a social enterprise, the mobile secondhand bookshop will have 20% of the profits from the Hjem residency go to Room to Read, Hong Kong's chapter of a global non-profit for literacy and education.
Hjem, 161 Hollywood Road, Central, Hong Kong, p. 2362 9193
4. Auor: Winter menu
From 13 to 30 December, modern French fine dining restaurant, Auor, is taking inspiration from the East for its new signature dinner experience. Chef Edward Voon welcomes the winter season with a selection of French x Asian dishes with the Six Rounds Tasting Menu (from $1,380), which revolves around the theme of time with respect to the season, and features plates inspired by Asian flavours while honouring French fine dining techniques. With rounds like "Awakening" and "Colours", the tasting menu features dishes such as wild French scallops from Brittany infused with Asian herbs. A shorter Winter Wonders (from $1,080) menu is also available from Tuesday to Saturday. Additionally, guests can partake in the new Saturday Champagne Lunch (from $780) and enjoy five courses, with the option to upgrade for some luxurious caviar.
Auor, 4/F, 88 Gloucester Road, Wan Chai, Hong Kong, p. 2866 4888
5. Darkside: New cocktail menu
Paying tribute to the ancient Chinese concept of duality and interconnectedness, Darkside's new cocktail menu sees the Yin symbolising Kowloon while the Yang represents Hong Kong Island. With eight exclusive drinks (from $180) in the Yin Yang cocktail programme, each pair reflects opposing forces like the Sun and Moon or the River and Mountain. This unique experience is complete with a spinning wheel that lets fate lead you to your destined drink. Along with the meticulously crafted beverages, guests can also marvel at the custom-made glassware and ceramics created by handcrafting techniques and 3D printing.
Darkside, L2, Rosewood Hong Kong, 18 Salisbury Road, Tsim Sha Tsui, Hong Kong, p. 3891 8732
6. Sheraton Hong Kong Tung Chung x Canvas: Ultimate massage and express facial treatment
Fight off that winter skin dryness with an exclusive facial treatment and massage. Until 29 February 2024, Sheraton Hong Kong Tung Chung is joining hands with organic Australian aromatherapy beauty expert, Canvas, to offer massage and express facial treatments. Bask in the opulence of the Blissful Rose Retreat ($1,600) where experienced therapists will provide a 60-minute massage, followed by a 30-minute express facial, complete with soothing oils. Also available is the Detox and Rejuvenate Retreat ($1,600) for the ultimate revitalisation, with a 60-minute body massage and 30-minute facial treatment that'll leave you feeling refreshed from head to toe. The treatment rooms at Sheraton beckon you to experience these rejuvenating treatments, complemented by Canvas' organic ingredients to detoxify your mind and body.
Sheraton Hong Kong Tung Chung, 9 Yi Tung Road Tung Chung, Tung Chung, Hong Kong, p. 2535 0000
7. Feather & Bone: Best Value Collection
Beloved Hong Kong grocer and butcher, Feather & Bone, is introducing a new level of unprecedented access to its selection of high-quality goods. With the new Best Value Collection, Feather & Bone's international grocery products and beverages are now even more wallet-friendly than ever. The carefully selected items in this collection include everything from premium frozen meat to hotpot packs to global wines. Highlights include Australian T-Bone Steaks, a 24-case of Brooklyn Brewery Lager, Sliced Wagyu Chuck Roll, and more. Stock up for holiday parties and gatherings this December with Feather & Bone's Best Value Collection to get more bang for your buck!
Find out more about Feather & Bone's Best Value Collection.
Feather & Bone has multiple locations across Hong Kong.
Honey Hacks! Sweet deals and news in Hong Kong: June edition
1. Gishiki Lounge: New cocktail menu
Nestled inside Tai Kwun, Gishiki Lounge is one of fave hidden gems in Hong Kong. We've recently tried its brand new range of cocktails, which is inspired by the mystical art of Noh Theatre. Paying homage to this traditional Japanese cultural practice, each drink ($138) unveils a story behind a Noh Mask and the iconic deity or character it represents. The menu is categorised into Jo (opening), Ha (development), and Kyu (climax), symbolising the arc of your experience at Gishiki Lounge. Among the 15 thoughtful creations, one of our favourites is the O-Tobide, a refreshing concoction made with Hayman's London Dry Gin, prickly pear, Mikan sake, Champagne air, and topped with strawberry air (try jiggling the foam for the 'gram!). For those who are a little more adventurous, opt for the Yamanba, an earthy and umami-rich cocktail crafted with shiitake mushrooms, nori tincture, onion shoots, and black winter truffles over a base of Rittenhouse Rye Whisky.
Gishiki Lounge, Shop 01-LG103, LG1/F, Block 01, Tai Kwun, 10 Hollywood Road, Central, Hong Kong, p. 2884 0114
2. Häagen-Dazs x Pierre Hermé: A Spoonful of Macaron
Nothing beats a refreshing scoop of ice cream in the summer – until you get ice cream with chewy macaron bits in it, that is! Partnering with French pastry chef Pierre Herme, Haagen-Dazs has released a brand new macaron ice cream range to satisfy your appetite for cooling desserts this summer in Hong Kong. Flavours include the fruity Macaron Yuzu & Lemon, and Macaron Strawberry & Raspberry, with our fave being the rich and aromatic Macaron Double Chocolate Ganache. You can try these flavours as ice creams on their own, or enjoy them as summer drinks and desserts, which are available at Haagen-Dazs' dine-in outlets.
To celebrate the launch, Haagen-Dazs is transforming Moko into a romantic French town with "A Spoonful of Macaron" pop-up from 9 to 18 June. Get your cameras ready for the four interactive zones: the five-metre-tall Tower de France (complete with a light show); The Immersive French Feast installation; L'Amour de Paris "wall of love"; and the Haagen-Dazs Patisserie ice cream parlour. Head over to receive limited-time offers, as well as a chance to win two round-trip tickets to Paris!
Häagen-Dazs has multiple branches across Hong Kong.
3. City'super: Zzan with Anju
Craving some Seoul-ful food in Hong Kong? Check out City'super's "Zzan with Anju" promotion, which runs from 1 to 21 June. Showcasing a variety of quality Korean foods, fresh produce, and meal kits, highlights in the campaign include the deluxe Hoengseong Hanwoo Beef (from $138/100g) (which we can't get enough of!); Samyang Rose Cream Hot Spicy Chicken Rice Cake and Noodle (from $21); Kelly's Cape Bop Kimbap and Egg Rolls ($70); Gebang Sikdang Korean Frozen Soy Sauce Marinated Seafood (from $188); and Kim Gu Won Korean Tofu Pork Kimchi Flat Dumpling ($80). To quench your thirst this summer, try the Lotte Chilsung Premium Red Ginseng Craft Beers ($15); Kooksoondang Bekseju ($55); or the Osulloc Illohyang First-sprout Green Tea ($1,668).
The campaign also features live cooking demonstrations with acclaimed chefs, and a Korean tea culture experience hosted by a certified Korean tea master. Find out more about "Zzan with Anju" on City'super e-shop and physical branches in Harbour City, Times Square, IFC Mall, and New Town Plaza.
City'super has multiple locations across Hong Kong.
4. Nespresso: 2023 Summer collection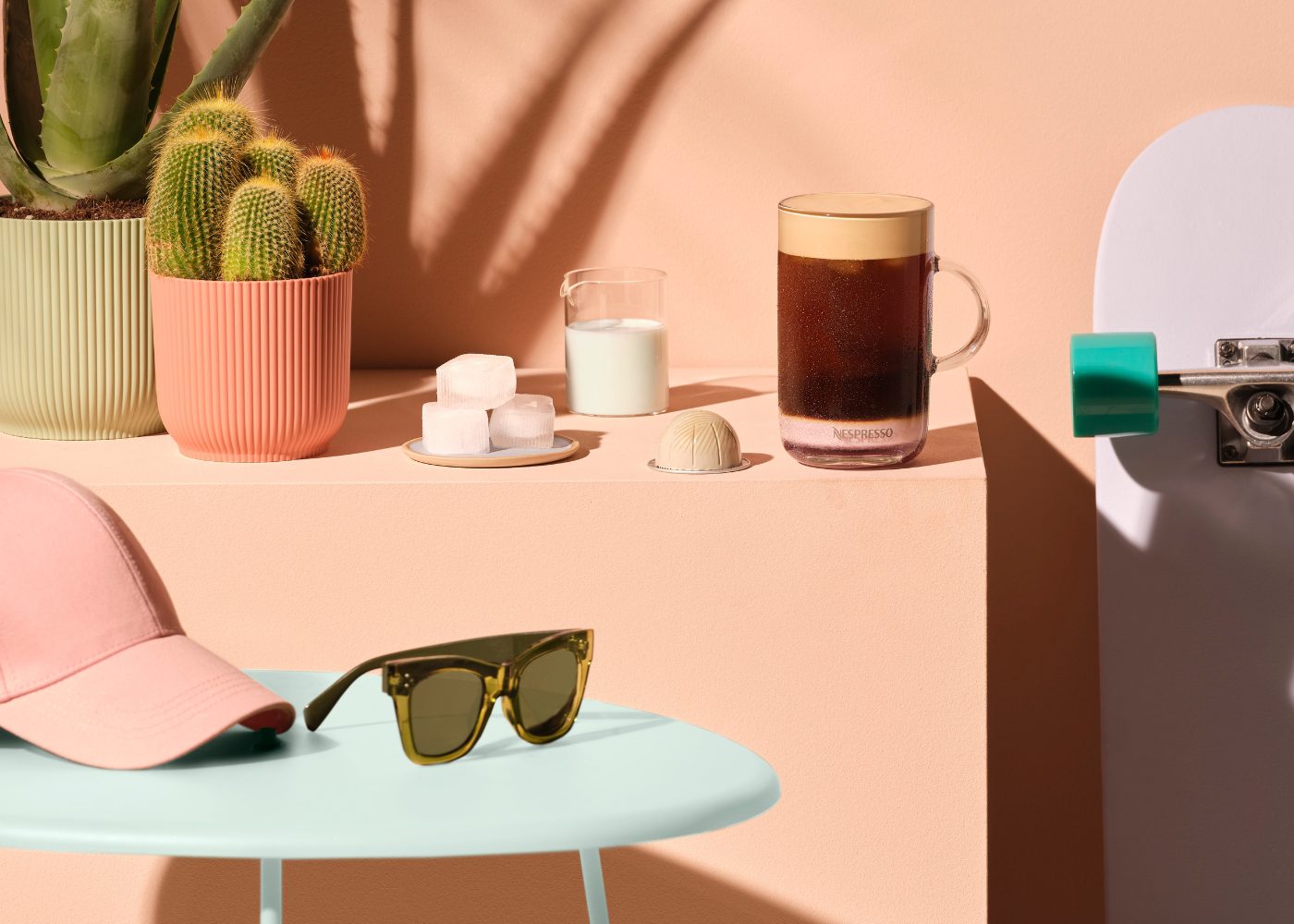 Missed the Nespresso Bing Sut installation at the beginning of June? Fret not, as this pop-up was just the prelude to Nespresso's 2023 summer campaign! In addition to introducing the revamped Barista Creations flavoured coffees (Nocciola, Rich Chocolate, and Bianco Piccolo), Nespresso is kicking off the season with iced coffees, recipes, and trendy accessories, all inspired by the Californian dream. Cool off with the fruity Barista Creations Flavoured Juicy Watermelon Over Ice for Vertuo; the bold Cold Brew Style Intense for Vertuo; and the Tropical Coconut Flavour Over Ice for Vertuo. Home baristas can also brew in style with the new, eye-catching Vertuo Pop coffee machines, which are available in six vibrant colourways. Complete your coffee ritual with Nespresso's new summer accessories, which include the Nomad Tumbler, Barista Ice Cube Tray, Lavender Nomad Travel Mug, and Barista Recipes Glasses.
Nespresso has multiple boutiques across Hong Kong.
5. Komo Coffee Liqueur launches in Hong Kong
Prefer your java with a splash of alcohol? You're gonna love Komo Coffee Liqueur. Made with 100% single-origin Arabica beans, which are carefully roasted, extracted, and blended with raw ingredients sourced from Japan, the liqueur is meticulously crafted using the fukuro-tsuri drip filtering method, which is typically used in the production of sake. You can have your first taste of Komo at Maison Meiji's Kuromaru, where three Komo different cocktails ($150 each) are available until 30 June. The "Komo Sonic" is a light choice, whereas the shochu-based "Bring the Komo Home" is a sweeter cocktail that resembles tiramisu. Our pick goes to the more powerful, awamori-based "Komo-groni", as it delivers the perfect balance between a range of complex ingredients, including barley shochu, mezcal, Campari, Amontillado sherry, chocolate bitters, and cacao powder.
Wanna experiment with the liqueur yourself? Komo Coffee Liqueur is now available for purchase at HK Liquor Store, Jouer, and J Mart of HKTV Mall.
Find out more about Komo Coffee Liqueur.
6. AMA Ristorante by The Amatricianist: First anniversary menu and offers
Offering classic Roman cuisine made with a farm-to-table concept and seasonal ingredients from Italy, AMA Ristorante presents authentic flavours of home-cooked Italian dishes to Hong Kong diners. With nearly four decades of culinary experience under his belt, Chef Paolo Monti has led his team at AMA Ristorante to their first anniversary milestone. Together, they've launched a special menu, which features an Italian buffet luncheon along with crowd favourite items, to commemorate the occasion. The new Weekday Buffet Luncheon Menu includes a choice between an extensive range of Italian appetisers. From the homemade buffalo mozzarella to Milanese salami, to octopus salad, over 10 types of Italian antipasti are displayed on Grandma's Table for you to fill (and refill) your plates. Still, make sure to leave space for the main course. We'd recommend the spicy linguine pasta with tomato and lobster sauce ($428); and the tagliolini pasta with fresh black summer truffle and soft runny egg ($438).
Bit of a home cook yourself? Head over to AMA Ristorante's online shop for a 15% discount (on orders over $800) using the code FTBCC123 – valid until the end of 2023!
AMA Ristorante by The Amatricianist, 25/F, 208 Johnston Road, Wan Chai, Hong Kong, p. 3702 0806
7. Sainte Marguerite en Provence launches in Hong Kong
Joining forces with Pernod Ricard, rosé wine pioneer Sainte Marguerite en Provence is bringing its latest Symphonie Rosé – Maison Sainte Marguerite to Hong Kong, just in time for summer! Following the success of the certified organic and vegan Fantastique Rosé, the French winery is now adding the Symphonie Rosé to its repertoire. A blend of Grenache, Cinsault, and Vermentino grapes, this new product inherits the distinctive finesse, fresh aromas, and crystalline colour of the wines from Sainte Marguerite en Provence. While this bottle is perfect for the hot summer days, we also love its versatility, given how light and easy-drinking it is.
Fancy a sip? Symphonie Rosé 2022 – Maison Sainte Marguerite is available by the glass ($150) or by the bottle ($820) at Cardinal Point in Central, or you can shop from various stockists online.
Find out more about Sainte Marguerite en Provence via Pernod Ricard.
Honey Hacks! Sweet deals and news in Hong Kong: May edition
1. The Londoner Macao: Grand opening
Macau is back – and booming more than ever! Coinciding with the reopening of the city, The Londoner Macao is also being unveiled after a two-year transformation. Formerly known as Sands Cotai Central, the integrated resort has been rebranded as The Londoner Macao and consists of five luxurious hotels: The Londoner Hotel, the flagship; Londoner Court; Conrad Macao; The St Regis Macao; and Sheraton Grand Macao. Altogether, there are three spas; four health clubs; boutiques from 150 international brands; and all-new conference facilities such as The Londoner Arena, which seats 6,000 people. Moreover, there are over 20 dining options available, including Gordon Ramsay Pub & Grill and the Michelin-starred The Huaiyang Garden.
Among the 6,000 rooms in The Londoner Macao, the highlight is on the invitation-only Suites by David Beckham. Located on the top two floors of The Londoner Hotel, these exclusive apartments are the first celebrity-designed suites in the city. Furthermore, The Londoner Macao boasts a lavish British design aesthetic, with Instagram-worthy spots across the complex, like a life-size replica of Big Ben (which actually chimes!); a spectacular façade inspired by the Palace of Westminster and the Houses of Parliament; and British-themed decorations – think red double-decker bus and classic phone booths.
The Londoner Macao, Estrada do Istmo. s/n, Cotai, Macau
2. Sushiyoshi: New spring omakase menu
Catch Chef-owner Hiroki Nakanoue in action at Sushiyoshi! Having made his way from his two-Michelin-starred outpost in Osaka, Chef Hiroki has created a brand new, 19-course omakase menu (from $3,480) for Sushiyoshi Hong Kong, celebrating spring and the season's finest ingredients. Highlights of our visit to Sushiyoshi included the Kohada Sushi; Baby Tuna Sashimi; and the Horse Crab Marinated with House-made Japanese Pepper Sauce, topped with Bafun Uni and Tsuyu Sauce – absolutely packed with flavour and umami. We also loved the Kinmedai with Caviar Sushi, and the Toro Roll with Spring Onions, as they both tasted surprisingly clean and refreshing despite the rich ingredients.
Sushiyoshi, 1/F, The Otto Hotel, 8 Cameron Road, Tsim Sha Tsui, Hong Kong, p. 2657 0280
3. Sing Yin Cantonese Dining, W Hong Kong: New chef and menu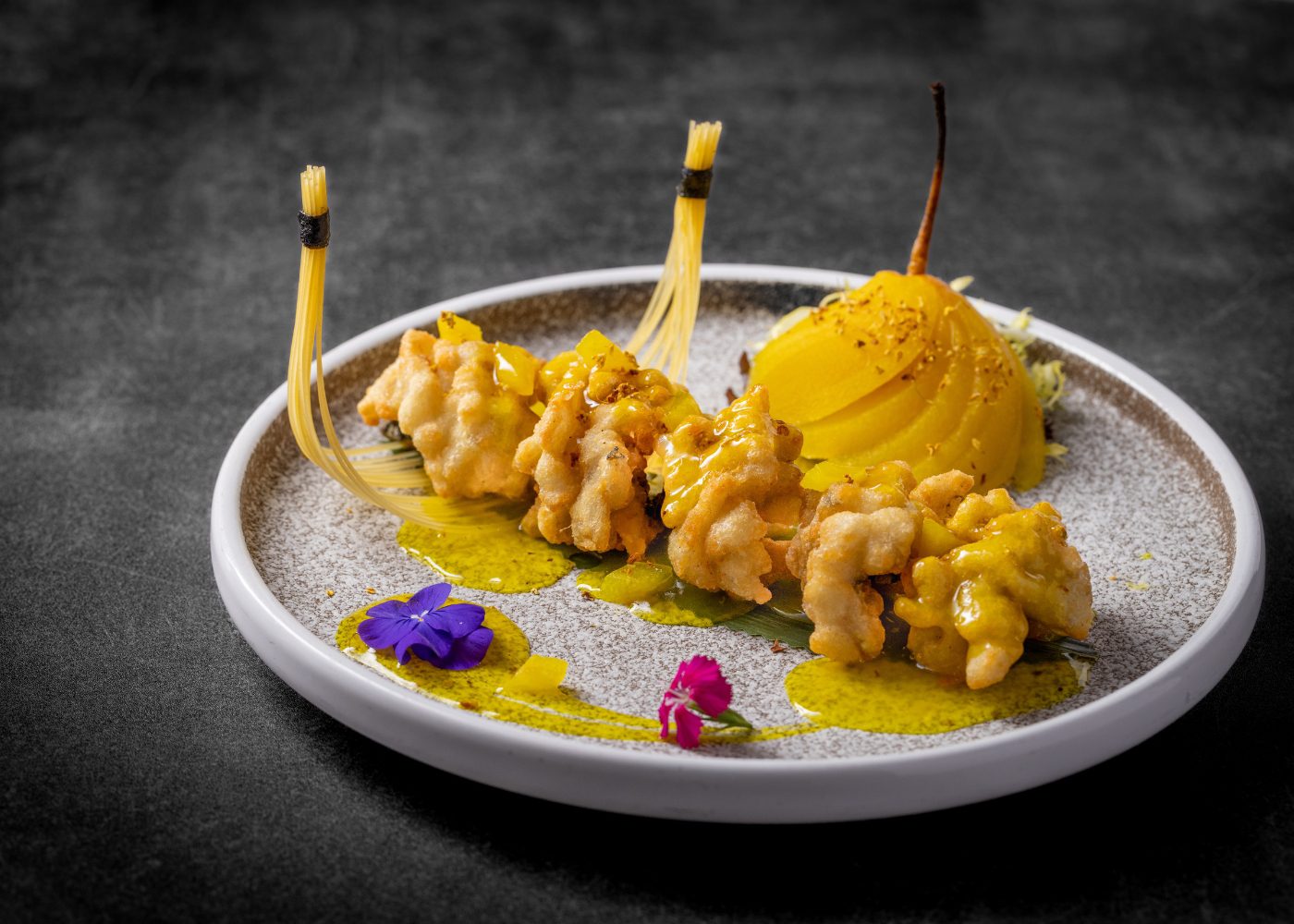 W Hong Kong's Chinese restaurant, Sing Yin Cantonese Dining, has welcomed Chef Simon Wong to be the new Executive Chinese Chef. Aiming to make Sing Yin the prime destination for Chinese fine dining in Hong Kong, Chef Wong has transformed the a la carte menu, with artistic dishes made with premium ingredients. During our visit, we especially enjoyed the hearty Double-boiled Soup in Papaya with Crab Meat and Shrimp, as the papaya added sweetness to the broth. The Hand-picked Crab Meat on Bird's Nest with Caviar was a novel and luxurious combo; whereas the Crispy Stuffed Japanese Kanto Sea Cucumber with Crab Sauce had a satisfying crunch, in delicious contrast to the springy flesh.
We were also impressed by the Steamed Bean Curd with Morel Mushroom and Fresh Bamboo Fungus. Featuring tofu that was cut evenly into almost 50 thin slices, this dish showcased the chef's technical prowess. Other items we enjoyed included: Beetroot Fried Rice with Scallops and Preserved Vegetables (mixed with our fave crispy rice); and the signature open-fire barbecued dishes, like the Lychee Wood Fried Crispy Chicken, which was tender and gave off a smoky firewood aroma.
Sing Yin Cantonese Dining, 1/F, W Hong Kong, 1 Austin Road West, Kowloon Station, Kowloon, Hong Kong, p. 3717 2848
4. Hyatt Centric Victoria Harbour Hong Kong x Luna Cake: "Betsu Bara" Afternoon Tea
Do you always have room for dessert? Satisfy your sweet tooth with the "Betsu Bara" Afternoon Tea (from $688 for two) at The Farmhouse! Meaning "dessert stomach" (yes, there's an actual term for it), the "Betsu Bara" set features a variety of Japanese-inspired treats, along with the famous Hokkaido Double Cheesecakes from Luna Cake. You can also enjoy unlimited ice cream; made-to-order dorayaki (Japanese pancake filled with red bean and custard); taiyaki (fish-shaped Japanese pastry filled with custard); and fluffy soufflé pancakes at the live station. Popular items include the Salmon Tamagoyaki (rolled Japanese omelette), Unagi Taco and, of course, the handcrafted Mini Hokkaido Double Cheesecakes from Luna Cake, which we find pleasantly light. Complement the food with a special Red Bean Matcha Latte, or add $28 for the cooling Kyoto Moonlight cocktail. Don't forget to bring home your complimentary sets of Luna Cake gift vouchers!
The Farmhouse, 2/F, West Tower, Hyatt Centric Victoria Harbour Hong Kong, 1 North Point Estate Lane, North Point, Hong Kong, p. 3896 9896
5. Arca Society, The Arca: Spring Blossom Jap-cha Arcanoon Tea
Usher in spring with Arca Society's Spring Blossom Jap-cha Arcanoon Tea (from $438 for two). Paired with Japanese cha, the dishes are all tea-infused, with highlights including Pan-Seared Hokkaido Scallops with Earl Grey Tea Oil on Toast; Hojicha Chicken Breast Vol-au-vent; Scones with Clotted Cream and Homemade Earl Grey spread; and Uji Matcha and Red Bean Cake. The set comes with a soothing Japanese tea pairing, with three varying flavours and intensity.
Arca Society, 3/F, The Arca, 43 Heung Yip Road, Wong Chuk Hang, Hong Kong, p. 3701 6030
6. Gaylord Indian Restaurant: 50th Anniversary Tasting Menu
Opened in the 1970s, Gaylord has been the one of the most renowned and long-standing Indian restaurants in Hong Kong, known for its elegant ambience and authentic cuisine. To celebrate this milestone, Chef Sanjeev Kapoor has created an exclusive eight-course tasting menu (from $448), with a vegetarian option (from $358) and a wine pairing (add $188) available. Expect elevated delicacies and some of Gaylord's signature dishes, such as the 1972-classic Vegetable Samosa; Kari Patta Crab Malabari; and the Stuffed Galouti Kabab. For the main course, you can choose between three dishes, such as the Yellow Chilli and Mango Butter Chicken; and Chef Kapoor's signature Shaam Savera, Spinach, and Cheese Koftas on Smoked Pepper Sauce. Accompaniments include Ricotta Cheese and Truffle Naan; Baby Beetroot and Walnut Raita; and more. To wrap up the feast, sample the Baked Jaggery Yoghurt with Peach and Walnut, and Gaylord's classic Kesar Kulfi (cardamom- and saffron-infused homemade ice cream), along with a cup of Masala Tea.
Gaylord Indian Restaurant, 5/F, Prince Tower, 12A Peking Road, Tsim Sha Tsui, Hong Kong, p. 2376 1001
7. Nintendo Switch Game Tour @ T.O.P This is Our Place
Calling all video game fanatics! To mark the recent release of The Super Mario Bros. Movie and The Legend of Zelda: Tears of the Kingdom, Nintendo will be hosting the Nintendo Switch Game Tour at T.O.P This is Our Place in Mong Kok until 28 May. Each floor of the mall has themed decorations of Mario, The Legend of Zelda, and Kirby on display –perfect for photo-taking. The gamers amongst you would love the 300-inch video game screen, with which you can try your hand at various Nintendo Switch games. Get moving and have fun with Nintendo Switch Sports; Taiko no Tatsujin; Mario Kart 8 Deluxe; Kirby and the Forgotten Land; and more! Finally, don't miss the chance to win limited-edition prizes and merch by completing special missions at game checkpoints, or spending a designated amount at the mall.
T.O.P This is Our Place, 700 Nathan Road, Mong Kok, Hong Kong, p. 3951 0828
Honey Hacks! Sweet deals and news in Hong Kong: April edition
1. Mastercard x Lubuds: New partnership and experiences on the Priceless platform
To support Hong Kong's post-pandemic recovery and celebrate our city's status as a culinary paradise, global giant Mastercard and esteemed homegrown culinary group Lubuds are teaming up to create a series of unique experiences for Mastercard holders. Expect exclusive privileges, dining benefits, and immersive, multi-sensory events, all being added to the line-up of perks available on Mastercard's Priceless platform. In addition to dozens of Priceless Special discounts and surprises at Lubuds' venues, you'll also find new Priceless Experiences such as the Hidden Menu Selection by Chef Shao at Mián, The Murray; a "Head to Fin" Tuna Menu after the Tuna Cutting Live Show at Odds and Ana Ten; and a spectacular meal with Chef Ken Lau's tableside presentation of his signature dishes – including the Insta-famous Pasta on Parmesan Cheese block with Black Truffle Paste! Travellers can also unlock new Mastercard Travel Rewards, which include cashback and online offers.
Find out more about Mastercard Priceless and Lubuds.
2. Zzura: New food-inspired cocktail menu
Need a refreshing tipple to combat the humidity? Zzura's new cocktail menu has you covered. Inspired by Middle Eastern food and recipes, Founder Gagan Gurung has crafted 10 creative concoctions, using the region's punchy, traditional ingredients. Our favourite is the fruity and floral "Karkadeh", which is made with tequila, clarified water melon, pineapple, lime Hibiscus tea, and rose spray. Feeling more adventurous? Go for the "Greek Salad" and "Halloumi", which are two savoury cocktails on the list. Top it off with the "Arabic Martini" – a spiked Arabic coffee – which is crafted with cardamom and dates vodka, coffee liqueur, and Turkish cold brew coffee.
Zzura, 2/F, Amber Lodge, 23 Hollywood Road, Central, Hong Kong, p. 2639 9155
3. Maison ES: 2023 Spring menu
Celebrating spring with an array of exuberant flavours, Maison ES is launching its new seasonal menu, adding a slightly spicy, Chinese-style twist to French cuisine. Along with an optional wine pairing, you can opt for either the five-course (from $1,280) or eight-course (from $1,880) tasting menu. The meal begins with starters such as Sichuan Tartare – the restaurant's signature Kagoshima chuck rib tartare – with Oscietra caviar, soft-boiled quail egg, flaxseed rice crackers, and its secret Sichuan sauce; and the Crispy Langoustine Wonton, crafted with hairy crab nage, ginger and Zhenjiang vinegar gel, and micro cress. While you have a choice between several mains, we'd recommend the Chu Hou Beef Filo Pastry & Steak, which is made with wagyu A3 sirloin, kale, and savora jus. We love how juicy and tender the seared beef is, and how it's complemented by the crispy, freshly baked pastry. That being said, the other main – Drunken Ping Yuen Chicken Abalone – is nothing to scoff at either. Don't forget to save room for The French Toast dessert, a scrumptious combo of brioche, espresso, organic eggs, salted caramel, salted egg, and Tahitian vanilla ice cream.
Maison ES, 1A Star Street (entrance on Electric Street), Wan Chai, Hong Kong, p. 2521 8011
4. The Peninsula Hong Kong: "Quintessentially Turkish" Breakfast and Peter Rabbit Afternoon Tea
The Peninsula has you covered for five-star dining experiences all day! In honour of the grand opening of The Peninsula Istanbul, The Peninsula Hong Kong is launching the "Quintessentially Turkish" breakfast menu (from $228). Paying homage to Türkiye's colourful character, the breakfast consists of a choice of classic Turkish breakfast items, including Cilbir – poached eggs with yoghurt, olive oil, and chilli flakes; Menemen – slow-cooked egg yolk with a ragout of tomatoes, bell peppers, onions, and garlic; and Turkish Set Breakfast – a vibrant spread of açma poğaça with jam and honeycomb, citrus fruit salad, and more. We recommend the strong and fragrant Turkish tea or coffee to complete your experience.
Later in the day, The Lobby serves its iconic afternoon tea – in collaboration with the equally iconic and beloved character, Peter Rabbit. Available until 26 April, the family-friendly Peter Rabbit Afternoon Tea (from $468 per person and $868 for two) is the perfect way to celebrate Easter in Hong Kong with your kids – especially because all children under 12 years old will be gifted a Peter Rabbit and Pen Bear colouring book! The menu features an array of English bites, with savoury items like Mr. McGregor's garden vegetable quiche; and poached shrimp, crab, and radish pita bread. As for the sweet treats – which all look too cute to eat, BTW – include the blackberry Battenberg cake; puff choux with camomile-infused English cream; and dark chocolate mousse tartlets with white chocolate mint ganache. Before digging into these items, however, may we suggest you enjoy the famous scones first, while they're still hot!
The Lobby, G/F, The Peninsula Hong Kong, Salisbury Road, Tsim Sha Tsui, Hong Kong, p. 2696 6772
5. Matchali: New cocktail menu
Mad for matcha? Head to Matchali in the hip Star Street Precinct to sample its 10 new matcha cocktails and the matcha-spiked Yebisu Premium beer. Making alcoholic drinks not just fun but also (relatively) healthier to consume, matcha and other Japanese ingredients are used to create these refreshing, supercharged beverages. We went for the Cousins in Kyoto ($85) – a spin on the classic G&T with an added shot of ceremonial-grade matcha; and the signature Matchalini ($80), which is also crafted with ceremonial-grade matcha, alongside almond milk, vanilla, and vodka. Other popular options include the zesty Spiked Yuzu Lemonade Matcha ($85) and the Dirty Espresso Martini ($90). Be sure to take advantage of the discounted prices at Matchali, with its happy hour running between 4 and 7pm on weekdays!
Matchali, 5 Moon Street, Wan Chai, Hong Kong, p. 9880 7661
6. Häagen-Dazs x Madame Fù: "The Afternoon Tea of Afternoon Teas"
As spring showers and warmer weather arrive in Hong Kong, what better time to freshen up with a scoop of ice cream (or two)? Try Haagen-Dazs' brand new Blooming Blueberry Tart Ice Cream (available as a cup or bar), which contains ripe blueberries, pieces of soft biscuit tart, and silky blueberry ice cream. Together with the classic Strawberries & Cream Ice Cream, these two berry-based creations make the Duchess Series – a delicious duo fit for the royals! Enhance your experience at Madame Fu with its "The Afternoon Tea of Afternoon Teas" collaboration with Haagen-Dazs, available until 31 May. The berry-inspired goûter features the signature blueberry tart with fresh meringue; blueberry goat cheese tart with strawberry tart shell; strawberry cheesecake with homemade strawberry jam; and more. Guests can take home Haagen-Dazs' berry ice cream-themed compact mirrors and a dessert voucher.
Find out more about Häagen-Dazs and try its new afternoon tea at Madame Fu, 3/F, Barrack Block, Tai Kwun, 10 Hollywood Road, Central, Hong Kong, p. 2114 2118
7. Pret: 2023 Spring menu
More spring freshness incoming! Pret A Manger is here to brighten your day with its seasonal offerings, available until 31 May. To herald the arrival of spring, Pret's new creations are laced with edible flowers and present a colourful palette. Pretty pastel blossoms decorate three yoghurt and granola Goodness Bowls ($40 each), with the pink one consisting of beetroot, raspberries, and lychees; the yellow one being a mix of passion fruit, raisins, roasted coconut flakes, honey, and turmeric; and the blue one containing spirulina, blueberries, and other superfood. You'll also find two new malted rye rolls ($42 each), in addition to a new pasta choice of Thai Chicken Orzo ($44). Snack on the Nut, Fruit & Chocolate Bar ($17), or wash it all down with the Rose Cappuccino ($45). And since we love Pret's ongoing commitment to sustainability, here's our reminder to bring your own cup – not only will you be doing good to the environment, you'll also be rewarded with a $5 discount for your drink!
Pret A Manger has multiple branches across Hong Kong.
8. Lululemon: Get Into It – Align Trial Campaign
If you're yet to own your first piece of Lululemon (or want to own another piece), here's your sign: from 10 to 23 April, Lululemon is inviting you to "Get Into It" by trying on Align Pant at any of its stores in Hong Kong and feeling its signature "next-to-nothing" sensation for yourself – and stand a chance to win a free pair! Simply take a photo or video of yourself trying on Align bottoms in Lululemon's fitting rooms; then, upload it on your Instagram story or post; follow @lululemonhk, and tag it and #lululemonAlign in the caption; finally, show the story or post to the Lululemon Educators and collect a capsule from the vending machine to win a complimentary pair of Align Pant or other small accessories. As fans of Lululemon's flattering Groove Pant Flare Nulu (from $680) ourselves, we're seriously considering buying the Align Hise-rise Pant ($880) next, since it's comfy, lightweight, and just buttery-soft.
Lululemon has multiple branches across Hong Kong.
Honey Hacks! Sweet deals and news in Hong Kong: March edition
1. Clarence: Monthly theme menus
Opened just last year by Michelin-starred chef Olivier Elzer, Clarence has quickly become a firm favourite of those who appreciate contemporary French cuisine. To further elevate the experience at Clarence, Chef Elzer is introducing three epicurean set menus: the signature menu (from $798), a selection of cult classics like the signature Yakifrenchy skewers; a weekly set lunch (from $498) and dinner menu (from $788); and a monthly theme menu, with the March edition being the seven-course Alsace Menu (from $888) – a tribute to Chef Elzer's hometown and a series of unique offerings cooked by the Chef himself alongside his mother Dorothée on her rare visit to Hong Kong. We love the rustic and hearty Le Baeckeoffe stew; Le Trou Alsacien… Lorrain, a palate cleanser not to be overlooked; and the super light Le Cheesecake, crafted according to Dorothée's very own recipe.
Psst – do you know about Clarence's Secret de Cave Menu? Hear it from us: this hidden wine menu is specially curated for regulars and connoisseurs. Among Clarence's incredible collection of 600 wine labels and 100 champagne from around the world, Secret de Cave offers limited quantities of even rarer and more exclusive labels, allowing guests to discover lesser known gems, aside from the Sommelier Experience Wine Pairing in the set menus. So, don't miss out on this, wine lovers!
Clarence, 25/F, H Code, 45 Pottinger Street, Central, Hong Kong, 3568 1397
2. Venchi x Cantina: The Chocolate Dinner
What makes a sweeter deal than chocolate? The creative chocolate feast at Cantina, we'd say! Jointly presented by GB Mantelli (Venchi Chocolate Master and Creator of Venchi's recipes) and Andrea Mura (Italian Executive Chef of Aqua Restaurant Group), the five-course Chocolate Dinner (from $888) is the latest offering at the Italian restaurant in Tai Kwun and is available until 10 April. A demonstration of authentic Italian recipes reimagined with Venchi chocolate, the menu showcases the complex flavours and textures of cocoa, as well as the versatility of this ingredient when infused in both savoury and sweet dishes. Our favourites include the amuse-bouche – sesame cones with mortadella and parmesan cheese, Bronte pistachio, 50-year aged balsamic vinegar and Venchi chocoviar; and the tender Iberico pork with rum-poached shallot, soft caramelised pear, plus a creamy sauce made with Venchi's extra dark and Gianduia n.3 (hazelnut) chocolate. Feeling thirsty? Try The Dispensary Bar's V-Punch ($128), a special cocktail crafted with white rum filtered with Venchi white chocolate and pistachio.
Cantina, Police Headquarters, Block 01, Tai Kwun, 10 Hollywood Road, Central, Hong Kong, p. 2848 3000
3. 1111 ONES Restaurant & Lounge: New chef and menu
Modern European restaurant and lounge, 1111 ONES, has welcomed Michelin-starred chef Chris Chan to the helm! We're fans of Chef Chan's ingredient-led approach, as he's able to bring out the natural flavour of his materials using an artful merge of Eastern and Western culinary techniques. Chef Chan's new eight-course menu (from $1,800; plus $788 for wine pairing) includes a series of appetisers, a choice of two main courses, and two desserts.
After the team gives you a preview of the day's fresh ingredients, the feast begins with three hors d'oeuvres, with our fave being the crisp chicken skin infused with Thai green curry. These are followed by various appetisers such as Toro – sustainably sourced bluefin toro paste, paired with Hokkaido sea urchin and balanced with a tangy tomato consommé jelly; Crab (our personal highlight of the night!) – Teochew male crab wrapped in paper-thin radish, topped with caviar and horseradish snow, and served with a leek consommé glaze; Truffle – with a generous portion of freshly shaved black truffle; and the tender Cod – steamed Cantonese-style and served with a sweet French onion soup. Next, take your pick between the Hida Wagyu; and Carabinero with squid ink risotto as your main (whichever you go for, you're in for a treat!). Finally, the meal concludes with a palate cleanser and Sesame, a delightful sesame crisp complemented with desiccated coconut flakes, sesame and coconut ice cream, and passion fruit jelly.
1111 ONES Restaurant & Lounge, 11/F, 18 On Lan Street, Central, Hong Kong, p. 2910 1128
4. Conrad Hong Kong: "Colours of India" lunch buffet
In search of a weekday lunch spot with your colleagues and clients? Look no further than the Lobby Lounge at Conrad. Every Tuesday to Friday, you can feast to your heart's content at the newly launched "Colours of India" lunch buffet (from $368). From starters like the aloo chat potato salad, to mains such as the chicken tikka, all the dishes are authentically designed and prepared by Indian chef Raiwat Raju Singh. You can expect street-style snacks such as samosas; flavourful curries like Rogan Josh and the vegetarian lentil curry dal; staples like naan, biryani, and the crowd favourite poppadom; as well as Indian sweets and beverages such as ras malai and mango lassi. Don't forget to drop by the cooking station, too, to sample the freshly made dosa accompanied by sambar soup.
Lobby Lounge, Lobby Level, Conrad Hong Kong, Pacific Place, 88 Queensway, Hong Kong, p. 2822 8891
5. Zuma celebrates Art Month
From 6 to 31 March, the buzzing contemporary izakaya Zuma is celebrating Art Month and the coming of spring. Paying homage to Chinese art and literature, the limited-time plates and drinks at Zuma are created with inspiration from Spring Night, an ancient poem written by the revered Chinese poet and calligrapher Su Shi. To go with the spring-themed dishes of Art-month-special Sushi Platter ($560) and Lobster Carpaccio ($380) are two cocktails, created by Zuma's bar team in collaboration with Perfume Trees Gin. Opt for the Scent of Spring ($120) for a fruity blend of yuzu hibiscus cordial, sakura liquor, and pineapple; or Courtyard Melody ($120) for a more savoury choice, containing Suze and liqueurs infused with bergamot and shiso. Be sure to spot the custom art pieces at Zuma, too, including cocktail glasses specially decorated with Chinese calligraphy.
Zuma, Levels 5 and 6, Landmark, 15 Queen's Road Central, Central, Hong Kong, p. 3657 6388
6. HoteLux launches in Hong Kong
Expanding from Singapore to Japan and Thailand – and now to Hong Kong, just in time for the boom of international travel – HoteLux has been making waves in the tourism industry as a pioneering luxury hotel reservations app. For an annual fee (which can be covered by the perk of having US$100 credit for a guest's first three stays – you do the maths), members on this booking platform gain access to flash deals, upgrades, hotel credits, loyalty points, and other benefits. These come on top of a selection of over 4,000 of the world's best hotels and resorts, including much sought-after Japanese ryokan – talk about red carpet treatment! You can also look forward to HoteLux becoming a true one-stop travel concierge as it extends its bookings to limousine services, popular restaurants, and tailor-made experiences.
Find out more about HoteLux.
Honey Hacks! Sweet deals and news in Hong Kong: February edition
1. The Optimist x Tokyolima: 4-Hands special menu
In the mood for some funky fusion? Don't miss out on Pirata Group's awesome Pirata Remix project, now moving onto its final chapter in February at The Optimist and Tokyolima. Showcasing the culinary creativity of Executive Chefs Victor Caballé Molina and Arturo Melendez, the four-hands menu (from $498 per person) features an innovative twist on Spanish and Nikkei cuisine. On 8 February at Tokyolima and 15 February at The Optimist, guests can experience the two cultures coming together with starters such as Ceviche a la Gallega with octopus, pigquillo pepper tiger's milk, and calamari tempura. Next comes the show-stopping Columbus Paella with lomo saltado; and Iberian Suckling Pig paired with aji amarillo and quince jam; before closing with a Spanish Basque Burnt Cheesecake with yuzu manjar blanco and wasabi candy.
Discover more about Pirata Remix.
Tokyolima, G/F, Car Po Commercial Building, 18-20 Lyndhurst Terrace, Central, Hong Kong, p. 2811 1152
The Optimist, G/F, 239 Hennessy Road, Wan Chai, Hong Kong, p. 2433 3324
2. Weirdo Beauty: Two-for-one facial treatments
Is it just us, or has the winter chill made our skin super dry lately? Luckily, Weirdo Beauty is coming to our rescue! A Hong Kong salon specialising in targeted skin management, Weirdo Beauty presents a variety of treatments customised to each client. To celebrate the imminent opening of its flagship salon in Causeway Bay, you and your plus-one can pick between five skin management programmes at two-for-one value (originally $1,680 per person) until 28 February – perfect for galentine's!
The experience includes a professional diagnoses with an AI skin test and a consultation session with professional therapists, followed by your choice of treatment. Programmes include a deeply hydrating solution, comprising Skindeep Filler Hydration and Laennec Placenta Injection; Queen HIFU (High-Intensity Focused Ultrasound) and RF (Radio-Frequency) Ultrasound for a winter glow; 3D Rainbow Light and Nano Pico laser which help reduce pigmentation; amongst others.
Weirdo Beauty, 2309, 23/F, Global Gateway Tower, 63 Wing Hong Street, Cheung Sha Wan, Hong Kong, p. 3001 5823
3. The Landmark Mandarin Oriental, Hong Kong: The Pizza Bar on 38th Pop-Up
Marking the 18th anniversary of The Landmark Mandarin Oriental, the hotel is kicking off the #LMOTurns18 celebrations with an exciting crossover with The Pizza Bar on 38th of Mandarin Oriental, Tokyo! From 14 to 26 February, the Private Dining Room will be taken over by Executive Chef Daniele Cason and his team. Offering one starter, seven slices of signature gourmet pizzas, and one pizza dessert, the degustazione menu (from $798 per person) is the perfect way to experience the Michelin Guide Tokyo-recommended pizzas, straight from the oven. The team uses top-quality ingredients, including premium cold cuts from Italy; fresh mountain vegetables; king crab and sea urchin from Hokkaido; and Red Pearl strawberry from Ehime prefecture. Watch the pizza makers in action at the chef table as you prep your stomachs for some sizzling goodness!
The Pizza Bar on 38th Pop-Up, 7/F, The Landmark Mandarin Oriental, Hong Kong, The Landmark, 15 Queen's Road Central, Central, Hong Kong, p. 2132 0066
4. Oceania Cruises: 20th Anniversary Sale
In commemoration of its 20th anniversary, Oceania Cruises is offering a limited-time sale until 1 March. With 50% reduced deposits, a complimentary OLife Choice amenity package, and an extra USD 800 Shipboard Credit, be sure to seize the sale to enjoy the finest cuisine at sea and curated travel experiences at the best value. Among over 100 destinations around the globe, highlight voyages include the "Fjords, Vikings and Castles" trip from Oslo to London; "Alaska to California Medley" from Vancouver to Los Angeles; "Minarets to Palazzi" from Istanbul to Venice; and more. As you sail, you can get pampered at the Aquamar Spa and Vitality Centre onboard, or dig into the new dishes at The Grand Dining Room (Dom Pérignon pairing dinner, anyone?). Ashore, you can explore deeper with tours such as Go Green; Go Local; and Food and Wine Trails.
Take a look at Oceania Cruises' 20th Anniversary itineraries.
Find out more about Oceania Cruises.
5. Dondonya and Dondonya x Torikai: Limited-time seafood don
Calling all fans of seafood! Until 14 March, Japanese donburi specialists Dondonya and Dondonya x Torikai are presenting two delectable seafood don. Available at both chains is the sumptuous Quattro Seared Seafood Don (from $98), which is topped by lightly seared Hokkaido scallop, salmon, sardine, and ikura sashimi. Offered exclusively at Dondonya x Torikai outlets is the seasonal Hyogo Oysters Oyakadon (from $98), an elevated version of the classic Japanese egg and chicken rice. You can also upgrade the don to a deluxe set, so that it comes with a soup, side dish, dessert, and fruit tea – all for just $10!
Dondonya and Dondonya x Torikai have multiple branches across Hong Kong.
Honey Hacks! Sweet deals and news in Hong Kong: 2023 January edition
1. Highland Park Flavourscapes
Whisky fans mustn't miss out on Highland Park's "Flavourscapes" pop-up at K11 Musea this month! Celebrating the release of its new Cask Strength Release No.3 in Hong Kong, the award-winning Scottish whisky brand is launching a specially designed pop-up, "Flavourscapes – A New Sensory Experience", until late January 2023. If you're shopping for a Lunar New Year gift, this pop-up is also offering festive workshops for you to decorate your bottle with gold leaf for extra elegance and sense of prosperity, making it the perfect gift.
Highland Park Flavourscapes, Shop 26, Muse Edition, G/F, K11 Musea, Victoria Dockside, 18 Salisbury Road, Tsim Sha Tsui, Hong Kong, p. 6531 4323
2. Censu: 1st anniversary special menus
Opening a new restaurant in Hong Kong right when the fifth wave hit last year was certainly a huge feat – and Censu has made it against the odds! To mark its first anniversary, Chef Shun Sato is launching various new initiatives, including cross-disciplinary collaborations with Milk Top, Noods, and Artive Asia, as well as "Yum Bao Sik Jui" (飲飽食醉), a special anniversary tasting menu for two or four people with cocktail pairing. This menu showcases Censu's most popular dishes such as Wagyu Zabuton with smoked nori soy and mushrooms; Unigiri with abalone dashi, uni, and parmesan; Udon with crab miso and snow crab; Mont Blanc Dango with chestnut mousse, green tea crumbles, praline, and coffee soil; among other dishes.
Furthermore, Chef Sato will soon be opening a new teppanyaki restaurant, Enishi, in Hong Kong as his second Japanese concept in the 852. Stay tuned!
Censu, 28-30 Gough Street, Central, Hong Kong, p. 2997 7009
3. Hyatt Centric Victoria Harbour Hong Kong x belif: "Secret Garden Tea Party" afternoon tea set
Mark the start of spring with Hyatt Centric Victoria Harbour's "Secret Garden Tea Party" afternoon tea set (from $688 for two persons), a popular collaboration with belif, a Korean herbal skincare brand. Available at The Farmhouse on weekends and public holidays from 8 January until 26 March, the set is a lavish feast that kicks off with a welcome glass of Mumm Champagne (you can also add on a free-flow Champagne package for $150). Next comes a variety of savoury and dessert items such as Salmon Tartine; Merguez and Fries; Cassis Cheese Cake; Praline Choux; and more. Got a sweet tooth? Brace yourself for all-you-can-eat ice cream and made-to-order flaming Crêpes Suzette, crêpe cones, and croffles at the live stations. Don't forget to take home your complimentary seven-piece belif Herbal Moist Kit (worth $285), which contains the brand's bestselling hero products for hydration, comfort, and regeneration.
The Farmhouse, 2/F, West Tower, Hyatt Centric Victoria Harbour Hong Kong, 1 North Point Estate Lane, North Point, Hong Kong, p. 3896 9896
4. Three on Canton, Gateway Hotel: Pink FONtastic Afternoon Tea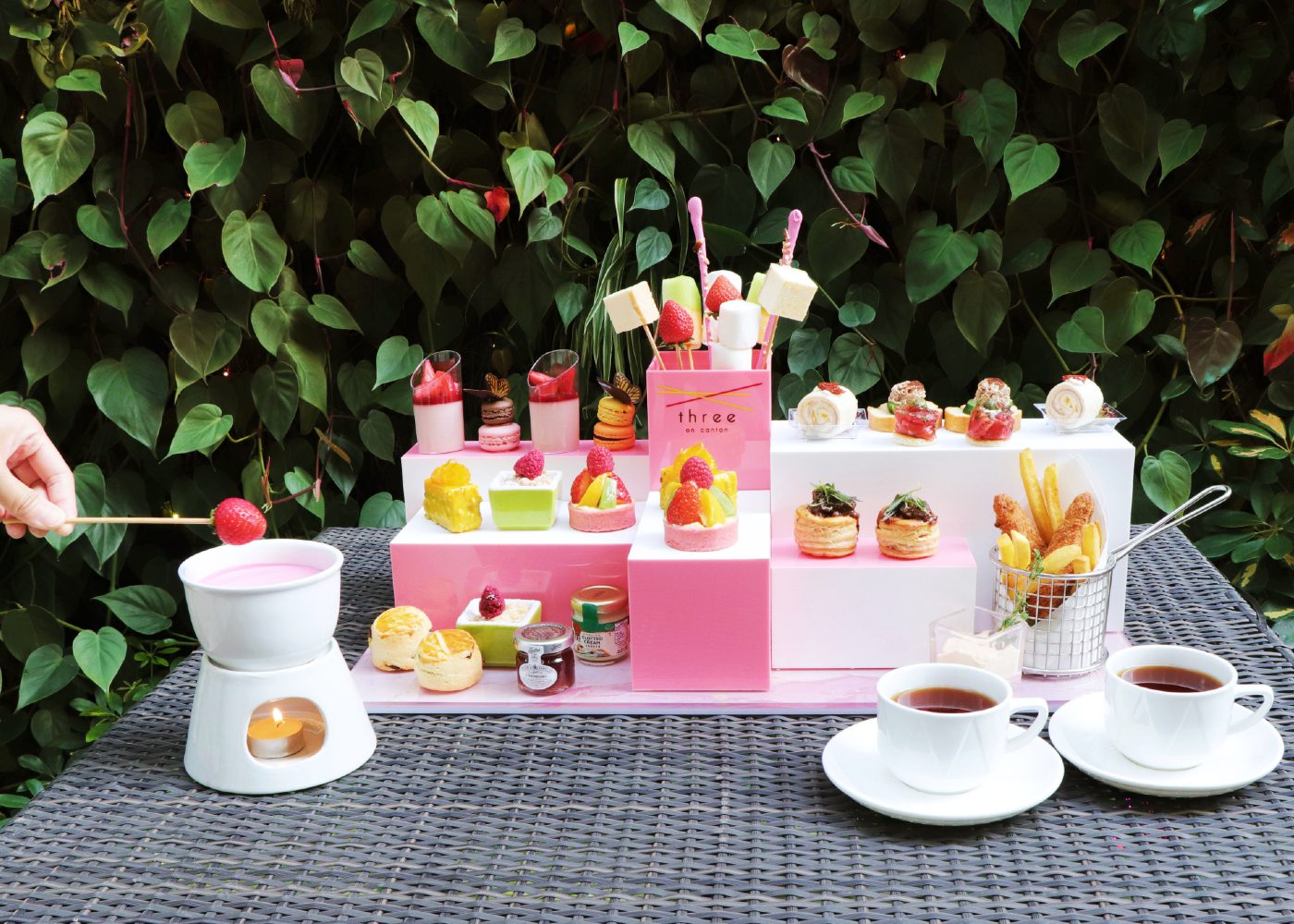 Available till 28 February, Gateway Hotel's "Pink FONtastic Afternoon Tea" (from $568 for two or $388 for one) is a must-have for those who love all things pink! To be enjoyed at Three on Canton or at Be on Canton's outdoor terrace, the set offers a decadent pink chocolate fondue, along with marshmallows, melons, strawberries, and cheesecake pieces for you to dip with. In addition, there are 11 chef-crafted, bite-sized treats. Highlights include Pink Salmon on Toast; Apricot Cream Cheese and Ham Tortilla Wrap; Strawberry Panna Cotta and Pink Fruit Tart; Orange Chocolate Cake; amongst others.
Three on Canton & Be on Canton, Level 3, Gateway Hotel, 13 Canton Road, Harbour City, Tsim Sha Tsui, Hong Kong, p. 2113 7828
5. The Langham, Hong Kong x Klook : Van Gogh-themed Staycation
Whether or not you're an artist, The Langham's Van Gogh-themed Staycation Experience (from $1,325 per night) will mesmerise you with its specially decorated rooms, inspired afternoon tea, and take-home souvenirs. The package, available on Klook until 28 February, offers a stay in the Hotel's unique rooms and suites that are decorated with paintings (even an AR one!), exclusive bed linens, and star projections – all inspired by the maestro's three most famous works: The Starry Night, Irises, and Sunflowers. When you check out, don't forget to take home your gift, which can be a themed handbag, bottle of sparkling wine, or smart thermal vaccum flask. You can also pick up a stunning Van Gogh-themed mechanical watch with diamonds, which is available for purchase ($555).
Discover more about The Langham x Klook's Van Gogh-themed Staycation.
The Langham, Hong Kong, 8 Peking Road, Tsim Sha Tsui, Hong Kong, p. 2375 1133
6. Black Series: Blowout
If you took "treat yourself" a little too far over the holidays like we did, you have to check out Black Sheep Restaurant's fantastic "Black Series: Blowout", a ten-day event that offers crowd favourite menus at unbeatable value. From 11 to 20 January, you dine on a dime at Fukuro ($388 per guest – down from $460), chowing down on the signature Crispy Caramel Butter Corn and more izakaya fare; Crown Super Deluxe (just $588 per guest for dinner – down from $888), as the teppan chefs work their magic; and other restaurants, including Associazione Chianti, Sushi Haru, and the newly opened Magistracy Dining Room. There even is a gelato "happy hour" at Messina, during which you can enjoy a buy-two-get-one-free deal on the delicious scoops. Last but not least, Black Sheep Restaurants is dishing out some awesome "Deals of the Day", which are last-minute flash sales on its Instagram. So, stay tuned to seize 'em super savings!
Find out more about Black Series: Blowout.