Seize the 'early summer holidays' and let your kids explore their artistic potential! (Photography: Kristin Brown via Unsplash)
Could your little one be the next Nigella or Banksy? Here are the best creative classes for kids in Hong Kong.
Kids are untapped fountains of creativity, but they could use a little direction. Sure, you could buy them a store's worth of art supplies, take them on fun days out, and enrol them in summer camps that give you some much-needed respite. But letting them unleash their abilities at non-traditional classes and activities can help them discover their interests and passions – and may even put them on a career path. If you've got a potential Picasso or aspiring Ashley Tisdale on your hands, then book them in for one of the best creative classes for kids in Hong Kong ASAP. Psst – some even offer online classes, making them perfect for some fun at home!
Psst – please heed the government's latest regulations regarding social distancing, and double check with individual businesses to see if they're opened!
The best creative classes for kids in Hong Kong
1. Fabric Art
Is your tot the next Coco Chanel or Marc Jacobs? Whether your child is destined for designer fame or not, they can learn some useful skills at Fabric Art. The studio teaches kids the basics of sewing, screen-printing, and how to work with fabric design, and is a great way of encouraging their creativity and confidence.
Classes are held at the PMQ studio, though some may be in places like the Aberdeen Marina Club or ESF Kennedy School. You might have to bear with a few ill-sewn shirts and bags, but before long, you may have a blouse you'll want to wear all the time or a cute bag to tote all your things about. And if your kid isn't dressing the next Gen Z star for the red carpet, then at least they'll be able to take up their own hemlines or sew a lost button back on a shirt!
Fabric Art, PMQ, 35 Aberdeen Street, Sheung Wan, Hong Kong, p. 9281 5290
2. MessyJam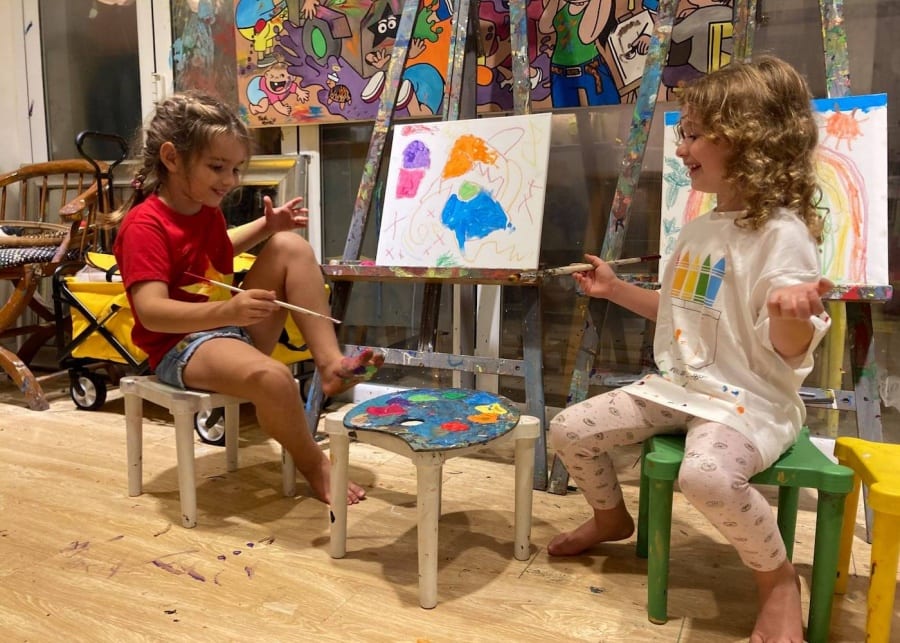 Not to put too fine a point on it, but kids really do seem to have a knack for making a mess. At MessyJam, though, you can let their destructive tendencies run amok under the guise of creativity. Whether you take your kids in for drop-in art-jamming sessions, private workshops, or one of their other offerings, you can be sure that they'll have access to a dizzying array of paints, canvases, and everything they else they need to create a masterpiece – or a mess you won't have to clean up. Think of this as organised chaos with an artistic twist – and with great potential. After all, Jackson Pollock's paintings are a hot mess, but they're worth millions.
MessyJam, Flat D, 2/F, Tai Fat Building, 37 Ko Shing Street, Sheung Wan, Hong Kong, p. 9366 9836
3. Complete Deelite
For kids with a sweet tooth, there's probably no more fun to be had than at a workshop dedicated to baked goods. At Complete Deelite, your tots can indulge in a wealth of baking classes, from the signature Creative Cake and Jumbo Cookie Jam sessions to specialised programmes, such as the one for Easter that covers Easter Cheesecake Bombs and Easter Drip Cakes. So prepare for your kids to frost themselves with buttercream, icing, sprinkles, and gorge their appetites on delicious snacks – consider yourself warned about the impending sugar high.
Complete Deelite, 3/F, On Lan Centre, 11-15 On Lan Street, Central, Hong Kong, p. 3167 7022
4. First Code Academy
Move over Mark Zuckerberg, Jack Dorsey, and Sundar Pichai – a new generation of wunderkinds are coming to take your coding crowns. With technology becoming even more firmly entrenched in our daily lives, being able to code is a must for kids who want to get a leg up on the competition.
At First Code Academy, your kids can do exactly that using specialised tools brought in from Silicon Valley, the ultimate tech hub. Kids aged four and up get a beginner's STEM education that prioritises computer, logic, programming, and creativity. In addition to online classes and one-on-one private sessions – which are perfectly lockdown-friendly – the Academy offers weekly classes, holiday sessions, and single workshops, and the end goal is to have kids producing their own games and apps. We'll leave you to help them work out an app idea that'll be the next big thing on the App Store.
First Code Academy has locations in Sheung Wan and Yau Ma Tei.
5. Faust International Youth Theatre
If you've got an aspiring starlet or drama queen in the house, they'll love taking centre stage with this youth theatre troupe. Faust International Youth Theatre takes kids with a knack for the dramatic and helps them put their talents to good use in drama workshops, annual performances, and even online drop-in workshops, which make ideal lockdown and holiday activities. As well as helping them refine their performance skills, the programmes are also a great way to instil some self-confidence, encourage teamwork, and channel creativity. Just keep your mumager tendencies in check – this is all about good, clean fun.
Faust International Youth Theatre, 11/F, Nan Dao Commercial Building, 359-361 Queen's Road Central, Sheung Wan, Hong Kong, p. 2547 9114