Spice up your culinary skills (Photography: blueorangestudio)
Wanting to prepare better home meals for yourself and your family? Brush up your skills at the best cooking classes in Hong Kong.
At Honeycombers, we are always thrilled to pick up new skills. While you are already thriving at these amazing Mandarin Chinese classes, dance classes and online fitness classes, we've sorted a list of the best cooking classes in Hong Kong for all levels. Roll your up sleeves and get ready to be the next master chef!
Best cooking classes in Hong Kong
1.  ABC Cooking Studio
With countless branches across Asia, ABC Cooking Studio is one of the hottest Japanese cooking schools in the world. Their classes are capped at four students to one instructor to provide detailed attention to everyone. You can learn to make heartwarming Japanese food, ranging from tempura to takoyaki, and curry doughnuts to yuzu cheesecakes. If you love Japanese culture, make sure to check out their wagashi (Japanese traditional confectionery) classes where you can craft your own mizuyokan, sakura mochi and other intricate sweets.
ABC Cooking Studio has branches in Tsim Sha Tsui and Tai Koo Shing.
2. Hong Kong New Oriental Culinary Art
Established in 1988, Hong Kong New Oriental Culinary Art is one of the largest culinary schools in Hong Kong. Their four major types of classes are international cuisine, bakery, confectionery and coffee; and programme duration ranges from one lesson to fifty lessons. Make sure to check out their Chinese dumpling classes where you can learn to wrap dumplings with fancy shapes like butterfly and goldfish.
Hong Kong New Oriental Culinary Art, 2/F, KP Tower, 93 King's Road, North Point, Hong Kong, p. 2656 2727
3. Metropolitan Kitchen
From professional training to beginner workshops, classes for different levels of cooks are available at Metropolitan Kitchen. You will receive direct guidance from chef Marco Maggio who has worked at numerous prestigious hotels such as Shangri-La and Le Meridien. Foie gras steak, bluefin tuna, tiramisu, blue cheese risotto cake… Master all kinds of luxurious dishes at chef Marco's classes.
Metropolitan Kitchen, 20/F, Silver Fortune Plaza, 1 Wellington Street, Hong Kong, p. 3563 6363
4. Star Chef Management School
Although Chinese cuisine is Star Chef Management School's specialisation, that doesn't mean their class options are limited. They hold an array of culinary courses where you can learn to make delectable Chinese food like dim sum, Hai Nan chicken, Shanghai-style rice cakes and more. What makes Star Chef Management School extra cool is that they provide free courses licensed by Employees Retraining Board, helping those who are unemployed or seeking a culinary career to obtain a certificate.
Star Chef Management School, 2/F, Kwan Kang Building, 2-8 Temple Street, Yau Ma Tei, Hong Kong, p. 2388 3000
5. The Mixing Bowl
With Hong Kong's limited space and busy lifestyles, The Mixing Bowl's diverse classes aim to show that baking can still be an enjoyable and rewarding hobby. Using simple ingredients and basic appliances, its hands-on classes teach skills that can be easily replicated at home. The team believes cooking is a fun family activity for quality bonding time, and home baking can even encourage healthier eating, like when creating tasty and wholesome artisanal breads. Ranging from modern mooncakes to German pretzels, the cooking classes at The Mixing Bowl will have you cooking up a storm in no time.
The Mixing Bowl, 23/F, The Pemberton, 22-26, Bonham Strand, Sheung Wan, Hong Kong, p. 2524 0001
6. Towngas Cooking Centre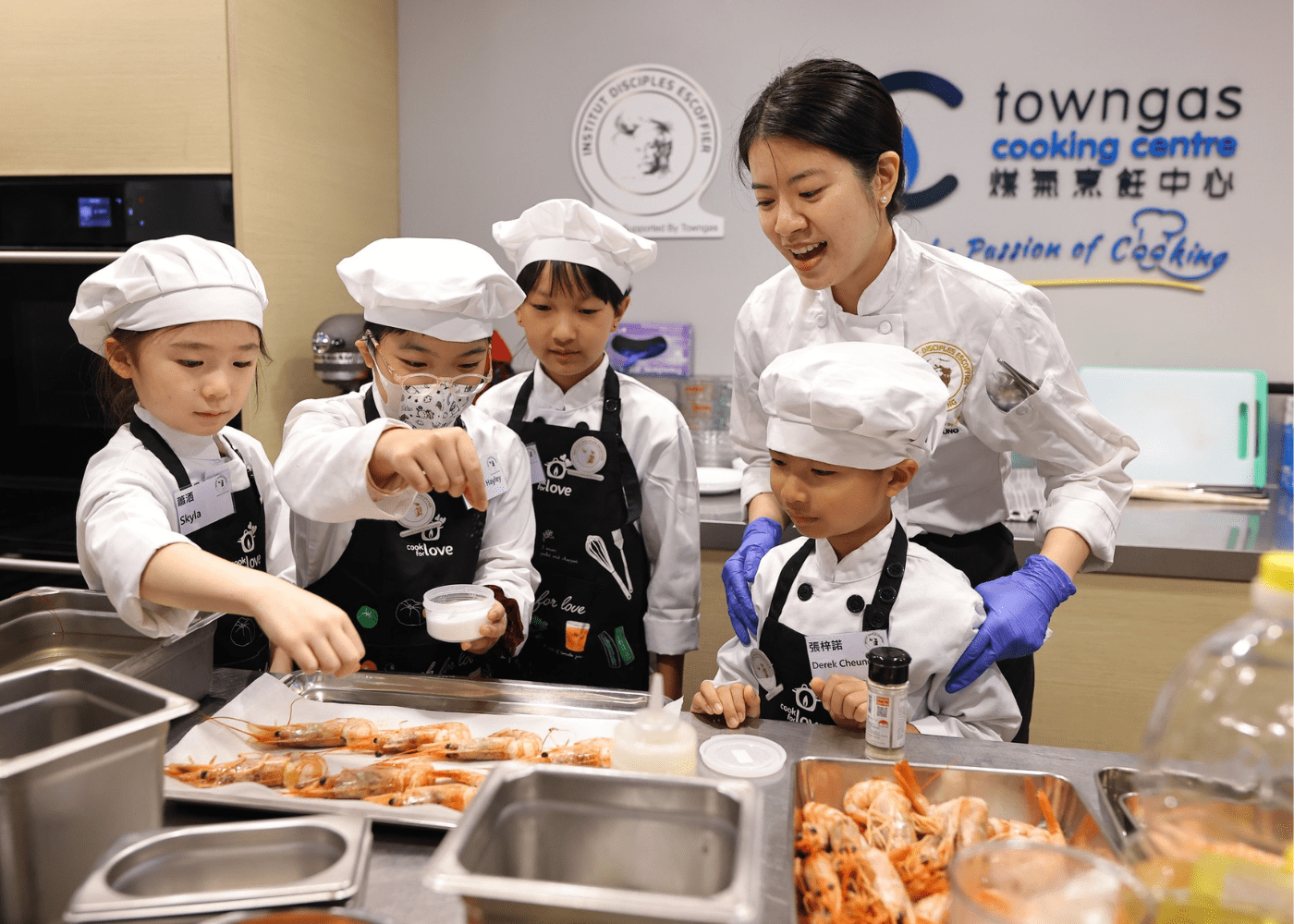 Pioneering food education, Towngas Cooking Centre provides unique opportunities to experience the joys of gourmet flame cooking. With professional instructors imparting cooking secrets through demos and hands-on classes, Towngas empowers culinary aficionados to hone their skills. Besides courses, the centre also regularly invites celebrity chefs to inspire participants through sharing sessions. In September 2014, as Hong Kong's largest cooking school, Towngas started partnering with France's esteemed Disciples Escoffier to offer traditional French cooking courses and prestigious certifications. From Parents and Kids classes to Flame Cooking techniques for Chinese and international cuisines, Towngas Cooking Centre offers something for every aspiring chef.
Towngas Cooking Centre, 9/F, Lee Theatre, 99 Percival street, Causeway Bay, Hong Kong p. 2576 1535
7. Pots n Pans Cooking Studio
Committed to providing high-quality cooking classes in Hong Kong, Pots n Pans caters to students of all ages and levels, helping them master a wide range of cuisines from French pastries to Thai dishes. Instead of offering one-size-fits-all classes, the studio customises its courses to match each student's interests and culinary background. In addition to regular lessons, Pots n Pans takes you beyond the classroom, going on wet market tours to introduce Chinese staples and provide insights into the local food culture. These classes culminate in professional kitchens where yous can relax and savour the meals you've prepared yourself – the best reward, really!
Pots n Pans Cooking Studio, Units F & G, 10/F, 15 Chong Yip Street, Montery Plaza, Ngau Tau Kok, Hong Kong, p. 3547 2606
[This article was originally published in December 2020 and updated in 2023 by Catherine Pun.]