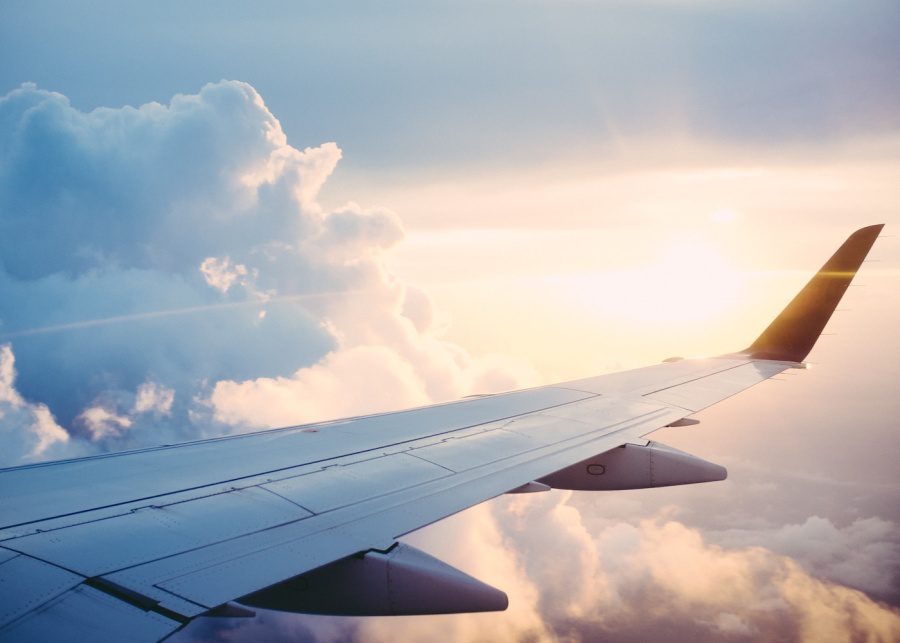 Fly to one of your favourite travel destinations today (Photography: Ross Parmly via Unsplash)
Booking a flight is often the first thing you do when planning a trip, but sometimes, a plane ride can really make or break your trip. So, be sure to look out for the best airlines in the world next time you travel to and from Hong Kong.
Now that travel restrictions are a thing of the past (thank goodness), there's no stopping us jetsetters itching our travel bug! Whether you're travelling alone, with friends and family, or ticking off a bucket list location, you're more than likely to be flying to your next destination. In the modern age of air travel, there's more than enough options to choose from. But when it comes down to the most premium inflight food, entertainment system, services, and First Class perks, which airline should you actually use when travelling to and from Hong Kong? Have your luggage on hand as you get ready to fly with some of the best airlines in the world.
Best airlines in the world for travelling to and from Hong Kong
1. Singapore Airlines
Known to be one of the best airlines in the world, Singapore Airlines goes above and beyond on almost everything. To ensure that the flavours are perfect, the in-flight food is designed and tested in a simulated pressurised environment. You'll be able to pre-select your meal online and can count on the food tasting its best in the air. The cabin crew will take care of your every need and can even guide you through the extensive in-flight entertainment. In addition to a vast catalogue of content on demand, live TV is also available. With Singapore Airlines, you can book your own Suite for one or two, so that you can travel in luxury and privacy – talk about going beyond First Class! Complete with a full bed and a spacious bathroom, you'd only wish your flight was longer!
2. Cathay Pacific Airways
Did you know that this Hong Kong gem is also one of the best airlines in the world? Delicious, nutritious meals featuring international flavours are available on all Cathay Pacific Airways flights with the ability to pre-choose your meal online. Thoughtful service from the cabin crew will have your needs met throughout the flight. Cathay Pacific Airways also has one of the biggest catalogues of in-flight entertainment in the Asia Pacific, making time fly (literally) in luxury. Economy Class provides spacious seats with touch-screen TVs that'll keep you comfortable and entertained; whereas in Business and First Class, you can transform your seat into a bed to get some much-needed shut-eye during long-haul flights. Furthermore, First Class offers premium long-haul amenities such as skincare products, a sleep suit, slippers, and an eyeshade. When travelling to and from Hong Kong, Cathay Pacific Airways is the go-to choice for many – for good reason!
3. Emirates
Travel in style to and from Hong Kong with Emirates. A welcoming, diverse cabin crew will be on hand throughout the flight in all cabins. Enjoy multicourse meals that include regional and international flavours based on your destination. You'll be entertained by over 5,000 selections in the in-flight entertainment catalogue. Feeling fidgety on the flight? The seats only get more spacious and luxurious from Economy, Premium Economy, Business, to First Class. What's more, you can transform your First Class seat into a private suite with privacy doors. You'll feel like you're in your own hotel room in the sky with temperature control and mood lighting. On certain flights, there's even an in-flight lounge and bar where you can mingle and connect, all from the sky.
4. Korean Air
Say annyeonghaseyo to luxury travel with Korean Air, the flag carrier of South Korea. With a friendly and multilingual cabin crew, you'll have the utmost care throughout your flight. Although the food menu may change slightly based on your destination, the Korean food selection simply cannot be missed. Korean staples are available from Economy to First Class, giving you an exceptional sample of the cuisine thousands of metres in the air! Additionally, you'll be able to watch Hollywood blockbusters, classic TV shows (yep, including K-dramas), and Asian cinema on-demand. In First Class, you can enjoy the premium amenity kit with a toothbrush, eye mask, comfortable in-flight clothing, and a skincare set. You'll also be able to recline your seat entirely into a bed and be treated to a duvet service, complete with a mattress pad. Whether it's a short or long-haul flight, the team at Korean Air will ensure you have a luxurious experience.
5. Qantas Airways
If any Hong Konger wants to travel down under, Qantas Airways is one of the best airlines to use. Enjoy hours of in-flight entertainment that you can start watching the moment you board. Economy Class seats now have better cushioning and more legroom for long-haul flights. For First Class passengers, you can fully lie back with a bedding down service. Additionally, you can use your spacious suite to dine with a companion. We love how the in-flight dining at Qantas Airways features plant-based options. You'll find dishes bursting with flavour whether you're on an international or domestic flight. Plus, the world-class cabin crew will guide you through the entire flight with ease. No matter which cabin you're in, you can count on the flight attendants to take care of your needs.
6. Qatar Airways
Consistently voted one of the best airlines in the world by the World Airline Awards, Qatar Airways lets you take to the sky in style. World-class attention to detail from the award-winning cabin crew will have everyone from Economy to First Class satisfied. Fresh ingredients are transformed into incredible dishes with an in-flight menu that can be pre-selected online and tailored to your dietary preferences. Moreover, with over 6,000 selections available in the in-flight entertainment catalogue, Qatar Airways will keep you entertained even on long-haul flights. Although Economy Class here is luxurious enough, if you really want to travel with opulence, splurge for First Class. With this tailored experience, you can relax on the transformable lie-flat bed while enjoying your Diptyque amenity kits and designer loungewear. As Qatar Airways increases its roster of Hong Kong flights to pre-pandemic levels, your next world-class flight is right on the horizon!