A place where mind-body connections are nurtured (Photography: Africa images)
If you're looking to incorporate different types of alternative healing in Hong Kong into your life, then these may be of interest.
In the quest for balance and well-being, Hong Kongers have ventured well beyond conventional medicine, embracing an array of holistic approaches. From traditional Chinese therapies to nutritious soups and herbal teas, to innovative wellness techniques sourced from around the globe, our city has become a rich tapestry of alternative healing practices. Many renowned practitioners, who are able to artfully blend ancient knowledge with contemporary insights, are offering more than just mainstream healthcare options. So, whether you're seeking relief from stress or hoping to enhance your overall well-being, rest assured that there's an abundance of alternative healing centres in Hong Kong, each uniquely tailored to meet your specific needs.
Journey through the captivating realm of alternative healing in Hong Kong
1. Tune In Wellness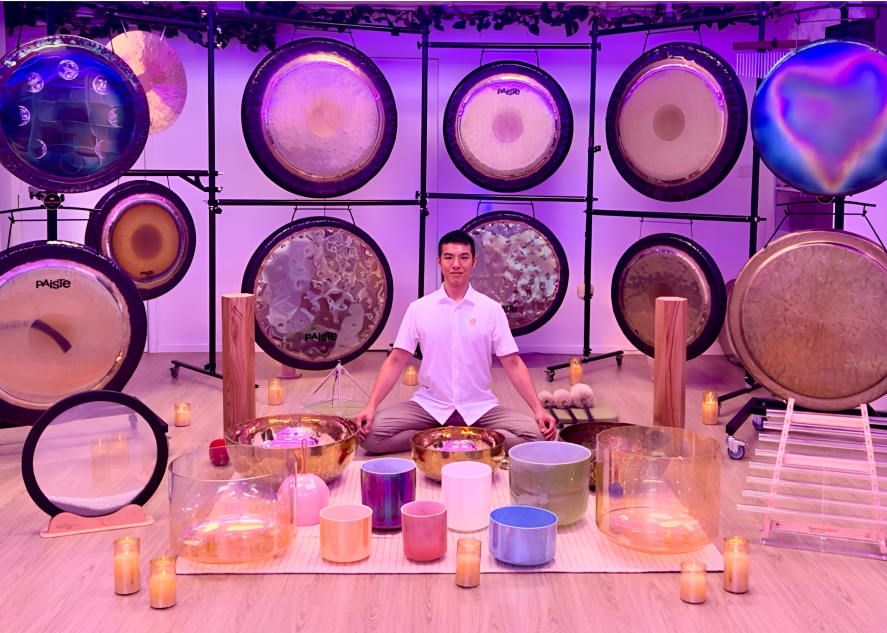 Feeling lost and tired in the frenetic pace of our city? Get in tune with your inner self with Tune In Wellness, a sound healing studio in Hong Kong founded by Malbert Lee. Malbert is a professional sound healing master, yoga teacher, and wellness consultant, trusted by many corporate clients worldwide such as Lululemon, Cathay Pacific, HSBC, and Shangri-La. His studio is home to a variety of sound healing instruments, including specially crafted gongs, Nepalese singing bowls, and the biggest collection of alchemy crystal singing bowls in Hong Kong. Using these equipment, Tune In Wellness provides the highest level of sound meditation experience to its clients to improve their physical and mental well-being, as well as their productivity and quality of life.
Want to try out the alternative healing and therapy at Tune In Wellness? Head over for gong bath sessions, held every Wednesday from 7.15 to 8.30pm; crystal sound healing sessions, held every Thursday from 7.15 to 8.30pm; Sound Journey with gongs and singing bowls sessions, held every Saturday from 12 to 1.15pm; and Floating Sound Meditation sessions, held every Saturday from 3 to 4.15pm.
Tune In Wellness is the Silver award winner of "Best Alternative Healing Studio in Hong Kong" in our Love Local Awards 2023!
Tune In Wellness, 16/F, Simsons Commercial Building, 137-139 Johnston Road, Wan Chai, Hong Kong
2. Crystal Bowl of Light
Candace and Eunice, the two sisters behind the enchanting Crystal Bowl of Light, have a deep passion for Alchemy Crystal Singing Bowls. In their tranquil space, they use these bowls to create soothing sounds, offering healing vibrations to all who visit. Their goal is to boost your personal energy while raising the overall positive energy in the world. Think of it this way: every single cell in our bodies and every atom in the universe has its own unique vibration. Well, these stunning crystal bowls are no different. They have their own unique vibrations too, which can lift us in our lives.
Crystal Bowl of Light, S512, Block A, PMQ, 35 Aberdeen Street, Central, Hong Kong, p. 9269 3155
3. Primal Breathwork
Brian is an Australian breath specialist and the driving force behind Primal Breathwork. His own experience with recovery led him to the transformative power of breathwork, and he became the first certified instructor of the Wim Hof Method in the Asia Pacific. Using his deep understanding of breathwork and contrast therapy, Brian has managed to overcome personal struggles with anxiety and depression, and even to boost his performance in Brazilian Jiujitsu. Today, he's on a mission to share the benefits of conscious breathing, and to impact the education system, mental health support networks, and high-performing individuals. By weaving together alternative healing wisdoms from today's leading experts and living masters, Brian isn't just teaching breathwork – he's sparking a lifestyle revolution.
Find out more about Primal Breathwork.
4. The Crystal Van
Step into The Crystal Van, an alternative healing sanctuary in Hong Kong designed for soulful exploration where the mystical world of crystals sparks to life. Vanessa, an accredited crystal healer and meditation coach, navigates you through a transformative journey of self-discovery and expansion. She masterfully melds ancient and modern crystal practices, customising each session to support your personal healing goals and intentions. Whether you're in pursuit of clarity, self-love, or a confidence boost, Vanessa's approach offers more than just a connection to the power of crystals. Here, you'll find a safe and sacred space for personal growth and self-expression. But Vanessa's work transcends individual healing. She's committed to giving back to the community, and in a testament to this, 20% of all session fees are donated annually to the SPCA and HK Breast Cancer Foundation, causes that touch her heart deeply.
Find out more about The Crystal Van.
5. All About You
Indulge in a journey of self-discovery at All About You, a premier wellness centre in the heart of Hong Kong, dedicated to mental health and personal growth. Offering a range of services including private sessions, personal development workshops, and certified practitioner training programmes the centre is designed to foster self-awareness and serves as a sanctuary for those on the path of self-exploration. You'll also find expert resident and visiting practitioners in fields spanning Hypnotherapy, Energy Healing, Regression Therapy, Trauma Release Exercises (TRE), Couples Counselling, and more at All About You.
All About You, 10A, Wing Cheong Commercial Building, 19-25 Jervois Street, Sheung Wan, Hong Kong, p. 2992 0828
6. Alive Wellness
Alive Wellness champions the ancient practice of acupuncture, a cornerstone of traditional Chinese medicine with roots dating back over 5,000 years. Acupuncture is founded on the principle that all living beings house a vital energy known as Qi, flowing through invisible channels, or meridians, within our bodies. When Qi becomes obstructed due to environmental or situational factors, it disrupts our natural harmony, leading to symptoms such as fatigue, insomnia, restless sleep, or persistent discomfort.
At Alive Wellness, skilled practitioners use fine needles to stimulate specific acupuncture points along these meridians. This gentle process clears blockages and restores balance, promoting healing and enhancing overall well-being. It's not just about treating symptoms, but about boosting your body's innate ability to function optimally.
Alive Wellness, Room 1503, Car Po Commercial Building, 18-20 Lyndhurst Terrace, Central, Hong Kong, p. 2541 8600
7. Queen of Pentacles
Cath, from Queen of Pentacles, is a renowned psychic, reiki master, numerologist, and breathwork teacher in Hong Kong. Trusted by corporations and luxury resorts worldwide, Cath is dedicated to sharing her deep understanding of alternative healing practices. In her distinctive reiki sessions, Cath seamlessly blends the ancient energies of Usui and Karuna Reiki, facilitating profound healing on physical, mental, and emotional levels. Usui Reiki taps into universal life force energy, thereby opening and clearing chakras, expelling toxicity, and restoring balance. Meanwhile, Karuna Reiki works at the soul level, healing past life issues and deeply held beliefs that might be obstructing your well-being. Under Cath's expert guidance, stress melts away, pain subsides, and your energy centres are harmonised. Expect a soulful reconnection with your inner radiance as emotional roadblocks are cleared and your true self is unveiled.
Queen of Pentacles, Shop 58, UB, Eton Tower, 8 Hysan Avenue, Causeway Bay, Hong Kong, p. 5114 2506
8. Mana & Chi
Mana & Chi is a sanctuary for those seeking the restorative power of ancient wisdom and natural remedies. Born from the rich heritage of the founder's family, this holistic wellness brand is on a mission to resurrect ancestral practices. Manasi, the visionary behind Mana & Chi, is an energy healer who skillfully combines inspiration from her lineage with her professional expertise.
At Mana & Chi, you'll discover more than just products – it's an immersive experience that draws on time-honoured rituals and remedies. The depth of Manasi's understanding of energy healing is evident in her offerings, especially in Pranic Healing sessions. Through this profound technique that integrates ancient Vedic traditions, Mana & Chi offers a healing journey that transcends surface-level treatments. Step into this magical space where tradition marries innovation, and the timeless art of healing is the star of the show.
Find out more about Mana & Chi.