Rejuvenate without breaking the bank! (Photography: pixelshot via Canva Pro)
Prepare for total bliss – from foot reflexology parlours to relaxing day spas, here's where to find the best affordable massages in Hong Kong.
City living got you frazzled? We know the feeling. When we're not blissing out at our fave nail salons or hair salons in Hong Kong, we're always keen on a well-earned pamper sesh. But before you worry about shelling all your hard-earned cash, believe us when we tell you that there's no need to splurge when you can get relaxed on the cheap. Blissing out on a budget is more achievable than you think! From reflexology parlours to relaxing day spas, here's where to find Hong Kong's best affordable massages.
Bliss out with Hong Kong's best affordable massages
1. Tai Pan Reflexology Parlour
We're obsessed with Tai Pan Reflexology Parlour. From the stunning interior design to the soundtracks that play in the waiting room (think Crazy Rich Asians), to the massages themselves – a trip here is like a mini-vacation. Start with a foot bath before moving on to a shoulder and foot massage, or go all in and have your whole body looked after. We also enjoy the foot steam treatment that incorporates traditional Chinese herbs. Undoubtedly one of the best affordable massages in Hong Kong.
Read our full review of Tai Pan Reflexology Parlour.
Tai Pan Reflexology Parlour, Basement, Tsim Sha Tsui Mansion, 83 Nathan Road, Tsim Sha Tsui, Hong Kong, p. 2301 1990
2. Levo Spa
Looking for a luxury spa that goes above and beyond? Levo Spa is sure to impress when it comes to affordable massages in Hong Kong. Aside from providing world-class spa and beauty services, expect impeccable staff and treatments – even the linens are ultra fine! Book in for the Stress Relief Treatment, the natural-blending Aromatherapy Massage, or the relieving Energy Hot Stone Massage and you will definitely walk out of this Central spa feeling fine.
Levo Spa, Unit A, 2/F, Winway Building, 50 Wellington Street, Central, Hong Kong, p. 9694 4389
3. Pure Massage
Aching for some TLC without the hefty price tag? Popular reflexology chain Pure Massage has a massage Happy Hour that runs on weekdays (except public holidays) before 5pm. Affordable treatments include foot massage, shoulder and neck massage, and traditional tui na. Their attentive therapists are trained to find deep-seated knots from the stresses of city living, and soothe your sore muscles away.
Pure Massage (足君好) has branches across Hong Kong.
4. D'Varee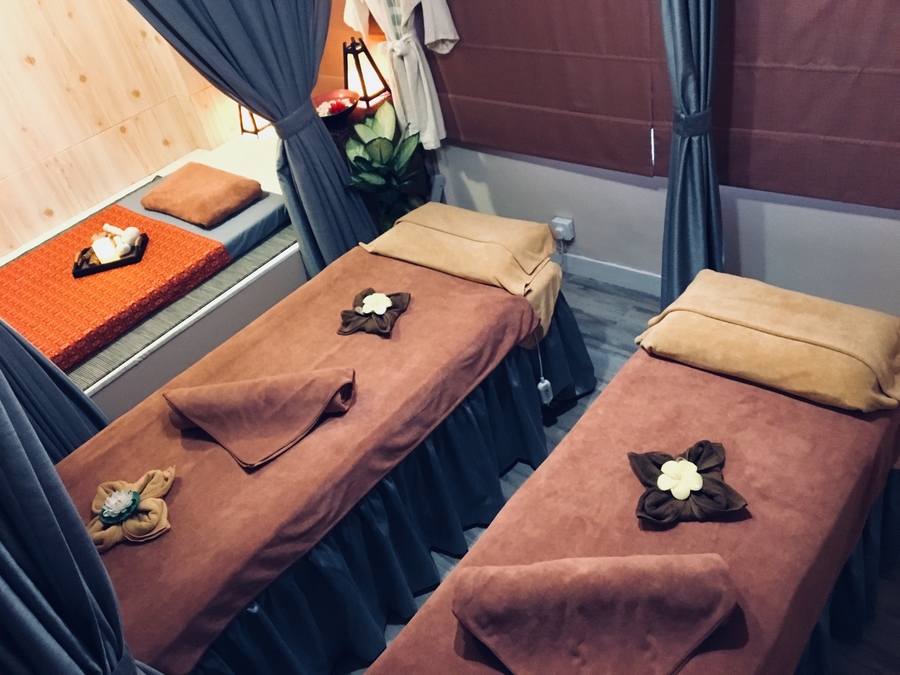 Specialising in Thai and deep-tissue massages, head over to this D'Varee to bliss out without breaking the bank, and finish off your massage with a revitalising lemongrass tea. Looking to up the pampering even further? This is also a great place to head for facials, manicures, and pedicures.
D'Varee, 4/F, Kam Chung Commercial Building, 19-21 Hennessy Road, Wan Chai, Hong Kong, p. 2591 1921
5. Happy Foot Luxe
Your achy limbs are in safe hands at Happy Foot Luxe! Pop in during your lunch hour for an invigorating reflexology treatment, or indulge in a full-body Thai massage or Chinese Lymphatic massage. A firm rubdown by their attentive therapists will rid you of all bodily tightness and tensions. You can even continue the pampering within the privacy of your home as the therapists are also available for an on-call at-home treatment.
Happy Foot, 7/F, QRE Plaza, 202 Queen's Road East, Wan Chai, Hong Kong, p. 2573 3438
6. Ten Feet Tall
Think budget bliss means skimping on ambience? Not at Ten Feet Tall! The massage parlour is a tropical sanctuary in the midst of Central and is surprisingly affordable. Sip on a coconut while you sink into their plush armchairs and enjoy as the therapists work their magic – your blissed out bod will thank you for it. It's one of our fave affordable massages in Hong Kong.
Ten Feet Tall has locations in Central and Happy Valley.
7. Zen Massage
Founded in 2014, Zen Massage offers wallet-friendly body massages. The personable masseuses make you feel right at home and the warm lighting and lavender hues set the mood for relaxation. The foot reflexology massage goes for 45 minutes, you can add an extra 15-minute neck and shoulder massage, too. In addition to their traditional Thai massage, go for the magnetic fork massage if you're up for trying something new to set your body in tune.
Zen Massage has several locations on Hong Kong Island.
8. FootSpa Garden
When you go into FootSpa Garden for a massage, you won't be able to see the person sitting next to you, thanks to the upholstered seats. The private rooms are spacious and comfortable when you go in for a full-body massage. The reflexology foot massage and foot bath, and the pressure point body massage are a quick fix to detox your mind and body. The regular prices are attractive enough but wait till you drop by during happy hours for members for a crazy good deal that'll have you coming back for more. Plus, the memberships don't expire!
FootSpa Garden (足園) has locations in Wan Chai and Tsim Sha Tsui.
9. Iyara Day Spa
Prepare to be pampered at Iyara and restore your body in this cosy and comfortable spa. Offering tui na traditional Chinese medical massage, Tibetan KunYe, deep tissue massage, and sports massage, enjoy further reductions when you register to become a member. While you're there, don't miss the sea-salt scrub and affordable mani-pedis.
Iyara Day Spa has multiple locations in Hong Kong.
10. Zenjoy
Is your back giving you a bit of trouble? Make an appointment at Zenjoy, a no-frills massage parlour that offers affordable treatments. You may not find spa-like soothing music or fluffy white robes here, but a traditional Chinese Acupressure massage will successfully tackle every little sore spot in your body. Their professional therapist will get to work banishing those knots you have from hunching over work all day. When you leave feeling loose and relaxed, you'll know that this was worth every penny.
Zenjoy, Unit 7A, Lee Wing Building, 156 Hennessy Road, Wan Chai, Hong Kong, p. 3487 0330
11. Pelax Home
An affordable Thai massage experience in Hong Kong, Pelax Home has professional Thai masseurs that perform traditional treatments and stretches. In addition, you can enjoy Lymphatic Treatment, Thai Herbal Ball Treatment, Body Scrub Treatment, and more. Tailoring the session to each customer, the team ensures that guests will gain a sense of rebirth in their body, mind, and soul.
Pelax Home, 5/F, 15 Cameron Road, Tsim Sha Tsui, Hong Kong, p. 5238 0212
Halite (closed)
Halite is one of those no-nonsense massage parlours for those who care more about the treatment than the ambience. The spa is famous for their signature use of detoxifying Original Himalayan Crystal Salt, which they use as a scrub and in the Crystal Salt lamps that decorate all three of their locations. If you're in need of a firm kneading, their affordable Chinese Foot Reflexology Massage comes with a crystal salt foot scrub and foot bath.
Halite, Basement, CNT Commercial Building, 302 Queen's Road Central, Sheung Wan, Hong Kong, p. 2808 0028
Le Spa by Jan (closed)
Desperate for some pampering, but don't have the time for it? Try Le Spa by Jan's invigorating 30-minute Head and Shoulder Massage. The affordable treatment focuses on the acupressure points of your scalp, neck, and shoulders, and includes a relaxing foot ritual that will melt all your city stresses away. Bookings recommended.
Le Spa by Jan, 2/F, 11 Stanley Street, Hong Kong, p. 2815 3308
[This article was originally published in May 2018 and updated in 2023 by Min Ji Park.]