到胡同享受麻辣水煮牛肉
If you like it hot (like we do) then get over to Hutong before the end of April and learn more about the ever-alluring chilli
Food, food, food. From local street food to fine dining to all the best dim sum you can eat, Hong Kong sure has a thing for food. And running until the end of April, the 7 Chillies menu at Hutong is bringing more fire to the food scene. So we had to check it out.
7 Chillies menu at Hutong
Situated on the twenty-eighth floor of the One Peking Building in Tsim Sha Tsui is Hutong, a delightfully cozy restaurant with an amazing view of Victoria Harbour from the Kowloon side.
Read our review on Hutong.
The perfect place to take in the view of Victoria Harbour, Hutong Hong Kong serves up delicious Shanghai and Beijing cuisine in amazing surrounds.

Posted by Honeycombers Hong Kong on Wednesday, 28 June 2017
Currently, the restaurant's culinary expert, Chef Chau, is offering a special 7 Chillies menu that highlights the complexity and diversity of the different chillies you may find in a variety of Chinese dishes. If you like spicy food, this special menu is definitely right up your alley, or rather, right up your hutong. However, this menu is not intended to be just a challenge to see who can handle the most heat considering the highlighted chillies are presented in an incredibly clever way and offer so much more than just spiciness. The dishes can be enjoyed individually or as a full tasting menu from now until the end of April.
The first dish on the 7 Chillies menu is Squid with Sichuan Green Pepper. The squid is combined with the Sichuan Green Hua Jiao chilli and served in the shape of a beautiful flower. While seemingly too pretty to eat, it is absolutely meant for consumption. The flavor is crisp and refreshing, but still provides a little bit of the 'ma-la' mouth numbing sensation.
After the squid, comes the Steamed Hokkaido Scallop with Pickled Hainan Yellow Chilli. The chilli featured in this one is called Hainan Yellow Lantern chilli, also referred to as the yellow emperor chilli or huáng dì jiāo, and is considered the hottest chilli in China. Chef Chau takes the edge off a little bit by pickling it and then serves it with scallops over top of delicious noodles. The pickled peppers provide a distinct hot and sour tang to the dish as a whole.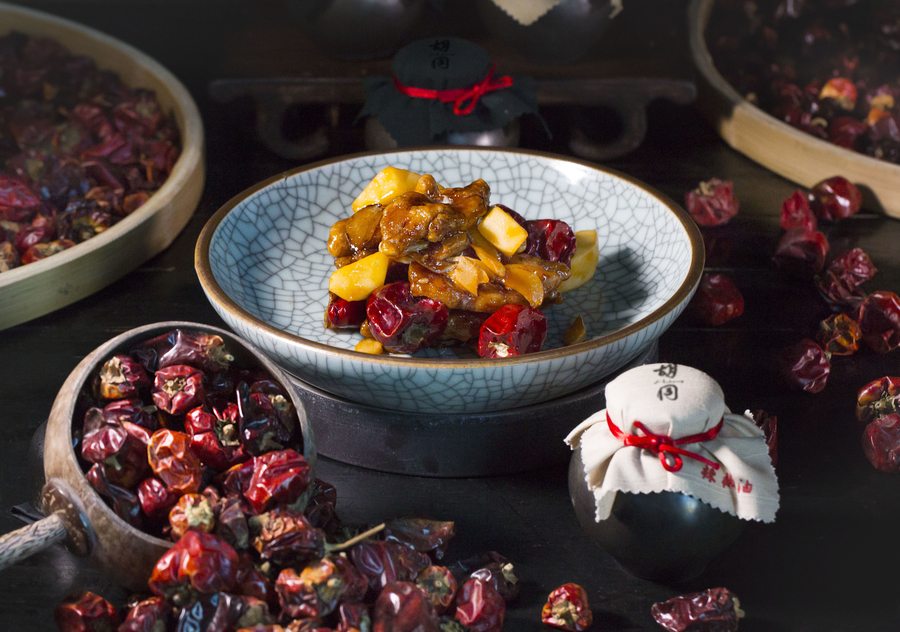 While the Xinjiang Anjihai chilli used in the Crystal Prawns with Xinjiang Anjihai Chilli & Broad Bean Sauce is typically served with chicken and potatoes, they actually complement the prawns quite nicely. This one is pretty spicy, but a hint of sweet ginger evens out the heat.
Then comes my personal favorite of the 7 Chillies menu, the Kung Po Style Iberico Pork with Heaven Facing Red Chilli. The Sichuan Heaven Facing Red chilli grows pointing upward, hence the name. For this dish, tender pork is covered in a sweet and spicy glaze mixed with nuts and fruit, and the outcome is absolutely delectable.
The rest of the menu includes Angus Beef Tenderloin in Sichuan Red Pepper & Chilli Broth (which will leave your mouth numb; consider yourself warned!), the cooler Shredded Chicken Fried Rice with Fennel Seed and Lao Gan Ma Chilli Sauce, and finally Black Garlic and Shandong Chilli Steamed with Chinese Cabbage Wrapped in Lotus Leaf.
The menu is like a bell-curve of spiciness, starting out crisp and sweet, progressively getting heavier and spicier and then ending with some lighter, more neutral flavors, a great experience for those that like a little bit of spice in their life.
Hutong, 28/F, One Peking Road, Tsim Sha Tsui, Kowloon, Hong Kong, p. 3428 8342, 尖沙咀北京道1號28樓
Want more food? You have to try Francis in Wan Chai, and these French restaurants about town. And be sure not to miss out on these healthy restaurants in Hong Kong if you are looking for something lighter.