Whether you'd like to join the fight for a cleaner city or simply devote your time to helping underprivileged communities, you can volunteer in Jakarta with these organisations and charities.
Whatever your passion is – yoga, travelling, caring for animals, teaching – there's a good chance someone in Indonesia's capital city could use your enthusiasm and skills for a worthy cause. Not sure how to take the first step? Volunteer in Jakarta with these awesome organisations doing amazing charitable work.
Note: Be sure to meet the requirements to volunteer in Indonesia.
VOLUNTEER IN JAKARTA: ORGANISATIONS WITH A WORTHY CAUSE
1. Komunitas Taufan
Yeni Mulyaningsih was inspired to run Komunitas Taufan after losing her seven-year-old son to leukemia. The community is a safe haven for underprivileged families suffering from similar situations. Volunteers are welcome to help out financially or by accompanying the organisation to the homes of the patients. If you have any knack for performance at all, whether its stand-up comedy, story-telling or musical instrument, make sure to get these ready as the families could really use some entertaining company.
2. Trash Hero Jakarta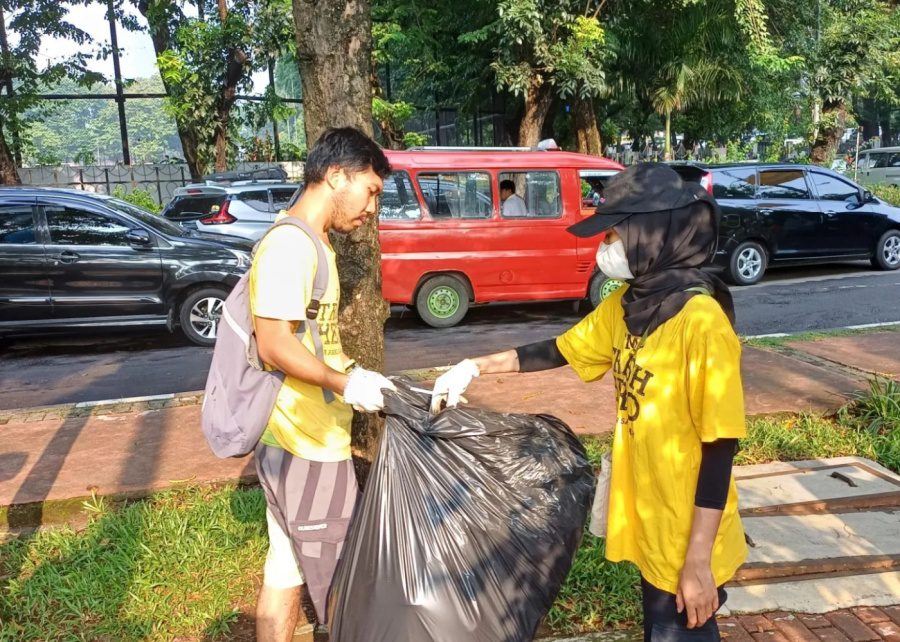 If you've always dreamed of a trash-free Jakarta, Trash Hero Jakarta's clean up days might just be the event you don't want to miss. This global movement made it to the city in 2017, and has since run a weekly clean-up. The event is happening all over the city, bringing together volunteers to hunt down rubbish and make the city clean as a whistle. Three green thumbs up from us!
3. Yayasan Cheshire Indonesia (Wisma Cheshire)
Yayasan Cheshire Indonesia helps people who are physically disabled through residential vocational training programmes such as carpentry, handcrafts, and computer studies. They make and sell the most amazing handcrafted goods and woodwork items, such as dollhouses and toy castles at their charity shop. Volunteers in Jakarta with skills in design, counselling, event coordination, and English language teaching are always welcome.
4. Rainbow Reading Garden (Taman Bacaan Pelangi)
Rainbow Reading Garden wants to spread the love of literature to the underprivileged communities in Indonesia. After collecting all your used books from their drop boxes located all over the city, Rainbow Reading Garden will distribute the donated books to the Eastern part of Indonesia, where many amazing children are yet to be exposed to interesting paperbacks.
5. Foundation of Mother and Child Health (Yayasan Balita Sehat)
Foundation of Mother and Child Health (FMCH) was established in 2001 by a small group of expatriate nurses who wanted to improve the health and well being of children from lower income families. FMCH is now fully run by Indonesian staff members and assisted by international and local volunteers.  Experienced in website management, copywriting, data entry, graphic design, or advertising?  They're waiting to hear from you.
6. Jakarta Animal Aid Network
Those busy folks at Jakarta Animal Aid Network are always looking out for volunteers to help our local furry, scaly, and feathery friends! Help out in fundraising, running activities and events, and campaigning on behalf of local animal welfare organisations; any amount of time is appreciated.  They are also always in need of donations of dog food, leashes, collars, old towels, dog shampoo, cleaning supplies, and building materials.
7. Rachel House
We love the work Rachel House is doing in Jakarta. They are a paediatric hospice providing end-of-life care for children with conditions such as cancer and HIV. Rachel House provides palliative care for kids from families who cannot afford medical care in a safe and loving environment. Contribute your skills and you'll be making a child's day brighter!
8. Habitat for Humanity
Habitat for Humanity Indonesia is always on the lookout for volunteers who are keen to get their hands dirty. As long as you can hold a hammer, a bucket, or a paintbrush, you're welcome to join! Your time and energy as a volunteer means homes can be built at considerably lower costs for people struggling to work their way out of poverty.
9. The Indonesia Heritage Society
If you're a keen traveller and have been off the beaten track in Indonesia, why not share your experiences with The Indonesia Heritage Society's Heritage Tours. They are looking for volunteer tour leaders who are enthusiastic and passionate about travelling.  Other types of volunteering opportunities are available too – it's a great way to use your skills, learn a thing or two about Indonesian heritage, and meet new friends and travel buddies along the way…
Not able to volunteer in Jakarta? You can always help by spreading the words and making a donation!