Ethical textiles, female empowerment and a conservation of culture - Threads of Life lets you take home more than just fabulous fabrics.
Unless you're an expert weaver or an avid collector, finding top-quality traditional textiles in Bali ain't easy – especially if you're after unique, one-off pieces that are at once ethical, sustainable and guaranteed to look gorgeous in your home. 
Well, Threads of Life in Ubud goes above and beyond that brief, working directly with indigenous producers of environmentally sustainable, heirloom-quality creations using local materials and all-natural dyes. They also work with a predominantly female workforce to empower women across Indonesia. Amen to that.
But that's just the start of the Threads of Life story. From setting up cooperative communities across remote Indonesian islands, to teaching cultural traditions at regular workshops – these textiles have changed so many lives. And the best bit? You can do your part too, simply by taking a trip to the Threads of Life gallery in Ubud, and taking home your own traditional textile. Not only do you get your own special creation, you can feel good about it, too!
The Threads of Life Story
Threads of Life came about following the Southeast Asian economic crisis, when weaving traditions collapsed across the continent. Weavers could no longer afford to spend up to two years making a single ceremonial textile, and natural dyes were abandoned in favour of cheaper, environmentally destructive synthetic colours.
So that's where Threads of Life stepped in. By offering above-market prices and creating a bridge between creators and buyers, Threads of Life gave impassioned weavers a way to maintain their traditions, make a living, and return to sustainable and natural methods of textile production.
When they started back in 1998, Threads of Life had just a dozen weavers from one village. But today, they work with over 1,200 women with cooperatives across Timor, Sumba, Kalimantan, Sulawesi, Sumatra, Java, Flores, Lembata, Savu, Rai Jua, Nusa Penida and of course Bali, connecting these skilled weavers from these remote islands to the outside world – including your home.
The Ubud Gallery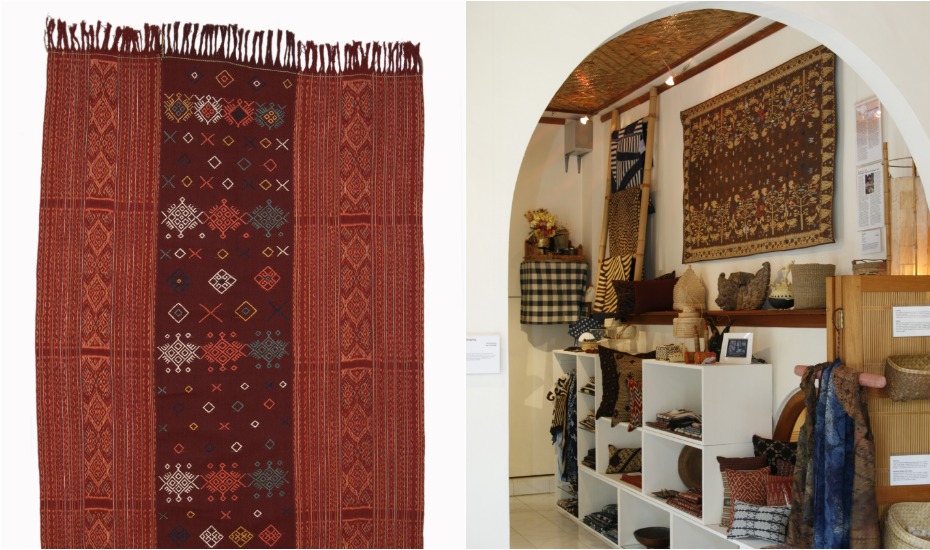 While the textiles at Threads of Life are produced all over Indonesia, these special creations can be found under one roof – at The Threads of Life gallery in Ubud. Here, you can find these fair trade gems in all their glory, in all different shapes, sizes and naturally-dyed colours.
But this isn't only a place to browse and buy. Each masterpiece comes with its own story, with video and detailed information illustrating its cultural background. You'll also find smaller wearable scarves and textiles, basketry, decorative pillows and other homewares crafted to the highest standards from materials made within the weaving communities. By purchasing these intricate and stunning creations, you're directly supporting the work that Threads of Life do, helping to preserve a very special piece of Indonesian culture.
The Workshops
One other pillar of the Threads of Life movement is transparency – a dedication to keeping their work and their processes totally accessible and visible, sharing their 20-year experience and knowledge with the masses to further preserve Indonesia's rich culture. One way they do that is with hands-on workshops, inviting you to get involved with natural dyeing, batik and weaving, and to learn about the huge amount of time and resources it takes to produce traditional textiles.
Led by international teachers and Threads of Life's senior research dyers and botanists, and hosted by Threads of Life founders, you can join in on these intensive week- or two-week long workshops at the Threads of Life Natural Dye Studio, located on the grounds of the Umajati Retreat in Ubud. Here, you'll be introduced to weaving traditions, natural-dyes, Batik classes and so much more, all the while helping to keep Indonesia's textile artistry thriving. Now that's our kind of textiles class!
Sign up to the next Threads of Life Workshops here, including our faves, the "Weavers Week" and "All About Indigo" workshops. Or, visit the Threads of Life Gallery and support their work by taking home your very own textile!
Threads of Life Gallery, Jl Kajeng 24, Ubud, p. +62-361-972112 & +62-361-972187, e. [email protected].
Like this story? Check these out:
Bali's best homewares stores
Shopping in Seminyak: A complete guide
Interior Crush: Where to buy furniture in Bali
The best fashion stores in Canggu