Looking for fun things to do with the fam in Canggu? Here's our 21 favourite activities & adventures to keep the kids busy.
It's no secret that Canggu is a hedonistic party playground. It's fast becoming the new and improved sista suburb to happening Seminyak, chock full of swanky spas, beachfront bars and more boho boutiques than we can shake a coconut at. But it turns out, Canggu is also the perfect place to park the kids too, thanks to the ever-growing community of expats, international schools and holidaying families making a stop in this not-so-sleepy coastal neighbourhood.
So, to bring you the full lowdown on allllll of the family-friendly activities and adventures here, we sent mum-in-the-know, Rebecca Foreman, to scope out the most awesome things to do with kids in Canggu – together with her littlies in tow. So if you're travelling to Bali with kids and need to add some awesome activities to the itinerary, here's our guide to the best things to do with kids in Canggu. Happy holidays!
AWESOME THINGS TO DO WITH KIDS IN CANGGU
1. Splish and splosh at Splash Waterpark
Situated inside the ever-family-friendly Finns Rec Club, Splash Waterpark is the ultimate water-filled day out in Canggu. Slip and slide down four world-class slides (the Giant Racer, Speed Racer, Super Bowl and the Big Red) or wind your way around the relaxed Crazy Creek. For the littlies, there's a Splash Playground with cannons, mini slides, a climbing fort and big water bucket under the watchful eye of life guards. All of that splishing and splashing is hungry work, so there's also a delish dining menu of Indonesian and western dishes that can be ordered direct to your sun bed or table.
2. Learn to pounce at Bounce Trampoline Centre
Just over the road from Splash Waterpark is Bounce – Bali's first air-conditioned trampoline facility that's been specifically designed with spring-loaded frames for maximum bouncing fun. You can free bounce and practice tricks all day long (there are jumping sessions on the hour, every hour) or try one of the scheduled and specialised classes, like private bounce boarding and kids bounce parties!
3. Strike it lucky with ten-pin bowling
Need to chill out away from the balmy Bali sun for a couple of hours? Head over to Strike for a spot of family-friendly ten-pin bowling. Strike offers the latest and greatest modern tenpin bowling experience in Bali, with six lanes with automatic pinsetters and a computerised system for scoring. For littlies or first-timers, there are even bumpers available to keep the balls from going off track. And to keep hungry tummies happy, there's an entire menu of scrummy food and drinks, including enormous family-sized pizzas, served lane-side.
4. Life's a wave, catch it at these hang-ten surf schools
Bali is world renowned for its idyllic surf spots, so if you're looking for things to do with the kids in Canggu, why not round up the kiddos and get them riding the island's awesome waves. There are so many great surf schools to choose from – but for Mums who want to know that their kids are in the best possible hands, we recommend Tropic Surf. This tried-and-tested school is committed to providing that extra special care of your child through all stages of surfing. Lessons can be either private or in a group (children are put with others of a similar standard), and every level is catered to. Even parents can learn alongside their water babies, or watch from the shore with a cold beer in hand.
5. Dance to your own rhythm at Just Dance
Check out the monthly roster at Just Dance, Canggu's hottest purpose-built dance studio. Kids of all ages and levels can try their own dedicated yoga class, along with weekly ballet, hip-hop, jazz and K-Pop classes. There's also a cafe on-site for mums and dads to chillax in comfort, and you can even grab your tiny dancer a super cool Just Dance uniform!
6. Giddy up! Take them horse riding
A true Canggu gem, Bali Equestrian Centre is Berawa's bespoke international riding facility set amidst Instagram-worthy architecture and lush acreage. For horse lovers in Bali, the facility is designed to accommodate the entire family, with drop-in pony rides, half-day camps, photos shoots, show jumping lessons and so much more. In fact, Bali Equestrian Centre can cater to any aspect of horse husbandry that you request. Private kids lessons with internationally qualified instructors are also available, as are spectacular unicorn parties!
7. Cook up a storm
How about trying out a new dish at home, cooked up by your little one, no less! Yup, get the kiddos and the whole family down to a cooking class. They'll not only master cooking and baking fundamentals, they can also join in on sourcing the ingredients at the market before cooking something yum up for you!
8. Make mini Mozarts at Ensiklomusika Music School
If your kids are into music, then sign them up to a class at Ensiklomusika Music School where they can learn how to play the piano, guitar, violin or have vocal lessons with a trained music teacher. Weekly one-on-one music classes for 30 or 60 minutes can be done in the studio or at your villa/hotel for a small house-call cost. There's a Mini Melody group class for 1.5 to 3 year-olds, piano and vocal classes, and there's even classes for adults if a rocking family band is on the agenda. What's more, if your child is already a mastered musician, this school can help them sit the internationally-recognised ABRSM (Associated Board of the Royal Schools of Music) exam, too.
9. Kid's got talent at Eva Scolaro's Talent Studio
Just next door to Ensiklomusika Music School is the Eva Scolaro Talent Studio where kids (and adults) can engage in a number of singing, dancing and fitness classes. Drop in or sign up for regular weekly classes in Musical Theatre, Jazz, Singing, Ballet, Salsa, Hip Hop or Break Dancing plus much more. The kids will love their uniforms and work towards a termly concert where they finally get the chance to show-off their new found skills on a professional stage.
10. Get crafty with Canggu Jewelry Classes
For creative kiddos, bespoke 3-hour workshops (either full or half-day) are available at Canggu Jewelry Classes to immerse your little silversmiths in the art of shaping recycled sterling silver into their own piece of jewellery. For children aged seven years and up, the in-house smiths will guide you and your kids through a serious hands-on workshop, where you will both have the opportunity to grind, cut, shave and hammer your own piece of jewellery using the real tools of the trade. Get crafty and make your own piece of special silver that will always mark your #bestbalilife. Kids birthday parties can also be arranged and bookings are essential.
11. Swim lessons with the pro
Located at Finns Recreation Club, Klim Swim was created by Michael Klim, an Australian Olympic swimmer. It's no surprise that this established swim school gives your little ones the best – from baby and infant lessons, beginner to squad levels, and even private lessons. Classes are available daily after school and in small groups, so your kids will get all the attention and supervision they need.
12. Shop, play, eat & skate at Tamora Gallery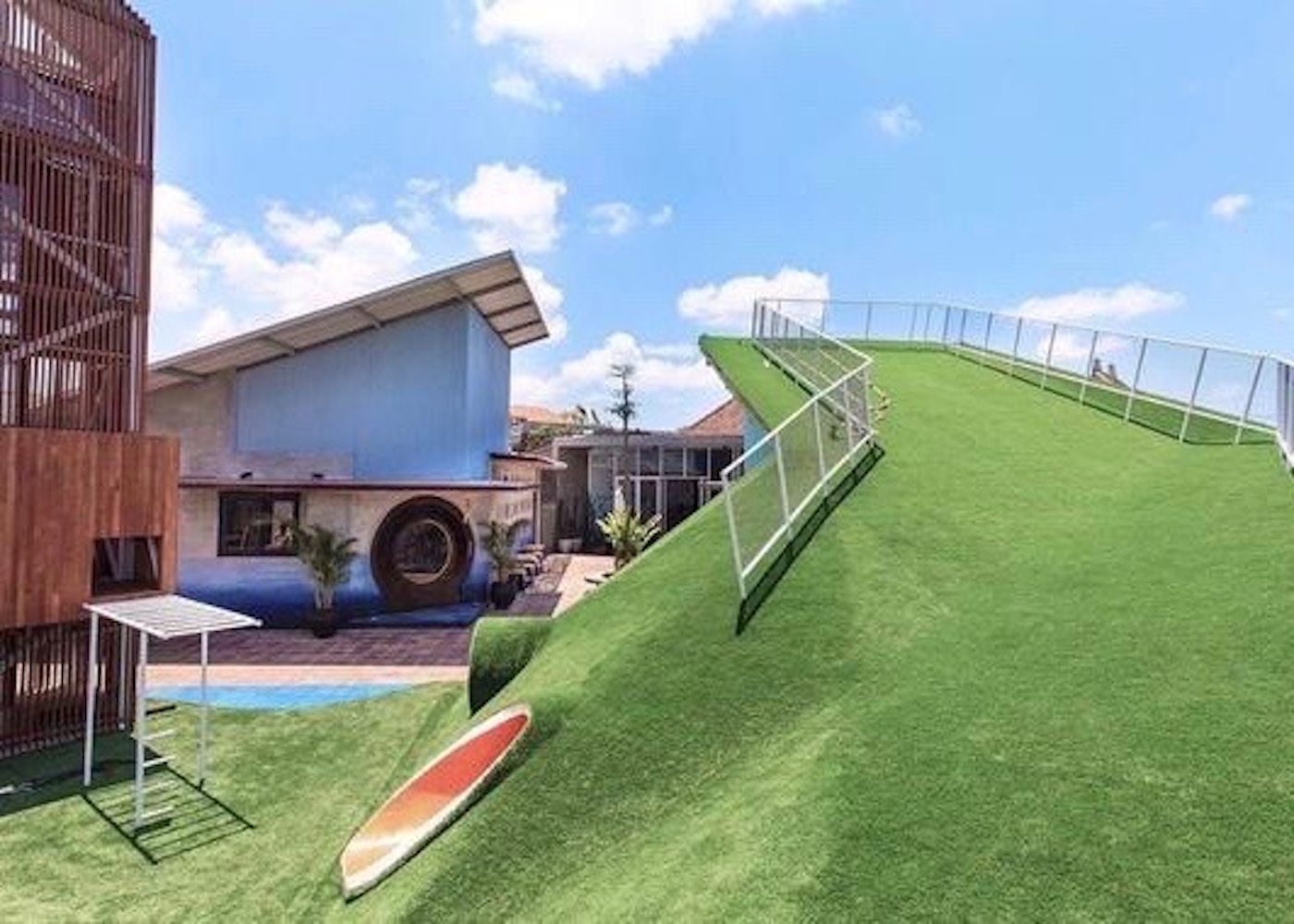 Tamora Gallery is an Instagrammer's dream-come-true, and also an island heaven for mums, dads and little ones too. This uber-cool lifestyle shopping arcade comprises fashion boutiques, cafes and restaurants, while for the kiddos, there's a grassed playground and skate bowl for them to let off some steam every day. Top tip: make the most of the restaurants onsite offering kids meal promotions!
13. Spa the days away
So many spas, so little time… *sigh*. With a spa on every Canggu corner, you'll want to grab your kiddos and chill out for some nail time or a relaxing massage. Great go-to salons and spas welcoming parents include Esthetic Day Spa, Spring Spa and Goldust Beauty Lounge to name just a few faves. Or check out our list of Bali's best Mummy & Me spa treatments!
14. Get artsy at Berawa Art House
For budding artists, Berawa Art House is a hidden treasure neatly tucked away at Tamora Gallery. It's a wonderfully well-run art school for kids and adults wanting to get artsy. Overlooking rice paddies, Berawa Art House is a light-filled studio with exceptional materials at your fingertips. Whether it's graphite and ink, watercolours or acrylic, Berawa Art House will shepherd your children through the creative process. Weekly art classes for children and adults of all levels are available, or simply join one of the daily after-school classes that are capped at ten kids to keep things personal.
15. Lose touch with reality at White Rabbit
In the comfort of your own home, you can now stretch your kid's senses a little with something totally weird, wacky but oh-so wonderful. White Rabbit – Bali's first-ever virtual reality experience – is now available in the comfort of your own home. Let the kiddos escape to a realm without boundaries, where reality is limitless as you open the doorway to new dimensions, games and life-like experiences. Daily rental options are available with VR headsets, multiplayer options and the games of your choice. Book online for delivery, and get ready for the ultimate VR ride!
16. Play and learn at Cubby House Kids Club
When it comes to awesome things to do with kids in Canggu, the Finns' Cubby House Kids Club is the perfect place to set your kids on a day of fun. While you bliss out with a massage or break a sweat in the gym next door, you can rest assured that your little ones (aged between 2 and 12) will find the programmes both fun and educational. From colourful toys and arts and crafts, to dress-up, face painting and movie sesh – you name it, they have it!
17. Let the kids play indoors or out at Made's Warung
Did someone say indoor AND outdoor play areas, cafe and childcare? Rest and relax parents, the kids are happy as clams at Made's Warung, Berawa. Here you can chill, read the paper, grab a coffee or slam in a pilates class – all with the knowledge that the kids are enjoying themselves in a safe, secure and contained space. Best suited to kids aged between 1-10 years, Made's Warung has it covered with plenty of fun kiddy activities on offer. From cooking to book reading classes to crafty workshops, there is plenty of fun to be had in the kids corner or playground. Pro tip: check their Instagram for weekly schedules.
18. Boulder shmoulder at Bali Climbing
Let your little monkeys climb to their heart's content at Bali Climbing. There's no better way to de-crazy your kids than letting them loose at this open-aired climbing facility. It's an uber-cool walk-in bouldering gym close to the beach, where beginners can learn how to climb without the use of ropes, and rock climbing shoes are provided for all sizes. For avid climbers, there's plenty of different routes and pathways to test your skills. Birthday parties, climbing tours, retreats and one-on-one or group lessons are all on the menu with the in-house team of professional climbers. Check the weekly schedule for kids classes daily.
19. Play, learn, eat & explore at Parklife
Parklife lets your little ones explore their imagination through uninhibited play in a beautiful, green and – most importantly – safe park and playground. Dotted with a jungle gym, bouncy castle, a mini beach and even an outdoor cinema, it's family-friendly heaven right here. The restaurant was designed with both parents and children in mind and is the perfect place for parents to pitch up and enjoy wholesome family fare and brews. All while the kids can play in the great outdoors…
20. Find Canggu's swimming gem, Bethesda Pool
Tucked away down a sleepy lane, you'll find Canggu's best kept kiddy secret: Bethesda public swimming pool. A locally owned and run gem, here you can swim, do laps, take a lesson, hang-out in the shallow pool area or slide down the waterslide from morning through till night. There's even a shady cafe to while-away your lazy Bali days…
21. Get creative at Rumah Rabbit
For more creative things to do with the kids in Canggu, let them channel their free-spirits at Rumah Rabbit, an authentic art studio with homey vibes, overlooking the rice fields of Pererenan. Owned and run by Indonesian female artists, the studio is open for kids and adults who love to create. Classes are focused on developing fine motor skills and gaining confidence to create fun projects made with different materials, from acrylic paints and watercolour, to collages, paper crafts and even recycled objects. And psst… the studio is also home to fluffy cats who like to keep you and the kiddos company!
Looking for more fun things to do with kids in Canggu? Check out our ultimate list of awesome things to do with kids in Bali – a wholesome roundup of every family-friendly activity and adventure on the island!